The Employees Provident Fund Organisation allows account holders to add nominations for their family members' social security and well-being. An EPFO member can easily submit their PF nominations online via the EPFO website. 
How to Update/Change EPF Nominee Online?
To know how to do EPF nominee update online, go through the following steps-
Step 1: The first step for EPFO nomination update is to visit the official EPFO Member E-Sewa Portal using the following link https://unifiedportal-mem.epfindia.gov.in/memberinterface/. Enter your UAN and password and then the Captcha code. Now click 'Sign in'.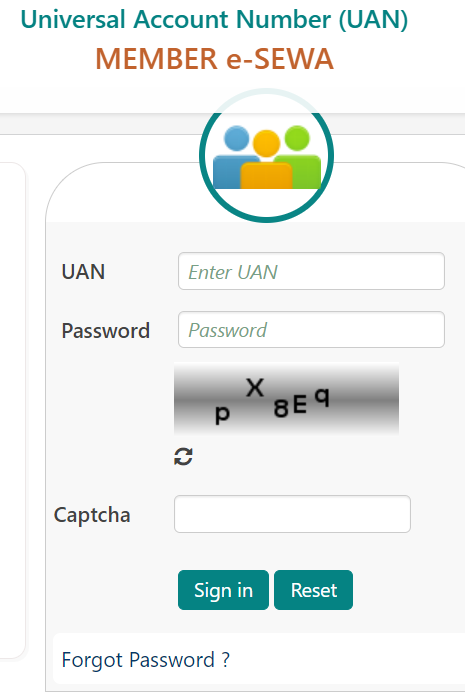 Step 2: Hover over the 'Manage' tab and choose 'E-nomination'. You will be able to see your current nominees here. If you do not have a nominee, you must add one. 
Step 3: Go to the next page and click 'Enter New Nomination'. Your 'Profile' details will pop up; click 'Proceed'.
Step 4: To add a new nominee or update your current nominee's details, click 'Yes' under 'Family Declaration'. 
Note - Only spouses, children, and parents are considered family. Members should indicate' No' if they want to include their siblings as nominees.
Step 5: Provide the nominee's details - Aadhaar Card number, name, date of birth, gender, relation, address, bank details, guardian (if the nominee is a minor), and photo. Click 'Save Family Details' to proceed.
Step 6: If you wish to add another nominee, click 'Add now' and enter their details.
Step 7: Enter the amount of share per nominee and then click 'Save EPF Nomination'.
Step 8: Under 'Pending Nomination', click the 'E-Sign' option.
Step 9: If the e-Sign is not registered, a dialogue box will appear on the screen. Click 'Proceed'.
Step 10: Select the box to provide your consent for e-KYC services data from Aadhaar.
Step 11: Enter your Aadhar Card number, and an OTP will be sent to your registered phone number. Enter this OTP and then select 'Submit'.
Step 12: After verifying the OTP, the EPFO will register the new nominee. To view the nomination history and check the status of the nominee, click on "E-nomination" under the 'Manage' tab.
The nomination history will show the newly added or updated nominee status as 'Nomination Successful' and display previous nomination details. However, please remember that only the first nomination is valid and overrides all previous nominations.
A Few Points to Note
Here are a few key points you should consider while understanding how to add nominee in EPF-
Individuals can add more than one nomination in the e-nomination filing. Moreover, there is no need to provide physical documentation after the successful

EPF

or EPS nomination submission online.


The account holder can only nominate a family member, and registering a non-family member is invalid. If the holder doesn't have a family at the time of nomination, any close member can be nominated. Still, once they have a family member, the nomination must be in the family member's name.


The guardian must be a family member if the nominee is a minor.


If the account holder makes nominations before marriage, filing new nominations before the wedding is necessary, as the previous nominations become invalid.


In the unfortunate event of the account holder's demise, the maturity amount in the EPF account is payable to the registered nominee(s), with any payment being distributed proportionately if applicable.



In the absence of a nomination, the maturity amount will be divided equally among family members, subject to specific terms and conditions regarding distribution.
Importance of Adding PF Nomination
Individuals must add nominations to their PF accounts to safeguard the lives of their children, spouses and parents through pensions, insurance, and more. 
In other words, filing a PF nomination is essential for ensuring the financial security of an account holder's dependents. In case of any unfortunate incident, the nominee(s) will receive benefits such as pension and insurance.
Categories of PF Nomination Forms
For the purpose of EPFO e-Nomination update online, there are three categories of nomination forms that an account holder should be aware of. These include the following:
Summing Up EPFO Nominations
Previously PF account holders had to provide all the necessary information on a hard copy of PF Form 2 and submit it to the respective Provident Fund offices to add PF nomination. However, one can add the nominations and update the necessary details with just a few clicks today.
Individuals can follow the guide above to conveniently add their nominations to PF accounts via the online portal. 
Adding a nominee to your Provident Fund account holds significant importance in ensuring the financial security of your loved ones. Having a nominee registered allows for a smooth transfer of funds and eliminates potential complications for your family in case of any mishap.
Fortunately, with the convenience of online platforms, adding a nominee has become simpler than ever before, empowering you to manage your EPF account efficiently and provide peace of mind for the future.