While looking for investment options to achieve a particular amount, there are several questions that you must ask yourself.
Firstly, decide the time frame within which you want to achieve your target. Secondly, understand your risk profile. Your fund selection strategy will also be dependent on whether you can take high risks to get high returns or whether you are a moderate risk-taker.
If you are wondering about "How to Make 1 Crore in 5 Years?" or "How to Make 1 Crore in 10 Years?", this blog is just for you! Let's see how much your monthly SIP should be if you need 1 crore in 1 year, in 5 years, and in 10 years.
Case 1: Investment Horizon is 1 Year
To reach this corpus, let us assume that the expected rate of return on your returns is 6.5%.
Then using the Groww SIP calculator, you would be required to do a monthly SIP of Rs. 809000 approximately, every month to reach 1 Crore in a year.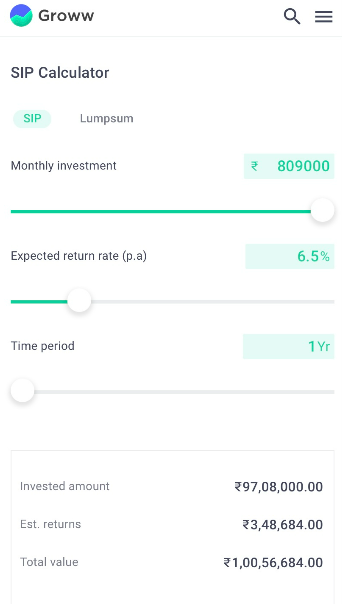 Since you are looking to grow this wealth in a shorter duration, investing in liquid funds is advisable. They allow you instant access to your investments with no exit load. The redeemed amount gets credited to your bank account within 1-2 days from the request.
Case 2: Investment Horizon is 3-5 Year
Many might wonder how much to invest to get 1 crore in 5 years. If you have a horizon of 3-5 years, it is advisable to invest in hybrid funds or large-cap funds.
Large-Cap funds are good for investors who want exposure to equity yet are conservative risk-takers. Since the duration is just 5 years, exposure to Mid-Cap funds or Small-Cap funds may lead to increased risk. Since these schemes invest in financially strong Large-Cap companies, they can withstand a slowdown in the markets.
The other category of funds you can invest in is Hybrid Funds. They offer better returns than debt but are safer than equity and hence a good option for low risk-takers as well as investors investing for a short to medium duration. They allow investors just the right amount of exposure to equity while cushioning them against extreme market volatility with debt funds.
Now for a Medium-Term duration, let us assume the expected rate of return on your investments is 9%.
To accumulate a corpus of Rs 1 Crore in 5 years, with an expected rate of return of 9%, you would have to start a monthly SIP of Rs 1,31,597 per month.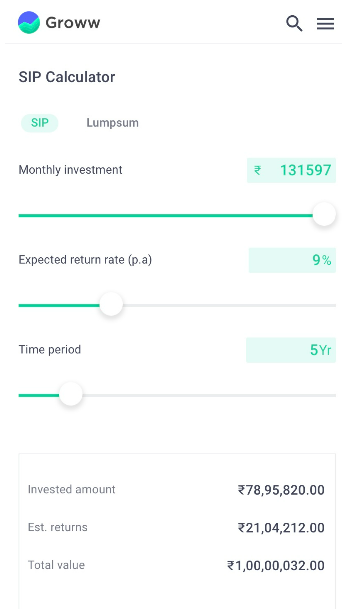 Case 3: Investment Horizon is Greater Than 5 Years
With an investment horizon of greater than 5 years, a diversified equity portfolio having Multi-Cap, Mid-Cap, and Small-Cap Funds for Long-Term wealth creation.
Assuming you need to achieve a corpus of Rs. 1 Crore in 10 years, and the expected rate of return is 11%. Then, you would have to start a monthly SIP of Rs 47,500 to achieve your target.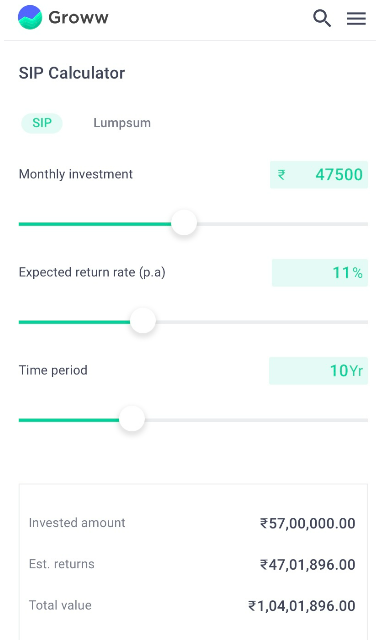 Conclusion
In conclusion, if you choose the appropriate set of investments based on your time horizon and risk tolerance, becoming a crorepati and getting a solution for how to earn 1 crore in 5 years is not difficult. All you have to do is continue investing while adhering to your asset allocation! 
Happy Investing!
Disclaimer: This blog is solely for educational purposes. The securities/investments quoted here are not recommendatory.