Ever wondered how much it would cost if you want to travel around the world? Here we list down top 30 countries and approximate cost to travel (in no specific order).
Roundtrip amount is approximate for economy class air travel. While daily expense include accommodation, food and local transport and sightseeing.
1. Italy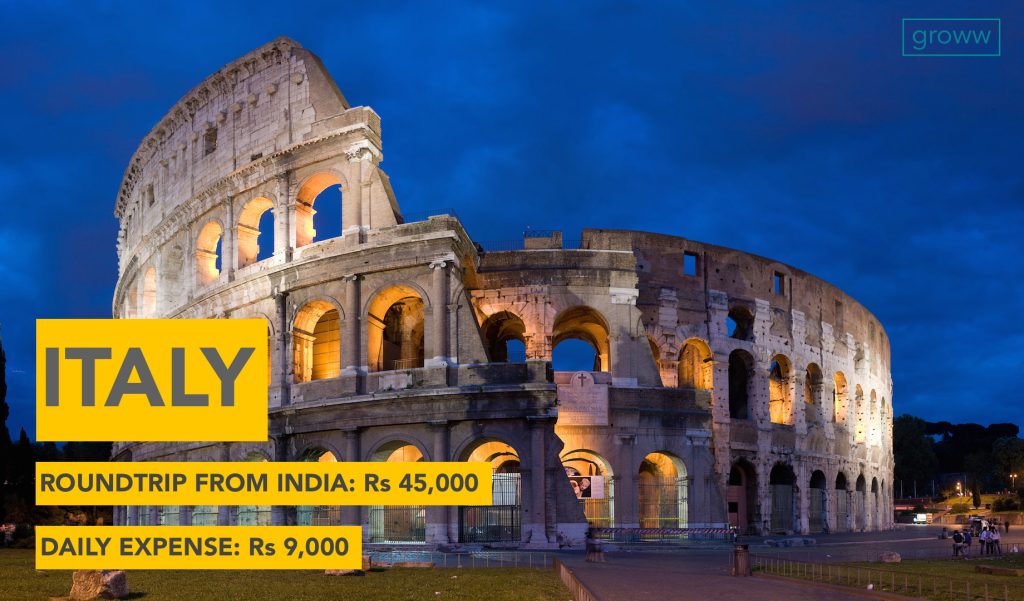 Italy, one of the most popular tourist destinations, has a long Mediterranean coastline. Rome, Italy's capital, is home to the Vatican as well as landmark art and ancient ruins. Other major cities of Italy are Florence, Venice and Milan.
2. France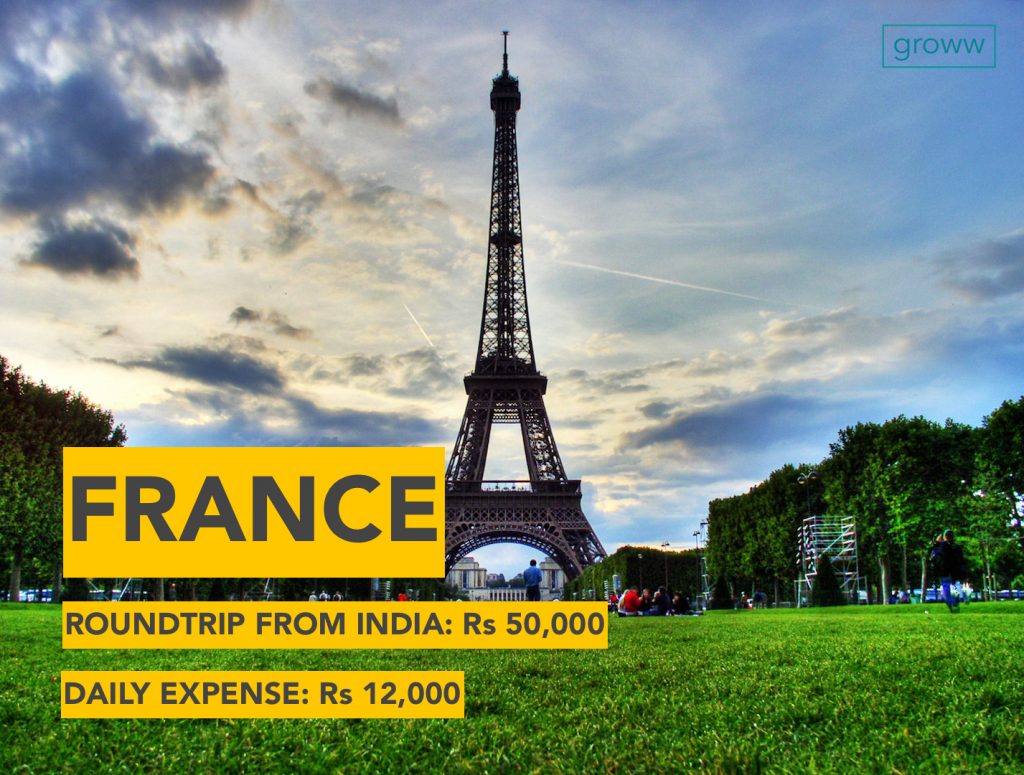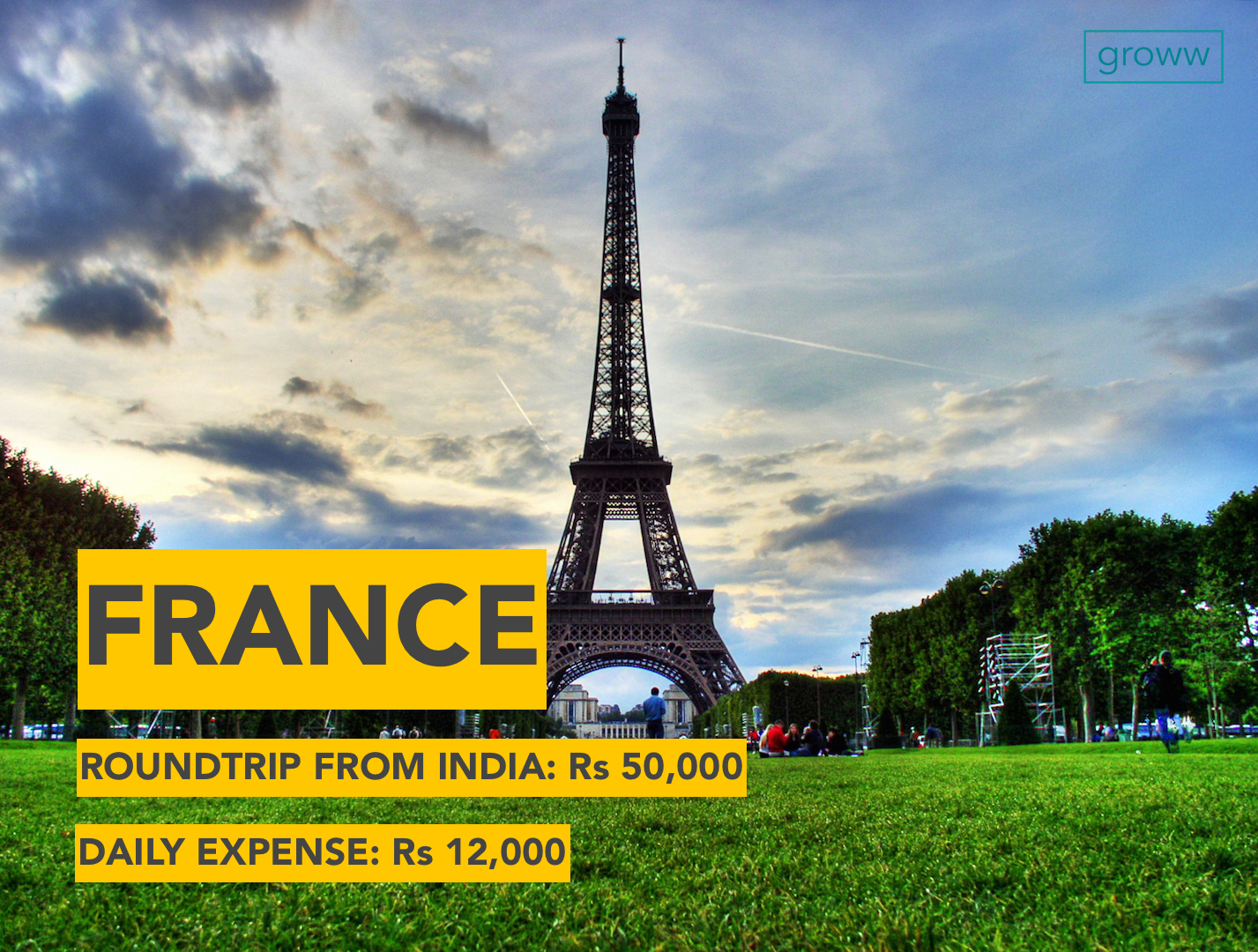 France, in Western Europe, encompasses medieval and port cities, tranquil villages, mountains and Mediterranean beaches. Paris, its capital, is known worldwide for its couture fashion houses, classical art museums including the Louvre and monuments like the Eiffel Tower. The country is also renowned for its sophisticated cuisine and its wines. Lascaux's ancient cave drawings, Lyon's Roman theater and the immense Palace of Versailles are testaments to its long history.
3. China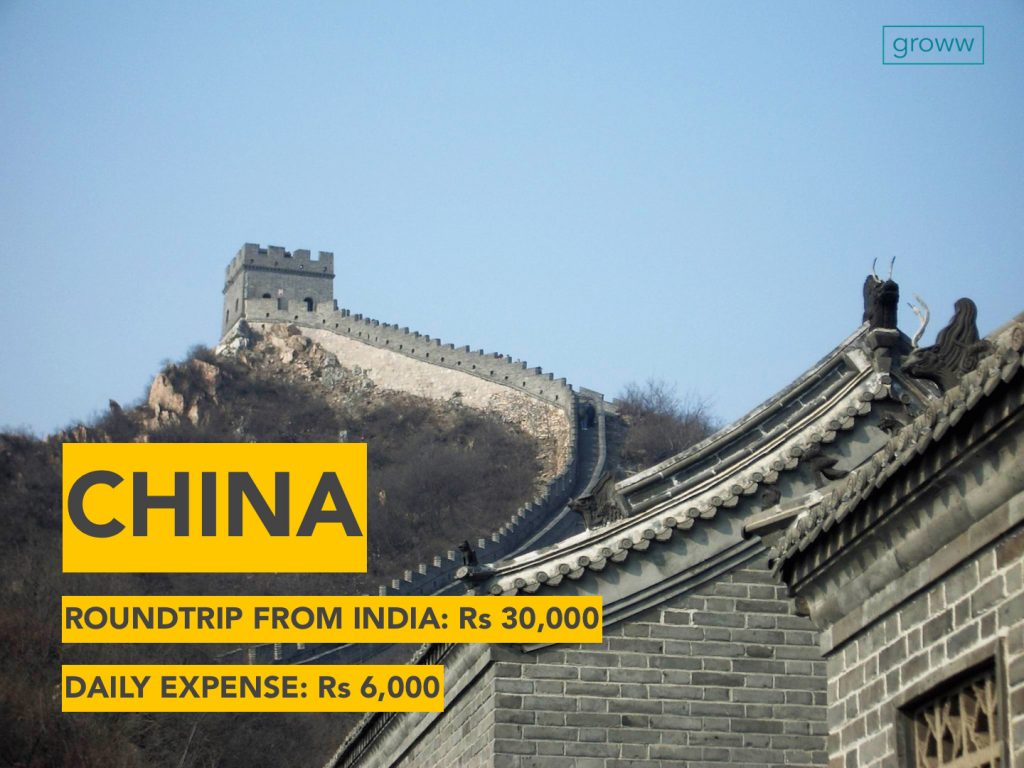 China, a communist nation in East Asia, is the world's most populous country. Its vast landscape encompasses grassland, desert, mountain ranges, lakes, rivers and 14,500km of coastline. Beijing, the capital, mixes modern architecture with historic sites including sprawling Tiananmen Square. Its largest city, Shanghai, is a skyscraper-studded global financial center. The iconic Great Wall of China fortification runs east-west across the country's north.
4. Nepal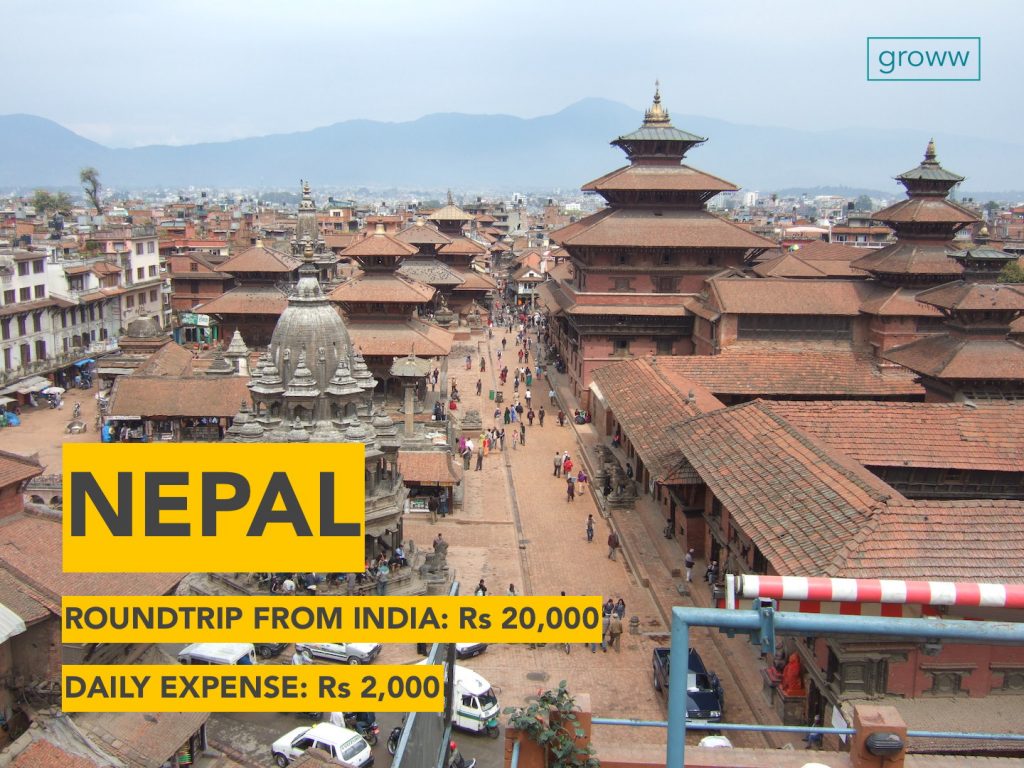 Nepal is land-locked country in the Himalayas is home to Mount Everest, the tallest peak in the world. Kathmandu, the capital, has the world famous Pashupatinath temple.
5. Australia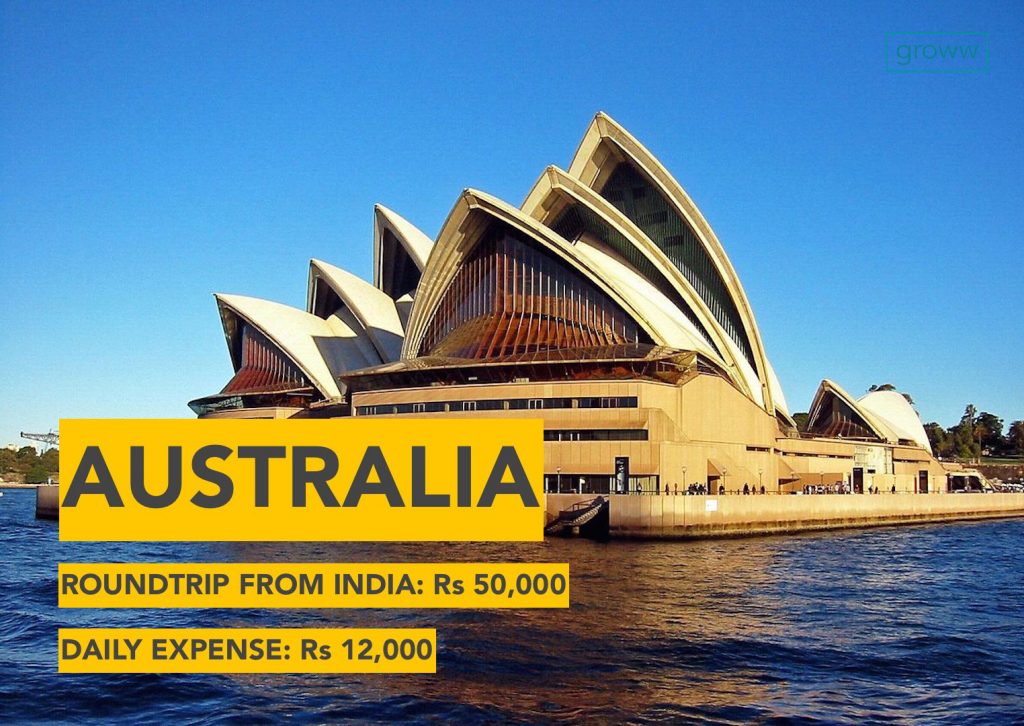 Australia, is a vast country, with world famous natural wonders and wide open spaces. The Great Barrier Reef, one of most famous reef systems in the world, is a must visit, to see the rich and abundant marine life. Sydney, one of Australia's largest cities, has many popular landmarks like Sydney Opera house (seen in the above picture) and arched Harbour Bridge. Australia is home to unique wild life like Kangaroo, Koala bears which are not found anywhere else in the world. Other must visit is the Outback, a large brown land, that seems to stretch on forever.
6. United Kingdom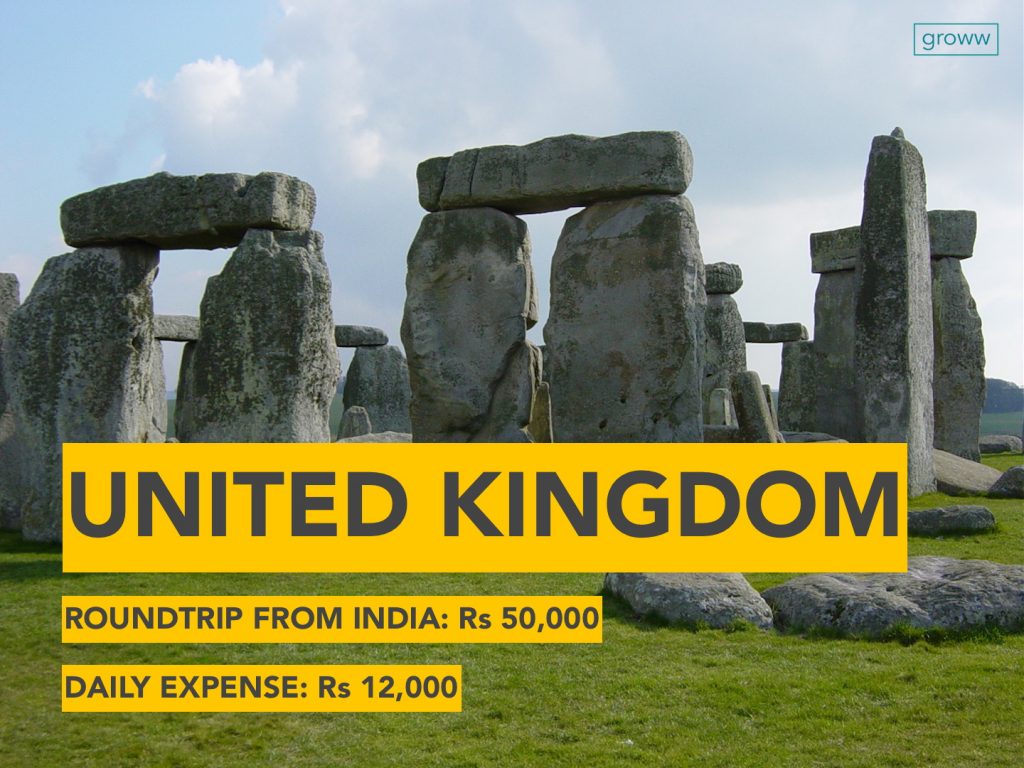 The U.K., made up of England, Scotland, Wales and Northern Ireland, is an island nation in northwestern Europe. England, birthplace of Shakespeare, is home to the capital, London, a globally influential centre of finance and culture. England is also site of neolithic Stonehenge (shown in the picture above), Bath's Roman spa and world renowned universities at Oxford and Cambridge. Scotland is famous for its breathtaking landscapes.
7. Turkey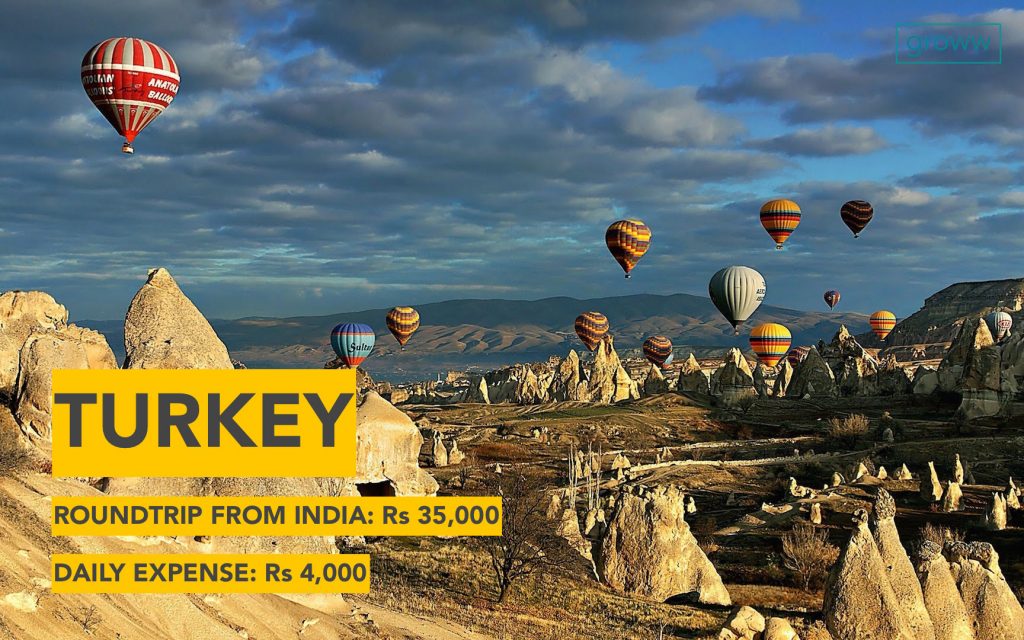 Turkey, a nation bordering eastern Europe and west Asia has cultural connections to ancient Greek, Persian, Roman, Byzantine and Ottoman empires. Istanbul, one of the largest cities, is home to the iconic Hagia Sophia, with its soaring dome and Christian mosaics, the massive 17th-century Blue Mosque and the Topkapi Palace, former home of sultans. Ankara is Turkey's modern capital.
8. Greece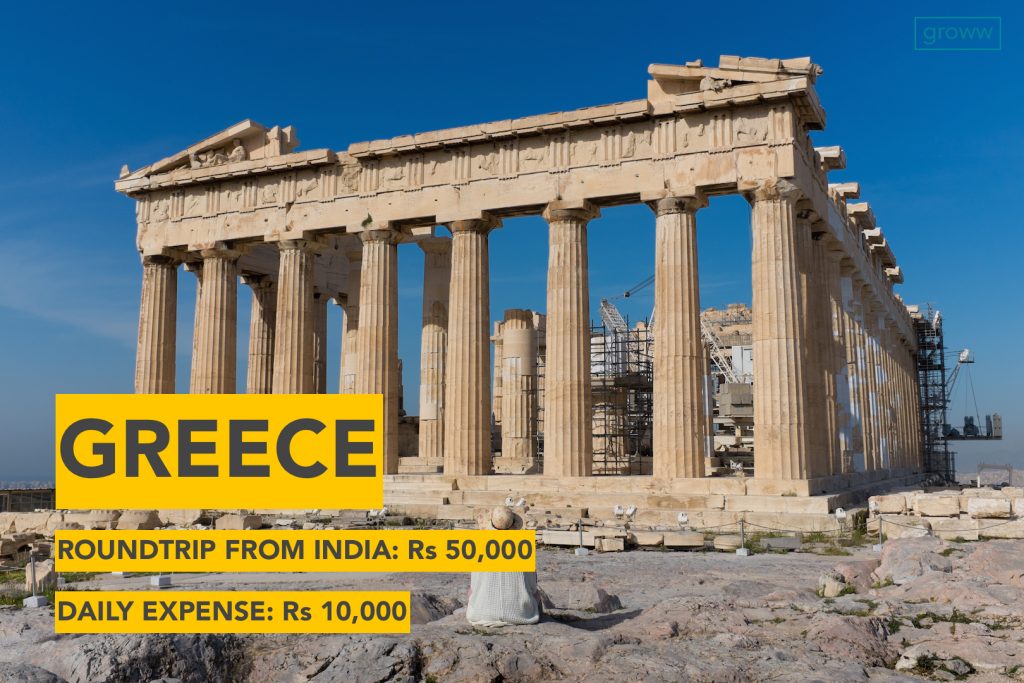 Greece, a country in southeastern Europe, consists of 2 mainland peninsulas and thousands of islands. Athens, its capital, has famous ancient landmarks like Acropolis citadel and Parthenon temple. Greece is also known for its beaches, from the black sands of Santorini to the party resorts of Mykonos.
9. Kenya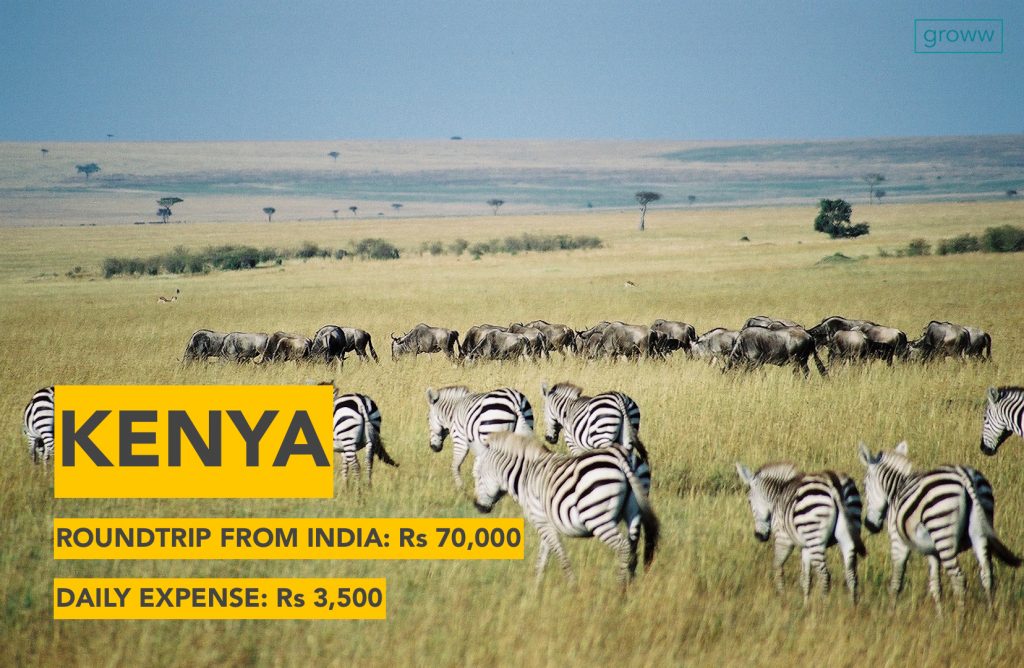 Kenya is a country in East Africa with coastline on the Indian Ocean. It encompasses savannah, lakelands, the dramatic Great Rift Valley, mountain highlands and abundant wildlife such as lions, elephants and rhinos. From Nairobi, the capital, safaris visit the Maasai Mara reserve, known for its annual wildebeest migrations, and Amboseli National Park, offering views of Tanzania's 5,895m Mt. Kilimanjaro.
10. South Africa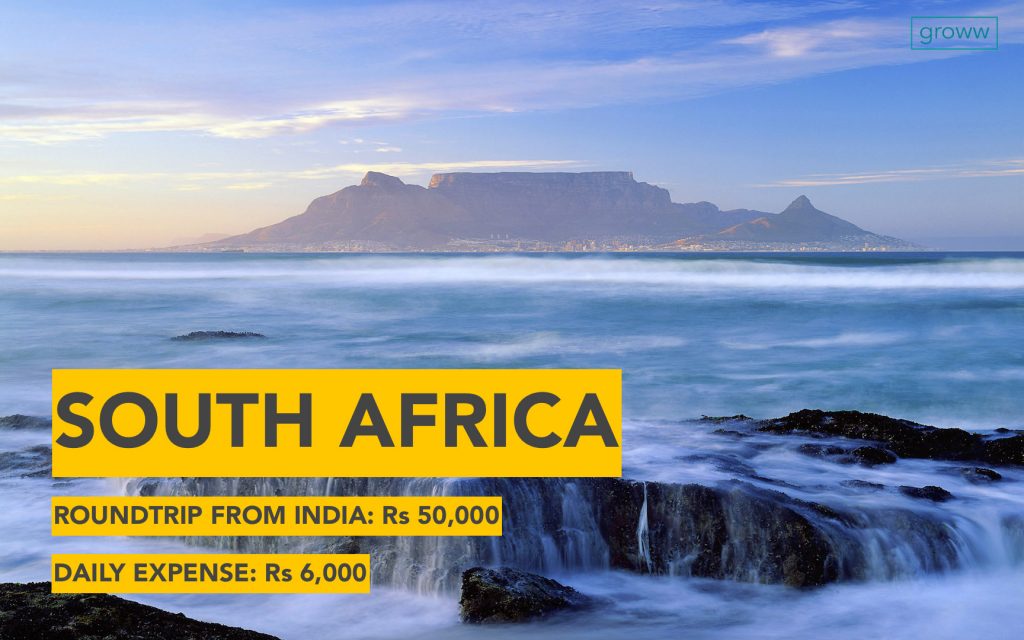 South Africa is a country on the southernmost tip of the African continent, marked by several distinct ecosystems. Inland safari destination Kruger National Park covers vast shrublands populated by big game; the Western Cape encompasses lush winelands around Stellenbosch and Paarl, wild beaches, craggy cliffs at the Cape of Good Hope, forest and lagoons along the Garden Route, and the city of Cape Town, beneath flat-topped Table Mountain.
11. Egypt

Egypt, a country in the northeast Africa, is the land of the pyramids. The colossal Pyramids and Sphinx at Giza and the hieroglyph-lined Karnak Temple and Valley of the Kings tombs in Luxor are top attractions. The capital, Cairo, is home to Ottoman landmarks such as Muhammad Ali Mosque.
12. Peru

Peru, a country in South America, is home to a section of Amazon rain forest and Machu Picchu (shown in the picture above), one of the wonders of the world. An ancient Inca city, set high in the Andes mountains, is surrounded by Sacred Valley, the Inca Trail and the lively city of Cusco. There are opportunities for hiking, rafting and mountain-biking.
13. United States

USA is one of the top tourist destinations with many famous landmarks and natural wonders – San Francisco with its iconic Golden Gate bridge, Los Angeles – the home of Hollywood, New York with Statue of Liberty(shown in the picture above), Empire state building, Central Park and Times Square, Niagara falls close to Canadian border, Grand Canyon with mile deep gorges, Las Vegas – the Sin city of the world, Washington with White house and its amazing museums, Florida with its glorious beaches and Disney Land, Seattle with rain forest and redwood trees.
14. Japan

Japan, an island nation in the Pacific Ocean has high-rise-filled cities, imperial palaces, mountainous national parks and thousands of shrines and temples. Tokyo, the capital, is known for its neon skyscrapers and pop culture. Kyoto, in contrast, offers Buddhist temples, Shinto shrines, gardens and cherry blossoms. Sushi, the national dish, is served everywhere from casual pubs to gourmet restaurants.
15. Switzerland

Switzerland, made famous in India by Yash Raj movies, is a mountainous country in Europe. Home to numerous lakes, villages and the high peaks of the Alps, it is considered one of the most pictureseque places on the earth. Popular destinations include Bern with its Zytglogge clock tower and Cathedral of Bern and Zurich. The country is also a destination for its ski resorts and hiking trails. Banking and finance are key industries, and Swiss watches and chocolate are renowned.
16. Indonesia

Indonesia, a Southeast Asian nation, is made up of thousands of volcanic islands. It is well known for its beaches, volcanoes and jungles sheltering elephants, tigers and Komodo dragons. Top destinations include Bali and Jakarta, the capital city.
17. New Zealand

New Zealand, a country in the southwestern Pacific Ocean, is famed for its natural beauty. Top destinations include Wellington – the capital, Mt. Victoria, Fiordland and Southern Lakes which were featured in "Lord of the Rings" films.
18. Costa Rica

Costa Rica is a rugged, rain forested Central American country with coastlines on the Caribbean and Pacific. Though its capital, San Jose, is home to cultural institutions like the Pre-Columbian Gold Museum, Costa Rica is known for its beaches, volcanoes and immense biodiversity. Roughly a quarter of its area is made up of protected jungle, rich with wildlife including spider monkeys and quetzal birds.
19. Morocco

Morocco, a North African country bordering the Atlantic Ocean and the Mediterranean Sea. Marrakesh's walled medina, a mazelike medieval quarter, offers entertainment in its Djemaa el-Fna square and souks (marketplaces) selling traditional ceramics, jewelry and metal lanterns. The capital Rabat's Kasbah of the Udayas is a 12th-century royal fort overlooking the water.
20. Portugal

Portugal, a southern European country, borders Spain and the Atlantic Ocean. Major tourist destinations includes Algarve's beaches and Lisbon, the capital, with a glimpse of architecture dating back to the 1500s-1800s, when Portugal had a maritime empire.
21. Russia

Russia, the world's largest nation, spans two continents Asia and Europe. Its landscape ranges from tundra and forests to subtropical beaches. Top destinations include Moscow, the capital with iconic red square and St Petersburg for its palaces and museums.
22. Vietnam

Vietnam, a Southeast Asian country, is known for its beaches, rivers, Buddhist pagodas and bustling cities. Hanoi, the capital, pays homage to the nation's iconic Communist-era leader, Ho Chi Minh, via a huge marble mausoleum. Ho Chi Minh City (formerly Saigon) has French colonial landmarks, plus Vietnamese War history museums and the tunnels, used by Viet Cong soldiers.
23. Thailand

Thailand, a Southeast Asian country, is well known for tropical beaches, royal palaces, ancient ruins and ornate Buddhist temples. Bangkok, the capital, has an ultramodern city scape rises next to quiet canal and riverside communities. Phuket, an island beach, is another top destination in Thailand.
24. Netherlands

The Netherlands is known for its flat landscape, canals, tulip fields, windmills and cycling routes. Amsterdam, the capital, is home to the Rijksmuseum, Van Gogh Museum, the house where Jewish diarist Anne Frank hid during WWII.
25. Argentina

Argentina, well known to Indians due to its rich football history, is a large South American nation. It has a terrain that encompass Andes mountains, glacial lakes and Pampas grassland. Its big, cosmopolitan capital, Buenos Aires, is centered on the 16th-century Plaza de Mayo, lined with stately buildings including Casa Rosada, the iconic,  presidential palace.
26. Bhutan

Bhutan, a Buddhist kingdom, is a land of monasteries, fortresses and dramatic landscape. You can find subtropical plains to steep mountains and valleys. Top destinations include Jomolhari peak, a destination for serious trekkers and Taktsang Palphug (Tiger's Nest) monastery, a sacred site which clings to cliffs above the forested Paro Valley.
27. Hungary

Hungary is a landlocked country in Central Europe. Its capital, Budapest, is bisected by the Danube River and famed for its dramatic cityscape studded with architectural landmarks from Buda's medieval Castle Hill and the grand neoclassical buildings along Pest's Andrássy Avenue to the 19th-century Chain Bridge.
28. Malaysia

Malaysia, a Southeast Asian country, is one of the top tourist destinations, well known for its beaches, rain forests and modern buildings. Kuala Lumpur, the capital, is home to colonial buildings, busy shopping districts such as Bukit Bintang and skyscrapers including the iconic, 451m-tall Petronas Twin Towers, once the tallest building in the world.
29. Combodia

Cambodia, a Southeast Asian nation, has a landscape that spans low-lying plains, the Mekong Delta, mountains and Gulf of Thailand coastline. Phnom Penh, its capital, is home to the art deco Central Market, glittering Royal Palace and the National Museum's historical and archaeological exhibits. In the country's northwest lie ruins of Angkor Wat, the largest religious monument in the world. The massive stone temple complex, measuring 162.6 hectares in area, was built during the Khmer Empire and is a UNESCO world heritage site.
30. Dubai

Dubai, a city in the UAE, is known for shopping, a lively nightlife and a skyline filled with skyscrapers. Burj Khalifa(shown in the picture above), an 830m-tall tower, is currently the tallest building in the world. Dubai Fountain, with jets and lights choreographed to music, lies at the bottom of Burj Khalifa. Palm resorts, built on man-made islands offshore, is other major attraction with water and marine-animal parks.
[mc4wp_form id="1302″]