When you select a mutual fund, you can invest in the scheme via a regular plan or a direct plan. While regular mutual funds have been there since the beginning, direct plans are fairly new and are still the lesser-known alternative. Of Late, there have been conflicting opinions about which is the best way to invest in mutual funds, especially if you are a novice investor. Debunking any myths or misconceptions you may have heard about direct mutual funds, we will cover in this article why they may be the best investment route for you. Read on to know more. 
What Are Direct Mutual Funds And How Do They Differ From Regular Funds. 
 In January 2013, SEBI mandated all mutual fund companies to allow investors to invest in mutual funds via direct plans, without the intervention of brokers, agents or distributors, as is the case in regular mutual funds. Regular and direct plan both involve investing in the same fund scheme. They are also managed by the same fund manager who applies the same fund management strategy,  asset allocation as well as investment portfolio for both the plans.  
The only difference between the two is that in the case of a regular plan your AMC or mutual fund house does pay a commission to your broker as distribution expenses or transaction fee out of your investment, whereas in case of a direct plan, no such commission is paid.
Now there are certain annual expenses associated with the management of mutual funds that the AMC charges you when you invest your money. This fee, expressed as a percentage of the average value of fund assets is called expense ratio. 
Since the investment in regular mutual funds is facilitated by a broker, he charges a certain amount as commission, borne by the AMC. This cost is paid as a percentage of the investment you made in the mutual fund. Now since investing in direct plans is devoid of any brokers, there is no commission and hence you are not charged any fee. 
In short, the expense ratio of a direct mutual fund is lower as compared to the expense ratio of the regular plan of the same scheme. This difference in fees also translates to you getting higher returns via the direct route as compared with the regular route. The infographic below will show you how much you may have to pay as commission if you invest via the regular plan.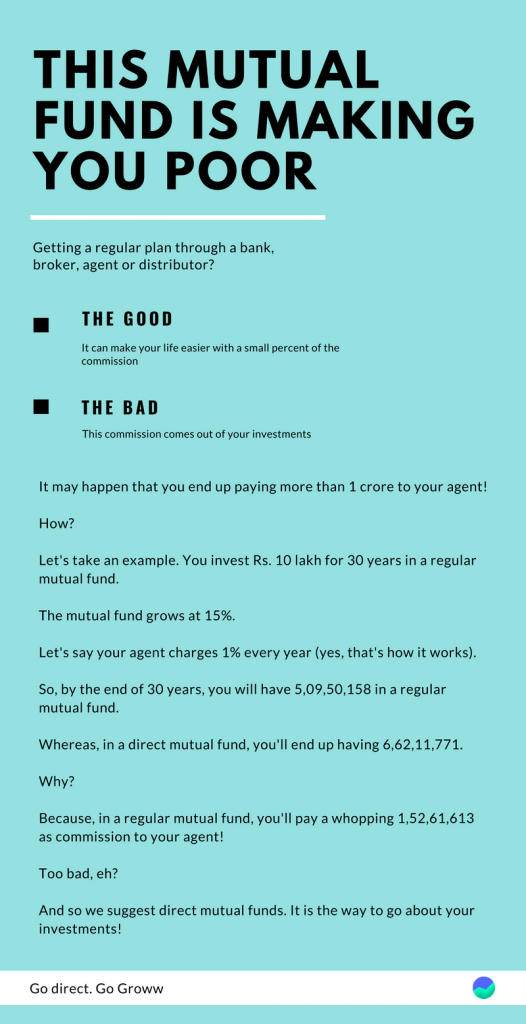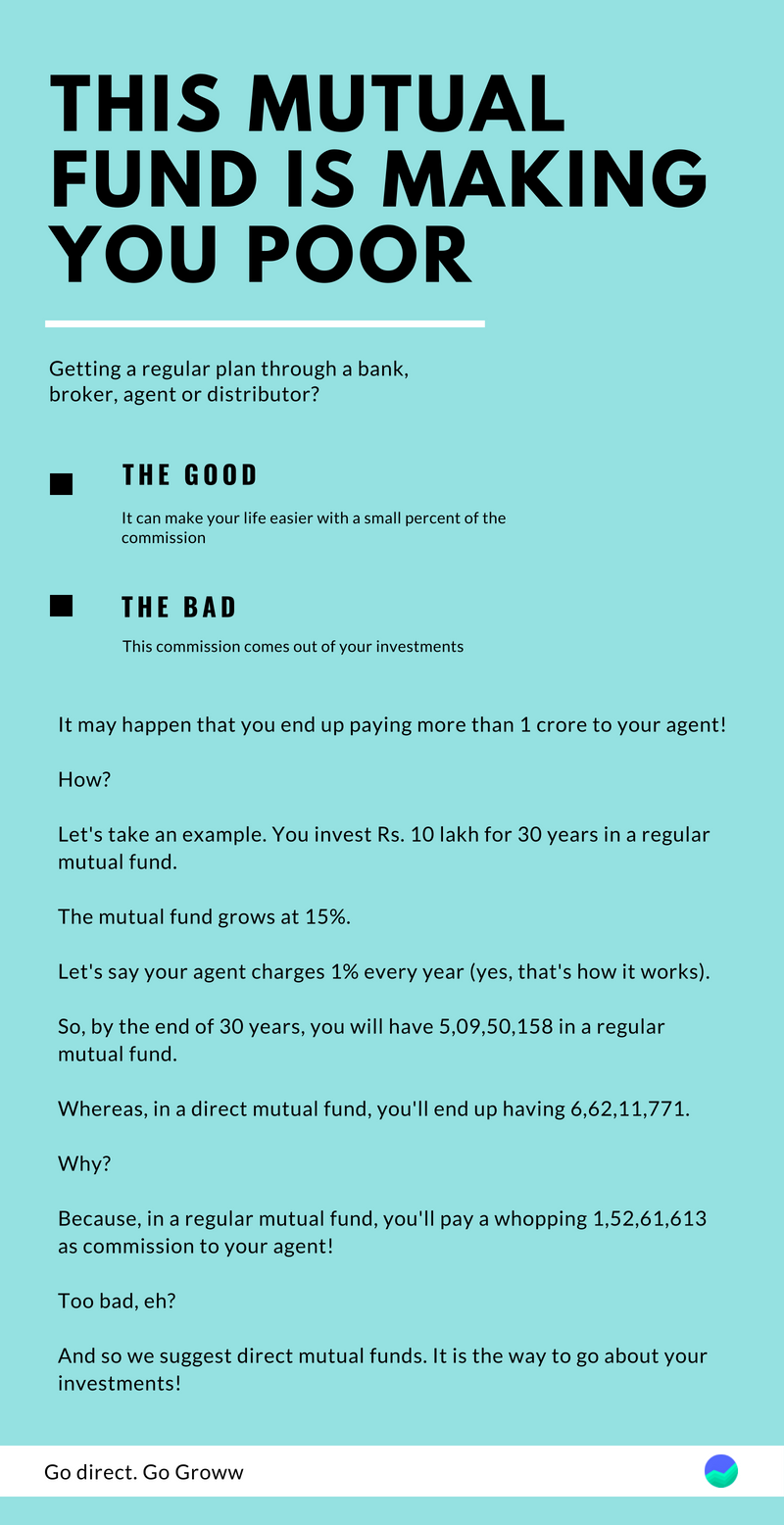 As evident , if you are someone who has not started his investment journey yet and confused between regular or direct, the answer is very clear. Earlier there was little awareness around mutual funds and people did not have the financial knowledge to take investment decisions by themselves. However, with the availability of platforms like Groww , that provide you all necessary fund comparison features and other educational resources to take a decision, you no longer need to be dependent on an external agent for advice and lose money on commissions.
 This will also protect you against any malpractices committed by agents and brokers like investing your money in poor performing funds  or funds not in line with your investment objectives or risk profile, in order to earn a higher commission. 
 However, what to do if you are already invested via a regular plan? 
The good news is you can switch your investments to a direct plan of the same scheme within minutes on Groww, and avoid losing anymore in commissions.  Let's see how we can do that. 
How To Switch To Direct Plans On Groww
To switch to direct you first need to track all your external investments, that is investments you have made in all mutual fund schemes via various means at one place.  Once you have enabled the tracking option on Groww dashboard, you would be able to see all your external investments at one place. 
Go To Dashboard. You will see all your external investments at one place. Now scroll down and click on the " Switch To Direct " button.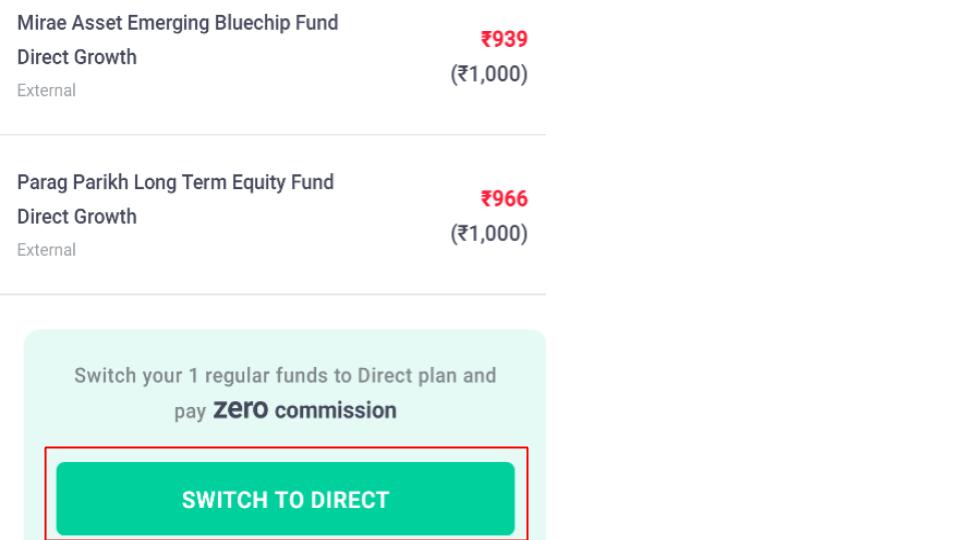 It  is important to note that Groww intelligently detects exit load applicable on your investments and gives you the option to completely remove the exit load with just 1 click. Furthermore, Groww also checks for your ELSS(tax saving) investments and doesn't let you switch to prevent the increase in the lock-in period of the fund.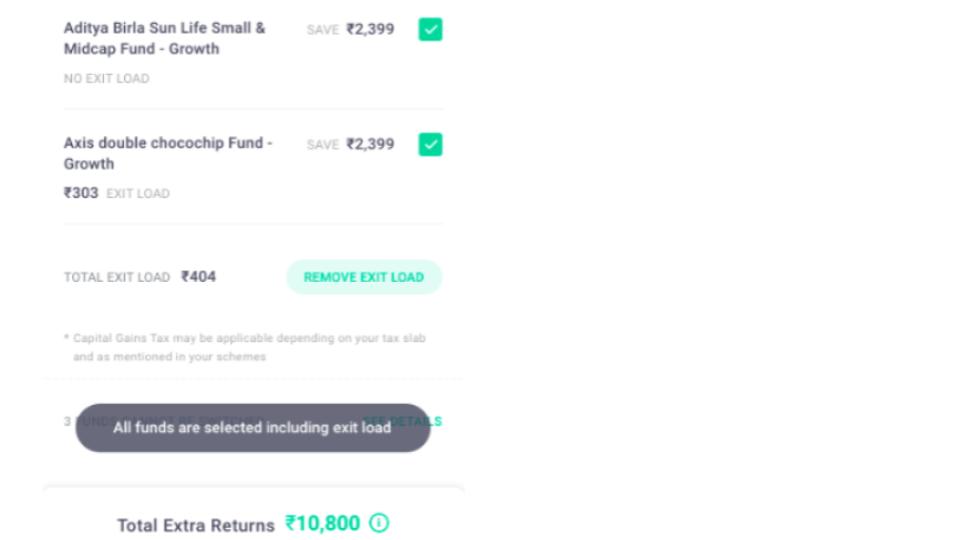 Once you click on switch to direct, , select the funds that you want to switch from a regular plan to a direct plan and click on " Confirm And Switch"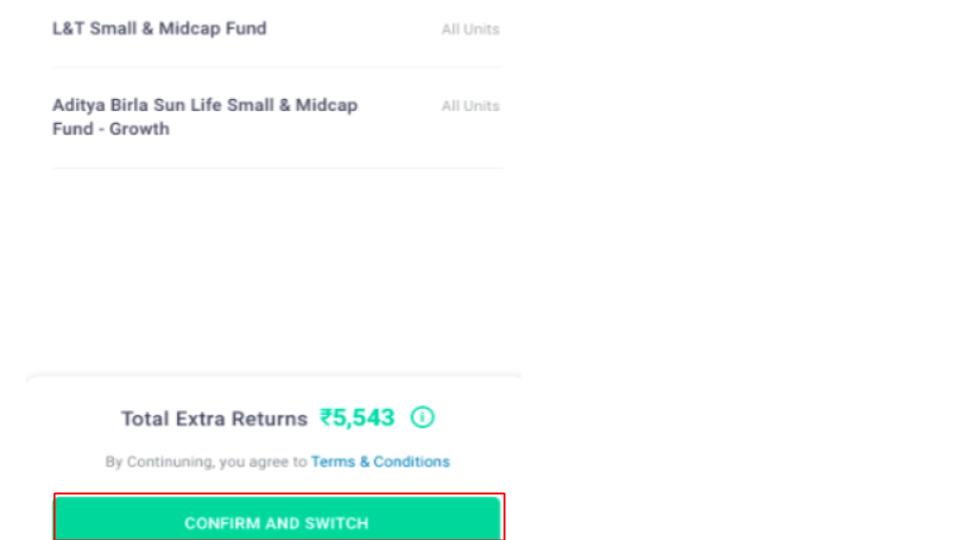 And just like that, you will be able to switch from regular plans to direct plans within minutes! 
Check out the video below for more details.
Happy Investing !