If you have Rs 10 lakh with you for investment, what would you do with it?
Buy house or gold? What are other investment options can be explored?
Here is what you as an investor should know.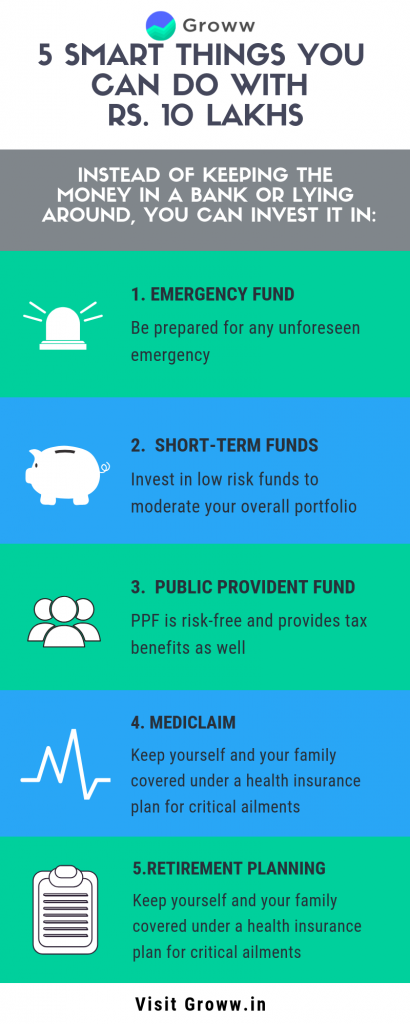 How to Invest 10 Lakhs
If you are wondering where to invest 10 lakhs, here are some of the best 10 ways-
1) Emergency Funds
There can be times when you will be hit by curveballs and you need to be prepared for it!
Many lost jobs or had to undergo pay-cut due to the impact of Covid-19. So if you lose your job, how will you cope financially?
To handle such extraordinary situations, it is important that you have a portion of income saved as emergency funds. It could be parked in low-risk liquid funds.
Liquid funds are easily accessible at any point of time. Ideally, you should keep aside three months of your expense in an emergency fund.
Alternatively, you can park it in bank fixed deposits as well.
2) Short-term funds
These funds primarily invest in debt funds and have a maturity period of 1-3 years.
These funds moderate your overall portfolio as they have a lower risk, as compared to their equity counterpart. Also from a liquidity standpoint for short to medium term.
Do note to check the instruments these debt funds invests in. For instance, if these invests in AT1 Bonds, then you should be wary of the risks.
3) ELSS Funds 
ELSS funds are Equity Linked Savings Scheme. These funds primarily invest in equity and equity-related securities. And provide good returns to investors.
These funds can form a part of your portfolio purely from taxation point of view. Keep in mind that ELSS come with a lock-in period of three years. You can claim tax benefits up to Rs 1.5 lakh under section 80C of the Income Tax Act.
You can consider these funds if you wanted to claim tax benefits and exhausted all other options. Also, if you often wonder how to invest 10 lakhs for monthly income, ELSS funds may be a suitable option.

4) High Growth Funds
These are value or growth funds that are equity dominated.
These funds seek to provide capital appreciation over time and are suitable for investors with a moderately high-risk appetite and investors who have a long-term investment horizon.
Some of the funds that you should explore are – large, mid-cap and small-cap funds.
5) Gold
Of course you should consider investing in gold. Indians love the yellow metal and it can act as an inflation hedge during uncertain times. However, gold better invested as an asset class other than jewellery.
Gold in the form of ETFs, coins and even gold funds are options available in the market.
Having exposure to gold helps balance portfolio from volatility.
6) Public Provident Fund
While it is not a great option for investment, you should explore it from the risk-free angle.
PPF is considered to be a risk-free instrument that provides tax benefits for both the interest and the principal component.
Before you invest in PPF, remember, you must take into account that PPF is not liquid, as it comes with a 15-year lock-in period. This investment helps you fulfill any future goals such as buying a house, car, or perhaps a wedding in the family.
7) Health Insurance
Whether you explore any of the investment options mentioned above, you as an individual narrow down on a comprehensive health policy. The younger (age) you buy a health policy the better the benefits.
Consider buying a health cover that covers your wife and children too (family floater plans). For those who are unmarried, you can opt for an individual (standalone) health policy.
If you have a family history of health issues such as diabetes or cancer or cardiac problems, then it is all the more important to buy a health cover and a critical illness cover. This could help you financially in time of emergency or if diagnosed with any of these illnesses.
One of the important advantage of critical illness policies are that, they are benefit policies. This means, upon diagnosis of the critical illness (list of illness mentioned in health insurers' websites), the entire policy amount will be paid. You as a policyholder can use it for any purposes. Treatment or otherwise.
8) Term Insurance
Term insurance is very important for individuals who have dependents. Particularly, if you are the sole bread-winner in the family, then you should consider buying a term policy (life insurance). If you buy it young, the premium charged will be less.
Many experts suggest that your term cover should ideally be 10 times your total annual income.
Upon the death of the policyholder, a lumpsum payment will be made to the nominee (wife or parents or children). If you have loan outstanding, then this payment could help your family.
Keep in mind that a pure-term cover is better than return of premium. In the former, you pay premium and only upon death, your nominee receives payment. In the latter, you pay premium and if you survive the policy period, the premium paid is returned.
A pure term cover is better because it is cost effect.
9) Repay Debt
If you have any high-cost borrowing such as home loan, credit card, car loan or any personal loan, try to repay the highest borrowing first.
This should help you ease the interest burden subsequently.
10) Plan for Retirement
The earlier you start, the more you accumulate.   

So it is better you start saving for your retirement from the first day you start earning. It can also help to build your 10 lakh investment plan.
Start as low as Rs 500 or Rs 1,000 a month. It could accumulate to a sizeable corpus when you are 60 years. Thanks to the compounding.
You can consider National Pension Scheme, a few retirement funds or just start saving in any of the mutual fund schemes (only after thorough research) and invest in it for a long-term.
So, we believe if you haven't thought of your retirement so far, use a portion of Rs.10 lakh to kickstart your retirement planning.
Your Take
Even if you didn't have Rs 10 lakh in hand now, you can still consider saving in all, or a few options mentioned above.
It can secure your future and make you more disciplined with money.
Happy Investing!