It is always a good idea to compare mutual fund schemes for their features, before deciding on the right one to invest in.  Such a comparison can yield valuable insights regarding important fund parameters such as NAV, historic returns, the risk involved, fund rating, etc.
In light of this, Groww has now enabled The Mutual Fund Schemes Comparison feature on the Groww website, to help you decide the right mutual fund to invest in according to your needs. This blog covers the steps on how you can use this feature.
Step 1: Login To Your Groww Account
Please note, currently, this feature is enabled only on the Groww website and not the App. Log in with your credentials on the Groww website 
On entering the website you can either select the mutual fund scheme you are primarily interested in from the Popular Mutual Funds category or if you wish to see more schemes, Click on " Explore" and Select " Mutual Funds" from the drop-down.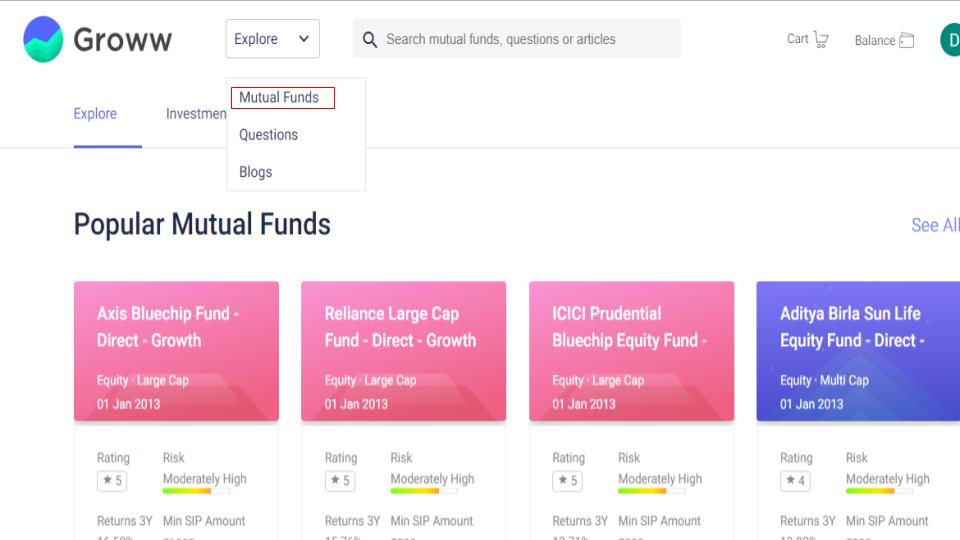 Step 2: Select The Fund You Want to Explore From The List
Through filters, you can narrow down your fund search. You can search the required fund according to AMC, category, risk profile, fund size and the mode of investing (one time or SIP). You can also sort funds by popularity.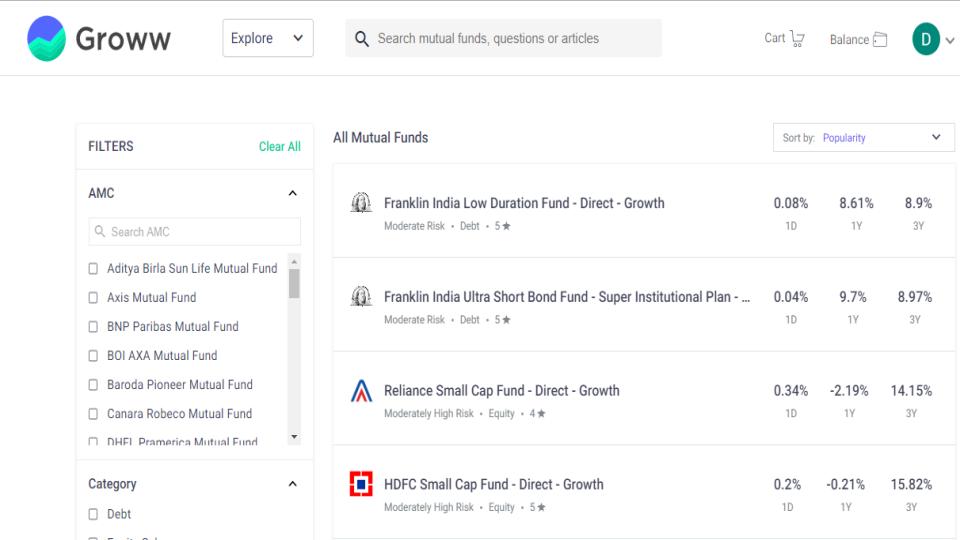 Step 3: The Fund Comparison Feature.
Let us understand by example. Suppose you want to see the features of " Reliance Small Cap Fund-Direct-Growth" and want to compare its performance with another fund.
Select " Reliance Small Cap Fund- Direct-Growth " fund from the fund menu and you would be directed to the fund page.
Upon entering the fund page, you would be able to see all fund-related features like risk profile, NAV, returns, etc.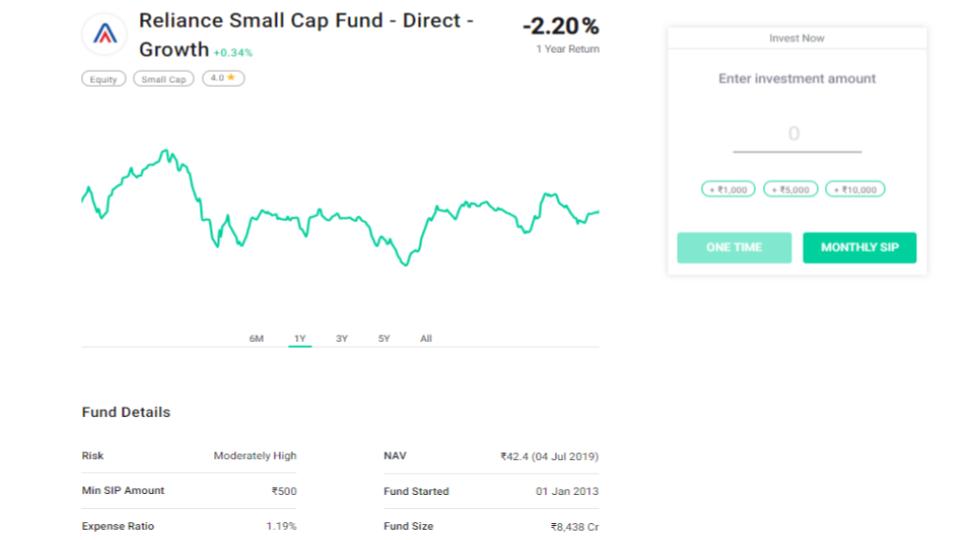 As you scroll down, you will be able to see a recommended list of similar small-cap funds, under the heading "Comparison" that you can check out. Suppose you want a detailed performance comparison of "Reliance Small Cap Fund- Direct-Growth and " HDFC Small Cap Fund-Direct-Growth".
Scroll down the fund page till you see the heading " Compare Funds"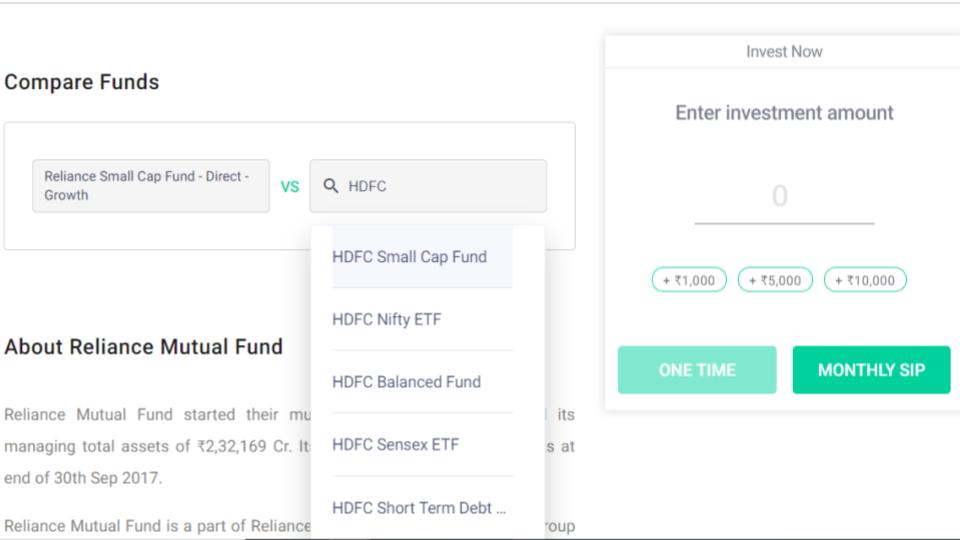 As soon as you select HDFC Small Cap Fund, you would be directed to the fund comparison page where you can see the relative performance of both funds over time, along with other analytics.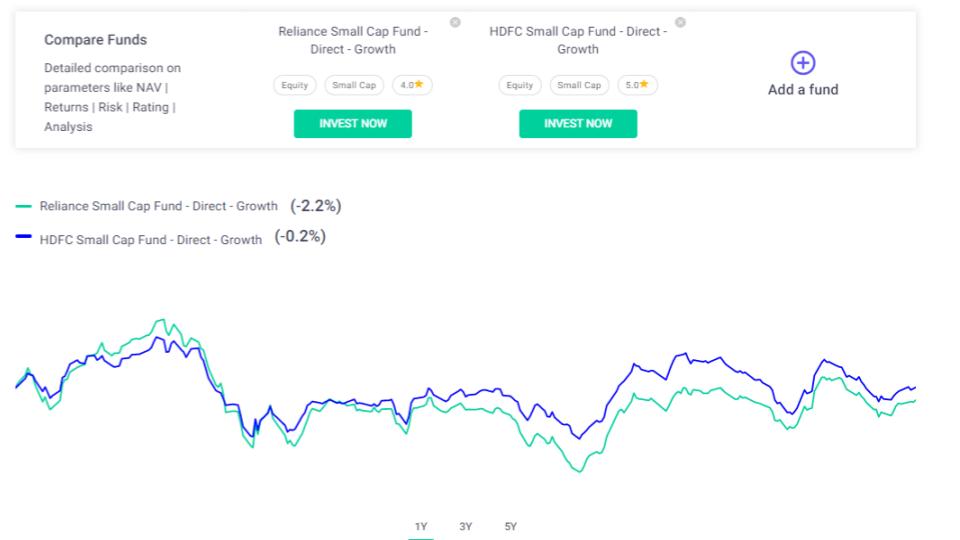 You can also add a third fund as well and compare features to select the most suitable option.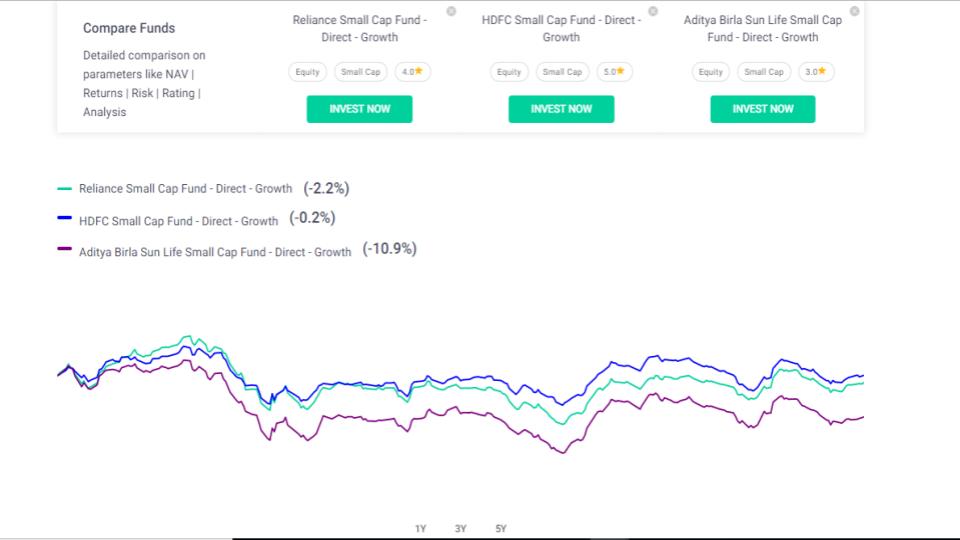 So, just in a few simple steps you can compare multiple mutual funds and invest according to your needs within minutes.
Happy Investing!