Sun Pharma, a Nifty 50 company, is one of the prominent players in the pharma industry. As of April 2022, the stock is up nearly 46% in this past year beating Nifty 50 index returns. During the same period, Nifty index returns were about 19%.
While pharma stocks, in general, have delivered similar returns as the Nifty 50 index, Sun Pharma appears to have beaten the index. For instance, Divis Laboratories, a Nifty 50 company, have given about 20% returns in this past year. On the other hand, Dr Reddy's, another Nifty 50 company, is down about 14% during the same period. 
Sun Pharma appears relatively better among other pharma stocks in Nifty 50 companies. Its differentiating product portfolio, expansion into new segments (products) and markets, and stable businesses in domestic and international markets could be working for the company.  
Here is a detailed analysis of the company.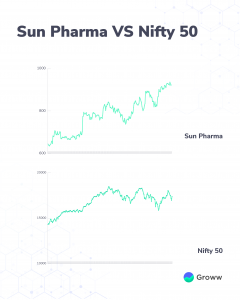 About the company 
Sun Pharma is one of the top players in Indian as well as global markets. The pharma market is fragmented. And according to media reports, the company holds about 8.2% market share in India. This is one of the largest (pharma) players in the country. 
Sun Pharma is present in over 80 countries including the US, Europe, Japan, and Australia. The company derives about 67% of its sales from the international market with the US market contributing about 30%. Indian market accounts for about 33% of sales. 
Sun Pharma is the 9th largest company in the

US generic market

and is ranked 2nd in prescriptions in the US dermatology segment.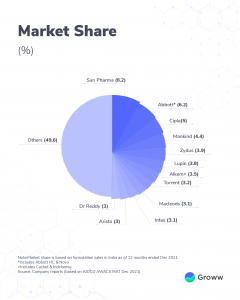 Sun Pharma has a diversified product portfolio with a strong presence in the specialty, branded and generic segments. The company's other products include differentiated offerings for injectables and hospital products, among others for the retail market.
In the

Indian market,

the company is among the leading players in chronic therapies. Segments include cardiology, neuropsychology, and gastroenterology related products. These contribute to about 45% of revenue (FY21). Further, as per the company's report, the product segment is well-diversified thereby minimising the risk of concentration. That is, the top 10 brands of the company contribute about 19% of revenue (India). 
Also, the company's 29 brands are in the country's top 300 pharma brands. So, the growth, of the company, comes from a basket of brands. It has a sales force of over 10,900 with one of the highest productive representatives. This is thanks to the company's focus (and success) on chronic therapies. Brand recognition also plays a role in this.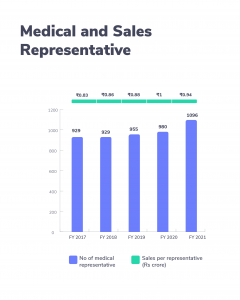 You might also be interested in Indian Pharma Sector Analysis
Sun Pharma: Why consider the stock?
Sun Pharma had deployed significant resources in gaining access to specialty products in the past 6-7 years. For example in 2014, the company entered an In-licencing agreement with Merck for Tildrakizumab, a biologic for psoriasis. Further, their clinical development, commercialisation and development of a future R&D pipeline of specialty products. 
As of FY21, the company has 12 specialty products (commercialised) that contribute to about 11% of the company's revenue. 
Apart from specialty products, the company also branded generics, complex generics, pure generics, and APIs. 
Sun Pharma's investment in R&D (research and development) has helped the company establish its market presence. This is not only in India but also in international markets. An increase in access to healthcare globally, a rise in income, and advancement in medical research are a few favourable macro-economic factors for the pharma industry. 
Highly diversified revenue base 
While international sales contribute to about 67% of its revenue (geography-wise), product-wise, the company is well diversified. These include medications for chronic diseases including cardiovascular, diabetes and respiratory-related illnesses. Further, the company also has therapeutic products for treatments like oncology. While specialty products are one of the key differentiators for Sun Pharma, its contribution to revenue is around 11% (FY21). Thus, the diversified revenue base helps the company to reduce the risk of dependency on one specific product.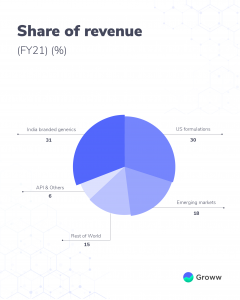 India's pharma industry has multiple growth enablers. This along with Sun Pharma's market position is likely to benefit the company going ahead. These factors include rapid urbanisation and rising income levels, an increase in public healthcare spending, and lifestyle and food consumption changes causing a rise in the incidence of chronic ailments. An increase in access to innovative treatments is also a positive.
For instance, the company has multiple products on the market already to treat chronic ailments like diabetes. About 8% of revenue is from diabetology products in the industry as a whole.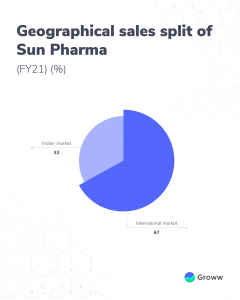 Additionally, the diverse operations across countries also reduce the dependencies on one country for the company. Though the US is still a major contributor to revenue, the pharma industry in the US is likely to have consistent demand. According to many experts, developed countries spend more on the healthcare needs of their people. 
Improving specialty products 
Specialty medicines are the latest generation products and are one of the important products of Sun Pharma. These products are primarily targeted at treating chronic, and rare diseases like auto-immune diseases. According to multiple reports, this product segment account for about 38% of the global pharmaceutical spending in 2020. The specialty segment growth and spending are likely to continue in the coming years. 
While specialty products require high R&D investments, it also requires complex supply chain management, and it needs to be prescribed by specialists (doctors). Therefore, these products require a large sales team to market the product. Sun Pharma not only has shown early signs of success in its specialty products but also has a good sales team for the same. Specialty products usually come with patent protection.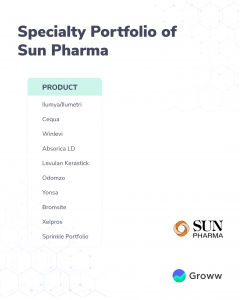 How do the specialty products compare?
Let's understand how important or how well the specialty products of Sun Pharma fare in the market. 
Over the years, Sun Pharma had made a series of acquisitions, and developments. It has also entered into agreements to build a steady specialty products portfolio. Ilumya is one such product. 
Case of Sun Pharma's Ilumya
Ilumya treats psoriasis. This is an autoimmune inflammatory disorder. It affects about 2-3% of the global population according to media reports. There are multiple drugs on the market to treat this disease including Skyrizi from AbbVie and Tremfya from Johnson and Johnson. Sun Pharma's Ilumya has a higher efficacy (positive result) over the long term, with better safety, compared to other drugs on the market. 

APIs
APIs, which stand for the active pharmaceutical ingredient, are compounds in any drugs that produce the intended effects. In simple terms, APIs are like raw materials for drugs. 
Sun Pharma has its presence in APIs too. APIs contribute to about 6% of revenue for the company. It provides cost competitiveness and a reliable supply chain. This reduces the dependence on third-party for APIs. Sun Pharma currently develops around 20-30 APIs annually and has 14 API manufacturing units across many countries. As of FY21, Sun Pharma also supplies APIs for about 300 products to other large generic manufacturers. This is after meeting the in-house requirements. 
Globally pharma companies are looking for alternate supply sources, specifically for APIs, since the outbreak of Covid (in China) disrupted the APIs supplies. Sun Pharma's API manufacturing has the potential and the market to grow. 
What does the future hold?
While globally pharma stocks had a bull run, particularly since the onset of Covid, they faced multiple challenges. These include postponement of surgeries and critical treatments and supply related bottlenecks for APIs. Since most of these issues have been resolved in the industry including Sun Pharma, its prospects appear good in the coming years.
A few points to support the argument for the company:
Strengthening specialty products pipeline: 
There is an increasing demand for chronic conditions and ailments. The emergence of such diseases is more frequent in recent years due to changes in our lifestyle. This is where specialty segment comes into play. And Sun Pharma has multiple products lined up under this segment. 
Expansion in APIs: There is an emerging R&D trend in APIs to explore complex APIs used in the novel formulation and niche therapeutic areas. This bodes well for Sun Pharma as its R&D is one of the competitors in the industry.

Sun Pharma has a better brand coverage compared to other companies in the industry. It is among the top brands prescribed by doctors. 

The string of acquisitions made by the companies appears to be benefiting the companies. And according to analysts, this provides long-term growth visibility, particularly in specialty segment. 

Sun Pharma spend about 6.5% of its revenue on R&D and it could aid in its growth in the coming years. For instance, R&D efforts in innovative therapies are picking interest globally, like gene and cell therapy is another area.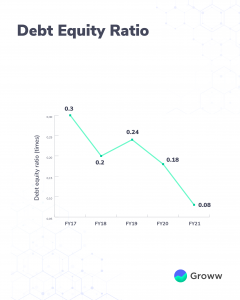 Investors: Take note
While Sun Pharma's prospects appear bright, and most of the challenges, in the past two years, for the pharma industry have been ironed out, there are a few pointers that investors should keep in mind. 
In the next 5-7 years, patent expiries are estimated to be about $166 billion. While it could be offset by spending on generics and biosimilar, it is still an area of concern for many pharma companies, including Sun Pharma. This is something that investors should note. However, considering the pipeline of products with the company, the impact could be less. According to the company's statement, it continues to evaluate in-licensing opportunities for the latest generation patented products.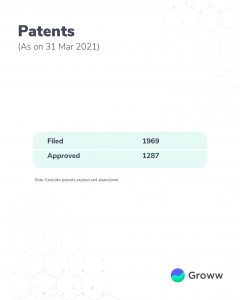 In general, US generics markets have two key challenges – tight competition, and pricing pressures. This impacts Sun Pharma as well. While the company can navigate these challenges, there could be an impact in the short term, in case of an issue. For instance, in the year FY18-19, the company had lost exclusivity for a drug in the US, thereby weakening its financials. 

While the financial performance is likely to be positive in the coming quarters, the valuation of Sun Pharma appears expensive. It trades at 106 times while its peer Divi's Lab is trading at 45 times.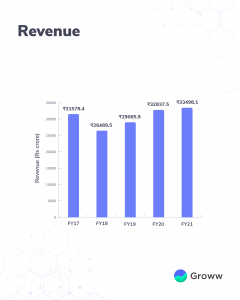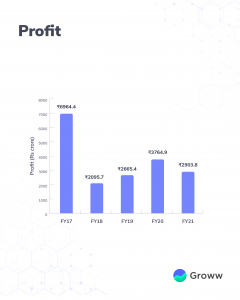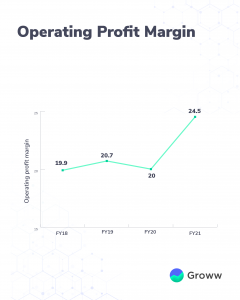 To read the RA disclaimer, please click here
Research Analyst: Bavadharini KS