While investing in mutual funds or stocks, one can authorize a person to whom the mutual funds or stocks will be transferred in the event of their death. This person is called a nominee. While creating an account on Groww, you will see an option to add up to 1 nominee. In case you missed the step and want to add a nominee now, follow the steps below.
Adding nominee for future investments 
You may have made investments in certain mutual funds and stocks on Groww. If you want to add a nominee for future investments, simply drop an email to [email protected] In the email mention the following:-
Name of the nominee.
Relation of the nominee with respect to the applicant
Date of birth of the nominee.
If you are to buy a new stock or invest in a new mutual fund, the nominee details shared by you will get updated accordingly.
Adding nominee for past investments
1. Adding nominee details for mutual fund folios
If you want to assign a nominee to your existing mutual fund folios then you need to request nomination forms of different mutual funds. Drop an email to [email protected] You will receive nominee forms from different mutual fund companies you have made investments in. Now follow the steps mentioned below:-
Download the nomination form for the respective AMC
Enter the first holder details such as Name, Folio Number, PAN
Enter the name of the nominee, relation with holder, percentage allocation, address
The signature of the first holder and nominee.
After filling the forms, you are required to courier them to the address mentioned in the email by our support team. You will also need to share a self-attested copy of PAN and Aadhaar with each set of documents.
Note: If there are multiple schemes within the same fund house then you need to courier a separate set of documents for the individual folios.
Sample AMC forms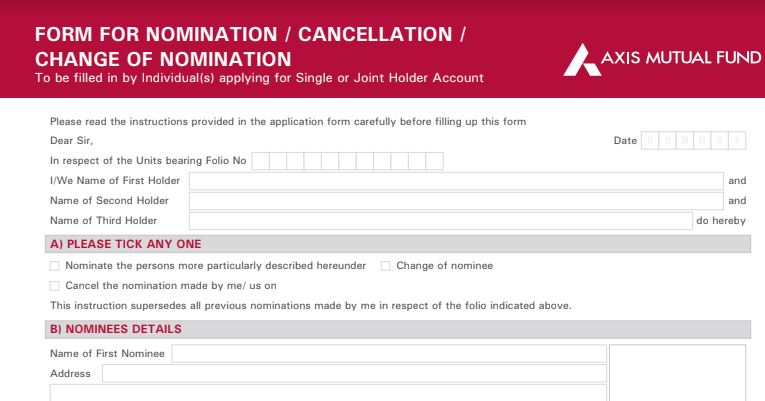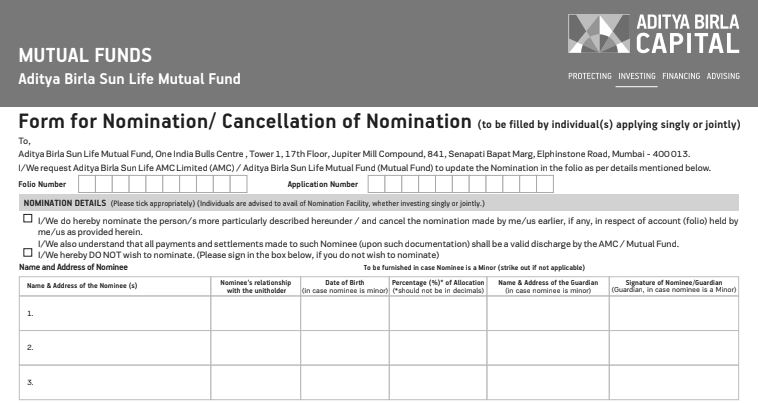 2. Adding nominee for stocks portfolio
You can request a similar nomination form for trading and Demat account from our support team for stock investments. Unlike mutual funds, you will have to fill the form only once and courier it to the address mentioned in the email. The form looks like this:-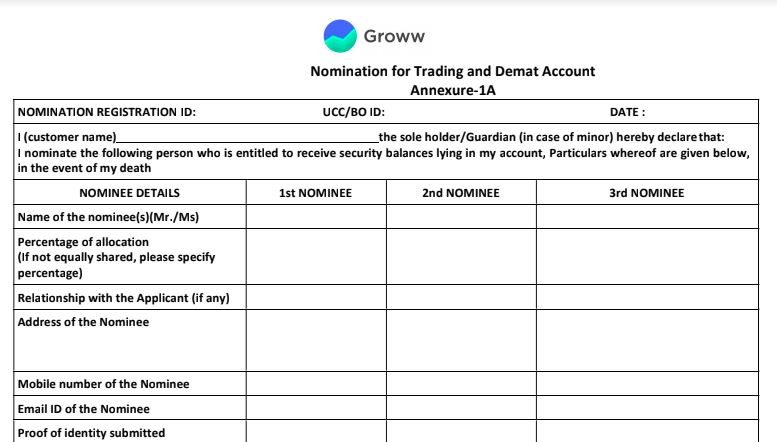 The whole process should take about 10 working days. Once done you will be able to see your nominee updated in your folio.