In this article, we seek to discuss key points you should consider while planning for your retirement. The blog will help you ensure that you are on the right track while preparing for your retirement.
Before we delve more in-depth in the subject, let us brush up with the basics and subsequently move towards investment instruments an investor should use for retirement planning.
What Is Retirement Planning?
Retirement planning is the process of assessing retirement income goals and the actions necessary to achieve those goals. The method involves identifying sources of income, estimating expenses, implementing a savings program and managing the accumulated asset (wealth).
For every individual, retirement is inevitable, and he/she continues to live even after retirement. Thus, expenses are unavoidable.
Yes, after retirement you might want to stop living a life of luxury but why do so?
When you can
So, it is essential that you plan for those expected and unexpected expenses early enough that you have enough corpus to meet these requirements after your retirement.
Also, retirement planning provides you with an opportunity to spend the golden period of your life the way you want and particularly without compromising on your needs.
What Would You Need to Plan for Your Retirement?
You would need your "magic number" – the amount you would need to retire comfortably with.
This magic number is personalized and varies from individual to individual, his lifestyle, his social status, and the likes. While there are multiple ways of computing this figure, we believe you should follow the 80% rule.
The 80% rule says that you should save enough money that can give you 80% of your current income as monthly income after retirement, for the next 20 years.
For example, assume your income is Rs. 1,00,000 currently per month. Thus, you need a minimum of Rs 80,000 per month after retirement for 20 years (considering you are retiring at 60 years and average life expectancy is 80 years).
The 4 Steps You Should Follow!
Following are the steps on how you should go about planning for your retirement –
Step 1 – Determine Your Retirement Corpus
It is crucial to have a target in mind so that you can accordingly prepare for that goal. You may need to consider assumptions and estimation to arrive at the corpus amount. You need to have the following to calculate the required corpus –
Retirement age
Life expectancy
Monthly expenses
Rate of inflation
The pre-and post-retirement rate of return that you expect from your investments
Step 2 – Start Early, Retire Peacefully
People often say that they have enough time to plan for their retirement.
This is not the right approach!
Because then, people tend to delay their planning and then, they don't have time in their favor.
Starting early provides your investment sufficient time to grow.
It says – "The early bird gets a bigger pie," similarly, the earlier you start, the better will be your risk-taking ability and thus, better will be wealth accumulation.
With lesser time, you would need to invest a higher amount to reach the same goal (see table below).
| | | | |
| --- | --- | --- | --- |
| Target | Rs 50,00,000 | Rs 50,00,000 | Rs 50,00,000 |
| Horizon | 5 years | 10 years | 30 years |
| Return | 12% | 15% | 15% |
| Monthly investment | Rs 61,650 | Rs 19,010 | Rs 888 |
So if you see, when you have only 5 years remaining you need to invest nearly 70 times more per month, as you would have invested if you start with a 30 year horizon.
Step 3 – Asset Allocation is Important!
Depending on your risk appetite, you choose your exposure to asset class – equity, debt, gold, etc. It is essential that you keep rebalancing your investments across asset classes, such that they reflect your risk appetite at all times.
For example – If your retirement goal is more than 20 years, you could choose 100% equity. If you have 5-7 years to your retirement goal – a 50-50% allocation may suit well.
Step 4: Get the Right Insurance Policy
When you are planning for your retirement, only investments wouldn't help.
You should have risk covered as well. Thus, you need to have a health insurance policy. Also, you may choose to opt for a personal accident and critical illness policy from a tender age, so that the premium paid is on the lower side.
P.S – The premium for an insurance policy is a function of age. So, sooner you start, lesser will be your premium.
But what is the best time to start planning for your retirement?
Now is the best time.
There is no muhurat to start planning your future!
Now the question is,
Where to Invest?
Well, you may have chosen gold, real estate, fixed deposits, bonds, public provident fund, National Pension Scheme and the likes for your retirement.
And they may be good investment instruments but may not give you the maximum benefits you deserve if you have a long-term horizon for retirement planning.
We believe you should consider investing in mutual funds than anything else for your retirement. This is because mutual funds (equity mutual funds mainly) can beat inflation and has the potential to provide alpha (excess returns) over the long-term horizon.
Are They Risk-Free?
Let me tell you this.
NO investment is risk-free. Just, some investments are more volatile than others because of their exposure to equity.
By nature, equities are volatile and a risky investment instrument. However, if one appoints an expert to manage their money, equities can be very rewarding.
Thus, you should consider investing in equity funds, as you are not directly involved in managing money, but you have a fund manager who oversees the portfolio on your behalf.
Let us see an example –
Consider the following –
| | |
| --- | --- |
| Current Age (years) | 30 |
| Current Monthly Expenses (₹) | 50000 |
| Retirement Age (years) | 60 |
| Life Expectancy (years) | 75 |
| Pre-Retirement Inflation Rate (%) | 6 |
| Pre-Retirement Investment Return (%) | 20 |
| Post-Retirement Inflation Rate (%) | 6 |
| Post-Retirement Investment Return (%) | 7 |
| Current Value of Post-Retirement Goals (₹) | 50,00,000 |
Upon computation, you find that you need to invest Rs. 5000 (approx) per month to live a happy retired life.
Given you have a long-term horizon, we believe you should invest in small-cap equity funds and special retirement funds that are available in the market, and as you reach closer to your retirement, you should opt for Systematic Withdrawal Plan (SWP)
SWP will help you withdraw money from equity funds to comparatively safer debt funds.
Following are some of the funds you may look to invest in

Objective
The fund seeks to provide long-term capital appreciation by investing predominantly in small companies.
Minimum SIP amount: ₹500
Fund Snapshot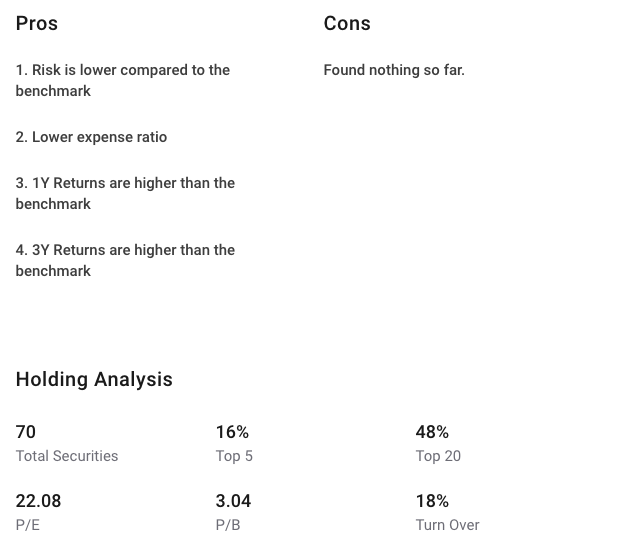 Objective
The fund seeks to provide investors with opportunities for long-term wealth creation with the liquidity of an open-ended scheme by investing predominantly in a well-diversified basket of equity stocks of small-cap companies.
Minimum SIP amount: ₹500
Fund Snapshot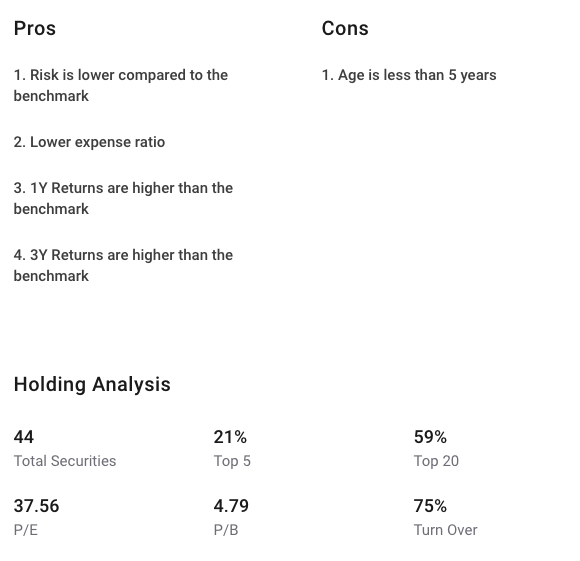 Objective
It aims to provide a long-term retirement planning tool to investors for long-term financial security.
Minimum SIP amount: ₹500
Fund Snapshot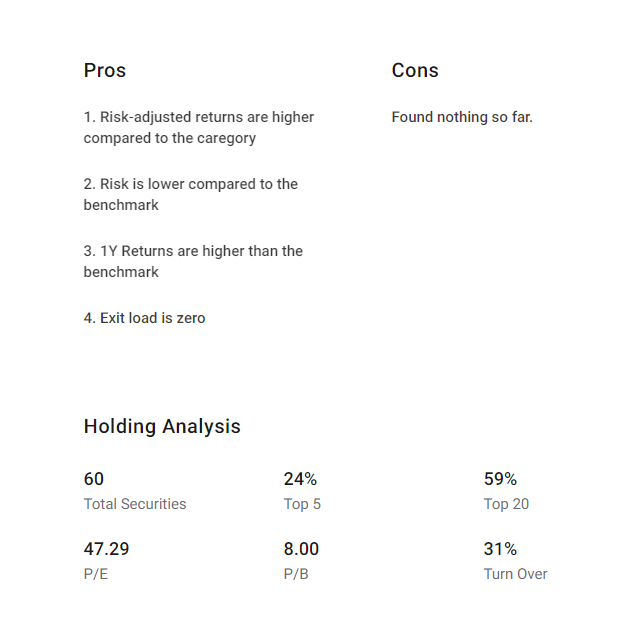 After reading about retirement planning in detail and how it is extremely important, we hope you start investing in the right medium immediately!
Remember, a happy retirement is also key to a financially successful life!
So, what are you waiting for? Choose what suits you the best and start your investment today.
Happy Investing! Happy Retirement!
Disclaimer: The views expressed in this post are that of the author and not those of Groww.