Reliance is a name few in India would not know. Reliance Industries has touched the lives of most Indians in some way or the other. More recently with the introduction of the Jio 4G network, Reliance has changed the way Indians consume content.
A company this influential to Indians and India is, of course, going to be big on the exchanges. And it is.
Did you know that if you had invested ₹1000 in Reliance shares when it hit the bourses (1977), the value today would be 16.5 lakhs? This means we would have doubled our money every 2.5 years.
One of the iconic conglomerates in India's history, Reliance Industries Limited (RIL) has witnessed an amazing journey. The Company established by Mr. Dhirubhai Ambani has, in four decades grown from a small company to a behemoth.
This success is attributable to various factors. Most recently we have witnessed the upheaval occurred in the telecom space. This has been due to the entry of Reliance Jio in the industry.
In quarter 2 of the financial year 2019, we also saw that Reliance Jio and Reliance Retail combined have taken over Reliance Petrochemicals in terms of revenue.
These two subsidiaries of RIL had entered into foray quite late as compared to the petrochemicals business. But still, they have become an instrumental part in RIL's journey.
Reliance share price today: ₹1099 (4th Jan 2019)
RIL had come up with an IPO in 1977 and the issue was oversubscribed 7 times.
Since then, its market capitalization has moved from an abysmal 10 crores to a whopping ₹7 lakh crores.
Let us look at the share performance chart of RIL for the last 2 years.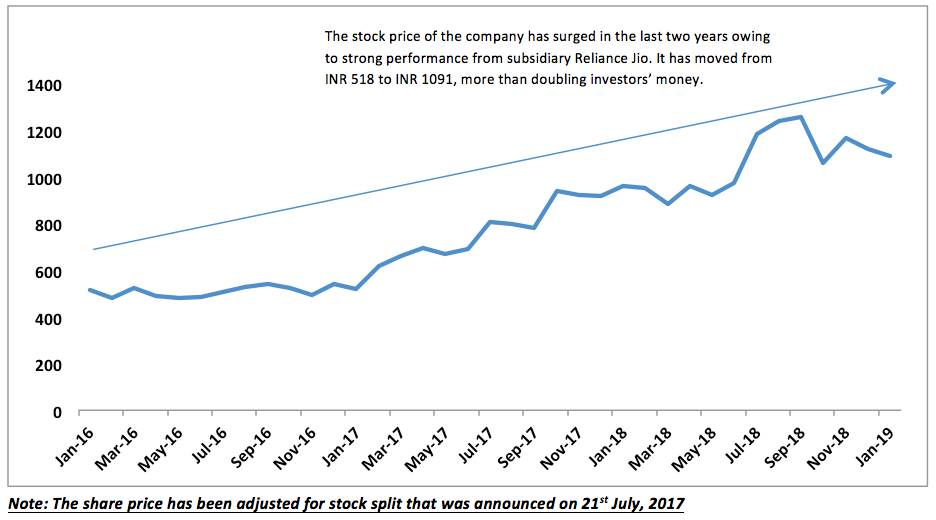 In the above chart, we can see that RIL has more than doubled investors' money in a matter of just 2 years.
Now, investors would be eager to know how the company has clocked such remarkable performance.
Reliance RIL: stock analysis
From being a textiles and polyester player company since its launch, RIL today has become an integrated player across energy, materials, retail, entertainment, and digital space.
For the sake of convenience, let us break down the few critical areas where the Company excelled. This will help us understand how the Company has been able to achieve this growth.
1. Jio
We all are aware how Jio took over the entire telecom industry by storm.
Thanks to Jio, in a matter of 2 years, India has become the world's biggest consumer of wireless data.
When Mr. Mukesh Ambani announced the launch of Jio, industry leader Bharti Airtel, Idea Cellular, and Reliance Communications lost a combined market cap of ₹13,165.5 crores.
Reliance Jio Infocomm Ltd. has gone from 0 since 2016 to more than 200 million subscribers today.
When it launched its services, it was all free. This included unlimited data, free calls, WiFi and Jio Apps. In comparison to this, Airtel and other players in the space had been charging very high.
This growth was possible as Jio had started working on it since 2013.
The Company has incurred huge capital expenditure for this undertaking. When it began its operation, Jio had over 2.7 lakh km of fiber optic cable, while the then largest player Airtel, which had been in the market for more than a decade, had 2.1 lakh km.
Such was the performance of Jio that it led other players to consolidate and even a large corporate house like the Tata had to exit the industry. The recent merger of Vodafone Idea is a prime example. At the same time, other players started reducing the rates and since then they have been debt burdened.
Let us look at the key parameters to gauge the performance of the Company in the telecom space.
| | | | | |
| --- | --- | --- | --- | --- |
| Company Name | 4G Subscribers (In Million) | 4G Subscriber Market Share (In %) | Revenue Market Share (%) | Average Revenue Per User |
| Reliance Jio | 252 | 65.6% | 26.1% | 132 |
| Airtel | 66 | 17.1% | 30.9% | 101 |
| Vodafone Idea | 66 | 17.3% | 32.8% | 88 |
Note: Data as on 30/09/2018 as per a recent report by TRAI (Telecom Regulatory Authority of India)
From the above table, we can tell that Jio has been the clear winner in the 4G space.
However, interesting to know is the fact that this is not just the end. It has been coming out with various moves such as launching the Jio phone with mainly-used apps at very reasonable rates.
Reaffirming its goal on the broadband space, RIL has acquired a majority stake in two broadband players.
These are Den Networks and Hathaway Cable and Datacom. RIL's aim through this strategic investment is to move India further in the global ranks in the wireline digital connectivity. It also announced the launch of its wired broadband service "JioGigaFiber".
Mr. Ambani has already told that he is confident to capture all the households in rural areas in the next few years. The path is set to witness the growth in this space going forward.
2. Reliance Oil & Gas
Reliance had first ventured into packaged LPG gas cylinder under the brand Reliance Gas in 1998-99.
Soon enough, it had become discovered gas in the Krishna Godavari basin. This was a major breakthrough as it became the first private sector company to have found a gas basin.
But Reliance entered into the oil and gas exploration space with a partnership with BPCL in 2010. While major companies in this space have been struggling, RIL has been able to clock constant growth.
The GRM (Gross Refining Margin) is one of the key parameters to gauge the performance of a company in the oil & gas space. GRM means what the company earns from turning every barrel of crude oil into fuel.
After initial hiccups in this sector, RIL has been able to outweigh its peers such as IOCL, HPCL, Essar Oil Ltd. in GRM. This has been due to a variety of factors.
Firstly, RIL has built complex twin refineries at Jamnagar, Gujarat. This complexity in refineries allows them to process even the worst quality of crude. Every passing year, RIL has been able to source crude of different grades. In FY 2018 itself, it has processed 65 different grades including five new ones.
Note: Nelson Complexity Index (NCI) is used to measure the complexity of a refinery. A score of 10 or above indicates that a company is considered complex. RIL's score in FY 18 was 12.6 which indicate that it has complex refineries.
Also, RIL throughout has been able to buy crude at a lower rate (through bulk-buying leading to discounts). Eventually, it sells the refined products at international benchmark prices. Also entering into forward contracts has helped them fix prices.
Another strategic advantage that RIL has created is that its plants are located on the coast. Therefore, transferring crude to different locations is not a problem. If we compare this to other comparable companies, most plants are located in land-locked areas, thereby pushing the transport costs up.
3. Recent Projects (Petrochemicals)
Recently, RIL completed two major projects, J3, and shale gas.
In the shale gas project, RIL shifted their petrochemical feedstock into the cheapest one.
Earlier, RIL was dependent on ONGC, GAIL etc. for ethane that is used in the production of petrochemicals.
However, now it has converted all its manufacturing sites into shale gas. Thereby, now it is not prone to the fluctuations in the prices of crude.
Going forward, RIL has planned for setting up J4 project in Jamnagar. J4 will be a combination of refinery and petrochemical complex.
Post completion of J4, RIL will be the largest refinery across the globe.
4. Reliance Retail
Reliance Retail started with operation in 2006 and has been clocking double-digit growth in terms of sales and number of stores.
Mr. Ambani's RIL also forayed into the e-commerce race through ajio.com.
This was conceptualized by Isha Ambani.
It has also gained momentum post the launch of Jio 4G telecom service.
This is because there has been increasing internet penetration, a growing number of smartphone users and small-town residents getting access to the latest fashion brands.
Reliance Retail has recently crossed the $10 billion in revenues.
Stock investing seems hard?
Is investing in stocks seeming too hard?
There is another easier way. Let an expert handle your stock investments for you.
Mutual Funds
Mutual funds come in many types and categories. The ones that invest in shares are called equity mutual funds.
In mutual funds, you basically outsource your stock investments to an expert. The expert is called a fund manager. He/she will manage your money. This is in exchange for a small fee called the expense ratio.
You can sign up on Groww (Android app, iOS app, and website) in minutes and start investing.
Reliance Mutual Fund
Though Reliance was founded by Dhirubhai Ambani, the company was split between his two sons, Mukesh Ambani and Anil Ambani.
Reliance Industries Ltd is headed by Mukesh Ambani.
Although not a part of the same company, mention should be made here, Reliance Capital, headed by Anil Ambani has some stellar mutual funds on offer.
You can see the entire list of Reliance mutual funds here: Reliance Mutual Funds.
Conclusion
The latest quarter profit for RIL stood at ₹9,516 crores.
With that figure, Mr. Ambani would be able to build Antilia every 2 months.
The Company that was formed by his father Mr. Dhirubhai Ambani has come a long way and entered various business verticals.
Now, it is focusing not just on oil but on data which Mr. Ambani considers the new oil.
Happy investing!
Disclaimer: the views expressed here are of the author and not of Groww.