LIC, India's biggest insurer, is all set to go for a historic IPO. In what will likely be the biggest IPO in Indian stock markets history, LIC will be made a publicly listed company and retail investors from the stock market will be able to be a part of LIC's growth.
The LIC IPO is open for subscription between May 4 and May 9. The LIC IPO issue size is Rs 21,000 crores. The price band is Rs 902-949 per share.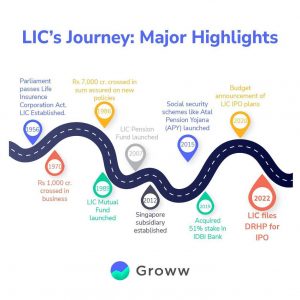 Let's have a look at the journey of over 65 years, the major highlights of the insurance company, the challenges it has faced over the years, and where it stands as of now before launching its IPO.
Dominant Player
In the year 1956, LIC had 5 zonal offices, 33 divisional offices & 212 branch offices, apart from its corporate office. As of September 30, 2021, LIC operates through 8 zonal offices, 113 divisional offices, more than 4,700 branch/satellite and mini offices, and the Corporate office.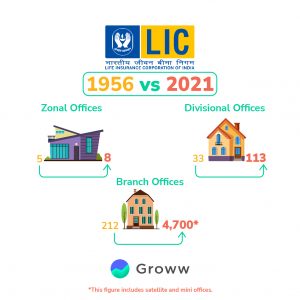 In terms of business, the corporation saw a jump from about 200 crores of New Business in 1957 to 1000+ crores by the year 1969-70. It took LIC another 10 years for LIC to cross the 2000 crore mark of new business. With re-organization taking place in the early eighties, by 1985-86 LIC had already crossed Rs 7000 crore Sum Assured on new policies.   
In terms of market share, all the private players had a market share of 33.82% as of March 31, 2021, while LIC holds the rest (66.18%)
Also, read Things you must know before applying for LIC IPO
Agent Network
One of LIC's biggest strengths in its journey of over 65 years has been its strong agent network. 
Research by CRISIl showed LIC's individual agents comprise 55% of all individual

agents in India as of March 31, 2021.

LIC's total individual agency force was 7.2 times the number of agents of the second-largest life insurer in terms of the agent network, the report added.
The company had 12.08 lakh, individual agents, as of March 31, 2021, 11.79 lakh in March 2020, and 11.49 lakh in March 2019 – showcasing a constant increase in the number of agents.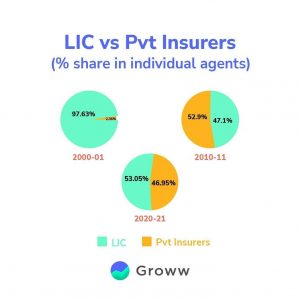 The report also mentions that LIC has the most productive agent network in the Indian life insurance sector – in Fiscal 2021, LIC agents had an average new business premium (NBP) of Rs 417,538 per agent, compared to the average NBP of Rs 124,892 per agent for the median of the top five private players.
The company's agents sold 15.3 and 5.3 individual policies on average in Fiscal 2021 and September 30, 2021, respectively, compared with the median of the top five private players' agents selling 1.6 and 0.7 individual policies per agent in Fiscal 2021 and September 30, 2021, respectively.
LIC's Key Investments
As of September 30, 2021, LIC has a 100% stake in LIC Pension Fund, LIC Cards Services, and LIC Insurance Corporation (Singapore), and holds an 83.33% stake in LIC of Bangladesh, 55% stake in LIC (Nepal), 99.66% stake in Bahrain-based LIC (International) and 80% stake in LIC (Lanka).
IDBI Trusteeship Services and IDBI Bank Ltd, termed subsidiaries, are also associate companies of the insurer.
The insurer has a 29.84% stake in IDBI Trusteeship Services and has 49.24% stake in IDBI Bank.
There are 14 companies where LIC is categorized as the promotor, 13 companies where LICs stake is more than 20%, 59 investee companies where the corporation has nominee directors on the board out of which 9 are PSU banks. Some of the companies where LIC has more than 20% stake are Patna Electric Supply Co Ltd (30.66% stake), Braithwaite & Co. Ltd. (28.29% stake), Burrakur Coal Co Ltd. (28.78% stake)
Among PSU Banks, LIC has a stake of 8.24% in the State Bank of India and 3.07% in the Bank of Maharashtra.
Further, a significant portion of the LICs investment portfolio is held in debt securities, particularly fixed income government securities. 
Changes in LIC's market share
LIC has been the single biggest player in the Indian insurance industry. While it continues to hold the top rank, private insurers have been gaining its market through innovative products and ease in technology.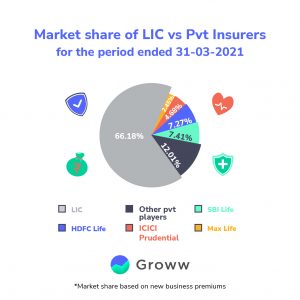 Financial statement analysis
Now that we have looked at the journey of LIC so far, let's have a look at how LIC's financials stand as of now. 
Premium
During the past three financial years, despite increased competition, the insurance company's premiums have seen an increase. The company earned premiums of Rs 4,05,398.59 crore for the year ended March 31, 2021 – an increase of almost 6% as compared to 2020 and an increase of nearly 19% when compared to 2019. 
When it comes to renewal premiums (premiums paid for the renewal of policies), LIC's renewal premiums stood at Rs 2,203,27.59 crore (54.29% of the total premium earned) in fiscal 2021, Rs 2,025,37.24 crore (52.91% of the total premium) in Fiscal 2020 and Rs 1,962,56.66 crore (57.67% of the total premium) in fiscal 2019. 
Other Earnings
Interest, dividends, and rent received from investments have also seen a steady increase over the past 3 years. For the year ended March 31, 2021, the insurance company earned Rs 2,39,565.02 crore as interest, dividends, and rent received from investments. 
Profit after tax stood at Rs 2974.14 crore for the year ended March 31, 2021, as compared to a profit of Rs 2710.48 in 2020 and Rs 2627.38 in 2019. 
Expenses 
The insurance company's operating expenses related to the insurance business too have witnessed an increase from Rs 28,331.60 crore for the year ended March 31, 2019, to Rs 35,162.22 crore for the year ended March 31, 2021 – an increase of nearly 24%. 
Tracking LIC Bonus/Dividend – to the policyholders 
Insurance companies received huge amounts of cash as premiums from policyholders. The insurance companies then invest a majority of this amount in securities, bonds, and other financial investments for profits. 
The surplus amount (profits – liabilities) that is made by these companies from these profits is paid as a 'bonus' to its policyholders. 
Let's look at the bonuses paid by LIC over the years – 
Year
Interim Bonus (in Rs

 crore

)

2021

2,229.07

2020

1,673.37

2019

1,651.37
Also, read How to Apply for LIC IPO as a Policyholder
Where does LIC invest policyholders' money?
| | |
| --- | --- |
| Investment instrument | % investment |
| Central Government securities | 37.50% |
| Equity Securities | 24.78% |
| State Government Securities | 24.61% |
| Corporate Bonds | 8.07% |
Challenges faced
Covid restrictions on agent movement: With restrictions on the movement of people and vehicles, the agent distribution network faced several challenges. The number of LIC's active (which means they had sold at least one policy in the prior 12 months) individual agents decreased by 17.48% from 10.86 lakh as of March 31, 2021, to 8.96 lakh as of September 30, 2021.
Deferral of exams: In addition, the pandemic caused a deferral of exams by the IRDAI for individual agents and corporate agents. This prevented LIC from adding many new agents. 
Business practice complaints (albeit better than competitors) For Fiscal 2021, the company received 3,994 unfair business practices complaints. 
However, when compared to private players, the company's ratio of 2.1 unfair business practice complaints per 10,000 policies in Fiscal 2021 was significantly lower compared to other players, where the median number for the top five private players was 19.5. 
Technological hurdles: One of the primary challenges has been the entry of new competitors into the market.  These entrants have a strong presence digitally. LIC, on the other hand, had traditionally relied on its individual agents to deliver individual products.