April marks the beginning of the new financial year.
And this new financial year, we bring to you something new, we bring to you the 'Economic April Challenge'
This new financial year you also could take up a few financial challenges to recover your financial situation. These simple yet important challenges are important to drastically improve your financial life.
Some of these challenges could be saving and investing more, spending according to a planned budget, cutting down on debt, cooking more, ordering less often and much more.
This article brings to you basic financial changes that you can make, that will reverse your April for the better.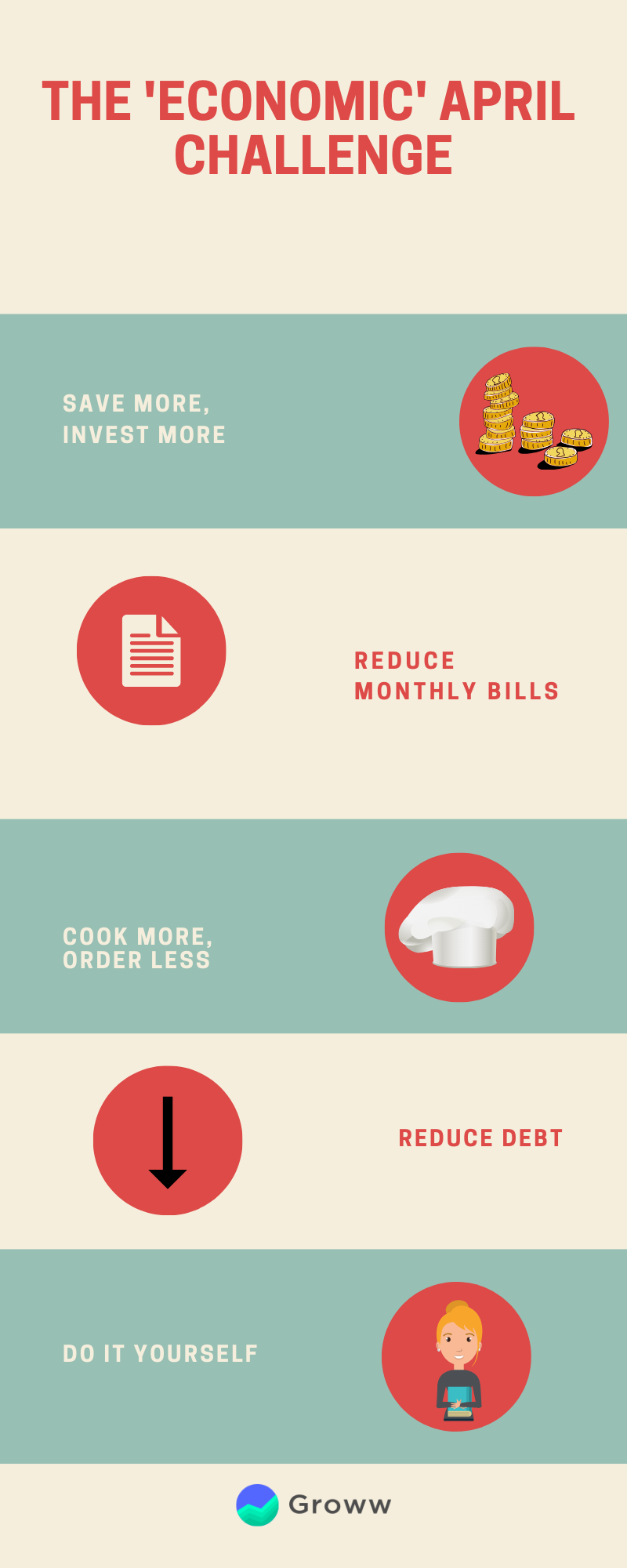 1.Save More, Invest more (Are you saving every month?)
Savings is a virtue deep-rooted in the Indian tradition.
It may be very tempting to spend frantically when you get a paycheck in the beginning of the month. However, this April challenge yourself to save more than you did last month.
Changing small habits in your day-to-day lives can add a substantial amount to your savings fund. Activities like watching a movie at home instead of going to a movie theater, or cooking at home instead of going to a restaurant, can save a lot more than you can imagine.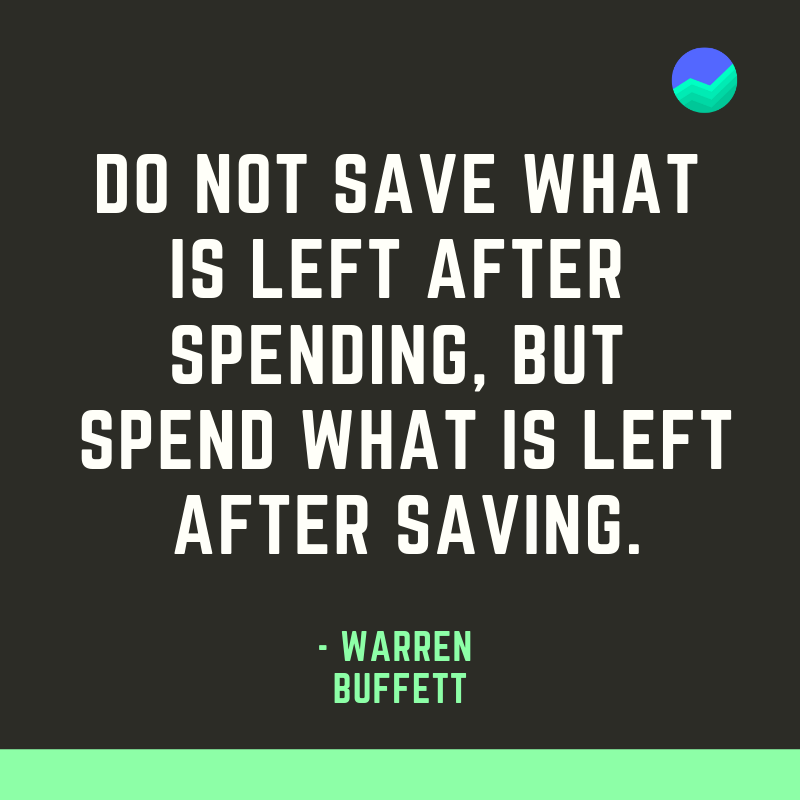 This additional amount that you will save this month, as a result of this challenge, can be used to create an emergency fund.
It could also be channeled towards investments, such as start a Systematic Investment Plan (SIP) for as low as ₹500-₹1,000 per month.
These small investments each month get compounded and 15-20 years later, you would created a huge corpus. All of this just by saving and investing a little more, without compromising on anything.
2.Reduce Your Monthly Bills (Is the light in your spare room still switched on?)
Your monthly bills is not a fixed cost that necessarily needs to be incurred each month. There is definitely a lot of scope to reduce your monthly bills just by making small measures.
Cable networks are coming up with options to pay only for the channels that you use. It may be a good time to review your cable subscription and pay for only the channels you use.
Similarly, with the advent of companies like Reliance Jio, mobile data as well as calling prices have hit rock-bottom. This may be a good time to review your network operator's plan and switch to a better plan, saving money each month.
You can also opt for pool services while traveling to your education or workplace, instead of taking a car/ bike. It will not only save you some money but also make you a more responsible citizen.
With so many start-ups coming up to solve our daily problems and offering deep discounts, saving is no more a herculean task. With proper research and will, reducing your monthly bill could be a cakewalk.
3. Cook More, Order Less
This point is especially useful for millennials – students and bachelors – living alone.
A great proportion of your monthly budget is spent on food. Ordering food from outside increases your monthly food bill exponentially.
This April, make this small change in your lifestyle. Start cooking your own food and order less from outside.
These days, apps like Zomato, Swiggy and Uber Eats have made ordering food a lot easier. On the flip side, you tend to eat a lot of outside food. This not only is bad for your health, but also your pocket.
Cooking your own meal will give you the twin benefit of being healthy and saving money.
4. Reduce Debt
High debt is one of the main reasons of stress for millennials.
This April, resolve to not take unnecessary debts. Also, if you are a credit card holder, avoid using it randomly for every expense.
Debt adds to your monthly payment obligations in the form of EMI. You often dismiss them as small monthly payments, but many such payments add to a substantial amount each month.
Cutting down on unnecessary debt will save you a lot of money and stress in the long-run.
Remember, living debt-free is living stress-free.
5.DIY (Do It Yourself!)
Do It Yourself (DIY) is a very popular trend these days. It entails doing things yourself, instead of taking the service or help of others.
A simple example of this is drive/ cycle yourself to office instead of taking the services of a driver. Or, cook your own tomato ketchup in bulk at home instead of buying it from outside each time.
Or even making your own home decor, instead of buying expensive
Doing these small activities yourself will make a huge difference not only to your lifestyle but also to your pocket.
Trying out your hand in these day-to-day activities will make you more self-dependent. It will also help you to access which activities are worth spending your hard earned money on.
Other activities are better off done by you.
Conclusion
This new year, adopt new habits and change your lifestyle.
Some important activities that can alter your financial life is saving and investing more, reducing debt and reducing monthly expenses.
Taking this challenge in April will not only improve your life, but also increase your financial well-being.
Also, make this challenge worthwhile, by nominating 2 of your friends and family
So, are you up for the challenge?
Happy Investing!