The final season of popular TV series – Game of Thrones – is scheduled this month and there is much hue and cry about who will claim the coveted Iron Throne.
In line with all the excitement and drama associated with the new and the last GOT season, we realized that the different types of investors can very well be linked to various Game of Throne characters.
Let's look at 7 GOT characters and what kind of investors they would be!
1. Jon Snow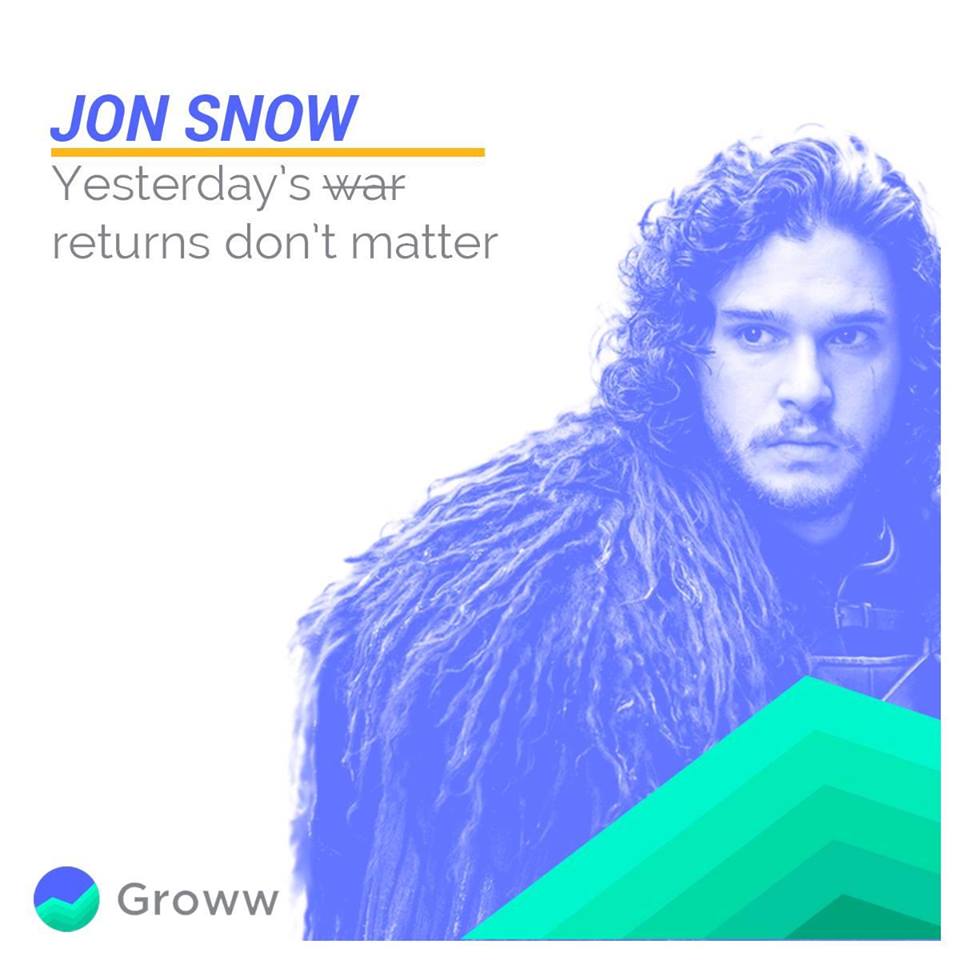 One of the most favorite characters in the GOT universe. He is known as much for his courage as he is known for his emotions.
A brave fighter and protector of his family, this character has evolved a lot throughout the GOT journey to be a powerful contender to the Iron Throne.
He is loyal, yet proud. He stands for what he thinks is right and is not afraid to speak up for it.
Jon Snow could be an emotional investor and not-very-adaptive one at that. He would probably invest in old-school Fixed Deposits or safer debt mutual funds.
However, as per the requirement of the situation, Jon Snow could completely turn around his strategy and invest in high-risk mutual funds as well.
We'll just have to wait and watch, right?
2. Cersei Lannister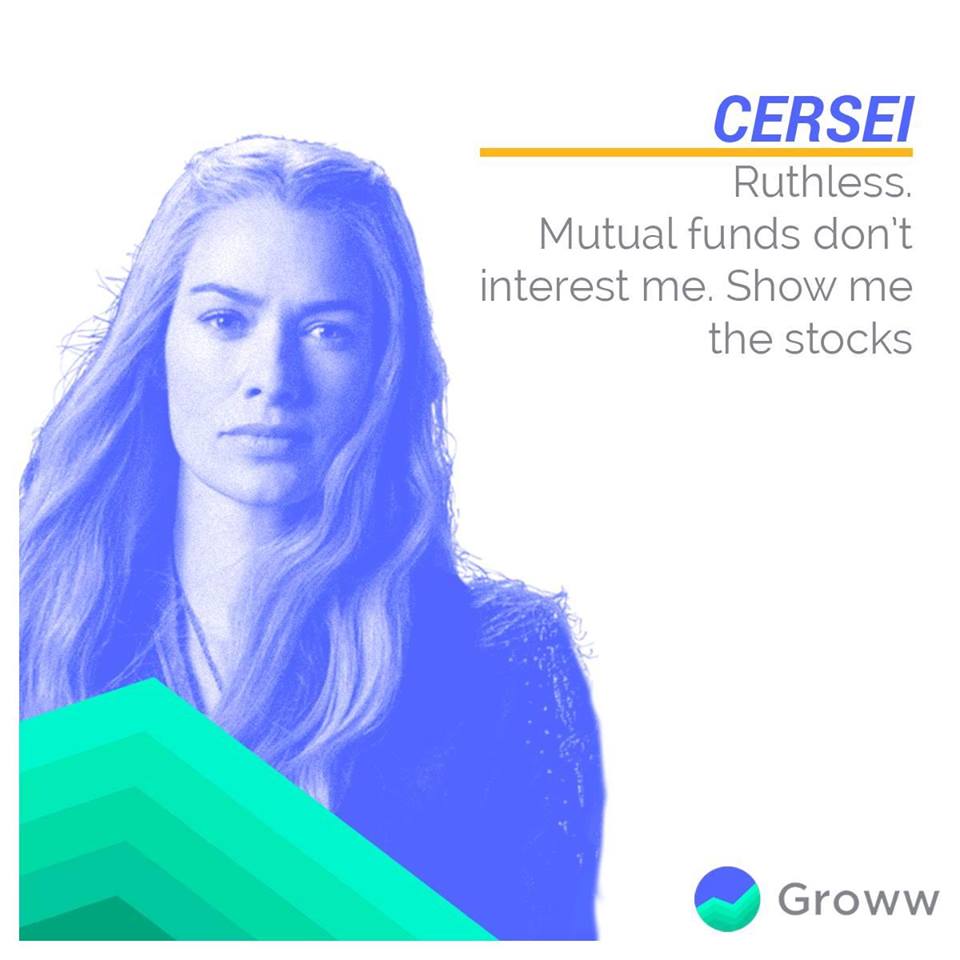 'When you play the game of thrones, you win or you die'. There is no middle ground.
Cersei may not be everyone's favourite, but she is definitely one of the most powerful and ruthless characters in the GOT universe.
She is willing to risk and sacrifice anything and everything in order to claim the mighty Iron Throne and rule over the 7 kingdoms.
Her desire to rule over the throne is so strong that she bombed the Great Sept, killing her enemies and even losing her own children.
If Cersei Lannister were an investor, she would invest directly in stocks (high risk – high return). Moreover, she could also be an options trader or a commodity trader.
As a matter of fact, mutual funds would bore her!
Her way of functioning is similar to a hedge fund manager who undertakes extreme levels of risk to deliver the target returns.
3. Tyrion Lannister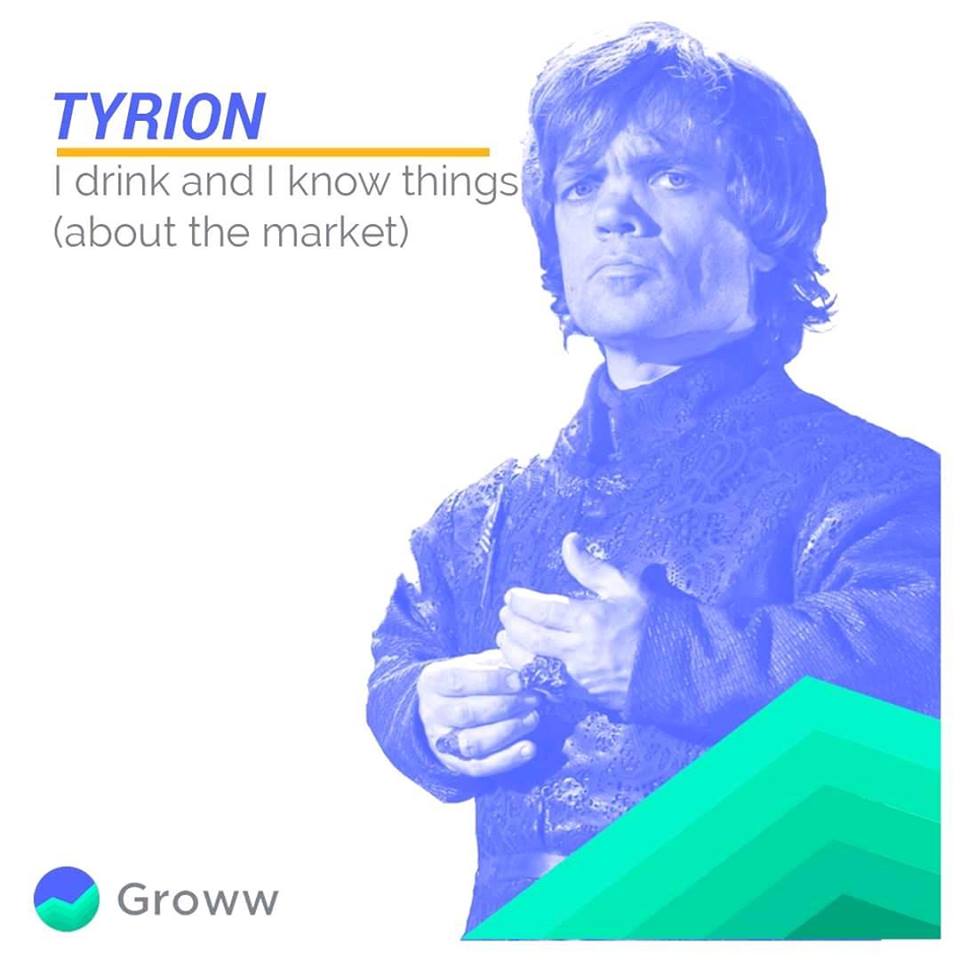 'I drink and I know things'.
Brother of Cersei Lannister, Tyrion is one of the most likeable characters in the Game of Thrones. He has an amazing understanding of people and situations.
He was able to get himself out of trouble umpteen times and managed to survive despite his small stature.
Many powerful characters lost their lives throughout the GOT journey. However, this tiny man managed to survive, despite the lack of muscle, by using sheer courage and brains.
In the investment world, Tyrion would be an astute mutual fund manager. His ability to analyze market trends and situations would enable him to beat the benchmark time and again.
Also his ability to understand the market would be commendable. Don't you think?
4. Jaime Lannister
'A Lannister always pays his debt'.
Jaime Lannister stands for courage and bravery. He is the (in) famous Kingslayer and has also served as the Kings guard.
He has strong family values and is one of the only members in the Lannister family who has a good rapport with everyone and cares for all the members of his family.
As an investor, Jaime would not be afraid of taking risks. He is also pragmatic and calculative, like on the battlefield.
Therefore, he would invest in mid-cap and multi-cap funds.
5. Arya Stark
Arya Stark (aka Maisie Williams) of the house Stark is fearless. She is willing to take huge risks to bring those who have wronged her family to justice.
After immense training and sacrifice, she becomes the 'girl with no name' with a single purpose to seek justice by killing her enemies.
If Arya Stark were an investor, she would be best matched to a small-cap investor.
Small-cap funds are suitable for investors who are willing to take a high amount of risk with their capital. Additionally, these investors have a longer time horizon for their investments and are looking for high returns.
These funds are risky and volatile investment instruments, however, they provide high returns as well. These funds have the objective of seeking capital appreciation through investment in high growth stocks.
Small cap investors take high risks with the purpose to earn high returns. The stakes are high and therefore this is not everyone's cup of tea.
6. Peter Baelish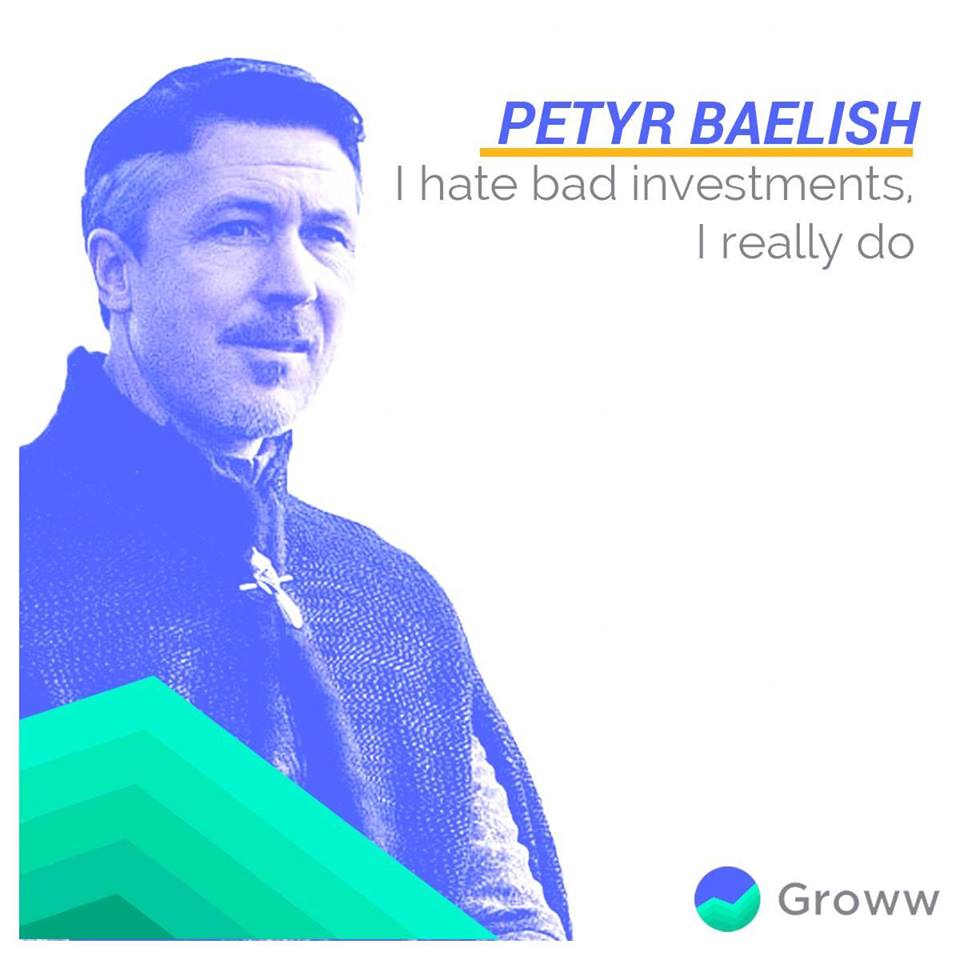 'Chaos is a ladder.'
Peter Baelish is extremely shrewd. He is very calculative and hedges his risks very well.
He is an excellent planner and knows what he wants and how to get it. He has maintained good ties with almost everyone and nobody is sure of what his actual intentions are.
As an investor, he would best be suited to invest in moderately risky funds.
In fact, we wouldn't be surprised if he choose ELSS funds since he is calculative and would want to invest in a tax saving instrument. Also, ELSS funds are moderately risky, which means it would be a perfect choice for him.
As a result of this strategy, he is able to maintain his powerful position of influence. His risks and returns are very well balanced unparalleled to most others.
7. Khalessi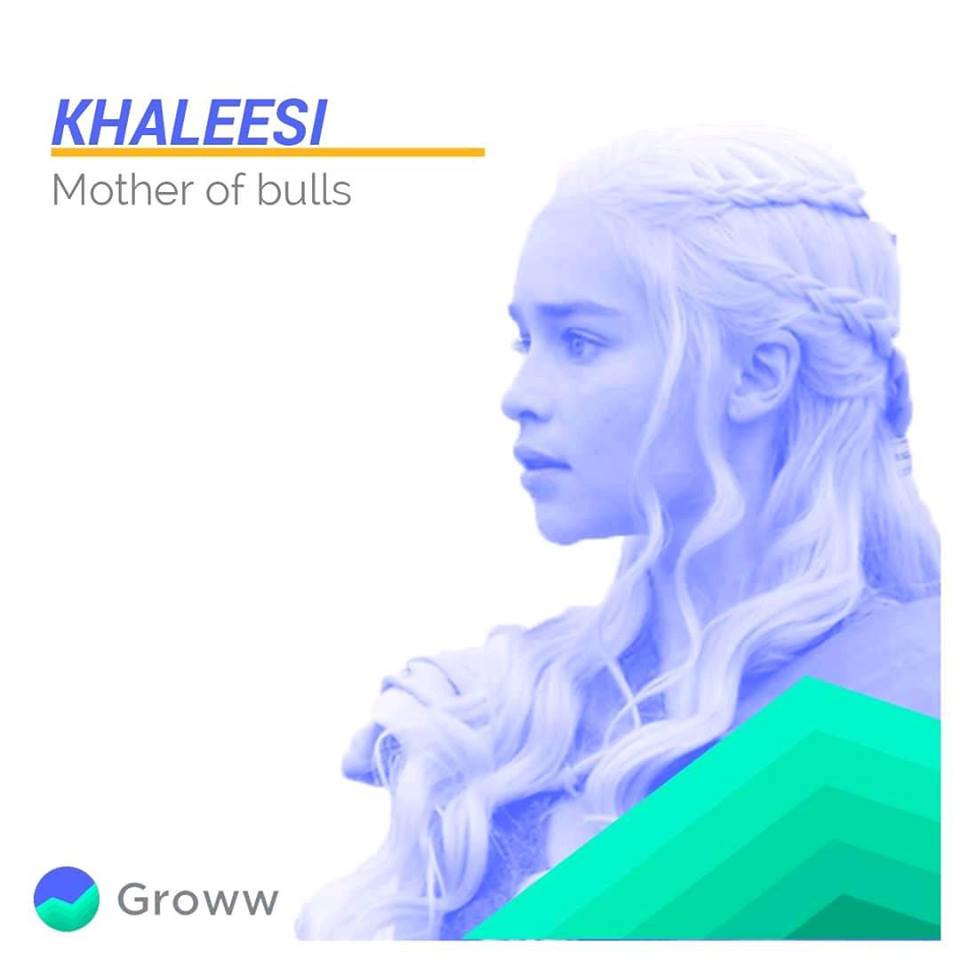 The mother of dragons is yet another favourite for the Iron Throne.
Her journey from nothing to everything has been nothing short of amazing and inspiring. She went from losing the love of her life to being the mother of 3 powerful dragons.
She also built a huge and powerful army for herself all by herself. She has displayed all the qualities of a great leader – intent, empathy for the week, courage and bravery.
As an investor, Daenerys Targaryen could be called the 'mother of bulls'. She would be someone who started with a modest background, but over time, became a 'Rakesh Jhunjhunwala' or 'Vijay Kedia'.
Exercising all the virtues of a good investor – patience, taking adequate risks according to her risk appetite and also her ability to invest when necessary – she would emerge as a dominant player.
Conclusion
The Game of Thrones final season is about to premiere soon. The GOT fandom has come up with various theories, as to what could transpire in this unpredictable storyline.
Who is your favourite character and which investment style do you relate to the most?
If you haven't started investing yet, this may be a good time to take inspiration from your favourite GOT character and make an investing style of your own.
So, are you up for the challenge?
It is important to note that investing is risky and all investment decisions must be taken after considering one's risk appetite. It is advisable to do proper research and invest according to your risk appetite.
Happy Investing!
Disclaimer: The views expressed in this post are that of the author and not those of Groww.