HUL is a brand which touches the lives of 2 out of every 3 Indians. HUL (Hindustan Unilever Limited) has forayed into every daily need possible for a consumer.
It has excelled in not just providing the products for the consumers but in that quest delivered exceptional and consistent returns for its shareholders as well.
But only a few know the strategies, campaigns, and innovation by which HUL has become such a mammoth.
HUL share price: ₹1746.90
HULis an FMCG company. Due to India's growing middle-class population, FMCG stocks have witnessed relatively stable and consistent growth.
If you look at the HUL share price, it has risen through the years very consistently.
With a CAGR (compounded annual growth rate) of approximately 21% (since 2009), HUL has been able to sustain this type of growth for a very long time. The Company has also developed a track record for paying stable dividends throughout the year (i.e. both interim and final dividends).
Below is the share price chart for the Company exhibiting the growth in the share price since January 2009.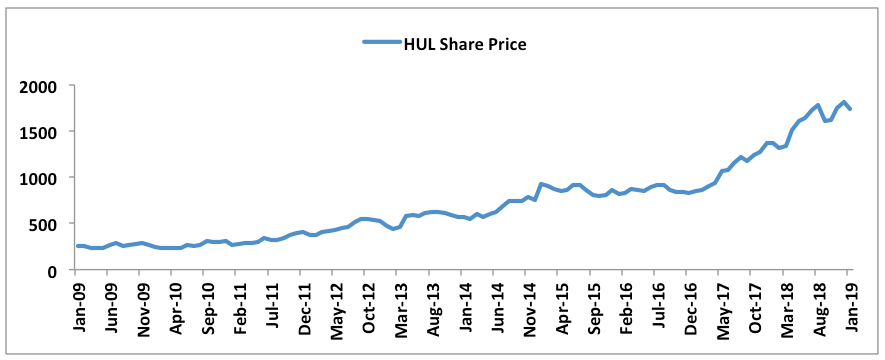 Hindustan Unilever Limited Analysis
As we all know, consumer goods (FMCG) is a sector which caters to the needs of everybody. Therefore it is expected to have stable earnings during times of market mayhem as well.
This might seem easy but there have to be several methodologies adopted to survive in this industry. This includes campaigns, hitting new markets, meeting customer needs, and constant innovation. HUL has been able to do all that and is rightly considered the mammoth in the Indian consumer goods space.
Such is its aura that brokerage firms, economists and statisticians use the Company's results (both quarterly and annually) to gauge the consumer demand in the economy and thus monitor sentiments.
HUL: Business
HUL is an Indian consumer goods company based in Mumbai. HUL's products include food, beverages, cleaning agents, personal care products, water purifiers etc.
If we look at the chart below, we can easily see that personal care segment is the backbone of the business. The top brands in this segment include Lux, Sunsilk, Fair & Lovely, Lifebuoy, Dove, Pears etc.
Second in the list is the home care segments which include big names such as Rin, Surf Excel, Active Wheel, Vim, Pureit etc.
These are brands which are expected to be seen in every household and thus HUL has such as commanding position in the market.
Hitting the rural market as early as 1960s
HUL was the first FMCG Company to venture into rural India and that was in the 1960s. Majority of the population in India was dependent on agriculture and still is. Therefore, HUL saw and leveraged this opportunity since the very beginning. This highlights one of the major marketing concepts by HUL – "The First Mover Advantage".
Today, this initiative that was started by HUL has paid off. The rural markets have acquired significance. Due to the substantial growth in the economy, the purchasing power of the rural communities has also increased. Today, HUL draws close to 40% of its revenues from rural India. Based on growth estimates, it is also been calculated that rural India will grow at 1.25 times than that of urban India. This again is good news for HUL's shareholders as the Company has a solid presence in the rural markets.
Examples: As the rural population shifted from the use of shikakai to shampoos, HUL first developed a combined soap and shampoo. This product was not just cost-effective but also less harsh to the hair. It named it as 'Breeze 2-in-1'.
Robust Mergers & Acquisitions
In 1956 three companies namely Hindustan Vanaspati Manufacturing Company, Lever Brothers India Limited and United Traders Limited merged to form HUL.
Since then, the Company has forayed into a number of acquisitions to widen its reach. Some of the most prominent ones are as follows:-
Lipton in 1972;
Ponds India Limited in 1986;
Lakme Limited in 1998;
The most recent was the acquisition of Horlicks, Boost and Maltova (malted drinks brand), Sensodyne, Eno and Crocin (oral care brands) from GlaxoSmithKline Consumer Healthcare;
All these acquisitions have been in line with the Company's vision to become the county's largest pure-play consumer goods brand.
Strong distribution channel
HUL has been able to capture the hook and corner of India. This has been possible because it has made all efforts to make the products available at the doorstep of the target audience. Many other companies see an integrated and efficient channel of distribution as one of the many challenges in this industry.
HUL, on the other hand, uses vans to deliver its products to local vendors and retailers in rural areas. These delivery vans serve as mobile warehouses.
HUL's acquisition of Horlicks
This acquisition speaks a lot about the Company's management. Let us discuss to understand this.
Though the food and refreshments division contributes 18% of the revenues for HUL, till date the Company does not have a strong food brand. The contribution of foods division for Unilever Plc. is 41% which is much higher than its Indian subsidiary. Therefore, to provide a fillip to this division, HUL had decided to buy Horlicks. This brand has a strong resonance among Indian households. Such a reputation would have taken HUL decades to produce.
Post the acquisition of Horlicks, the contribution of food division from HUL would be approximately 27%.
This deal also came at the back of rival firm Zydus Wellness acquiring brands such as Complan and Glucon-D from Heinz India. The deal done by HUL has requisite qualities of growing the business. (As Horlicks commands 50% market share followed by Boost which has 14% in malted drinks. The strongest rival Complan has a market share between 8 to 10%). Also, the deal makes EPS accretive for HUL as estimated in the coming years.
The Magic of "Negative Working Capital"
As we all know, working capital is the capital of a business which is used in its day-to-day trading operations. It is calculated as the current assets minus the current liabilities.
Though working capital is required in day to day operations, HUL has been operating with negative working capital (NWC) for many years now.
Conventionally, FMCG companies such as HUL operate with NWC because of efficient supply chain management. The sector has usually a lower amount of debtors, most of which is financed by creditors or suppliers.
Another factor which becomes crucial is that their turnover does not just depend upon their production as in the case with manufacturing companies. It depends upon the capability to sell in the competitive market. Therefore, maximum resources are utilized for promotional and other marketing activities of the product as well.
Also, due to efficient supply chain management and inventory holding, the level of goods also comes down to a significant level which thereby decreases the total current assets.
Such has been the practice for HUL for quite a number of years now. In fact it is one of the major facets for its successful performance.
The numbers also reflect the same story. The average ROCE (Return on Capital Employed) and Asset Turnover ratio for the last 5 years has been 70% and 210 % respectively. This can be considered an impeccable performance.
HUL History
The era of marketing for branded FMCG goods began in 1888. Wherein visitors to Kolkata harbor noticed crates full of Sunlight soap bars with the words "Made in England".
Subsequently, other famous brands such as Pears, Lux, and Vim followed.
Unilever Plc., the global giants set up three offices in India later. It was only in 1956, these three companies merged to form HUL.
The Company also went public by offering 10% equity and became one of the first foreign subsidiaries to do so. The rest of the story for HUL has been one of tremendous growth, innovation and capturing new markets.
In the last few quarters, the Company has been reporting sustained growth momentum coming mainly from rural markets. The Company is also dependent on how the cost of raw materials (such as crude and palm oil) fare.
But there are long term factors such as the growing size of the Indian economy and government thrust on rural India. These coupled with HUL's great management can create a story on its own.
Disclaimer: the views expressed here are of the author and do not reflect those of Groww.