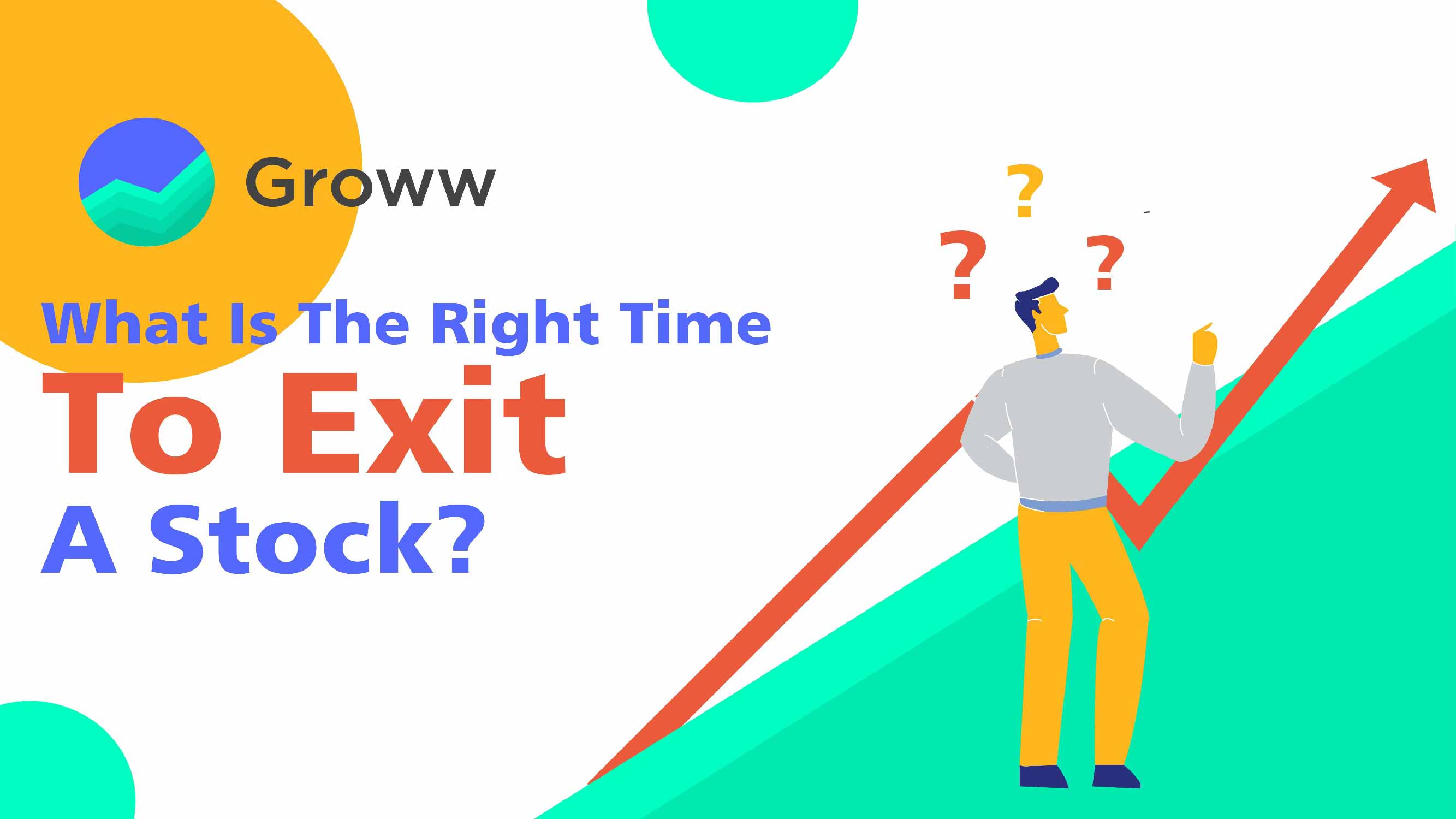 What is the best time to exit from a stock? How do I identify the right time to sell? How do I deal with the fear of missing out? What if the scrip goes up after I sell?  The questions hounding retail investors are endless and very legitimate. If you are in a similar boat, we have got you covered. In this blog, I will cover the signs that signal when to exit a stock as well as some pitfalls to be mindful of. Read on!
Signs That Signal Its Time To Exit A Stock 
Defining a clear market exit strategy should be paid as much attention if not more than the research you put in while evaluating a company to invest. Nothing can quite reaffirm the importance of having a solid exit strategy than Abhimanyu's fall in Mahabharat. A brilliant warrior prince and son of the master archer, Arjun, he managed to break into a very difficult defense formation, called a chakravyuh, but suffered a terrible fate due to his inability to exit it.
While this example may seem a bit extreme in comparison, a retail investor who doesn't have a well-defined stock exit strategy may incur heavy losses in the market too. Let's see a real example now. 
Think of the situation where you invested in a company like Dewan Housing Finance Corporation Ltd (DHFL). The stock climbed high in few years to touch close to Rs 700 levels but started to make steep fall and is hovering around Rs 23 today.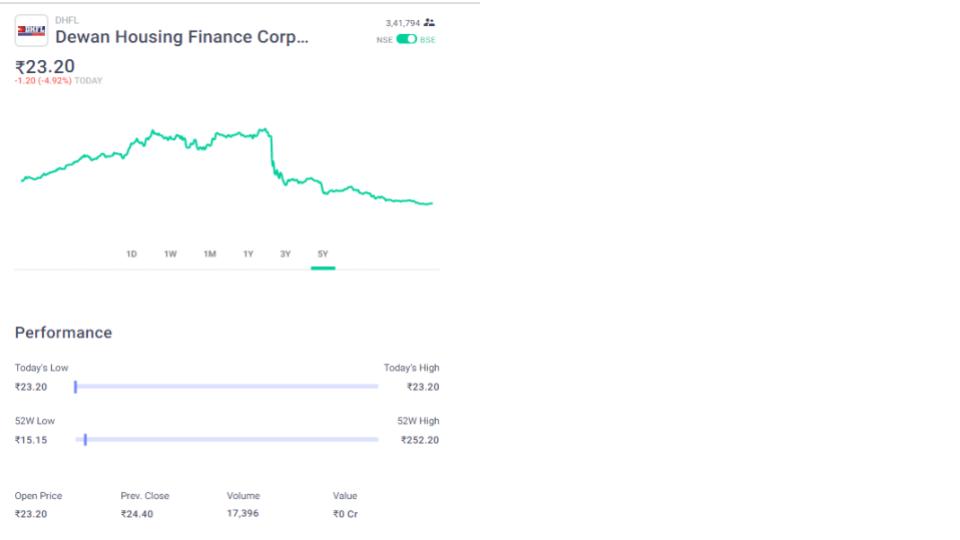 Now imagine, you invested in DHFL after thoroughly researching the company, had full faith in its management and growth potential and hence decided to stick with the stock even when the prices plummeted. So where did you go wrong exactly? Aren't you supposed to " buy right, sit tight"? The short answer is, yes you should, but this may not be the case always. To make things simpler for you, here are a few red flags that signal it may be time to best time to exit from stocks. :-
The Fundamentals Of A Company Are Changing 
 It's time to say bye-bye to even if the stock has been your favorite when the fundamentals of the company are being compromised.
 How do you know if the fundamentals are changing?  
Look out for the quarter on the quarter performance of the company. If you see there has been a delay in reporting of growth numbers of the company is showing sustained underperformance, then it is time to sit up and take notice. However, check for at least 3-4 quarters to take a call here. Also, check if the utilization of capacity is going down or if the non-performing assets (for banks and other financial institutions) going up.
Debt is also an important indicator of a company's future. Most of the stocks that went on to become multi-baggers belonged to organizations that had zero to negligible debt. ( Does not apply to NBFCs and Banks). Take a look at the debt-to market cap ratio. It is a way to measure the debt against a company's ability to raise capital. Consequently, the lesser the number, the more stable a company is. However, if you see this number has increased and shows no sign of coming down, it is time for you to move out. 
Also Read: How To Do A SWOT Analysis For Stocks 
The Company Is Dealing With Corporate Governance Issues 
Corporate governance issues should never be brushed under the carpet. Corporate governance tells you how well a company manages stakeholder relations. The board of directors and the upper management must take actions that are in the best interests of internal and external shareholders such as employees, customers, partners, and must have no conflicts or legal disputes with suppliers, banks and other regulatory authorities. The business should be conducted in a fair and ethical manner keeping in mind the industry's best practices.
As an investor, look for their disclosure policy, the executive compensation policy, dividend policies, conflict resolution framework between various internal and external shareholders. This information is disclosed when the company is publicly listed. It is also important to note how well and how fast the upper management handles these setbacks.
If there has been a legal dispute which hasn't been resolved or if the company is caught in regulatory trouble or you see the hasty exit of senior business leaders, the negative impact is pretty significant and will see a dip in scrip price. Usually, even after clarifications from the upper management, rarely does a company command the same level of respect and acceptance from the investor community. Of course, this also depends on the degree of damage. 
Retail investors often commit the mistake of ignoring issues around corporate governance and sincerely hope for price resurge. This is an important factor to consider in your stock market exit strategy. Investors who are emotionally attached to the company may even take it as an opportunity to buy more shares in hopes of future rewards. However, such events severely dent the reputation of the company as well as negatively affect investor sentiments. When the fundamentals of a company are compromised it is quite difficult to bounce back. If you see a company default on the fundamental parameters, it is time to book profits. 
What To Do After You Sell The Stock?
Psychologically it is very natural to keep questioning your decision after selling a stock. This is especially true for investors who have remained with a company for years and are to some extent have become emotionally invested in their favorite stocks as well, after all, you may have invested only after convincing yourself that the company is fundamentally sound. 
However, the bottom line is that you are in the stock market to create wealth and that you shouldn't let your emotions overpower rationality. It is possible that the scrip price climbs up after you made an exit and this may send you into the endless spiral of regret. You would have preferred selling the stock at its peak price however lamenting it is a useless pursuit.  Be happy with the profits you booked and stop second-guessing yourself. After a substantial time passes if you see the stock prices of the company are soaring high re-assess the company according to current circumstances and only then take a call whether you want to go ahead and invest or not. 
Also Read: How To Identify Multibagger Stocks In India 
Conclusion
To sum up, it is important to discern whether to keep a stock or give it up and while it may be difficult to predict, certain indicators can hint you when to exit a stock. While it's good to stick with a company that you have assessed based on fundamentals, also be prudent and keep an eye on the red flags mentioned above.

Happy Investing!
Disclaimer: The views expressed in this post are that of the author and not those of Groww
Investment in securities market are subject to market risks, read all the related documents carefully before investing. Please read the Risk Disclosure documents carefully before investing in Equity Shares, Derivatives, Mutual fund, and/or other instruments traded on the Stock Exchanges. As investments are subject to market risks and price fluctuation risk, there is no assurance or guarantee that the investment objectives shall be achieved. NBT do not guarantee any assured returns on any investments. Past performance of securities/instruments is not indicative of their future performance.