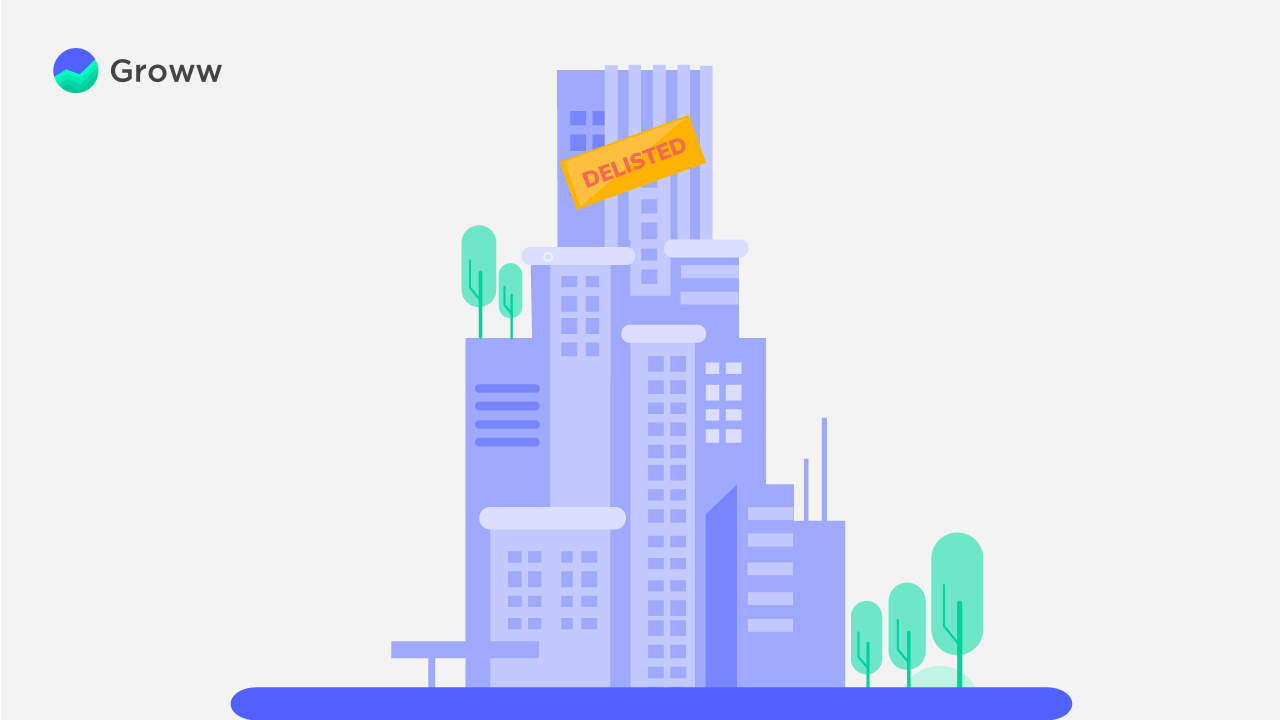 Many times we hear about companies wanting to get listed on the stock exchanges; however, the reverse is also true. Many times companies also want to stop offering shares for trading in the market.
Delisting is the word for this phenomenon. You must have heard of Vedanta delisting that took place this month. Vedanta, which was trading on both the exchanges went for voluntary delisting of its shares from the share market.
The Vedanta delisting plan is that it is voluntary, and it is being done to simplify the complex business structure. The Vedanta delisting offer price is set at Rs 87, but it may change. We will understand why and how in the next few segments of this article.
Delisted shares refer to the shares of a listed company that has been removed from stock exchange permanently for buying and selling purposes.
That means delisted shares will no longer be traded on the stock exchanges – National Stock Exchange (NSE) and Bombay Stock Exchange (BSE). The process of delisting of securities for any company is governed by the Securities and Exchange Board of India (SEBI). 
Reasons for delisting of shares can be voluntary or involuntary, depending on the reason for delisting.
A listed company's shares get delisted from exchange for various reasons such as insufficient market capitalization, stock price not matching the required level, a company filing bankruptcy, failure to comply with exchange regulatory requirements merger and acquisitions, etc. 
Are you wondering what will happen to the shares you own if the company gets delisted? Well, you still hold the ownership in the company for the number of shares you own. But, you cannot sell those shares on the National Stock  Exchange (NSE) and Bombay Stock Exchange (BSE). 
However, selling can be done on the over-the-counter market, which means you can look for a buyer outside the stock exchange.
In a financial sense, each type of delisting of shares – voluntary and involuntary delisting- will impact the investor who owns these shares. Let's understand what will happen to the investor's holdings when the company gets delisted, can a delisted stock come back, if there are any benefits of delisting from the stock exchange, delisted stocks list and more.
Let's first begin with the types of delisting.
Voluntary Delisting
In the case of voluntary delisting, listed companies voluntarily opt for permanent removal of securities from the stock exchange where the company decides to go private.
 Mainly, mergers with another company or amalgamation or non-performance are a few reasons for voluntarily delisting shares. If you own a stock of the company that has opted for voluntary delisting, the company is required to give you two options as per the delisting guidelines laid out by the Securities and Exchange Board of India. Following are the options –
Promoter or acquirer will buy back the shares through a reverse book building process. Promoters are required to make a public announcement of buyback by sending out a letter of offer to eligible shareholders and a bidding form. 
In this case, eligible shareholders like you can seek this opportunity to exit by tendering your shares through respective stockbrokers under the delisting offer.
The final price is decided based on the price at which the maximum number of shares has been offered. 
The promoter will have a choice either to consider or not to consider the price. If the promoter accepts the price, all valid offers up to the final price are accepted. 
When the shares tendered by the public shareholders reach the limits specified in the regulations, delisting is considered successful. The company shall remain listed in case the limit specified is not met. 
The remaining investors will have the option to sell their stocks to promoters. Promoters are obliged to accept the shares at the same final price. The investors are allowed to do this for up to one year from the date of delisting. 
2. Hold Till You Find a Buyer
If you have not sold back your shares in the reverse book building process or during the exit window period, you can still hold them till you find the buyer on the over-the-counter market.
The delisted share can be hard to sell, as there will be a decline in liquidity without any over-the-exchange transactions. However, when you wish to sell in the over-the-counter market, all you need is patience. It can take a long time to find the buyer who is willing to buy at the desired price. 
When a company voluntarily opts for delisting with some expansion reasons, the company usually offers its investor a buyback at a premium price, which can result in a significant gain.
However, it's important to note that it's just a temporary opportunity for investors to gain. Once the buyback window closes, the price of the stock is likely to drop. 
Let's take Vedanta's example to understand this.
Vedanta is into mining and mainly focuses on iron ore, gold, and aluminum mines. The company's share 
Touched a peak of around Rs 330-340 levels at the start of the year. Right now, in May, the company has come down to levels of Rs 88-89 per share. The indicative Vedanta delisting offer price is Rs 87. That does not mean that the company will buy the shares from you only at this price. Like I explained above, price is arrived at in the reverse book building process.
Companies have to go for special voting, and retail shareholders can also participate in the same.  In the case of Vedanta, at least until May 28, only the board of the company had passed the delisting resolution.
The Vedanta delisting plan may take some time to formalize as the shareholder voting is still pending. The reverse book building and price discovery happen after this process. 
Involuntary Delisting
Involuntary delisting refers to the forced removal of listed company shares from the stock exchange for various reasons like non-compliance with the listing guidelines, late filing of reports, and low share price, etc. 
In this case, promoters are required to buy back the shares at the value determined by an independent evaluator. Though delisting does not affect your ownership of shares, company shares are likely to hold no significant value after delisting.
Delisted shares can be a gain or a pain to investors, depending on the calls taken during that situation. Thus, if any of the stocks that you own gets delisted, it's crucial to analyze the reasons carefully and then make the decision to either offload or hold it in your portfolio for long. 
Decisions taken with the careful and prudent analysis of the situation can help you achieve your long-term investment goals.  
Can a Delisted Stock Come Back?
Can a delisted stock be relisted? Well, yes. A delisted stock can be relisted but according to strict Sebi guidelines. Sebi lays out different guidelines for relisting of such shares according to how they were relisted.
Relisting of voluntarily delisted stocks: Such shares will have to wait five years from its delisting date to get relisted again.
Delisting of a small company in case of winding up: Shares of such companies will have to wait for five years before listing again.
Compulsory delisting: If a company has been delisted compulsorily, they will have to wait for 10 years before they can be listed again on the exchanges. 
The list of recently delisted stocks can be found on the websites of BSE and NSE. 
| | | | |
| --- | --- | --- | --- |
| Security Code | Full Name | Date of Delisting | Reason |
| 505052 | CLUTCH AUTO | 14 Feb 2020 | Procedural Delisting |
| 506985 | Twilight Litaka Pharma Limited | 14 Feb 2020 | Procedural Delisting |
| 507870 | Lloyds Finance Ltd., | 14 Feb 2020 | Procedural Delisting |
| 509627 | Hindustan Dorr-Oliver Ltd. | 14 Feb 2020 | Procedural Delisting |
| 509992 | UB Engineering Ltd | 14 Feb 2020 | Procedural Delisting |
| 512199 | CORE Education & Technologies Ltd | 14 Feb 2020 | Procedural Delisting |
| 517140 | Moser-Baer (India) Ltd., | 14 Feb 2020 | Procedural Delisting |
| 523592 | Jenson & Nicholson (India) Ltd., | 14 Feb 2020 | Procedural Delisting |
| 532778 | LANCO INFRATECH LTD. | 14 Feb 2020 | Procedural Delisting |
| 532786 | GREAT OFFSHORE LIMITED | 14 Feb 2020 | Procedural Delisting |
| 532793 | Shree Ashtavinayak Cine Vision Ltd | 14 Feb 2020 | Procedural Delisting |
Do Companies Benefit from Delisting Their Stocks?
Simply put, there are no benefits of delisting from a stock exchange. There are certain regulations that a listed company has to follow, like compulsorily publishing its financial statements and quarterly reports and making it public.
Rules such as accessing the cash reserves of another company are not applicable for listed companies but may be relaxed for unlisted ones. Companies that are delisted will not have to comply with such norms and much more but it is important to note that companies do not view the removal of these rules as benefits of delisting from the stock exchange.
Companies do not see this as an incentive and delist on their own for no good reason. In the compulsory listing, the regulator takes care of the reason for delisting of shares but involuntary listing, reasons could be either a merger or nonperformance.
For instance, Vedanta delisted from the exchanges saying that the coronavirus pandemic has hurt its business and going private (which is delisting from exchanges) will give it more operational and financial stability to run its business. 
I hope this blog was helpful in explaining the concept of delisting of shares!
Happy Investing!
Investment in securities market are subject to market risks, read all the related documents carefully before investing. Please read the Risk Disclosure documents carefully before investing in Equity Shares, Derivatives, Mutual fund, and/or other instruments traded on the Stock Exchanges. As investments are subject to market risks and price fluctuation risk, there is no assurance or guarantee that the investment objectives shall be achieved. NBT do not guarantee any assured returns on any investments. Past performance of securities/instruments is not indicative of their future performance.