FD (Fixed Deposit) is one of the most popular investment options in India. People often recommend it to their children as a must-do option. But many people have this question – 'which bank is best for fixed deposit?'
Nearly all banks offer very similar returns.
The question should instead be – 'should I invest in FD?'
Should I Invest in FD?
Whether FD is the best for you or not is a question best answered by you. But you should you aware of other alternatives to fixed deposits.
One of the best alternatives to FD is putting money in a debt fund.
3 Reasons not to Invest in FD
Returns: FD has lower returns when compared to the alternative option of debt funds. FD are giving a return of around 6.5% these days whereas debt funds are doing around 8%.
Taxation: The returns from an FD is charged according to your income slab. Debt funds are charged based on your income slab till 3 years from investment.If withdrawn after 3 years, the applicable tax 20% adjusted with benefit if indexation plus 3% cess. Read more: the tax on mutual funds.
 Liquidity: If you wish to take your money out of an FD before its maturity date, you need to pay a penalty of 0.5% – 1% depending on your bank.Many debt funds, like SBI Ultra Short Term Debt Fund, have no exit load at all. Some that do have an exit load usually have it for a small number of days like 90 days only.
Where to Invest to Earn More than FD?
The following 2 debt funds are ideal for investing instead of opening a fixed deposit account.
Franklin India Low Duration Fund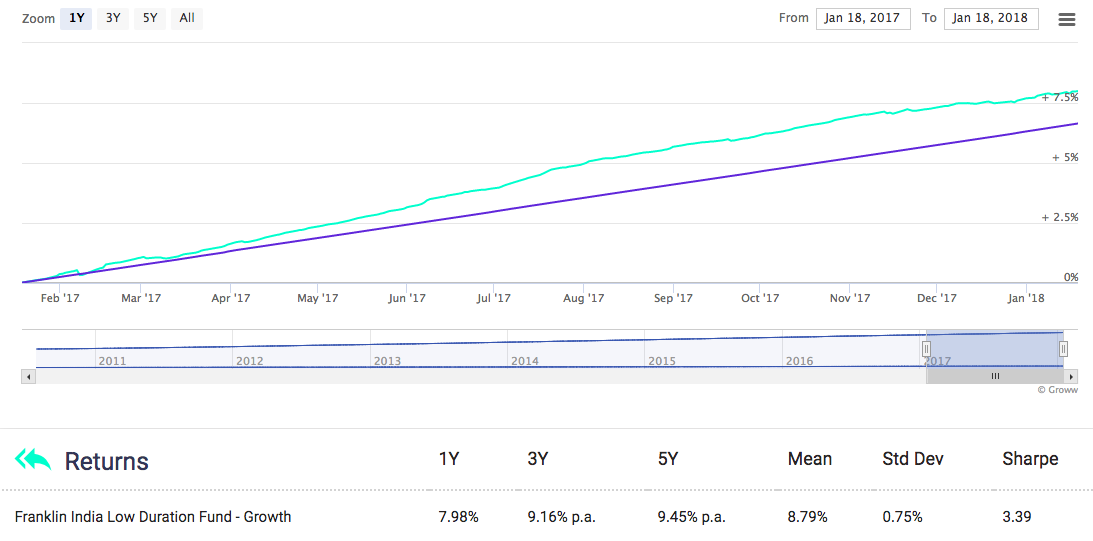 This debt fund has given nearly 8% over the last 1 year. Even better, over a period of 5 years, it has returned 9.45% per annum.
There is an exit load on this fund which is 0.5% till 90 days from the investment. After 90 days. there is no penalty or exit load when withdrawing.
See more fund details here.
L&T Short Term Income Fund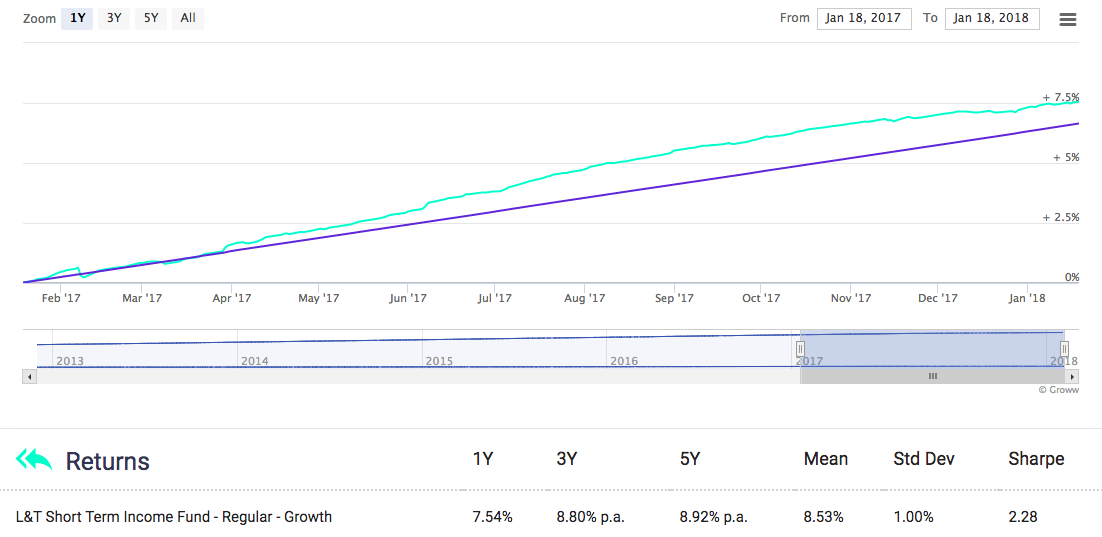 This debt fund has returned nearly 8% in the last 1 year and nearly 9% over the last 5 years.
There is no exit load after 270 days from the investment. Before 270 days, 1% will be charged if you withdraw more than 10% of the invested amount.
See more fund details here.
FD Interest Rate in Banks
Following are the interest rates offered by some popular banks in India.
| | |
| --- | --- |
| FD Interest Rates in SBI | 6.50% |
| FD Interest Rates in HDFC | 6.75% |
| ICICI Bank FD Rates | 6.50% |
| IDFC Bank FD Rates | 7.00% |
| Bandhan Bank FD Rates | 7.00% |
| RBL Bank FD Rates | 7.10% |
As you can see, the rate of return offered by debt funds is higher than the FD interest rate.
Not just that, the taxation is also higher in case of FD.
Conclusion
Investing in debt funds is a better option than FD in terms of return and liquidity while exposing you to similar levels of risk.
This is why starting an FD does not seem like a very good idea.
Happy investing!