Your mother is fantastic, and there are no two ways about that. Unfortunately, among all the things that a mother teaches and bestows upon her children, financial lessons sometimes do not get the deserved limelight!
Everyone acknowledges the ethical and moral values that a mother teaches her children.
Are you living from one paycheck to another? Get rid of that cycle now!
However, that is not all that a mother offers.
If you keenly observe your Mum, you can realize that she has designed a hack for herself every step of the way. Be it grinding vegetables, waking her children up, or even saving money!
Thinking back and connecting the dots, we realize that there is much more that we have learnt from our mother. And this mother's day, we take a step back to analyze all the smart ways our mothers save the household tonnes of money!
Here's how you can make an extra buck without working too hard!
Financial Lessons We Can Learn From Our Mother
#1. Creating a Budget. Now!
The first finance lesson that each of us has learnt from our mother is creating a budget. We all agree that mothers are called the Finance Ministers of the house, and now we can understand why.
A budget is an essential financial statement which records the expected income and expenditures for a predefined period. For our purpose, the budget is usually prepared monthly to estimate the monthly expenses for running the household.
The cookie jar method of budgeting is gaining popularity; here's why!
It is incredible how accurately and efficiently our mothers create a budget for monthly expenses. Of course, mum also decides beforehand how much money will be spent and where.
This is truly an art, and a world-class one at that! We know to whom to give credit whenever we make a reasonable budget.
These are the 5 Investing Mistakes that the 90's Kids Made
#2. Save Away (No matter how small the amount)
Let us recall the time when our mom gave us a piggy bank.
Back then, it used to be a fun activity for us. But you know what that fun piggy bank activity taught us?
Saving.
Remember how Ma would give us a 5 rupee coin every time we helped her with a chore or finished our homework on time? And then she would say, "Put it in your piggy bank; once it fills up, you can buy that remote control car."
Now, how can you apply that in reality?
Today you know you need to save in substantial investment instruments like mutual funds or stocks to fulfil your short-term and long-term financial goals, But that financial journey kick-started with your Mum.
10 facts every girl must know about personal finance
Then came the valuable lesson behind the entire exercise. She told us so accurately that savings is an important exercise and encouraged us to do the same.
Not only did she tell us this, but she also led by example.
The money could have been saved in a box, in a drawer, or somewhere else, but she would put some money away every month. No matter how much small the amount was.
I distinctly remember that my mother told me that from whatever you earn, big or small, you must first set aside some amount, as deemed fit, in the form of savings. Then, out of the remaining, you can look to plan your expenses.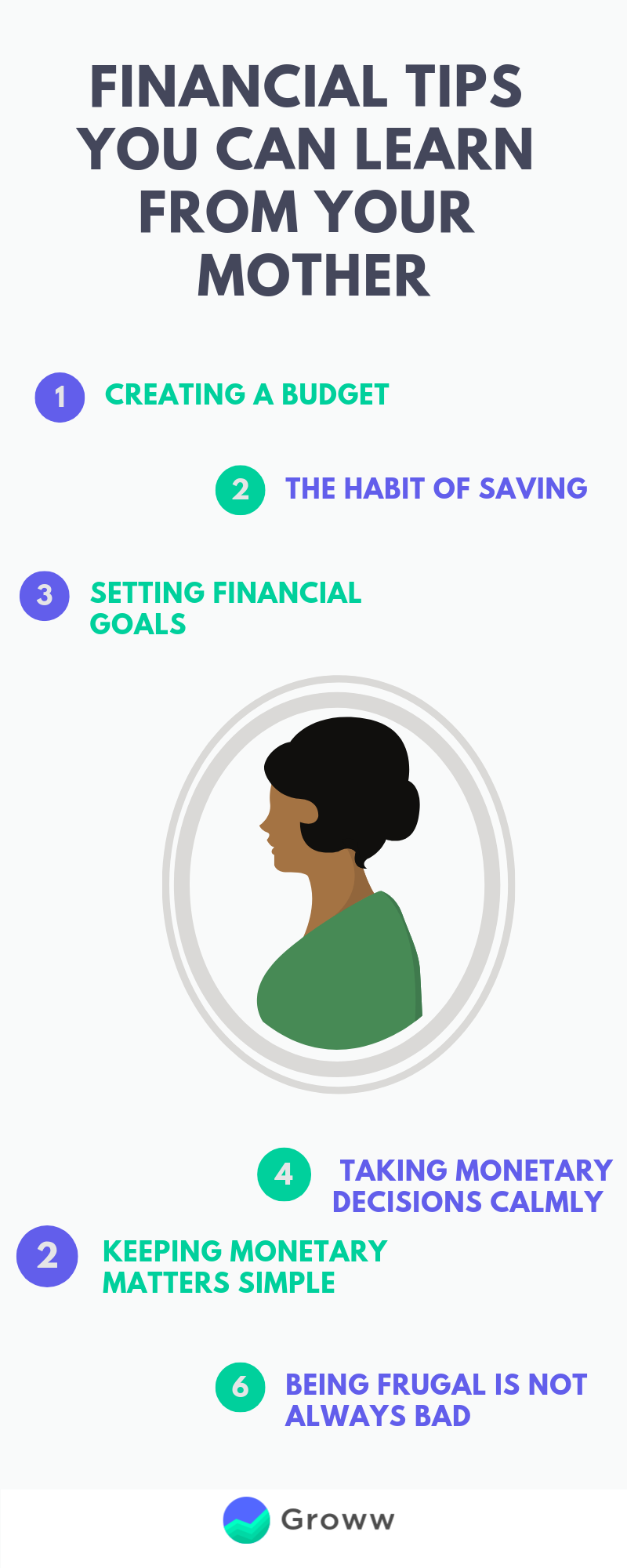 #3. Setting Financial Goals
This one is an extension of the earlier financial lesson of creating a budget and developing the habit of savings.
Setting a financial goal goes a long way in accumulating money required for various essential milestones and activities in life.
Our mother has always encouraged us to make and implement a financial plan for our goals. Be it a trip that we want to go on next year or a bike we want to purchase after some time, planning always helps.
Ten things every retail investor should know about portfolio management
Whether it is children's marriage, education or something else, setting financial goals or buying a slightly more expensive Dosa batter, mothers always have a goal they seem to fulfil within the stipulated time!
#4. Taking Monetary Decisions Calmly
This advice is like the universal truth said by all moms every time. Though it might seem very trivial, its importance cannot be undermined.
In many situations wherein significant money decisions are involved, it helps to sit back, take a deep breath and think clearly. This simple exercise can save our hard-earned money from wasting or spending inefficiently.
The implicit thing over here is to think calmly about whether it is a good use of money.
Your Mum lays the foundation for three simple and basic rules in life:
Do I need this?
How much of it do I need
Is it worth the money?
Sometimes it's best to take essential money decisions the old way. For example, writing the outlay of money and comparing it with the benefits on paper can work better than you might think.
6 Ways a Student Can Build Good Credit
#5. Keeping It Simple
We can't even begin to tell you how important this tip is!
This one is an automatic extension and an advantage of taking decisions calmly. Isn't it amazing how our mom can keep financial matters so simple?
Simply writing down the daily expenses in her diary, saving up for something or just being wise with money, your mother will follow these tricks without help from an advisor!
How Did Rakesh Jhunjhunwala Become a Millionaire?
Although it may seem contrary and trivial, more often than not, it helps to keep finances simple. Don't complicate your savings and investments.
The simpler it is, the easier our lives will be and the better the concerned decision will turn out to be.
#6. Being Frugal Isn't Always Bad
Haven't our parents told us that we need to realize the value of money?
This is usually followed by how our parents worked so hard to earn money and save it for us. An important lesson here is to appreciate the value of money.
All of us can observe this at our homes, how our mom never buys something she doesn't need. She doesn't indulge in any wasteful expenditure whatsoever.
12 Personal Finance Hacks Every Twenty-Something Needs To Know
She calculates and plans where she can get the cheapest and best quality groceries or home appliances.
We can all learn to be frugal like her and thank her when we realize the savings are significant. Our mom realizes that each penny counts.
The Bonus List
Apart from the first 6, these are two bonus financial tips you can learn from your mother!
#1. Living Within One's Means
Our elders have consistently reinforced that we should live within our means. But what does this mean?
It is not rocket science but an elementary theory. To live within one's means is to spend only as much or preferably a little less than what one earns.
These are the personal finance do's and don'ts that you should abide by
Sometimes we go on a spending spree and go overboard. We forget about our income and our position to buy a product or not.
Credit cards and EMIs have hugely aided this overspending habit. Unfortunately, millennials tend to take a lot of debt and sometimes struggle to repay it together.
While EMIs may give you instant pleasure, they also bring a lot of risks. Therefore, every person should live within one's means and spend in a planned manner.
#2. The Value of Investing
The lesson for planning the future also includes investing.
Investing now to reap benefits later is one of our most important financial lessons. My mother always encouraged me to invest in the future.
In my childhood, this investment was in the form of education. She did preach this and practised it by investing her time and money in my teaching.
She encouraged me to invest in my old age when I started earning. So, yes, she is very far-sighted.
She made me understand the importance of investing and how it was essential to do so at an early age.
She introduced me to the beginner's guide to mutual funds and much more. Investing has been my foremost priority ever since.
Also, Check Out the Best Mutual Funds for Beginners
Conclusion
Money doesn't grow on trees. Each penny counts.
These are one of the most fundamental yet powerful financial lessons that each person learns from their parents and mother. So often, we do not realize how our mothers teach us critical financial lessons that we use for life.
They lead by example when creating a budget and managing household financials effortlessly. There are innumerable financial lessons to be learned from our mothers.
Your mother is a financial superwoman, isn't she?
10 facts every girl must know about personal finance
Happy investing!!
Disclaimer: The views expressed here are of the author and do not reflect those of Groww.