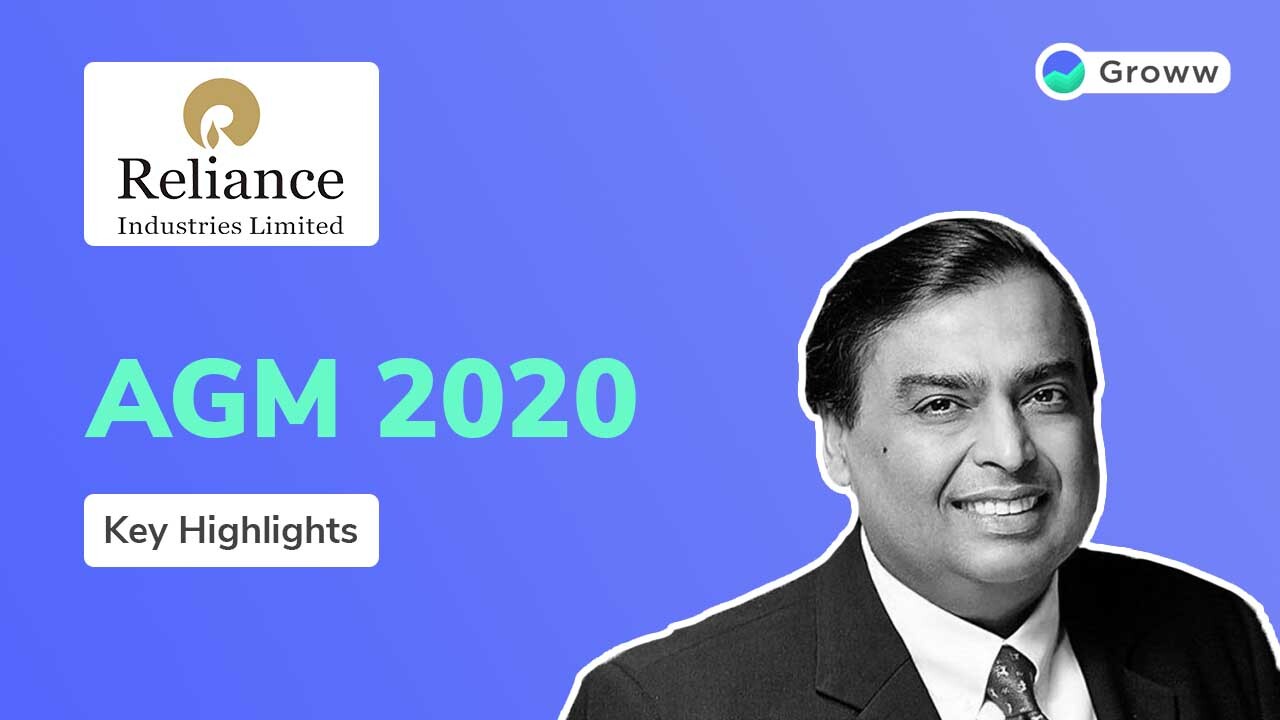 Going the virtual route, Reliance Industries Ltd held their 43rd Annual general meeting through a video webcast on July 15. The AGM unveiled a slew of measures and new projects such as Jio's deal with Google, Jio's made in India 5G solution, Jio Glass launch, and developments on the Saudi Aramco deal, etc. Let's take a look at the key highlights. Read on!
Google-Jio Investment
On April 22, Facebook, one of the world's biggest tech giants led by Mark Zuckerberg had announced an investment of over Rs 43,500 crores in Jio Platforms. Since then, the company has raised over Rs 1.18 Lakh Crore for a 25.24% stake in Jio Platforms.
One of the biggest announcements, however, was Google's agreement to invest Rs 33,737 Crores, equivalent to a 7.7 percent stake in Jio Platforms. Pichai had announced a $10 billion digitization fund in India, and over $4 billion has already been invested in the Mukesh Ambani-led Jio Platforms. Related to the Google-Jio partnership, there was another critical announcement. Google and Jio will also come together to make an android based operating system.
Net Debt Free by March 2021
RIL had a net debt of around Rs 1.51 Lakh Crore at the end of March 2020, and the company had vouched to be net debt-free by the end of FY21. Thanks to investments from 13 investors in the past two months, the company has not only recovered its debt well ahead of its March 2021 target but also surpassed the debt amount.
Cumulatively from its strategic investments, rights issue (where it raised around Rs 53,124 crores), and its joint venture with BP where it raised over Rs 7,600 Crore, RIL has raised over 2.12 Lakh Crore in the past few weeks.
Saudi Aramco Deal Delayed
Due to disruptions in the global petrochemicals industry and the Covid-19 pandemic, Mukesh Ambani announced in the AGM that their deal with Saudi Aramco, the Saudi Arabian oil company, will have to be delayed. In August last year RIL had announced that it would sell around 20% stake in its oil-to-chemical (O2C) business to Saudi Aramco by March 2020. This has now been delayed however the company has not yet given any fresh timeline regarding the same.
Jio Solutions
Mukesh Ambani informed that Jio is now ready with a world -class 5G solution, that is expected to be deployed next year. The trials for the 5G product will be held as soon as the spectrum is available. Jio Platforms will also be an exported 5G solution to telecom providers globally. 
New Smartphone OS
Google and Jio will be joining hands to develop a new smartphone operating system in the country. The aim is to engineer an entry level 4G-5G enabled affordable smartphone and the operating system so developed in partnership with Google, will be used to power the smartphone. Mukesh Ambani further added that through this mission, they will be able to speed up the national mission of equipping every Indian with a smart device.
Jio Glass
Jio Glass is one of the latest innovations by the company. It is a glass that has enabled mixed reality service for an immersive experience. It enables 2D and 3D video calls and presentations and supports around 25 applications, the company said in its AGM.
Few days ahead of the AGM RIL had launched Jio Meet, an online video conferencing platform that can host official meetings, education classes for schools and colleges, medical appointments and a few others. 
Jio Mart, the company's e commerce venture in grocery retail, was also launched earlier last month. Mukesh Ambani announced that it has already piloted in around 200 cities with approximately 2.5 Lakh orders per day.
Other Highlights 
RIL's consumer business has managed to deliver EBITDA growth of 49% this year.

Consumer business contributed 35 percent of EBITDA. 

Mukesh Ambani announced Reliance Retail as the country's largest and most profitable retail business , generating Rs 1,62,936 Crore worth revenue ( EBITDA was Rs 9654 Crore)

RIL is targeting to become net carbon neutral by 2035 and are committed to transforming CO2 emissions into high value products. The company would be approaching the National Company Law Tribunal to spin-off their oil to chemicals business into a separate subsidiary. 

Jio TV+ will be an OTT platform curator having popular platforms such as Netflix, Hotstar, Amazon Prime Video among others on a single app. Jio TV+ will also be voice search enabled. RIL has plans of consolidating their media and distribution business.