Infosys is probably the most famous IT company in India. In fact, Infosys is credited with having made Bengaluru India's IT hub. And the Infosys share price is proof of how this company has fared through the years.
Let us look deeper into what this company really is, the ups and downs it has been through, and how the future looks for it.

Infosys share price as of writing this is ₹656.10.
Exactly 10 years ago, the Infosys share price (aka Infy share price) was around ₹150.
Infosys: Key Milestones
Year of Incorporation
1981
Became a public limited company in India
1993
ISO 9001/TickIT Certification
1993
Attained SEI-CMM Level 4
1997
Listed on NASDAQ
1999
Crossed $100mn in revenues
1999
Attained SEI-CMM Level 5
1999
Crossed $400mn in revenues
2001
Crossed $half a billion in revenues
2002
Crossed $1billion in revenues
2004
Crossed $2 billion in revenues
2006
Quarterly revenues cross US$1 billion
2007
Infosys crosses revenues of US$4 billion and net profit crosses US$1 billion
2008
Infosys selected as a member of the Global Dow and employee strength grow to over 1 lakh
2009
Infosys crosses US $ 5billion revenue mark
2010
Narayana Murthy hands over chairmanship to K.V. Kamath

S.D. Shibulal, COO takes over as the COO and MD from Kris Gopalakrishnan

Infosys crosses US$6 billion revenue mark and employee strength rises to 125000

2011
Listed on NYSE Market

Infosys acquires Lodestone Holding AG, a leading management consulting based in Switzerland

Forbes ranks Infosys among the world's most innovative companies

2012
NR Narayana Murthy is appointed as Executive chairman of the board

Infosys begins trading on NYSE Euronext London and Paris markets

Infosys EDGE wins the NASSCOM Business innovation award

Presented with '2013 Environmental tracking Carbon Ranking leader' award

2013
Dr. Vishal Sikka takes over as CEO and MD from S.D Shibulal

Revenue crosses Rs. 50,000 crores

Board decides to increase dividend payout ratio to 40% of post tax profits

Cash and cash equivalents cross US $5 billion

2014
Infosys acquired Noah consulting LLC, a leading provider of advanced information management consulting services for the oil and gas industry.

Acquired Skava, a leading provider of Digital Experience Solutions for the retail industry

Acquired Panaya Inc., a leading provider of Automation technology for large scale enterprise software management

Announces US $ 250 million 'Innovate in India Fund' to support Indian startups

Board decides to increase dividend-payout-ratio up to 50% of post tax profits

2015
Touches revenues of US $ 10 billion

Infosys launches Infosys Mana, a platform that brings together machine learning along with deep knowledge of an organization to drive innovation and automation

Launches Skava Commerce, a new standard for modern, mobile-first and modular e-commerce platforms

Invests in Waterline data, provider of data discovery and data governance software

2016
Infosys completed its equity share buyback program of ₹13,000 crore which was 4.92% of total outstanding shares

Appointed Salil Parekh as CEO and MD of the company effective from Jan 2, 2018

Appointed Nandan Nilekani as non-Executive Chairman of the Board

Pravin Rao appointed as interim CEO and MD

Board revised the capital allocation policy and decided to payout up to 70% of the free cash flow as dividend

2017
Infosys completed 25 years of listing on Indian Stock Exchanges

Infosys signed the "Advance Pricing Agreement" with the US IRS to enhance the predictability of the company's tax obligations in respect of its US operations.

2018
Having a look at the key milestones achieved by this company, one can definitely figure out Infosys has been far leading in terms of adapting current technologies, making their workforce drive better results in that direction and thus we see the confidence of its founders have led Infy to achieve the heights of where it is today.
Well, it is true that every multinational company has its own upsides and downsides and Infy is not an exception to this. Let us have a look at its breakup of revenues and try and understand some events which have greatly impacted its stock performance in the recent past.
Infy is known to have good amount of free cash flows and also has consistently maintained good % of ROE for its investors. Also as previously seen it has increased the % of dividends from post tax profits.
Infosys in mutual funds
Two mutual funds that hold significant portions of Infosys share are:
ICICI Prudential Technology Fund: A whopping 35% of its AUM is invested in Infy shares.
Tata Digital India Fund: Even this extremely popular fund holds more than 30% of its AUM in Infosys shares.
Infosys key details 
Following table consists of some of the key information:
| | | | |
| --- | --- | --- | --- |
| Annual Rates (per share) | 10 yrs | 5 yrs | 12 months |
| Revenue Growth | 16.10 | 11.90 | 14.90 |
| EBITDA Growth | 13.30 | 11.10 | 12.60 |
| Operating income Growth(%) | 13.70 | 11.10 | 13.00 |
| EPS growth(%) | 12.90 | 11.10 | 16.60 |
| FCF growth(%) | 12.30 | 10.10 | 10.40 |
| Book value Growth(%) | 16.80 | 11.80 | -4.20 |
Investors have always been keen to invest in IT sector post 2000 since this sector has always given stable and consistent results and India also had a paradigm shift from agricultural to services sector.
Hence during the time of uncertainty as well IT sector is considered to be one of the safe havens and this result can be seen from Infosys' results in the past decade with a constant revenue growth, EBITDA growth EPS and FCF growth which are the most important parameters for deciding whether to invest in that company or not.
Break up of Infosys Revenues for Software Services and products for the year 2018 is as follows:
| | | |
| --- | --- | --- |
| Particulars | 2018FY | % of total revenue |
| Software Services | 68460 | 97.08 |
| Software products | 2062 | 2.92 |
| Total | 70522 | |
Revenues earned form digital experience is 2.5% of total revenues. Digital experience involves design thinking, various automation projects undertaken and renew new engineering.
Few of the downturns that Infy has faced till date have raised some serious concern about the company's style of selecting leaders and succession planning.
One of the prominent events which raised questions about corporate governance was that of Vishal Sikka's exit from the company. He had served for approximately 3 years in the firm and during his tenure, the revenue of the company had risen by 25%.
Infosys troubles
Once a poster boy of Indian IT success story, Infosys had been battered by intense acrimony, with founders led by Narayana Murthy questioning the high compensation paid to Vishal Sikka as also severance package to certain former executives.
But, on performance, Sikka has done well.
Attrition fell from 24 percent to 17 percent in two years. Revenue per employee grew for six quarters in a row. New automation and innovation, which Sikka brought into transform Infosys, contributed 8.3 percent to revenue in the last quarter. And, total sales crossed the $10-billion mark for FY17, a 54 percent increase over three years.
On the day of Sikka's exit, Infy shares plunged 13 perpercent intraday trade, the lowest in three years.
An anonymous letter was sent to the Securities and Exchange Board of India and the US Securities and Exchange Commission earlier this year, alleging that the Israel-based Panaya acquisition was overvalued and that some Infosys executives may have benefited from the deal.
While an independent probe absolved the board of any wrong doing, Murthy kept the pressure on making the full contents of the investigation report public."Over time the demands have intensified, which when declined by the Board resulted in the threats of media attacks being carried out," said the statement issued by the board. Infy had refused to make public the probe report.
The board ruled that its efforts to resolve the concerns of the founders over the course of a year through a dialogue had not been successful.
The statement added that the board had tried earnestly to find "feasible solutions within the boundaries of law and without compromising its independence". It also cautioned that Murthy's actions and demands were damaging the company.
This was all about the corporate governance issue faced by Infosys and it also damaged the stock performance of the company, since the shares of the company fell by 9.93% from previous day's close and it was the same time when all IT companies were struggling to deal with US Visa curbs.
Infosys Future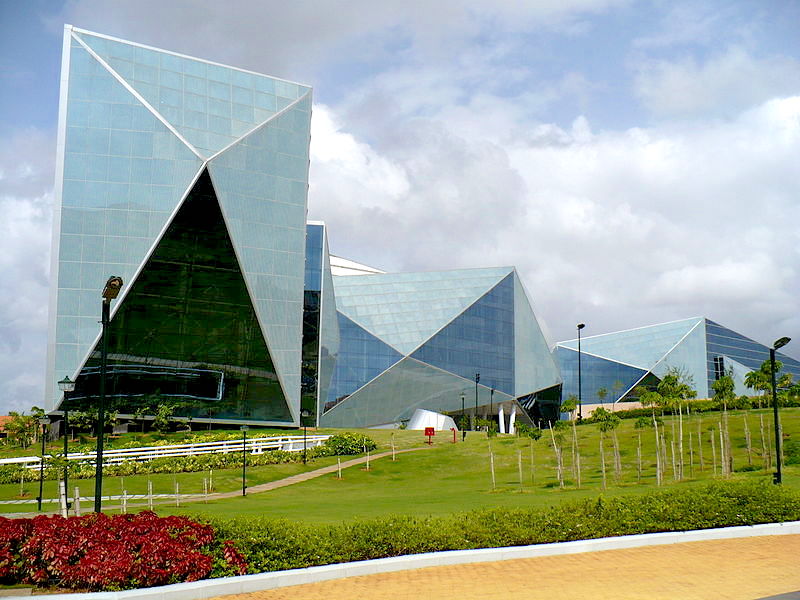 Infosys is known for its sprawling campuses in many parts of India. Featured above is the Infosys Mysuru campus. 
Looking at the strategy and initiatives taken up by the company, it has outperformed SENSEX by 20.61%, outperformed the sector (peers)by 5.37% and has given a dividend yield of 3.38%
Also looking at its financial performance, we have seen that its Net sales (by 7.74%), as well as operating profit (by 13.91%), have increased consistently Y-o-Y as well as Q-o-Q.
Infosys: history
"All the giants in the world started from small beginnings" be it Amazon or Apple, but India is not far behind these giants. IT services sector giant Infosys too had a similar beginning when 7 engineers namely Narayan Murthy, Nandan Nilekani, N S Raghavan, S Gopalakrishnan, S D Shibulal, K Dinesh and Ashok Arora from Patni Computers Ltd. came together to form Infosys consulting services in 1981 with meager capital funding of US$250.
The front room of Murthy's home was the company's first office, although the registered office was Raghavan's home. What sets apart Infosys from any other company in the world is the faith that its founders had shown during the collapse of the joint venture between KSA-Infosys in 1989, and at that time it felt that all the efforts put in the company for past 8 years had been in vain. This also had led to the dejection of Ashok Arora which resulted of him quitting the company.
The other founders did not know what to do…it was at this time when Narayan Murthy stepped in with firm conviction and said that, "'If you all want to leave, you can. But I am going to stick (with it) and make it,' The other partners — Nilekani, Gopalakrishnan, Shibulal, Dinesh and Raghavan — decided to stay.
And thus began to germinate the seeds of Infosys' enormous growth.
Infy rise to fame 1999
There was no looking back after the KSA collapse and through the hard work of the founders and employees, Infosys was able to touch $100 million in revenues and was the first IT company from India to be listed on NASDAQ.
Mr. Murthy along with his colleagues was quite smart to understand the rising importance of software in the early 1990s and how this software oriented industry is going to shape the future till early 2000s.
Hence Infosys initially mainly focused on ADM, software re-engineering and later started providing technology consulting and technology-enabled BPR solutions to big corporates.
Infosys while driving growth in the organization, also focused on delivering quality services to the clients which helped them retain the clients and also develop a good brand image.
In the early 2000s when dot-com boom was rampant and industries were moving towards systems integration and making the most use of the internet, Infosys started providing services like IT outsourcing, systems integration, Infrastructure Management, Product Lifecycle management.
This was also a good opportunity since India was then more economically liberalized and export of services had become easier.
With various events taking place worldwide, upsides and downturns, Infy learned that managing talent and developing skill is of utmost importance. This led to the formation of one of the best training universities in Mysore, Karnataka which presently has the capacity to train almost 14000 employees at a time and is considered to be the best in class.
Moving on along with developing training institute it focused on emerging technologies like SaaS, Business Process Management and developing more in consulting.
Along with providing these services, it kept on evolving in emerging technologies like Artificial intelligence, Automation, Renew-New, Design Thinking.
Happy investing!
Disclaimer: the views expressed here are of the author and do not reflect those of Groww.