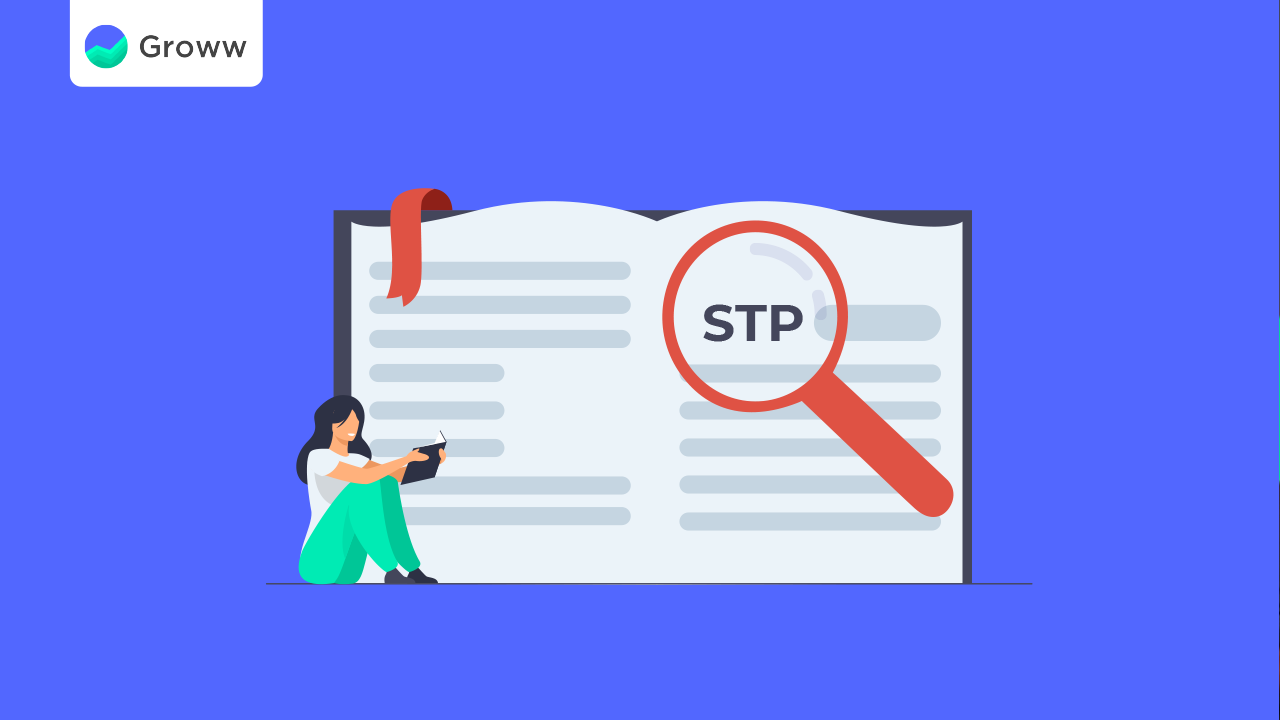 What is STP?
STP stands for Systematic Transfer Plan. STP is an automated way of moving (transferring) money from one mutual fund to another. This plan is chosen when one wants to invest a lump sum amount but wants to avoid the marketing-timing risk. The most common and sensical way of doing STP is to transfer money from a debt fund to an equity fund.
Debt funds, also considered safe mutual funds are mutual funds in which the returns are quite predictable. Equity funds (growth funds) are stock market linked and therefore the returns are unpredictable in the short-term but have been high when invested for the long-term. Read more about different types of funds.
The key thing is to know that STP can be done between the mutual funds of the same fund house (AMC). For e.g. one can do STP between two funds of Aditya Birla Sun Life or between two funds of Reliance Mutual Fund etc.
STP works in a very similar manner to how SIP works. You must be familiar with SIP, Systematic Investment Plan. SIP is a way of regularly investing a fixed amount in a particular fund. The money is deducted from the bank account on the SIP date and invested in the mutual fund chosen.
The easiest way to understand STP is to consider an SIP from your existing investments in a mutual fund to another mutual fund instead of doing it from your bank account.
Why Do STP?
The most common advantage of doing STP is to derisk the market timing risk. The ideal way of investing in equity mutual funds is through SIP. The SIP works when you have a regular income and regular savings.
For investing a lump sum, you always want to invest at the lowest price. But unfortunately, knowing if the current price is high or low as compared to the future price is impossible.
Therefore, the smart investor invests the lump sum in debt funds and sets STP to the desired equity fund. This way the investor's money is getting 8-10% returns while it is getting regularly invested in equity funds.
Another reason for doing SIP is for investing in market fall. If you are a smart investor you would have parked your extra money in debt funds (higher returns than FD and 100% liquidity). Certain times the market falls due to non-economic reasons, such as North Korea-USA altercation, China-India border issue etc.
Many active investors try to take advantage of such situations. Within a day the market corrects and comes back to pre-event levels. Therefore, STP (with single installment) can be used to invest a lump sum amount in equity funds on the same day.
Otherwise,  you need to wait for 2 working days that it takes to receive the money upon redemption. If you do the STP before 3 pm, you can get same day's NAV (price).
When Do You Say the Markets Are High?
Markets are always high. Ironically, there is also no better time than today to invest. The catch is that it's difficult rather impossible to time the market (know when the markets are low and when high).
Therefore whenever you want to invest a large lump sum amount, consider investing in debt funds and setting up STP. The exception is if you are taking a call (bet) on the market or certain sector for having high growth in near future.
For e.g. if you are very positive that in 2-3 years pharmaceutical sector will do really great (waiting for certain FDA regulations or US policy etc.), you might want to invest a small lump sum amount. If you are not comfortable taking such bets on the market, the best way for you is to invest the lump sum in debt funds and set STP in right Equity funds.
How to start STP?
Starting STP is very simple. All you need is the following –
Get your investment account activated. Complete your onboarding at groww.in/onboarding and upload necessary documents.
Select equity funds or equity funds portfolio (destination funds) in which you want to invest for long-term
Select and invest in debt funds or debt funds portfolio (source funds) in which you will invest the lump sum. Make sure these are from the same fund house
Call/Email Groww support at 91088-00604 or [email protected] with the details of the equity funds or portfolio.
Things to Remember While Setting STP
STP happens between the mutual funds of the same fund house (AMC)
STP is executed as redeem in one fund and purchase in another, on the same day
Choose source funds that have no exit load
Choose destination funds according to your investment goals
Best Equity Portfolio for STP (Destination Funds)
Best equity portfolio depends on your investment goals and time period. For a simple goal of growing money (the most common goal) in long-term, go for a diversified portfolio of good performing multi-cap funds, large-cap funds, and small-mid cap. Here is a good equity portfolio (destination) for STP –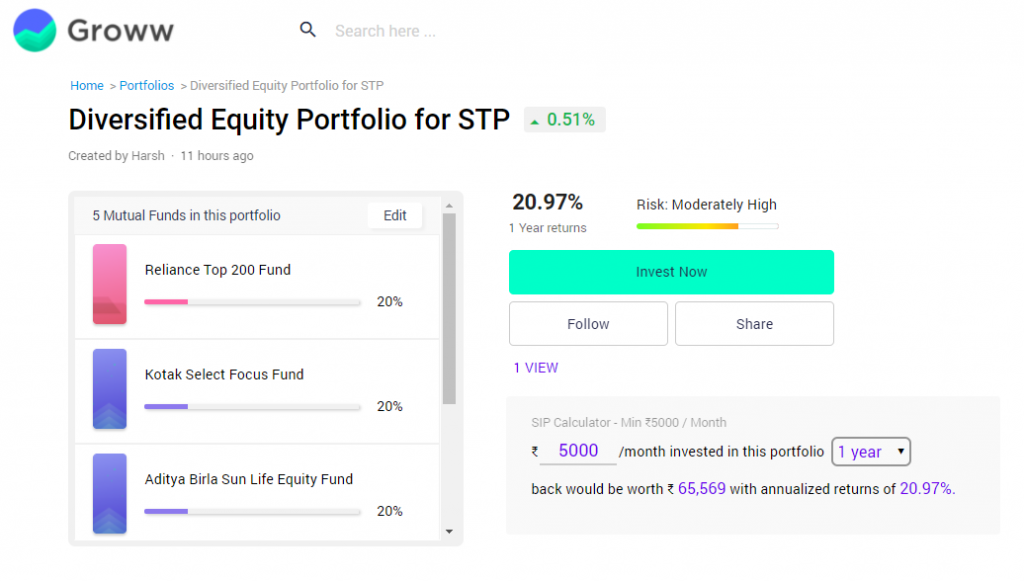 Best Debt Portfolio for STP (Source Funds)
Best debt funds portfolio depends on the best equity funds portfolio. Therefore, I have picked good short-term debt funds for STP source portfolio. You can use this portfolio for parking money also.

Here are some more options for the best STP Plans
Amount and Frequency of Transfer
Once you have invested in debt funds and selected the destination equity funds, you need to decide how much to transfer and the frequency.
The frequencies available are weekly STP, monthly STP, and quarterly STP.
Start investing in mutual funds!
Conclusion
STP is the best way of investing the lump sum in unpredictable markets.
Through STP, you invest the lump sum in the debt funds and set regular transfer to desired Equity funds. STP helps you reduce the risk of investing in equity funds.
Join groups to discuss finance-related topics!
Happy investing!
Investment in securities market are subject to market risks, read all the related documents carefully before investing. Please read the Risk Disclosure documents carefully before investing in Equity Shares, Derivatives, Mutual fund, and/or other instruments traded on the Stock Exchanges. As investments are subject to market risks and price fluctuation risk, there is no assurance or guarantee that the investment objectives shall be achieved. NBT do not guarantee any assured returns on any investments. Past performance of securities/instruments is not indicative of their future performance.