With cryptocurrencies still in the news, tumbling 10 percent to 20 percent in recent days thanks in part to a change in calculating how the coins are valued, the debate rages on as to whether bitcoin, ethereum, ripple, bitcoin cash and litecoin are, in fact, money. Here, we throw some light on the prospects of top 10 cryptocurrencies.
1. Bitcoin(BTC)

Bitcoin uses peer-to-peer technology to operate with no central authority or banks; managing transactions and the issuing of bitcoins is carried out collectively by the network. Bitcoin is open-source; its design is public, nobody owns or controls Bitcoin and everyone can take part.
Through many of its unique properties, Bitcoin allows exciting uses that could not be covered by any previous payment system.
Billionaire investor Warren Buffett said that he would never invest in Bitcoin or other cryptocurrencies, and predicted the wildly popular assets are in for a fall.
Facts:
The BTC price in INR is Rs. 890750.85
| | |
| --- | --- |
| Market Capitalisation | $239,031,549,372 |
| Price | $14233.30 |
| Volume | 17,946,000,000 |
| Circulating Supply |  16,793,825 BTC |
2. Ethereum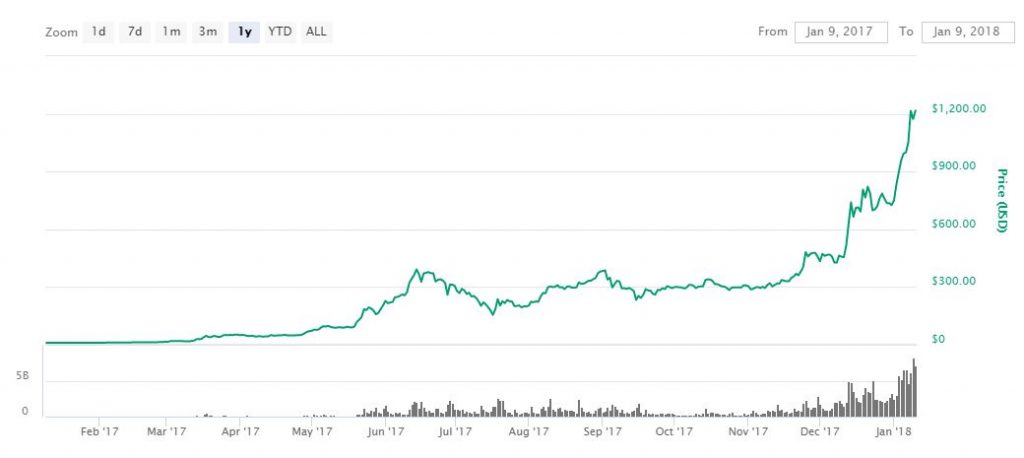 Ethereum  (ETH)  is a relatively new cryptocurrency in this market. It has the second largest market capitalization after Bitcoin. But bitcoin is approximately 19 times larger than ethereum.
Ether is the cryptocurrency which is based on  Ethereum , decentralized platform.  This platform can be considered as the next generation cryptocurrency and decentralized application platform.
It was created by Vitalik Buterin and launched in the mid of the year 2015. Ether is the most popular cryptocurrency after Bitcoin.
In simple terms, Ethereum is a platform and a programming language which can be used to build and run applications. It is known for peer to peer smart contracts. It enables you to code  and enter contracts without involvement of third parties
It can be considered as a good investment. However, most of the investors have faced hacking attacks on a monthly basis and most of them have lost their money due to the coding error on an exchange.
Facts:
The ETH price in INR is Rs. 84,379.92
| | |
| --- | --- |
| Price | $1215.47 |
| Market Cap | $117,745,678,955 |
| Volume | $7,111,670,000 |
| Circulating Supply | 96,872,550 ETH |
| % Change (last 1 year) | 11.60k % |
3. Ripple

Ripple is a real-time gross settlement system(RTGS), currency exchange and remittance network. Ripple is based around a shared, public database or ledger, which uses a consensus process that allows for payments, exchanges and remittance in a distributed process.
Released in 2012, Ripple purposes to enable "secure, instantly and nearly free global financial transactions of any size with no charge backs." It supports tokens representing fiat currency, crypto currency, commodity or any other unit of value such as frequent flier miles or mobile minutes.
Ripple has been increasingly adopted by banks and payment networks such as UniCredit, UBS and Santander, as a settlement infrastructure technology, with because from banks' perspective, distributed ledgers like the Ripple system have a number of advantages over crypto currencies like bitcoin, including price and security.
Facts:
The XRP price in INR is Rs. 134.37
| | |
| --- | --- |
| Market Capitalisation | $74,577,111,217 |
| Price | $1.88 USD |
| Volume | $5,167,430,000 |
| Circulating Supply | 38,739,142,811 XRP |
4. Bitcoin Cash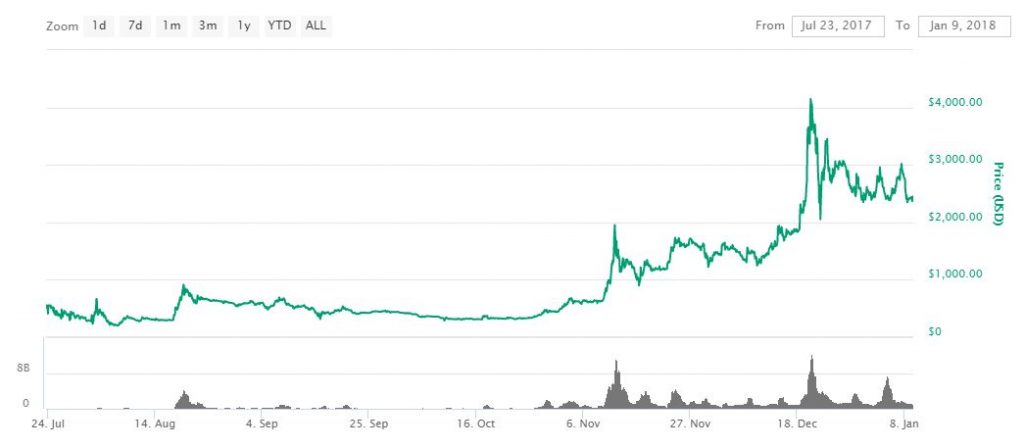 Bitcoin cash (BCH) is an upgraded version of the cryptocurrency Bitcoin and was released on August 1st,2017. As bitcoin transactions were gaining popularity, network and block size issues lead to the creation of Bitcoin cash.
In bitcoin, transactions are processed block by block and block size limit was only 1MB. However, transactions and process improved over the period of time.
In bitcoin cash, block size is increased to 8MB. It allows miners to process more payments per second. Hence, bitcoin cash provides faster, cheaper and smoother user experience.
Low transaction fees and reduced confirmation time in Bitcoin cash technology have benefitted both the merchants and the users.
Bitcoin cash can be used for e-commerce, microtransactions, gaming and other online payments. As more and more exchanges are agreeing to take up bitcoin cash, it will increase both the credibility and value of bitcoin cash.
Facts:
The BCH price in INR is Rs.  173,108.59
| | |
| --- | --- |
| Price | $2442.79 |
| Market Cap | $41,288,647,278 |
| Volume | $1,115,030,000 |
| Circulating Supply | 16,902,250 BCH |
| % Change (last 1 year) |  458.82% |
5. Cardano(ADA)

Cardano is a decentralised platform that will allow complex programmable transfers of value in a secure and scalable fashion. Cardano is one of the first blockchains to be built in the highly secure Haskell programming language.
It was developed by IOHK in conjunction with the University of Edinburgh, the University of Athens and the University of Connecticut. It was launched on September 29, 2017.
Cardano is traded with token ADA on various digital currency exchanges like Bittrex, Bimax, Upbit, Coinnest, Binance. One can download the Daedalus wallet to send and receive Ada.
Starting on Monday, January 8, 2018, at 8:00 a.m. GMT, the ADA token from Cardano began to be listed on the futures exchange at BitMEX. This makes BitMEX the fifth exchange to list the ADA token since Bittrex did so in October 2017.
Facts:
The ADA price in INR is Rs. 53.83
| | |
| --- | --- |
| Market Capitalisation | $18,644,674,965 USD |
| Price | $0.719120 USD |
| Volume | $237,267,000 USD |
| Circulating Supply | 25,927,070,538 ADA |
6. NEM (XEM)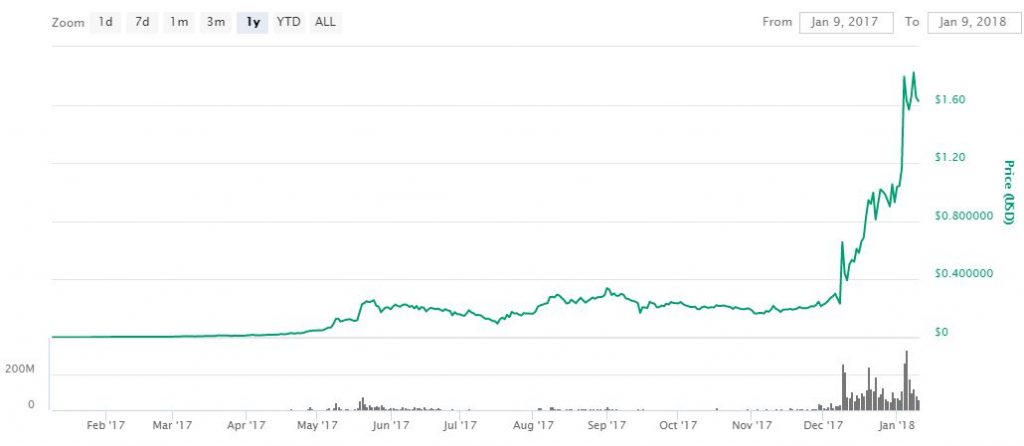 NEM is another valuable cryptocurrency in the top 10 cryptocurrencies of the world. It is identified by its coin symbol XEM.
It is also a blockchain based cryptocurrency, like Bitcoin and Ethereum. However, the differentiator factor is the extended security feature that NEM provides to its users.
NEM is built on the same concept as Ethereum but it tweaked it into smart assets. In comparison to Ethereum, it provides more scalability and higher security.
While Ethereum can process only 15 transactions per second, NEM can do hundreds. And, the probability of intruders attacking NEM network is very less as it is secure.
The applications of NEM have apparently outnumbered Ethereum. XEM prices have jumped about 5600% this year in comparison to Ethereum's 3400% change in this year.
Most of the banks are planning to shift their financial software technology to NEM'S blockchain platform and this could serve as a major breakthrough for NEM.
However, most of the analysts are predicting this high growth as a bubble which burst any moment and hence, investors should consider their risk appetite while considering cryptocurrencies for investments.
Facts:
The XEM price in INR is Rs. 93.14
| | |
| --- | --- |
| Price | $1.63 |
| Market Cap | $14,702,489,998 |
| Volume | $62,688,900 |
| Circulating Supply | 8,999,999,999 XEM |
| % Change (last 1 year) |  2383.71% |
7. LiteCoin (LTC)
Litecoin often termed as the silver to gold of Bitcoins, has recording mind boggling growth in the past year. Litecoin was created by Charlie Lee, an MIT graduate and former Google engineer, in 2011.
It is based on an open source global payment network that is not controlled by any central authority and uses "scrypt" as a proof of work, which can be decoded with the help of CPUs of consumer grade.
Its price has had a dramatic innings like most cryptocurrencies. In November 2013, Litecoin touched a high of $50. However, the spur ended soon, and its price was anchored around $5 during 2015 and 2016. It began the year 2017 with a price of $4.33 and reached $240.61 on January 10.
Facts:
The LTC price in INR is Rs. 15,918.27
| | |
| --- | --- |
| Market Capitalisation | $13,160,498,983 USD |
| Price | $240.61 USD |
| Volume | $1,033,250,000 USD |
| Circulating Supply | 54,695,483 LTC |
 8. Stellar (XLM)
Stellar is another cryptocurrency gaining popularity in the market. It is also based on distributed blockchain technology. Similar to bitcoin, it is decentralized i.e. its value is not based on anything tangible but the value investors place on it.
The digital currency for Stellar is Lumen. One lumen is one unit of currency, denoted by XLM. As on 9th January, 8 billion lumens have been distributed across the world. It is developed by a non-profit organization.
Stellar has a market cap of $11 billion and rated as the eighth largest cryptocurrency, according to CoinMarketcap.com. Stellar transactions can settle in 2 to 5 seconds and can be used as an exchange tool for exchanging foreign currencies.
Investors and users should be aware that there is a lot of risk in these digital currencies as the prices can fluctuate at a very rapid level and they can easily lose out the complete value of their investment.
The legal status of cryptocurrencies varies from country to country and still undefined. Most of the instances have occurred when online crypto cash has been targeted by the hackers.
Facts:
The XLM price in INR is Rs. 47.18
| | |
| --- | --- |
| Price | $0.626240 |
| Market Cap | $11,197,248,092 |
| Volume | $199,189,000 |
| Circulating Supply | 17,880,122,783 |
| % Change (last 1 year) |  1398.08% |
 9. IOTA
IOTA stands for internet of things application. It is a coin designed to enable machine to machine transactions. According to a research by Gartner the number of IOT enabled devices increased to 8.4 billion in 2017, this means a great scope for such a currency.
It is not based on normal blockchain technology, instead it makes use of Directed Acyclic Graphs(DAG). IOTA has named this technology as Tangle. On one side where Tangle has resolved the scalability issue of Bitcoins and other cryptocurrencies but in the hind sight it has made IOTA more vulnerable to cyber-attacks.
Further, humans may own it out of their trading or investment interests but ideally IOTA has been designed for machines to transact amongst each other. Although, IOT as a disruptive concept is gaining ground but the adoption of technology where the machines have the authority to transact value on behalf of humans still requires a lot of convincing. This make the future of IOTA a little risky.
One's decision to buy IOTA should be based on thorough research about the technology and its founders. IOTA's tangle could be the next big advance in cryptography, but investing in a technology which is still in a state of infancy is inherently risky.
Facts:
The MIOTA price in INR is Rs. 239.58
| | |
| --- | --- |
| Market Capitalisation | $9,415,019,542 USD |
| Price | $3.39 USD |
| Volume | $209,911,000 USD |
| Circulating Supply | 2,779,530,283 MIOTA |
10. TRON(TRX)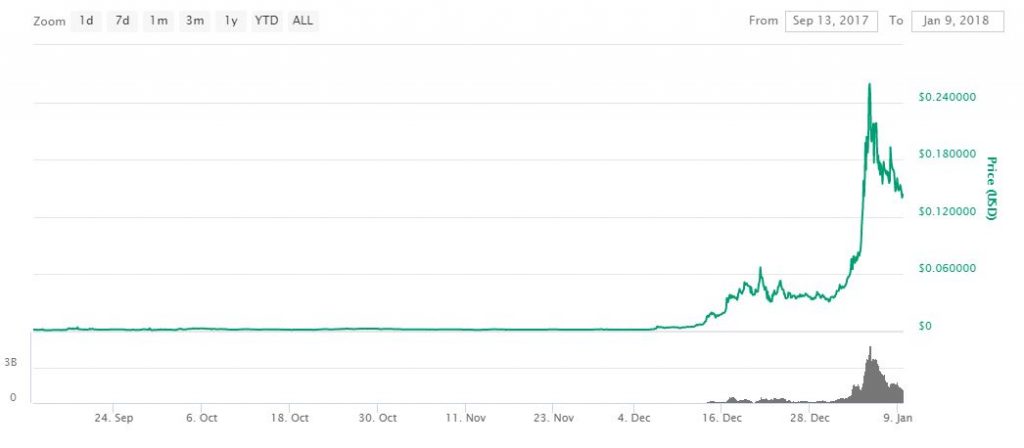 TRON is another cryptocurrency which is traded online and is popular among users. It is launched in the mid-September of the year 2017.Tron's official cryptocurrency is Tronix (TRX).
It was originally designed to give digital content creators full ownership and control over their content. The company is targeting the media and entertainment sector.
TRON is providing users a decentralized content distribution platform. The user is allowed to freely publish, store and own data. The company is targeting competitors such as Google Play, Apple, etc who provide this service on higher charges.
TRON is created by Justice Sun, founder, and CEO of Peiwo which is the largest voice live streaming app in China. The company is looking for partnerships to grow in the revolutionary marketplace.
TRON has performed very well in the last few months and its market cap has increased multifold.
Facts:
The TRX price in INR is Rs. 7.31
| | |
| --- | --- |
| Price | $0.144663 |
| Market Cap | $9,511,330,768 |
| Volume | $1,144,960,000 |
| Circulating Supply | 65,748,192,475 TRX |
| % Change (last 1 year) |  -58.57% |
 The growth in the cryptocurrency market and higher returns are extremely appealing but investors should keep in mind that Finance Ministry of India has recently announced that virtual currencies are not the legal tender in India.
"Consumers need to be alert and extremely cautious as to avoid getting trapped in such Ponzi schemes," statement by Ministry.  Virtual currencies are stored in electronic form and are more vulnerable to cyber attacks and can result in loss of money.
Where to Invest?
Considering crypto to be a serious investment option is a very big risk. Invest in cryptocurrencies only that amount which you don't mind losing.
For the rest, consider more traditional investments.
Mutual funds are much better in terms of risk. Even the riskiest mutual funds are far less risky than crypto currencies.
Mutual Funds vs Crypto
Mutual funds are managed by knowledgeable fund managers whose sole job is to invest the money while adhering to the objective of the fund.
In case of crypto, you are exposed to tremendous risk.
If you want to take high risk, you should explore small-cap funds. They invest in smaller companies that show great potential for growth.
In the last year alone, some funds have returned in excess of 60% per annum. That is a very high return.
Here are 2 small cap funds worth your money.
| | |
| --- | --- |
| Risk Level | HIGH |
| Minimum SIP Amount | ₹500 |
| 1 Year Returns | 60.06% |
| 3 Year Returns | 27.63% |
| | |
| --- | --- |
| Risk Level | HIGH |
| Minimum SIP Amount | ₹500 |
| 1 Year Returns | 51.68% |
| 3 Year Returns | 21.3% |
If you want to see the best mutual funds to invest in, checkout: Groww 30 Best Mutual Funds to Invest in 2018. 
Happy investing!
Disclaimer: the views expressed here are those of the author. Cryptocurrencies are subject to market risks. Please read the offer document before investing.