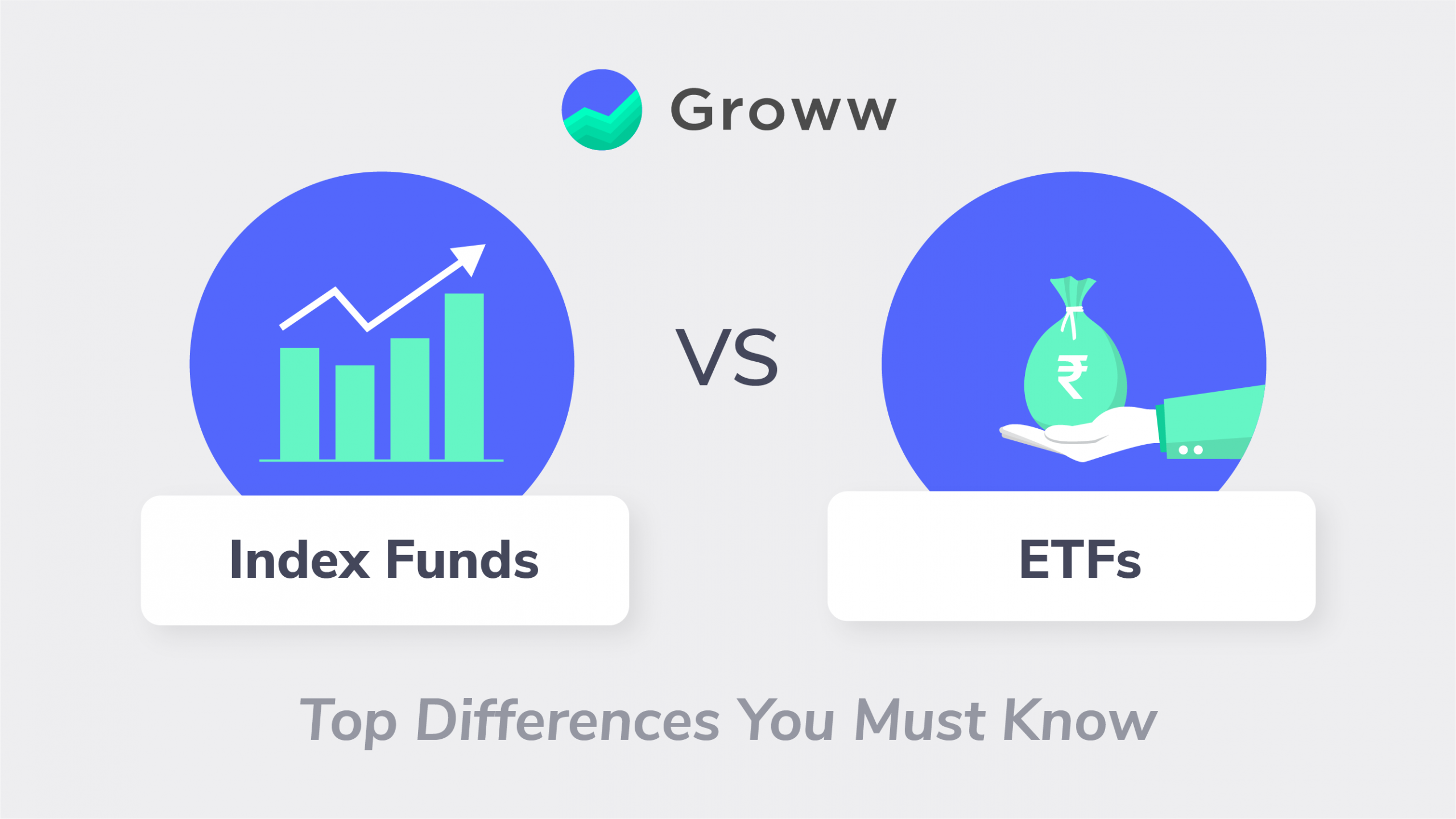 In the last decade, the Indian stock market has witnessed a rise in the popularity of Index Funds among investors. Even though these funds, with their passive investment, low expense ratio, and minimal risk have been around since the 1970s, they only started gaining momentum as potential investment options since 2010s. 
But in the last couple of years, another similar investment option – ETF has also gradually become quite popular among retail investors.
ETFs and Index Funds invest in similar portfolio shares but using two different methods. Following is an expansion on Index Fund vs ETF that can help investors make comprehensive decisions regarding investing in these two instruments. Read On!
What is Index Fund
Also known as Index Mutual Fund, these consist of a portfolio that tracks or match the constituents of financial market indices like Sensex, Nifty, etc. These funds do not deviate from the benchmark index irrespective of market conditions.
These provide perfect investment options for individuals looking to gather post-retirement corpus and long-term wealth creation. With minimal risk and a promise of good long term returns, these are favoured by individuals looking for stable investment options.
Following are a few features of these funds to understand Index Fund vs ETF in India effectively –
These offer a diverse portfolio of bonds and stocks that imitate the performance and constitution of stock market exchange indices.

These funds have a lesser expense ratio as compared to actively managed funds. Expense ratio refers to the percentage of expense incurred by an investor to cover costs like fund manager fees, fund advertisement, etc. These costs are not applicable in case of Index Funds.

These funds follow a passive investment regime.

Index Funds strive to match the market risk and reward, in the hopes that the market will outperform any individual investment in the long run.
While these are the features of Index Funds, it is crucial for investors to learn about ETFs, to gauge the comparison of Index Fund vs ETF effectively.
What is Exchange Traded Fund (ETF) – 
ETF refers to a collection of securities like stocks that track an underlying index. ETFs consist of several types of investments such as commodities, stocks, bonds, or a mixture of these forms. It is also marketable security with an associated price that enables it to be purchased and sold off easily.
There are several types of ETFs that investors can utilise for income generation, hedging, speculating or even offsetting risk on their portfolio. Some of them include – industry ETF, bond ETF, currency ETF, commodity ETF, inverse ETF, etc. These investment options are akin to Mutual Funds but are traded on an exchange.
Following are a few features of ETF that can aid investors to understand the difference between index fund and ETF in India more effectively –
These funds consist of a collection of securities traded on the stock exchange.

The share prices of these funds fluctuate throughout the day as they are purchased and sold off, unlike Mutual Funds which trade once daily, after the market closes.

These contain several types of investments including commodities, stocks, bonds, etc. of both domestic and international varieties.

Like Index Funds, these funds have a low expense ratio compared to actively managed funds.
Thus, with a clear idea about the features of each of these investment options, investors can choose the better option for themselves in the Index Fund vs ETF argument.
Index Fund Vs ETF in India – A Comparison Between the Two Investment Options –
Following is a table to draw a comparison between the two investment options, to help investors choose the one better suited for their requirements –
Particulars

Index Funds
ETF

Structure

Index Fund portfolios replicate stock market indices. They do not have liquidity on their own and thus have a higher number of assets in liquid securities and cash, compared to ETF. As a result, these funds can be subject to tracking error which can cause them to deviate from the actual returns from indices.

ETF is akin to Mutual Funds and consist of stocks that make up indices like Nifty or Sensex. These stocks bear the same weightage as they do on respective indices. Since the portion of liquid assets and debts vary from one ETF to another, the returns from each ETF can also vary even if they are under the same index.

Transacting

Index funds are Mutual Funds whose units can be purchased through SIP or lump sum. Investors who automate their investment in these funds through SIP can avail the benefit of a disciplined investment through these funds.

Exchange Traded Fund

is sold and purchased on exchange with investors requiring a Demat account to do the same. Investors have to purchase one unit of ETF through their Demat account via a broker, in the same manner of trading shares in the market.

Charges levied

Index funds levy a minimal expense ratio between 1% and 1.8%. In addition to this, investors have to pay a fixed transaction fee amounting to Rs. 100 for every investment above Rs. 10,000. 

ETF does not have any recurring charge. They only levy a minimal transaction charge of 0.5% and a maintenance charge of 1% on the Demat account.

Investment quantum

Index funds require a minimum lump sum investment of Rs. 5000 or investment of Rs. 500 in case of SIP.

 There is no minimum investment. Investors do not have the option to invest through SIPs in case of these funds. 

Tax liability

As far as

Index fund vs ETF tax efficiency

is concerned, the units redeemed from index funds come under an investor's capital gains. The taxation of these gains depends on the holding period of the respective funds. Taxes are levied according to the applicable rates on long and short term capital gains.

When it comes to

Index Fund vs ETF tax efficiency

, ETF can have a lower tax liability than Index Funds. They are taxed in accordance with the tax implications on their underlying assets. For instance, if an ETF has stock holdings, it will be taxed according to the tax liabilities of stocks.

Utility

Index Mutual Fund

is primarily used to gather a savings corpus for a post-retirement fund or long-term wealth creation.

ETF can be used for trading strategies and long-term investment.

Settlement time

Index Funds have a one day settlement time.

ETF has three day settlement time.
From the above table discussing Index Fund vs ETF, it is evident that both of these investment options have their share of advantages and drawbacks. Moreover, both these funds allow portfolio diversification at low costs. As an investor conduct due diligence while selecting the option that suits your financial objectives and risk appetite and be very sure about the investment product you are getting into. 
Happy Investing!
Disclaimer: The views expressed in this post are that of the author and not those of Groww
Investment in securities market are subject to market risks, read all the related documents carefully before investing. Please read the Risk Disclosure documents carefully before investing in Equity Shares, Derivatives, Mutual fund, and/or other instruments traded on the Stock Exchanges. As investments are subject to market risks and price fluctuation risk, there is no assurance or guarantee that the investment objectives shall be achieved. NBT do not guarantee any assured returns on any investments. Past performance of securities/instruments is not indicative of their future performance.