In this article, we compare Groww Mutual Fund App vs Scripbox App. Both Groww and Scripbox are trying to make investing simple for new investors – however, the approach of both the apps is very different. Let us look at various factors in comparing Scripbox vs Groww App.
Things You Can do
Scripbox – Scripbox will do your KYC for you. You can invest, redeem, rebalance, track your funds, and get advise.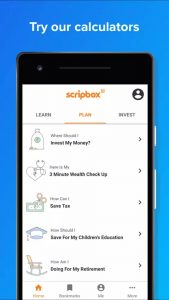 Groww – Groww gives you all above of the above and beyond! You can choose to invest in any mutual fund of your choice, or follow an existing portfolio of funds to invest in. But that's not all.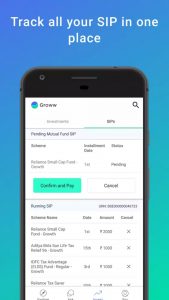 On Groww, you can create your own portfolios also! These portfolios you create can be made public – so other Groww users can benefit from your knowledge or kept private so it is visible only to you.
Number of Mutual Funds available
Scripbox – The Scripbox website says they offer only 10 mutual funds which is chosen by their algorithm.
Groww – We have every mutual fund available so a user can invest in whichever fund suits them.
At Groww, we believe that every investor is different and has a different set of requirements from financial products. Unlike Scripbox which has great confidence in a few funds, we like our investors to have all options they could possibly need.
Mutual Fund Analysis
Scripbox – First of all, it is not possible to see fund details on the app. Upon clicking any mutual fund, the link redirects outside the app to a browser where the fund page open.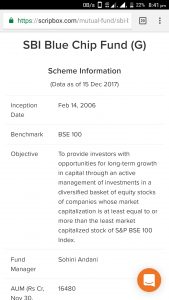 Scripbox seems to depend highly on mutual fund suggestions made by their algorithm. Their fund page simply lists fund details from top to bottom without proper orientation. They also seem to have skipped important details like holding analysis and top holdings.
Groww – all possible details that are relevant to a mutual fund investor are clearly displayed in a neat and organized manner. Not just that, necessary details like holding analysis is also available for investors to view.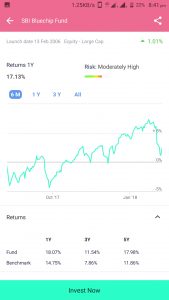 Process of Investing in SIP / Lumpsum
Scripbox – paperless SIP is done through biller while lump sum is done via net banking.
Groww – similar to Scripbox, paperless SIP is done through biller while lump sum investment is handled via net banking.
Direct Funds
Scripbox, I don't know if they will provide direct plans or not.
However, Groww is providing Direct Plans.
App Downloads and Ratings
Scripbox – This app has been in the Playstore for a few years now and has a 3.9-star rating. It has over 100,000 downloads.
Scripbox is more than 3 years old and has lot more downloads than Groww.
Groww- This app has just been launched about 2 months ago. It has a fantastic 4.8-star rating as of writing this. It has been downloaded more than 10,000 times in the only 2 months of its existence!

You can easily download the Grow app from here.
Disclaimer: The views expressed here are that of Author and need not be same as that of Groww.