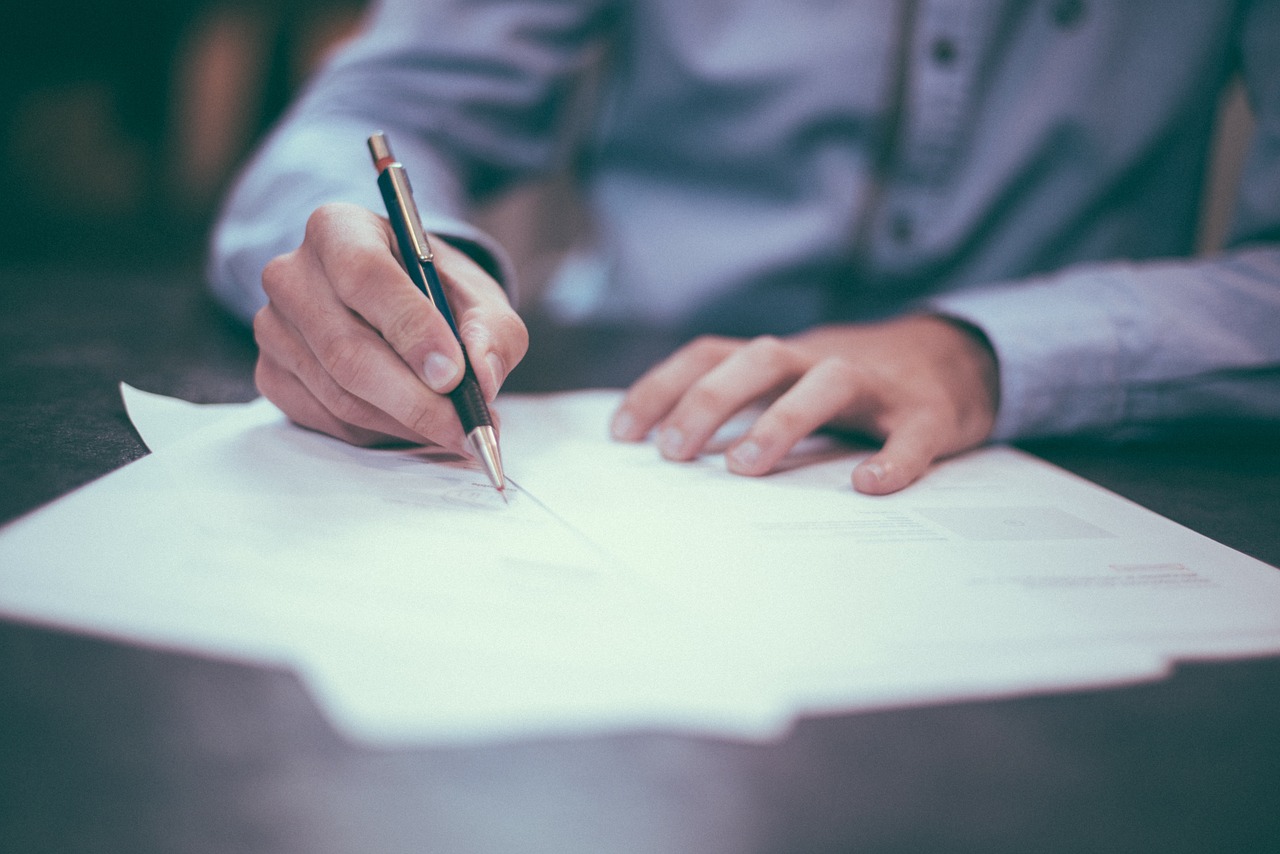 Is buying an investment all that an investor needs to do?
No, it isn't.
Your timing as well as the manner in which you redeem your investments is also a very important part of the investment process.
In this sense, disinvesting is the most important stage for your investment.
This may sound illogical to you, but it isn't.
Think about it after you finish reading this blog on Disinvestment in India.
What Is Disinvestment?
In simple terms, Disinvestment is taking your money out of the companies you invested in.
For example,
Ram invested Rs. 1,00,000 in ABC Ltd. for the last few years for 500 shares in the company. Today, he plans to sell his shares to Shyam.
Here Ram is disinvesting in ABC Ltd.
The word, disinvestment is generally used in the context of Public Sector Undertakings (PSUs).
When the government sells its shares in PSUs (Companies where the government has more than 51% ownership) to Private Entities, it is called disinvestment.
What Is the Objective of Disinvestment in India?
Disinvestments are primarily motivated by the optimization of resources to deliver maximum returns.
Disinvestment in India is aimed at reducing the financial burden on the government due to the inefficient and poorly functioning PSUs (called sick units) and to improve public finance.
It introduces competition and market discipline and helps to depoliticize non-essential services.
Sometimes, disinvestments can also be called upon for political or legal reasons.
What Is the Importance of Disinvestment in India?
Currently, the government of India has around Rs. 2 lakh crores locked up in PSUs.
Disinvestment of the government stakes in these companies, thus, it far too significant in the Indian economy. The disinvested money can be used for:
Financing India's increasing fiscal deficit
Financing large-scale infrastructure projects across the country
Increasing consumption and demand
Minimizing government debt – Almost 40-45% of the Centre's revenue receipts go towards repaying public debt or interest in the same
Implementing social programs in health and education sectors
On the other hand, private entities or companies buy these disinvested stakes in PSUs for a cheap price and the skills, discipline, and talent brought in by such private entities helps in improving the overall performance of such Sick Units.
Types of Disinvestment Methods in India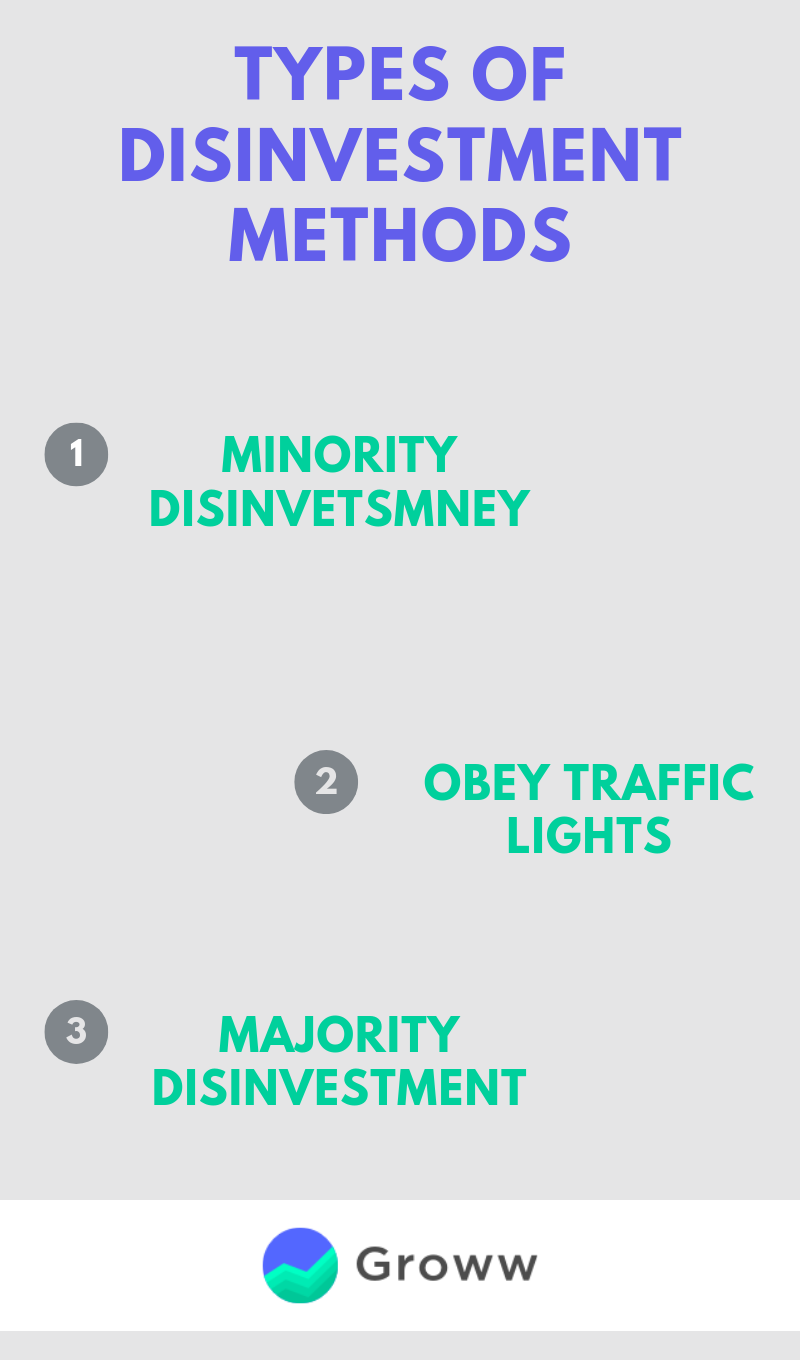 The method of disinvestment in India changes from time to time, mostly depending on the party at the center.
But there are primarily 3 different approaches to disinvestments (Government's perspective).
1. Minority Disinvestment
Minority disinvestment in PSUs is such that, at the end of it, if the government of India retains a majority stake (typically more than 51%) in the company, it ensures management control.
Historically, minority stakes have been either auctioned off to financial institutions or offloaded to the public by way of an offer for sale.
The present government has made a policy statement for FY 2018-19 that all disinvestments would only be minority disinvestments through public offerings.
Minority disinvestment via auctioning to institutions go back into the early and mid-90s and is no longer the preferred method in India.
Some examples of minority disinvestment via Offer for Sale include recent issues of Power Grid Corporation of India Ltd., Rural Electrification Corporation Ltd., NTPC Ltd., NHPC Ltd., etc.
2. Majority Disinvestment
Majority disinvestment in PSUs is such that, at the end of it, the government of India retains a minority stake in the company i.e. it sells off a majority stake. It is also called Strategic Disinvestment.
If we look into the disinvestment history, majority disinvestments have been typically made to strategic partners of the government of India.
These strategic partners could be other Central Public Sector Enterprises (CPSEs) themselves, a few examples being BRPL/MRL to Indian Oil Corporation Ltd. (IOC) and KRL to BPCL.
Alternatively, these strategic partners can be private entities, like the sale of Modern Foods to Hindustan Lever Ltd., CMC to Tata Consultancy Services Ltd. (TCS).
Also, same as in the case of minority disinvestment, in majority disinvestment case the stake can also be offloaded by way of an Offer for Sale, separately or in conjunction with a sale to a strategic partner.
3. Complete Disinvestment
Complete disinvestment or privatization is a form of majority disinvestment wherein 100% control of the company is passed on to a buyer i.e government of India completely disinvests from that PSU.
Example of this includes 18 hotel properties of India Tourism Development Corporation (ITDC).
History of Disinvestment in India
In India, the new economic policy has given rise to significant focus for the privatization of public enterprises in the year 1992. Disinvestment is a method of privatization for public enterprises.
It is a major step towards privatization and liberalization of the Indian economy.
The Indian economy was adversely affected by bankruptcy during the period 1981-91.
The public sector which was supposed to achieve new heights and was taught to be the perfect path for India's economic growth, right from independence was characterized by poor and sick performance.
In the year 1991, there were 236 operating PSUs, of which only 123 were profit making.
The top 20 profit making PSU's counted for 80% of the profits, implying that less than 10% of the PSU's were responsible for 80% of profits. The return on PSUs investment for the year 1990-91 was just around 2%.
Allowing the private sector to pump capital into these ailing PSUs would, of course, go some way in turning around these entities even as it provides the government with funds to bankroll welfare programs.
Hence, the process of disinvestment in India was started in the year 1992.
Major divestment steps were taken in the past by BJP led NDA government in the tenure between1999-2004, made four strategic disinvestments –
Again, in starting from 2014 to 2018, BJP led NDA government divested total Rs. 1,94,646 crore, which also includes minority and majority stake sale of most profitable Public sector undertaking companies, like ONGC-HPCL deal worth Rs. 36,915 crores.
In the budgetary announcement of the financial year 2017-18, The Finance Minister noted that the government initiated strategic disinvestment in 24 PSUs, including Air India, this fiscal. 
Since the financial year, 1991-92 to 2017-18 government led by political parties sold total public assets of Rs. 3,47,439 Crore.
What Is the Current Disinvestment Target in India?
The government in its interim budget 2019, set the disinvestment target for FY 2019-20 at Rs. 90,000 crores, higher than the Rs. 80,000 crore budgeted for the ongoing year that it said would be exceeded.
The government had raised Rs 35,532 crore from disinvestment till December of 2018.
Interim finance minister Piyush Goyal said in the budget speech that the government had pursued a public enterprises asset management agenda to make these entities accountable to the people.
As the new government takes a charge for the second term, the Prime Minister Narendra Modi led National Democratic Alliance (NDA), is expected to take up immediate and swift disinvestment of at least a dozen state-owned companies.
Some of the key disinvestments that were announced but couldn't proceed due to market conditions.
Offer for Sale of General Insurance Corporation of India Ltd. and New India Assurance Company Ltd.
Divestment in MSTC Ltd. through Initial Public Openings (IPO).
Strategic disinvestment of 100% government holding in Central Electronics Ltd.
Strategic disinvestment of Bridge and Roof Ltd.
Disinvestment in North Eastern Electric Power Corporation Ltd. through IPO.
Divestment in Bharat Electronics Ltd. through offer for sale.
Disinvestment in NBCC (India) Ltd. and HUDCO through offer-for-sale.
Sale of Air India and five of its subsidiaries: The strategic disinvestment process will begin once again in national carrier Air India, which is neck deep in debt, and it is likely to commence during August-September 2019.
Strategic divestment of Pawan Hans.
Strategic divestment of 100% government holding in Bharat Pumps & Compressors Ltd.
All these disinvestments are likely to expedite in the coming months.
The Bottom Line
It is an ambitious bid to achieve or surpass the government of India's target of raising Rs. 90,000 crores from disinvestment proceeds in FY 2019-20, as it looks set to sell stakes of a number of companies which has attracted wide interest from private entities.
The massive mandate of 353 seats won by the NDA, is expected to further give a boost to the government's disinvestment drive in India.
Happy Investing!
Disclaimer: The views expressed in this post are that of the author and not those of Groww