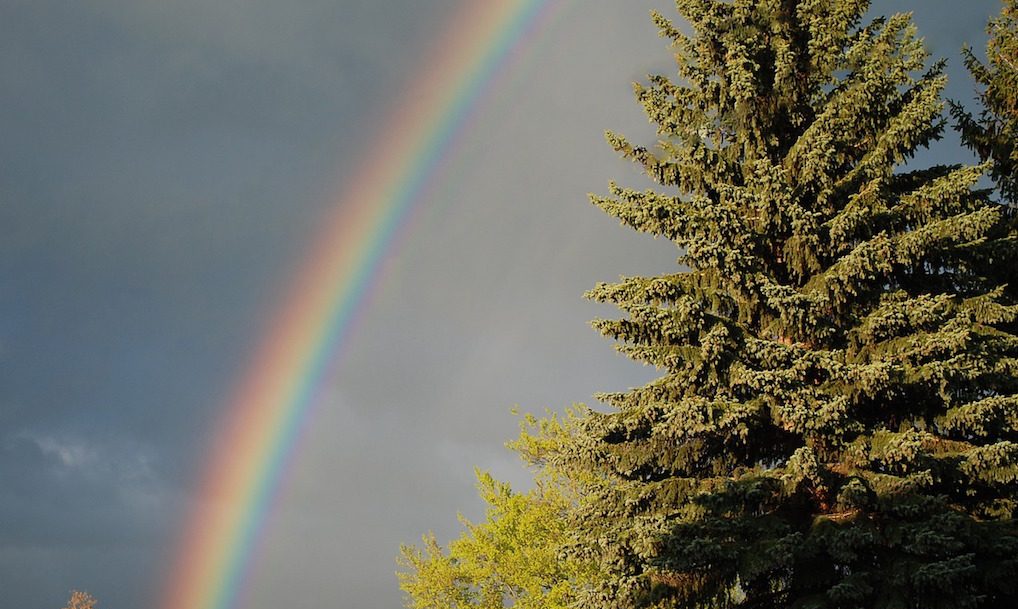 A Perfect Blend of Simplicity and Research
Tony Robbins wrote a new book and discussed all weather portfolio strategy he developed for the book with the help of Bridgewater's Ray Dalio. His basic point is that life is uncertain and that no one can predict future. So it makes sense to prepare for anything – inflation, deflation, rising economic growth or slowing economic growth. Markets react to surprises as all markets work on cause-effect principle. Most of these cause-effect are mostly built on expectation of the future than reality. So, if you look at any security be it bonds, stocks, gold currency, etc., their price change due to change in expectations of the future and the expectations of the future in-turn depend on these surprises.
Market Events
When PM Modi announced demonetization, I just didn't believe it at that point. It took me a good amount of discussion and reasoning to understand its implication. Real life is full of such kind of surprises. Another thing that's true is that no one can predict surprises. The only thing that you can do is to be prepared for it. With this thought in mind, Ray Dalio, founder of Bridgewater Associates, a leading hedge fund with $160B under management, went on to a mission to find the investment portfolio that would perform well across all environments and that can handle all surprises. I am trying to take motivation from them to create a similar portfolio for India.
Today, Bridgewater's All Weather fund manages ~$80B in assets.
How it all started?
All Weather is an investment strategy pioneered by Bridgewater Associates. The objective of this strategy is to weather any market storm from Demonetization, recession, etc.
Let's look at basic assumption considered by Ray to come up with this strategy.
Price of the securities changes only due to change in the expectations of future

Irrational behavior in markets only happens for short period of time
Market Seasons
Firstly, let's define seasons for markets like we have for weather. So, all the surprises can be mapped to the following four season of the markets:
Fig 1: Matrix used by Bridgewater to define seasons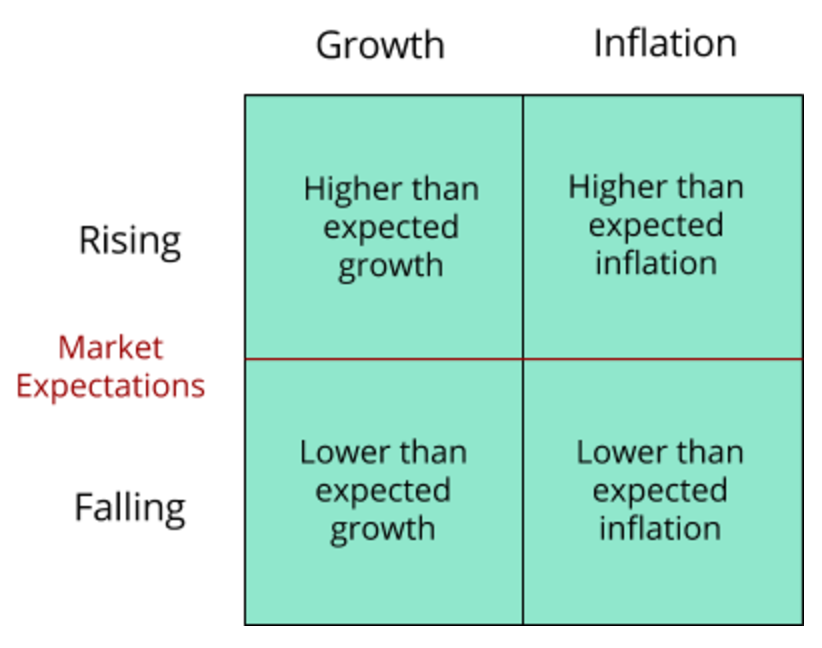 Now, we have handle on possible seasons. Next, we need securities that will be positively impacted in each season.
Fig 2: Matrix with relevant asset classes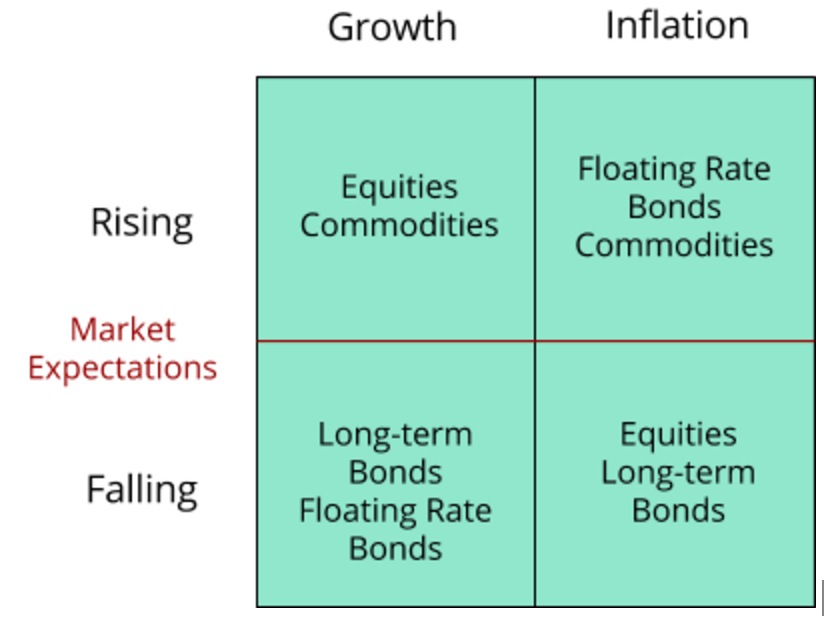 With this concept as base, Ray built a following portfolio that can weather all storms.
Fig 3: All Weather Portfolio asset-wise mix along with ETFs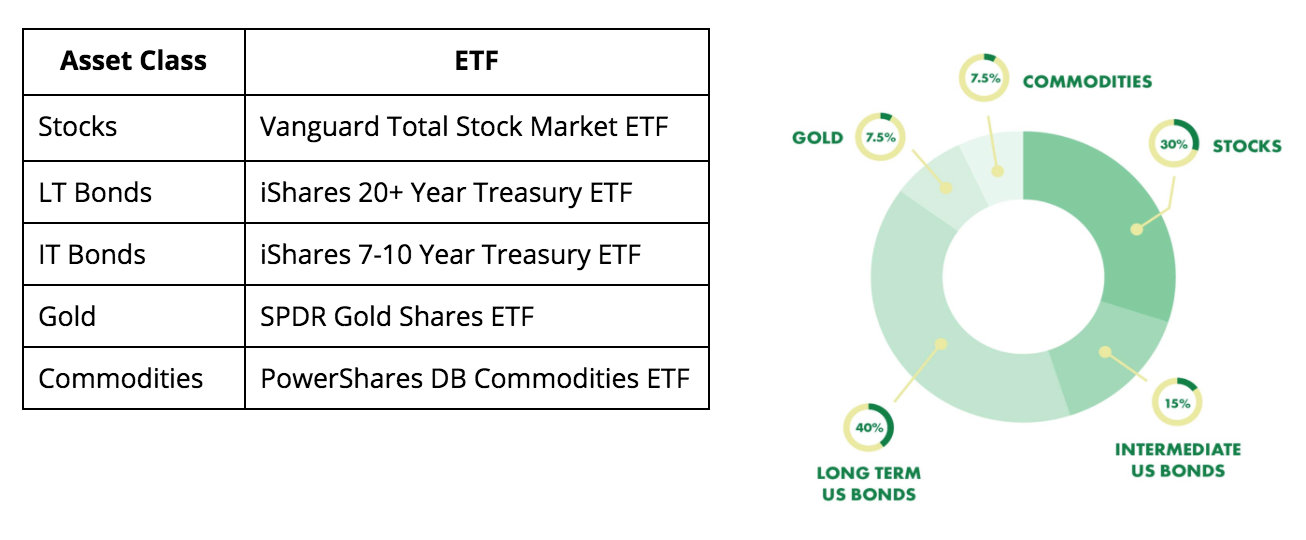 Success of All weather portfolio
Fig 4: All Weather Portfolio performance along with equities

Above chart clearly shows the power of All weather strategy.
While going through all this research and analysis I realized that no one in India is providing this kind of portfolio. So, I tried to create a similar kind of portfolio for India.
All weather portfolio for India
First thing first, I am using Mutual Funds as against ETFs used by Bridgewater as I believe Indian market still have alpha, contrary to US markets as suggested by Dr Damodaran in his article.
There are following differences and constraints for India:
Stocks: Will use top mutual fund from Multicap category in Equities (ICICI Value Discovery)

Long Term Bonds: Will use debt mutual fund with highest maturity (HDFC Gilt Fund – Long Term Plan)

Intermediate Bonds/ TIPS: Will use top floating-rate debt mutual fund (Kotak Floater Fund)

Commodities:  Almost non-existent in India, so I am assuming that hedge also being provided by gold

Gold: Top gold fund (SBI Gold Fund)

Adding Balanced fund to the mix for tax benefits

Also, I will use slightly different ratio as risk and return of Indian markets slightly different.
Indian All-Weather Portfolio

Let's look at the performance of the portfolio v/s traditional 65/35 balanced fund: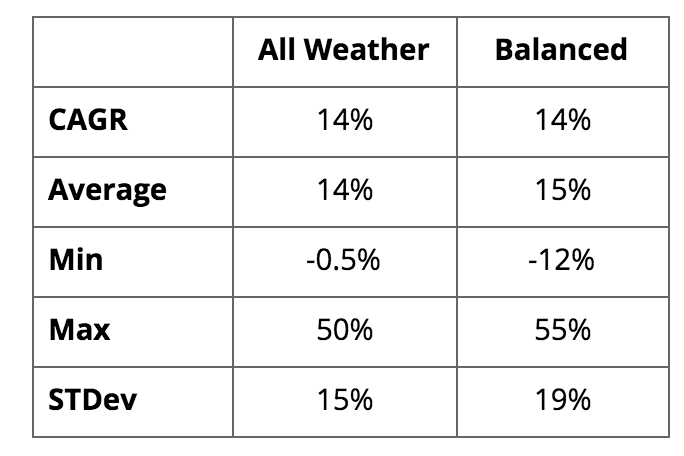 Above numbers are calculated based on the last 10 years data using annualized returns. I thought it would make sense to go further back to era of 1999-2001 to see how this strategy performed in a period but didn't have enough data so used Sensex, FD and Gold as proxy. From 1993-2006 the annual return of this portfolio was 12% and The worst loss was -3% without any alpha from mutual funds. If we assume 2% alpha, it held up fairly well during earlier downturn as well. Going back even further is a bit of a challenge India got liberalized only after 1991 and from 1991 to 1993 was adjustment period.
Balanced mutual funds are also not bad but worst loss for them was much steeper at -12% compared to -0.5% of all weather portfolio. And that 12% reflects in CAGR also.
Let's break out the asset classes individually and look at their performance for last 10 years. Now you can clearly see that "All weather portfolio" is able to beat the returns of most of them while keeping risk minimum at the same time.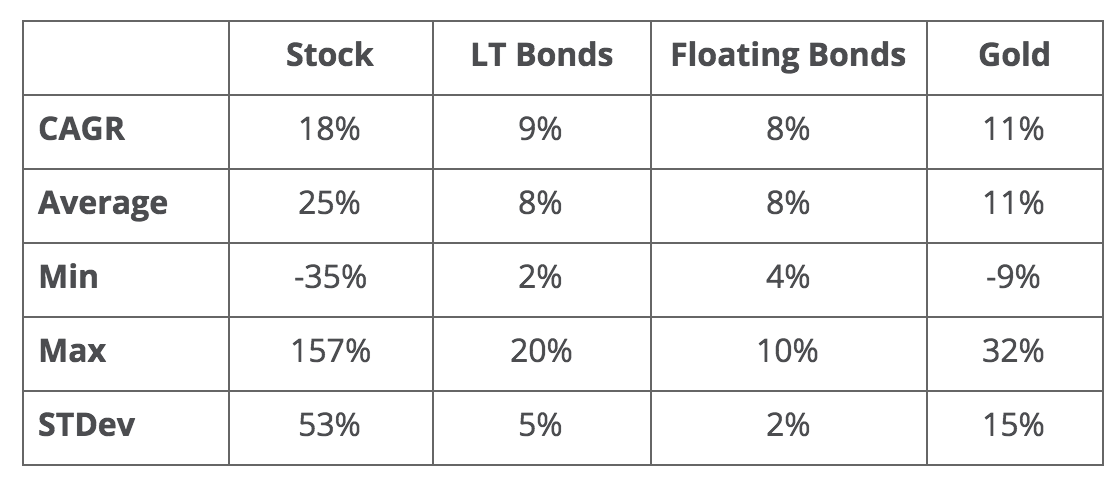 On CAGR basis my all weather portfolio has generated same returns as equity from 1994-2016 with ⅓ the risk.
Conclusion
Bonds and Gold act as portfolio stabilizers during economic downturns and stock market crashes. The all weather portfolio isn't reinventing the wheel. It's a fairly simple, broadly diversified portfolio.
So, if you want to invest money without investing time then all weather portfolio is for you.
Happy Investing!