The Kotak PVR Gold Credit Card is a reward-filled card for movie bingers. You can gain exceptional benefits from PVR cinemas in all urban cities in the country. You can get free movie tickets and discounted beverages and food at the movies.
Apart from this, all your other kinds of spending can cater to get you a free movie ticket every month or even two tickets a month. Read on to learn more about this co-branded Card.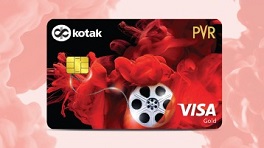 Image Source: Kotak Mahindra Bank Official website
Features and Benefits of Kotak PVR Gold Credit Card
The primary characteristics of this credit card are:
PVR Movie Tickets
You get 1 PVR movie ticket with spending over Rs. 10,000 in one month

You get 2 PVR movie tickets with spending over Rs. 15,000 in one month 
The process to avail of the free tickets is as follows:
Access the PVR App or Website.

Select your favourite cinema, movie, show, and seats.

Scroll down to "PVR Exclusives" or "Avail Offers" and click on it.

Select the M-Coupon option from the "PVR Exclusives" menu.

Enter your registered mobile number's last five numbers and your PVR Kotak Credit Card's last four digits.

Enter your Coupon Code and press the "Make Payment" button.

If the ticket costs more than Rs. 400, the consumer will be responsible for the difference.

Book your ticket after paying the balance booking or convenience costs using your PVR Kotak Credit Card.

The Cardholder must pay any applicable and levied taxes for the tickets at the time of booking.
PVR Rewards
You can get 15% Cashback on Food and Beverages at PVR Cinemas

You can get a 5% Cashback on Movie tickets at PVR Box Office
Add-On Cards
Your Add-on Card will have all the merits you enjoy on your primary PVR Gold Card.

You can pre-set the spending limitation on your Add-on Card as you desire

You can track spending separately for each of your Add-on cards
Security Features of the Card
The card has an embedded EMV chip for a double-layer security feature.