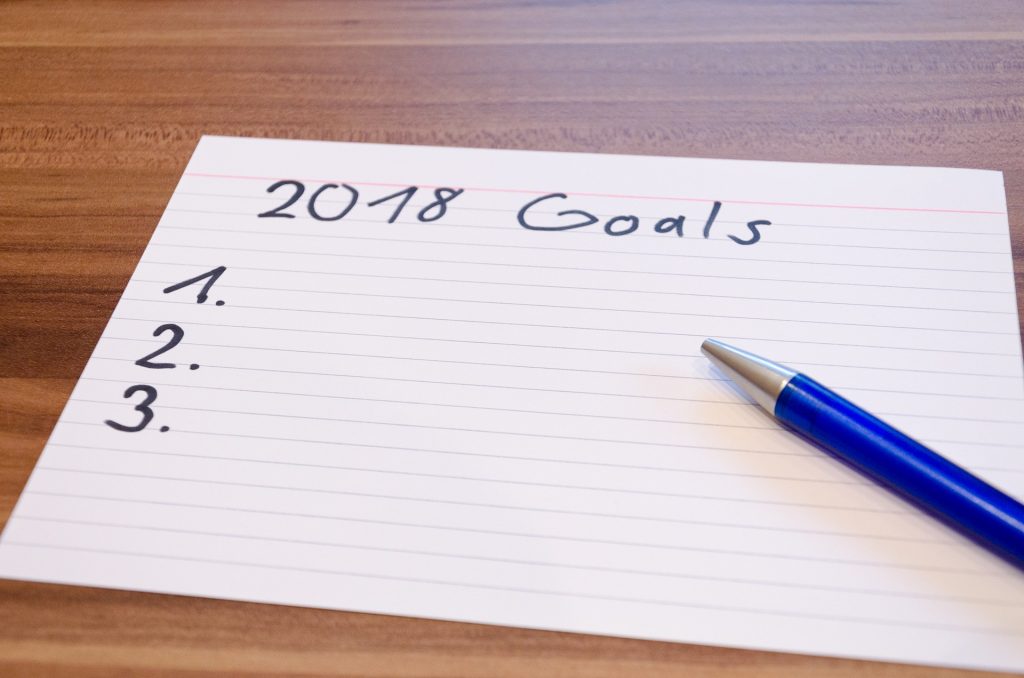 This is that time of the year when many of us take up New Year resolutions. Staying fit, eating healthy, going to the gym more regularly, saving more, investing better, and so much more.
This article is addressed towards making the readers more aware of how they can start investing better this New Year by investing in mutual funds. The article seeks to answer the question – Why should one invest in mutual funds this year?
Investing in mutual funds this New Year shall be the beginning of a resolution that will only strengthen not only this year but each year in future, culminating in fulfilling your financial goals and desires.
Did you know that investment in mutual funds is one of the best ways to invest one's money and achieve one's financial goals in a planned and disciplined manner?
And what better time than the beginning of a New Year to incorporate investing in mutual funds in your list of New Year resolutions.
Why Invest In Mutual Funds?
To put things into perspective, a SIP in small-cap funds can give you a return of around 20-25% in a year, generally. Say you want to purchase a new Maruti car and you decide to buy it via installment scheme (EMI).
According to your savings, you may decide to spend ₹10,000 every month on the car installment. At the end of 5 years, you sell off the car and buy a new one.
Now consider what if you had invested that ₹10,000/month in the Maruti stock or a small and mid-cap fund for that matter, for a period of 5 years.
Your investment would have grown over 5 times in 5 years. Mutual funds allow investors to invest small amounts monthly and grow their investments to meet their financial goals.
Alternatively, you may plan to buy a home after 3 years. Using easily available mutual fund calculators, one can arrive on a SIP amount which when invested periodically (say, for example, ₹10,000/ month) could compound to roughly the amount required to purchase a house after 3 years.
This would help investors plan for their future in a systematic manner, without taking significant risks or being a victim of uncertainty.
This might address the fact that investment in mutual funds is a means to invest better this New Year. Now the next pertinent question-
Why Start This Year?
There has been an incredible rise in the monthly SIPs this year, as more people find investments in mutual funds to be a better investment alternative than asset classes such as real estate, gold, among others.
Reliance Nippon Life Mutual Fund manager, CEO, Sudeep Sikka said:
"There is no doubt that acceptance of mutual funds as an investment vehicle has certainly increased among investors. Further, with typical investment avenues like gold and real estate not having a bright outlook amid declining deposit rates in banks' fixed deposits, more and more investors are opting and enquiring about mutual funds, which is quite a positive sign for the sector's growth."
Aditya Birla Sun Life Mutual Fund, CEO, A Balasubramaniam said:
"The industry is going through a golden phase. Collective efforts by all stakeholders — AMCs (asset management companies), distributors and the regulator, have helped the sector shape and go on a growth path.
However, though the participation is on the rise from across the country, we still have a long way to go."
Government reforms such as Demonetization, GST, Recapitalisation of banks, housing for all by 2022, among others put India on the world map as a prospective economic superpower and the equity and bond markets have taken this into account and expect to grow exponentially in the medium to long-term.
Investors can ride this rally by investing in mutual funds and benefitting from capital appreciation.
About Mutual Funds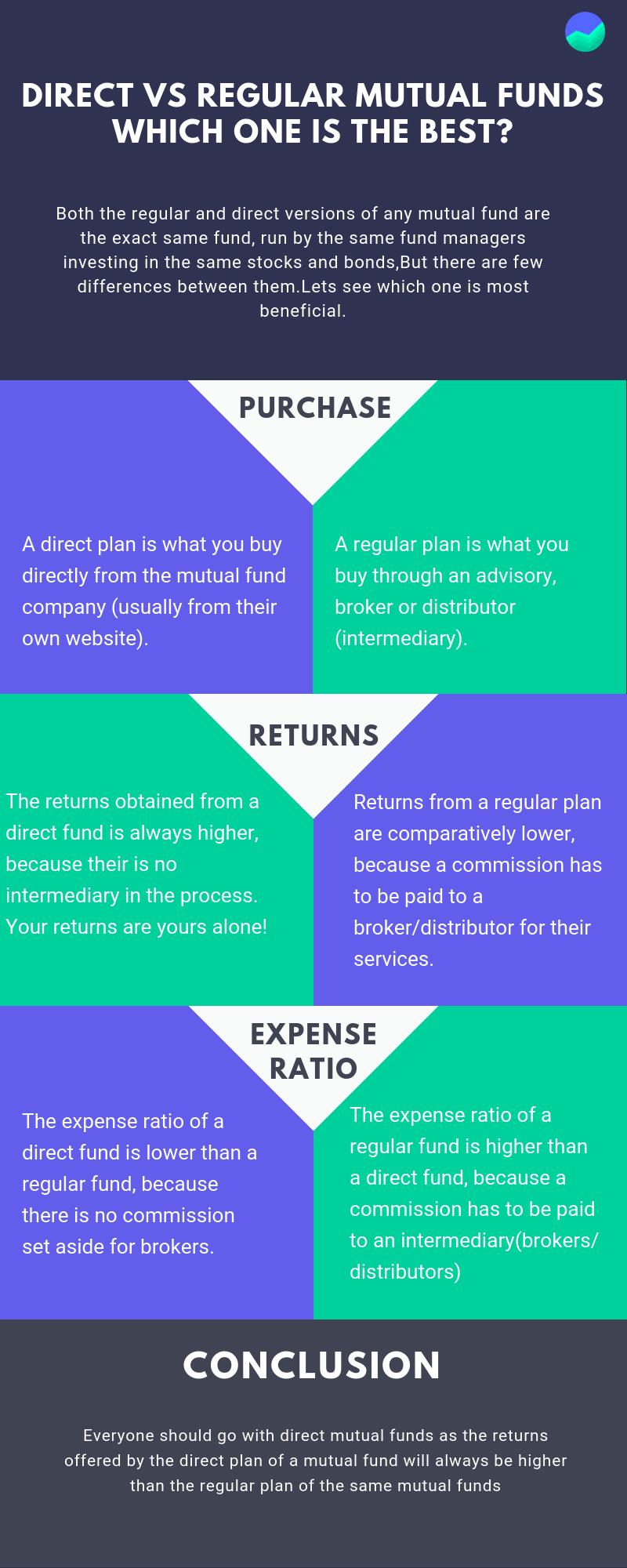 A mutual fund is an investment instrument, basically a collection of stocks and/or bonds, managed by professionals of an asset management company.
Investors will put their money in different types of mutual fund units depending on their risk appetite and duration of the investment. When you buy shares (units) of a fund, you buy a small proportion of that collection of stock and bonds.
Instead of deciding which stock or bond to buy, keep track of the investments on a regular basis, you just transfer the responsibility of your money over to a mutual fund manager
He uses his competence, expertise, and experience to invest the money in a variety of assets, primarily equity, and debt, in order to provide returns on investment to the investors.
Why Mutual Funds?
Diversification:

'Do not put all your eggs in one basket'. One of the important features of a mutual fund is diversification. Diversification addresses the abovementioned issue and safeguards an investor from any unwanted fluctuations specific to a particular industry, stock/ company.

Some common fluctuations can be trouble with company's management, government policies towards a particular sector, technological shift affecting a particular industry, international and domestic politics among others.

Diversification across asset classes ensures that investors many is not at total risk and loss in one sector/stock (if any) can be compensated/ hedged against other sector/stock.
Lower Costs and Greater Exposure:


Many investors do not have large capital to invest all at once among a variety of stocks of their choice.

Mutual funds give them an opportunity to gain exposure to a variety of stocks while investing only a fraction of the money that they would otherwise have to spend to buy all those different shares.

One can draw parallel with economies of scale gains wherein large scale allows one to lower per unit costs. Mutual funds pool money of a large number of investors and thus is capable of operating at a comparatively lower cost and giving its investors greater exposure.
Low Minimum Investment:


Investment in individual capacity will only allow an individual investor to buy only so many stocks, given that most people have access to only a limited fund to invest. Mutual funds have a minimum investment of as low as ₹500 for Systematic Investment Plan (SIP).

Mutual funds empower small investors (investors with small capital base) to take benefit of and participate in the markets via making investments.
Professional Management:

Mutual fund managers are experts in managing a portfolio of funds in line with the risk-return appetite

of the investors, purpose or objective that the particular fund seeks to achieve, investment duration of the fund.They help investors professionally manage their investments, thereby making them feel assured that their investments are in safe hands.Expertise, competency, and training of fund managers are used to select desired stocks, track them regularly and rebalance the portfolio in line with the current positions and future targets.
Systematic Investment Plans (SIPs):



Investors can take part in mutual funds by investing as low as ₹500. SIP allows investors to invest a small amount of money periodically.

This process is automated as banks use Electronic Clearing System to automatically deduct the specified amount from the investor's bank account.

Suitable for salaried individuals who receive funds periodically (monthly, generally) and want to invest a comparatively smaller amount in mutual funds periodically. This will help them better channelize their funds and achieve goal planning.
Transparency:

The performance of the fund and fund managers activities can easily be monitored if required. Investors can check the funds' factsheet, easily available on their website.

Fund managers also give out their investment rationale, from time to time.

Apart from being transparent, mutual funds are regulated and thereby investors safety is kept in mind in the form of reforms and policies to aid protection of investor's investments and encourage more people to participate in investing in mutual funds.
Liquidity:

Most mutual funds do not have a specific lock-in period, therefore investors can sell their holdings anytime according to the Net Asset Value (NAV) of the fund at that point in time.

Investors can also opt for Systematic Withdrawal Plan (SWP) to receive periodic payments out of their investments.

This can be suitable for retired investors who want to receive regular funds for their expenses.

Liquidity is one important criterion when compared with other investment options, such as real estate, gold, among others.
How Can One Start Investing?
Under the Prevention of Money Laundering Act (PMLA), Know Your Customer (KYC) norms have been mandated to track the legality of funds used in an investment.
KYC is a one-time process which every first-time mutual fund investor needs to follow, to be able to invest in a mutual fund. KYC process on Groww can be completed in 2-3 days.
E-KYC Aadhar (based on OTP) – Investors can use online KYC facility using just the aadhar card number and PAN number, by visiting the website and following the easy process.
After entering relevant details like aadhar and PAN number, the investor will receive an OTP and KYC will be completed instantly. However, one can invest only up to ₹50,000 per fund house per year under this method.
Documents required:
Filled form
PAN card
Aadhar card
Address proof
Identity proof
Different Categories of Mutual Funds :
Basis the proportion of investment in a particular asset class, mutual funds can be categorized into the following 4 categories:
Equity mutual funds
Debt mutual funds
Hybrid mutual funds
Others
Investors should carry out risk-return trade-off and then decide as to which category of mutual funds fits best for their investment goal, keeping in mind the investment duration.
1.Equity Mutual Funds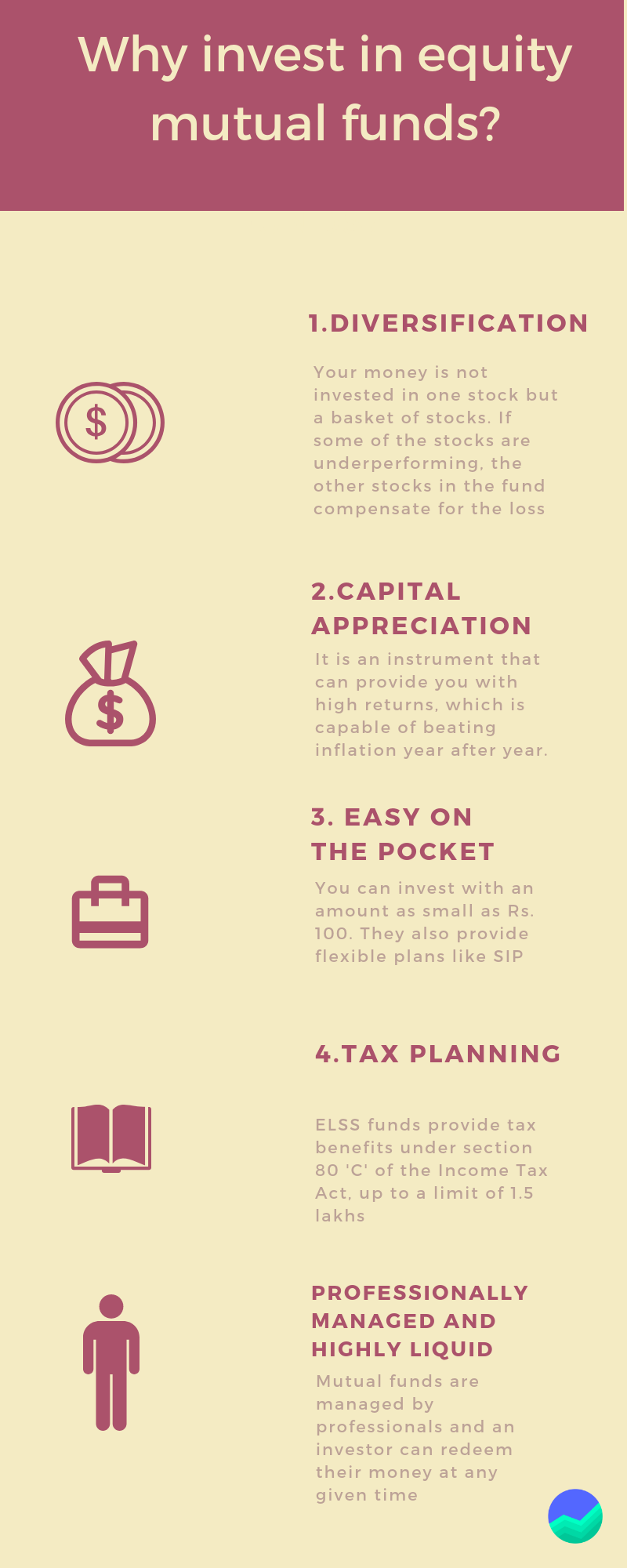 An equity fund is a fund which invests mainly in stock markets. The major chunk of the fund is invested in stocks of companies. It is also known as the stock fund.
The primary objective of an equity mutual fund is to generate higher returns in comparison to fixed income instruments such as FDs and debt funds. Investors are participating in the growth of companies by investing in these funds.
These funds are ideal for investors for fulfilling financial goals of building wealth.
Equity mutual funds can further be broadly categorized into Equity – Large-cap funds, Equity – Mid-cap funds, Equity – small-cap funds, Equity – sector funds, Equity – index funds, Equity – tax-saving funds, among others.
2.Debt Mutual Funds
Debt funds are mutual funds investing in such debt instruments. They are of different kinds depending on the kind of debt instruments they invest in.
Higher the credit rating of the debtor, lesser the chance of default and hence lesser the risk is – however, returns for such instruments can be lower.
Lower the duration of the debt, lesser the probability of interest rate fluctuation and hence lesser the uncertainty of returns.
On the basis of issuer- debt funds can be classified into guilt funds and corporate bond funds.
3.Hybrid Funds
As the name suggests hybrid funds invest in a mix of debt and equity funds to avail the benefit of both the funds. According to the proportion of investment in debt and equity, they can be classified into Debt oriented or equity-oriented hybrid mutual funds.
4.Others
Fund of funds (FoF) is a fund that invests in other mutual funds. It provides to its investors the benefit of low cost and diversification.
A manager decides to invest the funds in a portfolio of mutual funds, each managed by other mutual fund managers. It is suitable for those investors who want to gain more exposure into different mutual fund schemes while investing only a small amount of money.
Taxation Benefit of Mutual Funds
1. Dividend received on mutual funds is exempted from tax
Investors need not pay any tax on the dividend received from the mutual funds. Further, there is no maximum limit to the amount which can be claimed as tax exempt under this heading.
2.Capital Gain tax benefit from mutual funds-
Value of a mutual fund is measured by Net Asset Value or NAV. Value of a mutual fund can either increase or decrease, corresponding to the change in the value of the constituent security in the particular mutual fund.
According to the Income Tax Act, 1961 capital gains arising from sale of the mutual fund (underlying security) can be categorized into-
Long term Capital Gains
Short-term capital gains
Taxation On Debt funds
Gains on debt funds held for a period greater than 36 months is known as Long Term Capital Gains (LTCG) is subject to a rate of 20% after indexation. Indexation makes use of inflation to help reduce tax to be paid.
If the debt funds are held for a period of less than 36 months, then such gains are added to the assessee's  income and taxed under the head 'Short-term Capital Gain' as per the income tax slab of the assessee.
Taxation On Equity funds
Gains on equity funds held for a period greater than 12 months is known as Long Term Capital Gains (LTCG) which are totally tax- exempt.
If the debt funds are held for a period of less than 12 months, then such gains are taxed under the head 'Short-term Capital Gain' at a flat rate of 15%.
Tax Saving Mutual Funds
The government, in order to emphasize and focus on the importance of mutual funds in the Indian economy and society, allows a tax deduction of ₹150,000 in the taxable income upon investment in Equity Linked Savings Scheme or ELSS.
This enables investors to earn twin goals of –
Earning returns from investments (increased potential inflows)
Reduction of tax liability (reduced tax outflows)
How to Compare Mutual Funds?
Various parameters that must be evaluated while selecting a mutual fund are-
RETURNS should be significantly higher than its category benchmark
ASSET UNDER MANAGEMENT (AUM) should not be too low or too high
AGE should have enough history to evaluate performance
EXPENSE RATIO should not be very high
TRACK RECORD of beating the benchmark consistently in the recent past
SHARPE RATIO (for equity) should be significantly higher than the benchmark
DEBT RATING (for debt) should be at least AA
Mutual Fund: Ensures Liquidity
Systematic Withdrawal Plans (SWP), allows you to withdraw any amount of money from a mutual fund whenever you want. Funds are generally withdrawn either to rebalance the existing portfolio by investing in other funds or for meeting personal expenses. SWP is somewhat the reverse of SIP. If you invest lump sum in a mutual fund, you can set an amount you'll withdraw regularly and the frequency at which you'll withdraw.
STP stands for Systematic Transfer Plan. STP is an automated way of moving (transferring) money from one mutual fund to another. This plan is chosen when one wants to invest a lump sum amount but wants to avoid the marketing-timing risk. The most common and sensical way of doing STP is to transfer money from a debt fund to an equity fund.
Systematic Investment Plan (SIP)
SIPs offer ease of investment to the investors who agree to pay a certain amount of money towards the SIP every month. This amount is automatically debited from their account and invested in a mutual fund scheme. Depending on the NAV for the day, the amount you pay is allocated towards buying certain units of the mutual fund.
Suitable for people who might not have/want to invest a large amount of money in lump-sum. Especially those who have a fixed source of income, such as salaried people, who have certain fixed inflow each month and want to invest their savings periodically.
It also helps them avail the benefit of rupee cost averaging. This means they are not stuck in an upward or a downward rise or fall in the market due to any reason whatsoever. This significantly hedges the investor from cyclicity and extreme market volatility.
Disclaimer: the views expressed here are those of the author. Mutual funds are subject to market risks. Please read the offer document before investing.