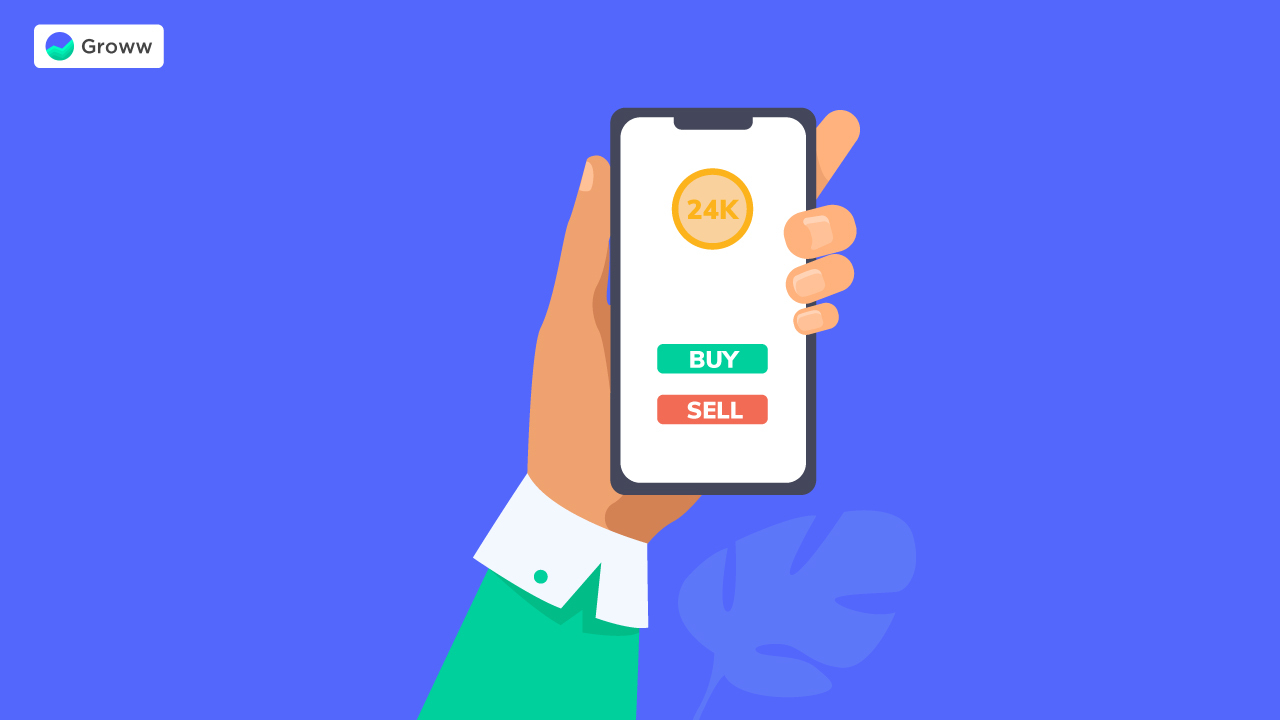 Digital gold is a convenient and cost-effective way of purchasing gold online in small fractions (as low as Rs 10 on Groww) You can buy, sell and accumulate gold of 99.9% purity anytime at the prevailing market price. The digital gold you purchase is stored in secured vaults and insured. Sounds interesting? Wait till you hear more about the advantages of digital gold and why you should consider it. Read on!
P.S: You can purchase gold on Groww both on the web ( groww.in) and app. Please update your app to the latest version to view Gold on Groww 
Read More: How to Buy Digital Gold Online on Groww: Step by Step Process
Workings of a Digital Gold Investment
Before you opt for a mobile wallet application to purchase digital gold, ensure you have proper knowledge of how such investments function. Here are some key pointers to get started –
Want to buy gold but don't have a large investment amount? You can invest in digital gold from as low as Rs 10 depending on the investment platform. 

You can buy gold digitally according to its weight or specify the amount of cash you are willing to dispense.

The minimum weight of gold you can purchase is 1 gram.

The three companies associated with mobile wallets that offer digital gold investment options are – Augmont Gold, SafeGold and MMTC-PAMP India Pvt. Ltd.

The digital gold you purchase is stored under your name. Storage periods differ based on the company offering the investment

.

You can sell the digital gold and acquire liquid cash against these transactions. Alternatively, you can redeem your investment by acquiring the purchased gold in its physical form. However, different platforms follow their own minimum ownership requirements for this redemption option
Taxes on Digital Gold Investment Returns
For all tax purposes, digital gold investment is treated similar to physical ownership of such assets. The amount of tax you are liable to pay depends on the holding period. 
If you own digital gold for 36 months or less, the returns from it can be classified as short-term capital gain or STCG. In the case of STCG, the returns are added to your yearly taxable income. Income taxes are charged as per applicable tax slabs.
Returns from such investments are considered long-term capital gains or LTCG if you decide to sell it after 36 months of ownership. In these instances, you would need to pay a tax of 20% on your gains, along with an additional cess of 4%. 
Moreover, a surcharge is also levied wherever applicable. One thing to remember here is that the tax on LTCG is calculated with the benefit of indexation.
P.S: On Groww, 3% GST is charged on the market price at the time of purchase. No extra charge or tax is levied while selling. 
Benefits of a Digital Gold Investment
You must be wondering why digital gold investment has captured the interest of so many Indians. It is one of the simplest wealth-creating opportunities, ensuring ease of access. Its additional advantages include – 
No restrictions or limitations –

You can start your digital gold investment journey with as small purchase as you want.
Assured quality –

Digital gold purchases ensure the safety of a buyer, as you are guaranteed to own 24-karat items only.
Redeem as per your wish –

You can choose to exchange your digital gold for physical gold coins and bars. Additionally, you can also avail the returns in the form of cash if necessary.
Digital gold as security for online loans –

As a digital gold owner, you can utilise the owned assets as collateral for quick and hassle-free online loans.
Ensures safety –

You must undertake measures to ensure the safety of physical gold items to avoid theft or loss. However, for digital gold investments, this responsibility lies with the seller. Your digital gold is safe in secured vaults that are insured ( verified by the independent trustee)
Proper record of transactions –

If you are ever in doubt about your transactions in the past, you can check the same on your app conveniently. Tracking these transactions can help you gain better insight into your investments.
Diversification Opportunities:

 You can balance or hedge your portfolio to reduce risk concentration.
Instant updates regarding gold prices –

Such digital investment platforms are linked with real-time market changes. Therefore, any changes in gold pricing in the market are almost immediately reflected in these platforms, allowing you to take advantage of the latest rates.
Digital gold is a super convenient way to invest in gold. Depending on the platform you choose you can also get your gold delivered as coins, bars or jewellery at your doorstep. All this while ensuring purity, storage security and the flexibility to purchase gold with little money, makes it a very attractive mode of purchasing gold in India. 
Happy Investing!