"There are three pillars to successful equity investing: Discipline, Patience and Luck. If you have the first two, Luck has no choice but oblige"
Today,we will discuss how long-term investors always end up beating the market even when their cycle of investment have witnessed a crisis period or bear phase.
As we all know bull markets are a summation of robust fundamentals of the companies and parameters that are used to gauge the performance of the economy perform well such as those of GDP, interest rates, inflation, currency fluctuations, political events etc.
Market Crash! 11 Mistakes That You Shouldn't Be Making
Let us understand this phenomenon by taking suitable examples
We all know how the markets have been hit badly after the IL&FS saga which has resulted in Sensex and Nifty erasing almost all gains for this year. Also let us ponder upon some of the key macro variables:-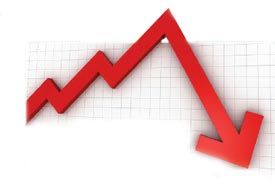 Source: Pinterest
1. GDP
The quarter 1 GDP for FY 18-19 has seen a strong number at 8.2% after the hiccups of demonetization and GST have settled;
2. Interest Rate
The RBI is in a hawkish stance at the current juncture with rising oil prices a concern. This can be witnessed by the fact that RBI has increased the repo rate twice this year in June and August; 2. Interest Rate
3.Inflation
Inflation is on the rise at the current moment given the sharp rally in the oil prices from last year (oil prices have increased by more than 50 percent in the last one year);
4.Currency Fluctuation 
The currency is facing double whammy by the sharp increase in oil prices coupled with FIIs exit from the markets;
5. Political Event
No clarity on the outcome of the General Elections 2019 has let most investors with a bearish outlook. There are various surveys and polls that are being conducted across the country but there is still an air of uncertainty which surrounds the nation.
Given this backdrop, most investors would be thinking about what should they be doing with their position in the market?
A long-term investor would answer it in just three words – "Wait and Watch". This has been the mantra for them right through their investment career.
Let us look at the below chart to gauge the performance of the benchmark return over different time periods:
| | | | | | |
| --- | --- | --- | --- | --- | --- |
| Time Horizon | 1-Week | 1-Year | 3-Years | 5-Years | 10-Years |
| Returns | -2.82% | 0.62% | 8.88% | 10.05% | 13.59% |
Note: Data as of 26/10/2018
Are mutual fund benchmarks important?
This data shows us the returns.
However, let us discuss and delve deep to create a scenario wherein I possess holdings in 10 stocks (for the sake of simplicity let us assume all stocks are in Nifty 50 Index) as of 2007.
I have taken 2007 as it will serve the following benefits:-
It will take into account the global financial crisis of 2008 wherein major economies witnessed a jolt;
It will also take into account the period wherein the interest rates at India were close to double digits and inflation was in double digits as well;
This period will also duly account for the Taper Tantrum that happened in 2013 wherein major emerging economies including India witnessed a significant currency depreciation, soaring inflation, oil prices at roughly $140 per barrel as well as FIIs exit;
Political uncertainties were ripe during this period as well with no clear majority in 2009, and now, there is no clear clarity to the general elections of 2019
Will the financial crisis of 2008 repeat itself? Here is a detailed analysis
The 10 stocks in the portfolio, their prices as on 01/01/2007 & 02/11/2018 as well as returns have been shown below (To eliminate any biasness we have taken stocks from various sectors)
Company Name
Sector
Percentage Allocation
Price as on 02/01/2007
Price as on 02/11/2018
CAGR Returns (%)
Maruti Suzuki India Limited
Automobiles
10%
969.25
7136.80
20.24%
HDFC Bank Limited
Financial Services
10%
213.74
1946.90
22.63%
Kotak Mahindra Bank
Financial Services
10%
100.02
1133.30
25.13%
Infosys
Information Technology
10%
284.06
662.05
8.13%
Tata Consultancy Services
Information Technology
10%
312.14
1909.80
18.20%
Ultratech Cement
Cement and Cement Products
10%
1131.10
3726.95
11.64%
HDFC Ltd.
Financial Services
10%
324
1822.30
17.29%
Sun Pharma
Pharmaceuticals
10%
98.50
571.40
17.62%
ITC Limited
Consumer Goods
10%
29.48
282.35
23.20%
Vedanta
Metals
10%
71.6
225.75
11.19%
 
Total aggregate returns
17.53%
Note: Stock prices adjusted for splits and bonus issue
The table above does not take into account the issue of right shares and also, the dividend enjoyed by the shareholders (during the period 2007 to 2018) and still we witness that most stocks have beaten the markets.
Here is how you can demystify the PE ratio in stocks
Now, if we see the aggregate returns (assuming that 10% of the investment amount was allocated to each stock in 2007), the returns sum up to roughly 17.53%, which is over and above the market rate of returns during this period of approximately 8.87%.
The example highlighted above clearly states the fact that if an investor adheres to the qualities of patience and discipline he/she can be rewarded by returns which is over and above the market rate of returns.
Therefore, we advise investors to stick to the mantra of long-term investing. The only thing investors have to stick to is identifying companies with robust fundamentals and growth opportunities and then stick to it for the long term.
Speaking of the current scenario clearly, the markets have witnessed volatility lately that has led to panic in the minds of the investors which ultimately led to massive selling.
Why has the market always shown to recover after a fall?
But we should bear in mind that even under these crux situations, there are people who still have held on to their investments only to enjoy the benefits when this bear run subsides.
Happy Investing!
Disclaimer: The views expressed in this post are that of the author and not those of Groww