The S&P BSE Sensex has corrected nearly 5500 points from its lifetime high of 38,893 recorded in August 2018.
An obvious question that springs to everyone's mind is –
What happens next?
Well, if we have to believe history, it suggests that the market tends to always recover and bounce back.
This recovery has made investors' more productive sooner than later. Thus, with the correction underway, it is ideal to put money into the market.
We, at Groww, believe that we are in the third correction of the bull market.
Some of the concerns that the economy is going through are rising crude oil prices and weakening rupee against the US Dollar.
What led to the recent market fall? An investor's perspective
This is also leading to macro and fiscal concerns for the market.
The Indian market started witnessing a steep correction on account of depreciation in rupee and higher crude oil prices. The negative sentiments were further intensified with the fear of the liquidity crisis to support credit growth following the IL&FS scare.
We believe the long-term growth story of the market remains intact. Therefore, the strategy should be to accumulate good stocks and funds at every dip.
Let's take a walk through history
The previous bull market from 2003-2007 suggested that the median market correction has been 14% with a recovery period of around 66 days.
This recovery, to our belief, is a fast recovery period.
Applying a similar analogy in 2018
In 2018, you saw a similar correction post-budget on February 1, 2018.
The correction was as much as 10%, and the market started to recover post 55 days. Thus, a similar analogy can be drawn from the history, and we believe the run-up should continue over the long-term.
Now when have covered recovery strategy, let us discuss why India.
Market Crash! 11 Mistakes That You Shouldn't Be Making (but most likely are)
Why should an investor invest in India?
When we see India, we see it as a vast economy that offers a powerful combination of strong demographics, China-style GDP growth, reform-minded government, improving corporate earnings, and the likes.
Such a powerful combination, when provided by a single country, makes India a final investment destination for long-term investors such as you.
Will the General Elections of 2019 affect the stock market? the ultimate guide for investors!
Strong Demographics
India is the second largest country in the world with over 1.3bn people and is expected to be the world's youngest country by 2020 with nearly two-thirds people of working age and in their prime spending years.
While most developed countries face an aging population past their key working and spending years, India is the polar opposite.
With nearly 1 million people entering the labor force, human capital is bound to drive innovation, productivity and consumer spending.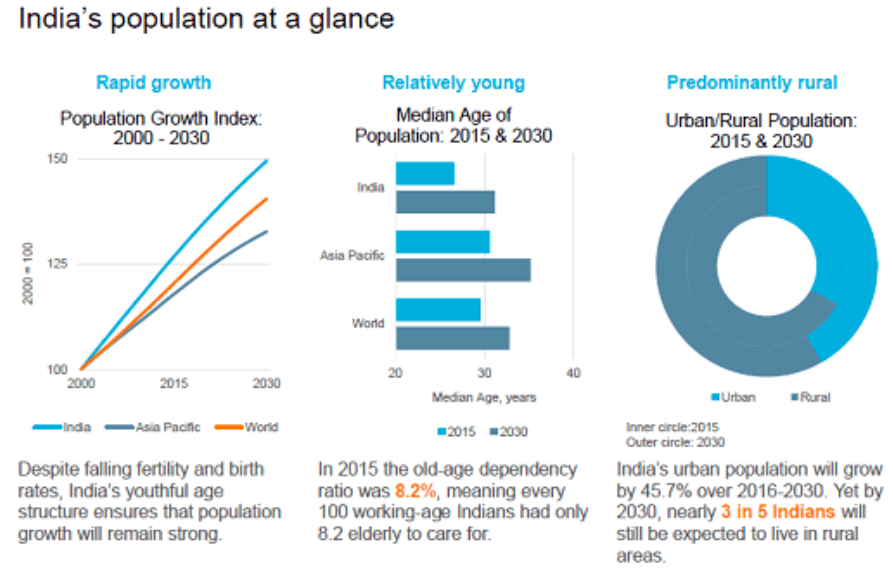 Source: Euromonitor International
China-style GDP Growth
India currently has the fastest GDP growth rate surpassing China.
Regarding GDP, India ranks in top-10 countries, but it slips to below 100 regarding GDP per capita. This slip shows significant room for development that may create growth and opportunities.
An interesting comparison is that since 2011, domestic consumption in India accounts for nearly 2/3rd of its GDP, a trend seen in China in the 2000s where it averaged around 40% of GDP from domestic consumption.
This is a valuable trait in the current climate given Trump's protectionism.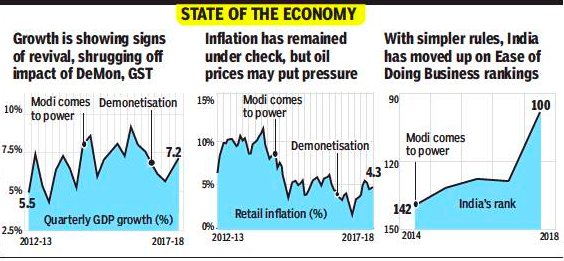 Source: Times of India
Reforms Matter
The central government has indeed announced several fundamental improvements which if appropriately executed has the potential to create a very supportive business environment.
These include foreign direct investment, the Land Acquisition Bill, the coal and power sector, direct transfer subsidies, streamlined tax regimes, Goods and Services Tax (GST), etc.
We believe these reforms collectively should curb corruption by forming a smaller informal economy, transparency and a higher tax to GDP ratio while boosting consumption and productivity.
This should improve India's fiscal position, thereby, paving the way for the government to invest. The most significant post-independence tax reform also known as the GST, aims to unify the entire country into a single market which will eventually help reduce bureaucratic bottlenecks for businesses.
How GST Will Impact Your Mutual Fund Investments?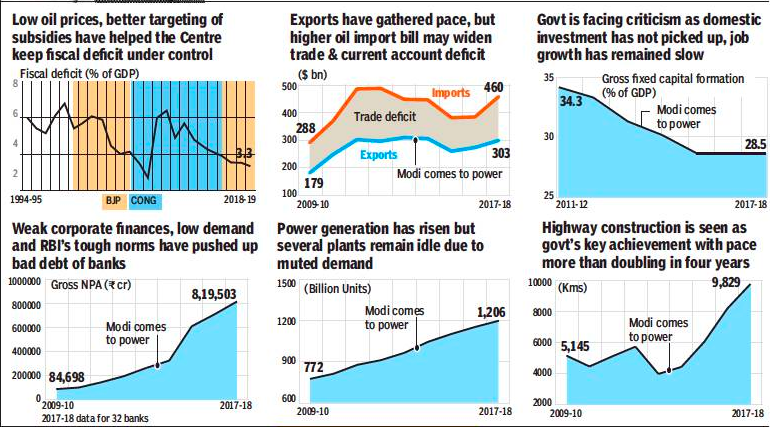 Source: Times of India
Corporate Earnings
India Inc's corporate earnings growth rate is expected to surpass the average earnings growth rate in the World index.
Subsequent years would be much better when taxation starts to reduce, and operational efficiency starts to improve due to GST.
Further, India's private sector debt to GDP is low at around 60% which provides the private sector with an opportunity to invest that ultimately translates to improved productivity and profit.

Source: Times of India
Conclusion
While we are upbeat about the long-term opportunities in India, we are concerned about risks in the short-term.
The concerns include weakening rupee, rising crude oil prices, forthcoming elections in the BJP-ruled states.
Thus, we believe, you should continue to add at every dip as we are confident of the fact that the market would certainly bounce back.
Happy Investing!
Disclaimer: The views expressed in this post are that of the author and not those of Groww