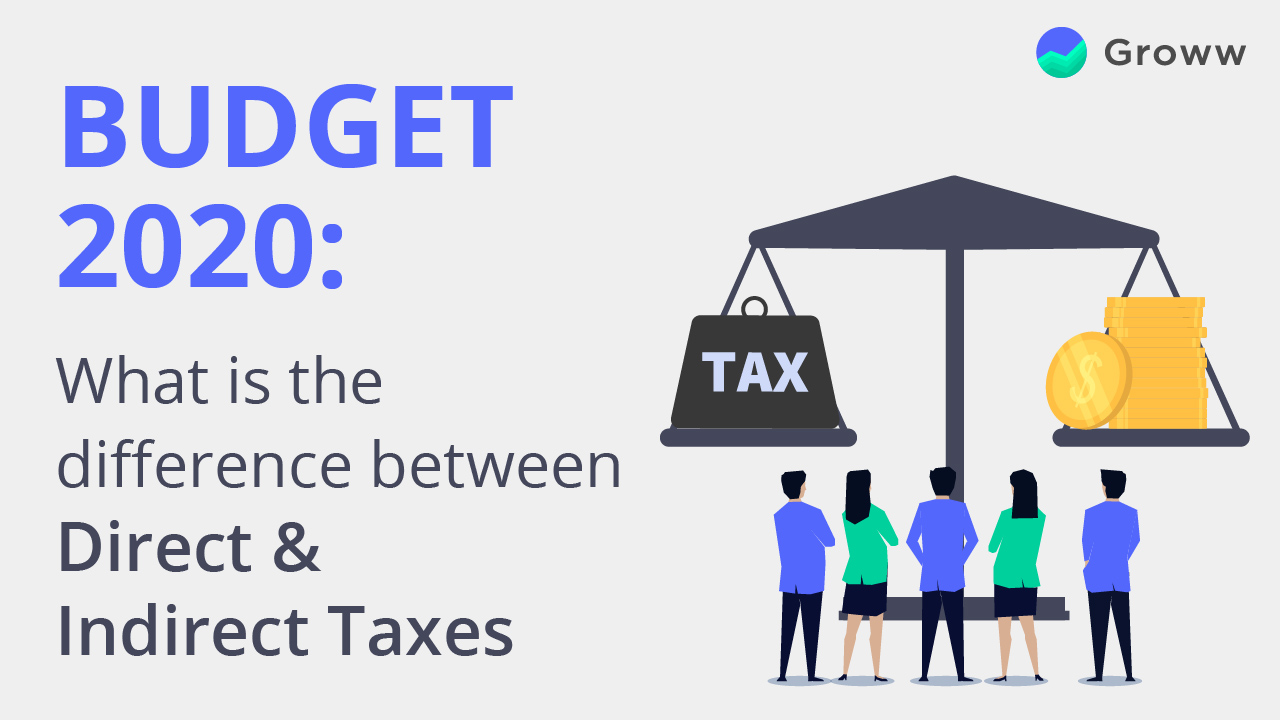 Collection of taxes in the fiscal year of 2019 is estimated to fall short by around Rs.2 million than the proposed target. So, the Indian economic sector is expecting Hon'ble Finance Minister Nirmala Sitharaman to declare an amnesty scheme for the various disputes regarding direct taxes and indirect taxes in the country on the day of the inauguration of Union Budget 2020-21.
As per The Economic Survey, the economic growth rate of India estimated to rise by 0.5% in the financial year of 2020. Owing to this, several are hoping Budget 2020 will create jobs and promote demand in the Indian economy. Ahead of the Union Budget on Feb 1st, let us understand the difference between direct and indirect taxes. 
What Is Direct Tax?
Tax is an involuntary mandated fee imposed on corporations or individuals by a local, national or regional government in order to help in building the economy of a country through various public expenses. A type of tax which is paid directly by an individual to the Government is referred to as Direct Tax.
These taxes are non-transferable, which means that tax-payers are not eligible to pass direct taxes on to another individual or corporation. So, the burden of paying such taxes falls directly on an individual who earns more than the tax exempted limit. There are several types of direct taxes in India; the important ones include income tax, corporate tax, wealth tax, corporate tax, estate tax, etc.
Income tax is a type of tax that an individual pays to the Government based on their annual income generated. As per the Income Tax Department of India, tax is required to be paid if your annual income is above Rs.2.5 lakh. If your annual earnings exceed the income tax slab, a particular income tax rate is levied based on the earnings you make above the slab.
Individuals with an annual income of up to Rs.5 lakh are charged with an income tax rate of 5% while those with earnings in the bracket of Rs.5 lakh to Rs.10 lakh are required to pay 20% of their earnings as income tax. Individuals who earn higher than those mentioned above are levied with an income tax rate of 30%.
Financial experts believe that the Indian Government should increase the income tax slab in the Budget 2020. Narendra Modi, in his first year as Hon'ble Prime Minister of India, raised the tax exemption limit under Section 80C from Rs.1 lakh to Rs.1.5 lakh.
Since there has been a drastic change in the economic condition of India from 2014, economists are expecting exemptions under Section 80C to be increased to Rs.3 lakh. Several other rumours also indicate that our Finance Minister may introduce tax saving options in direct tax in Budget 2020 with the help of infrastructure bonds at a limit of Rs.50,000 per fiscal year.
The type of direct tax which is paid by businesses and corporations who are registered under The Companies Act, 1956 based on the annual profit generated is known as corporate tax. According to the Income Tax Act, both domestic and foreign countries are required to pay corporate tax. The corporate tax imposed on domestic companies is based on their universal income, while foreign companies are taxed as per their income generated within India.
As per the Income Tax Act, a tax rate of 25% is charged on the annual profits generated by a domestic company in India for a gross turnover up to Rs.250 crore. If the gross turnover exceeds Rs.250 crore, companies are charged with a corporate tax rate of 30%. In case of foreign companies, the corporate tax rate depends on the nature of their income.
Moreover, if the annual income earned exceeds Rs.10 crore, domestic companies are imposed with a 12% corporate tax while foreign companies are charged with a corporate tax of 5%. If the annual income is more than Rs.1 lakh but does not exceed Rs.10 lakh, a 7% corporate tax is charged for domestic companies while foreign companies are imposed with a 2% corporate tax.
Moreover, the dividend distributed to the shareholders annually is also liable for taxation if the amount is more than Rs.10 lakh. This tax, also referred to as Dividend Distribution Tax requires companies to pay 20.56% tax on top of the imposed corporate tax based on the gross income generated. Since, there is an occurrence of double taxation, one of the main expectations of Union Budget 2020-21 includes the abolishment of DDT as a whole.
In September 2019, the Finance Minister of India reduced corporate taxes to their lowest in order to increase economic growth. So, Budget 2020 expectations include further cuts in corporate taxes.
What Is Indirect Tax?
The tax which is levied on goods and services instead of the income earned by an individual is known as indirect tax. This type of tax can be passed on from one taxpayer to another and is imposed at a similar rate for everyone irrespective of their annual income.
Before the implementation of GST, there were several types of indirect taxes in India, which are –
Service Tax.

Sales Tax.

Value Added Tax.
After the introduction of Goods and Service Tax, the above mentioned indirect taxes are now obsolete. Moreover, GST has enabled individuals to be exempted from taxes payable which they would be liable for due to the cascading effect of indirect tax.
According to the Economic Survey, collection of GST is expected to improve and thus reduce the overall fiscal deficit of the Government of India. Moreover, financial experts also believe that the Hon'ble Finance Minister Nirmala Sitharaman will adopt several measures to boost the economic growth rate of the country.