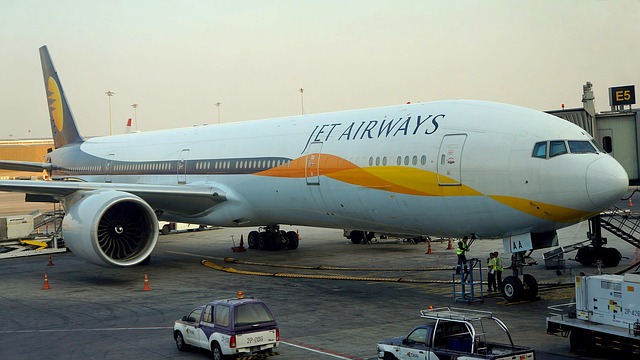 With only few airplanes in function, the once 2nd largest airline of India, has now temporarily suspended its domestic and international operations.
In addition to the halt of operations, the company has defaulted in making domestic and international loan repayments, salaries and other dues. The airline is fighting for its survival.
This has adversely affected not only the existing shareholders, staff and pilots but has also significantly eroded the possibility of potential investment.
The airline which was formerly led by Naresh Goyal and part owned by Gulf carrier Etihad Airways has seen a 37% fall in the share prices in the past week.
JetAirways reported a loss of Rs. 1,036 crore for the Jan-March quarter in March 2018 on account of increased costs and declined revenues. Since then the carrier has been facing several severe problems, ultimately leading to the resignation of Mr. Naresh Goyal and transfer of the management into the hands of lenders.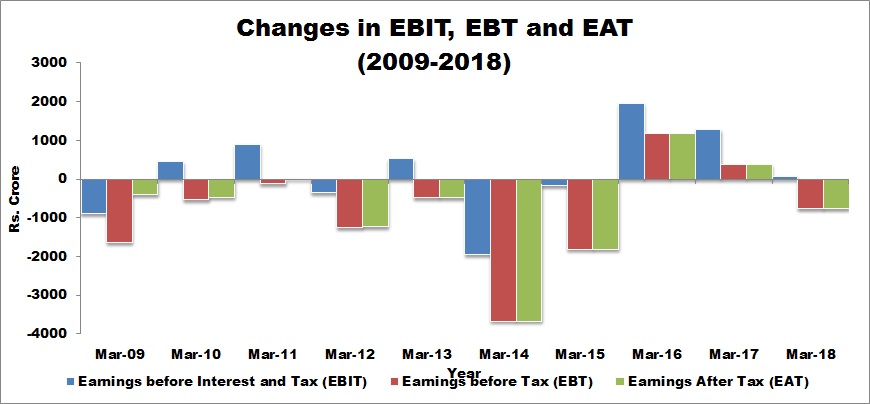 EBIT, EBT and EAT (Rs. Crore)
YEAR
Mar-09
Mar-10
Mar-11
Mar-12
Mar-13
Mar-14
Mar-15
Mar-16
Mar-17
Mar-18
Earnings before Interest and Tax (EBIT)
-896.66
455.01
904.57
-357.29
526.94
-1,948.82
-171.15
1,962.83
1,288.80
75.24
Earnings before Tax (EBT)
-1,634.69
-538
-123.79
-1,255.33
-485.5
-3,667.97
-1,813.71
1,173.56
390.23
-767.62
Earnings After Tax (EAT)
-402.34
-467.64
9.69
-1,236.10
-485.5
-3,667.85
-1,813.71
1,173.56
390.43
-767.62
Reasons For Failure
The past year has been distressing for JetAirways. The airline faced several hurdles on account of fuel price rise, inefficient management, fall in rupee and others which have led to the seizure of its operations. Some of the reasons are as follows:
1.Purchase of Air Sahara in 2006 for $500 Million in Cash
Many analysts feel that the failure of JetAirways can be traced back to 2006.
They believe that Goyal ignored the advice of professionals and paid a hefty amount in cash. Later, in 2015, Air Sahara was rebranded as 'JetLite', but it started losing money, thus JetAirways wrote off its entire investment amount.
2. Poor Management
Many experts have blamed Goyal's style of management for the failure.
They are of the opinion that two separate teams for full service carrier and budget flyer would have resulted in more efficient management, rather than a single management team headed by Mr. Goyal.
3. Low-Cost Carriers Were Underestimated
The Indian aviation industry became fiercely competitive in 2005-2006 with the entry of the trio of IndiGo, SpiceJet and GoAir.
JetAirways was unable to recognize this and hence failed to cater to the price-sensitive consumers. Moreover, these airlines launched flights on new routes while Jet catered to the corporates.
4. Fluctuation in Oil Prices and Fall in Rupee
Asia being the major importer of oil, means that all airline companies in India are particularly sensitive to the fluctuation in the oil price.
Moreover, the fall in rupee makes the situation even worse.
This has been the case for the most part of last year. This increases the cost burden of oil and makes it even more expensive.
All Indian carriers including IndiGo and SpiceJet reported significant losses in the past year due to the cyclic changes but JetAirways was affected adversely.
5. Failure to Find an Investor
Another major reason for the complete closure of operations is the inability to find a strategic investor and hence pump money to revive the airline.
There were talks with TATA at year end, but no results were achieved. Moreover, Etihad Airways also refused to increase its stakes in the company.
Although the stock prices for the airline have been falling continuously, some people feel that optimism for recovery has still kept the stocks relatively resilient.
Experts say that even though Jet has a significant market cap and the prices are resilient the balance sheets will not leave anything for the existing shareholders on account of unsustainable debt and zero equity value.
Jet Airways has a current debt of over Rs. 8500 crore. Even though the company is able to resume partial operations, it will not be able to fully service this much debt in the near future.
This will make up case for conversion into equity. Adding new equity will increase the payback period and the existing shareholders will not receive money.
Moreover, it has been seen that in most bankruptcy cases, if a new investor pumps funds then the existing capital is either canceled or restricted to 10% of the new capital.
In such a case the existing shareholders will not generate returns for many years.
Apart from this, the current liabilities exceed the current assets and the company has a negative net worth. The equity value is nearly zero. All these factors clearly put forward a negative arithmetic picture and showcase the incompetency of the airline to pay its shareholders even if it is revived.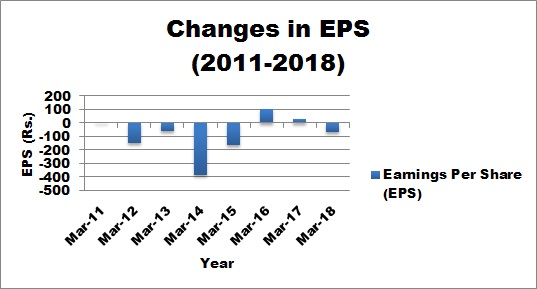 EARNING PER SHARE (RS.)
Year
Mar-11
Mar-12
Mar-13
Mar-14
Mar-15
Mar-16
Mar-17
Mar-18
Earnings Per Share (EPS)
1.12
-143.18
-56.23
-381.3
-159.66
103.31
34.37
-67.57
Similarity with Past Failures
The aviation industry is prone to cyclic fluctuations which often leads to huge losses for airline companies. There is no denying that India has seen the failure of various private airlines including Damania, ModiLuft, East-West Airlines, Sahara Airlines, Air Deccan, Kingfisher Airlines and now the inclusion of JetAirways in this list is very much probable.
With the crash of JetAirways, it feels like 2012, when Kingfisher ceased to continue its operations. The reasons for Jet's situation are very much similar to those for Kingfisher.
A major reason for Kingfisher's continued loss was the purchase of Air Deccan and rebranding it as Kingfisher Red. When compared with Jet, experts claim the acquiring of Air Sahara as a crucial mistake.
Before Kingfisher Airlines was completely grounded, it struggled to pay salary to its major 7000 employees, something similar happened with JetAirways when it deferred the March salaries for staff and employees or made part payments.
Another similarity is in terms of outstanding debt and negative worth. The now dead KFA had an outstanding debt of Rs. 7000 crore and a negative worth of Rs. 12,919 crore. The Naresh Goel led airline also has over Rs. 8500 crore unsustainable outstanding debt.
On account of multiple non-compliance, Kingfisher's stocks have been barred from trading which makes 2 lakh investors stuck with the long grounded company.
Now, if JetAirways faces the same fate, then it would mean another major setback for the Indian airline industry.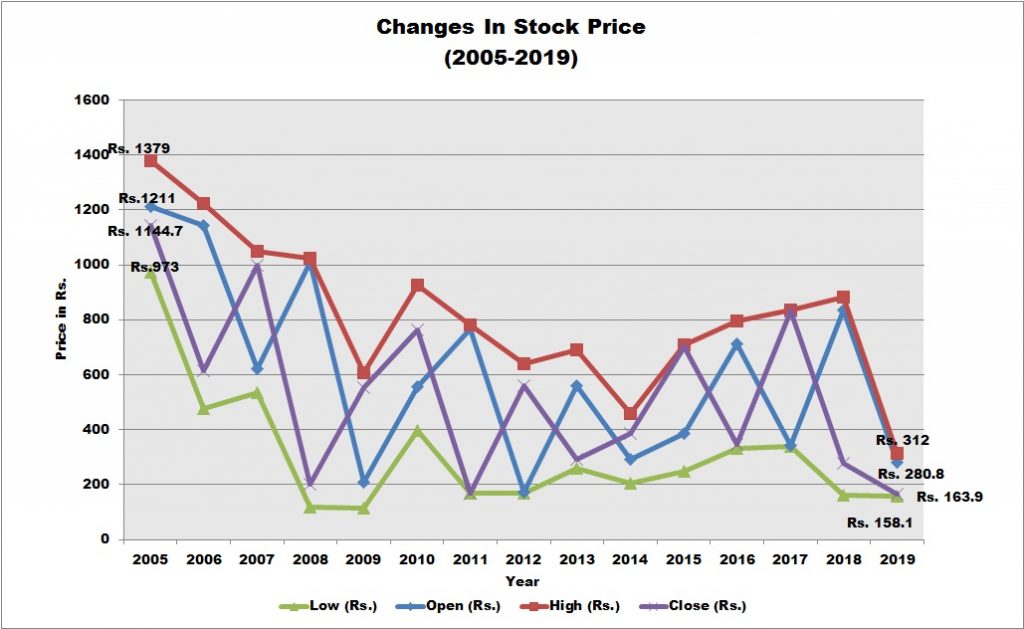 How will Jet's Failure Affect the Economy?
The affects accruing from the crash of a big airline like JetAirways can not only be curtailed to the immediate employees or shareholders.
It is bound to affect the economy as a whole on account of loss of jobs, increased competition and rise in prices of air tickets as other carriers will try to fill up the void.
As per a senior industry executive, the loss of job for one employee on account of Jet's failure will affect 5 others indirectly involved in the value chain. Now as Jet has 15,000 plus employees, this means loss of work for 75,000 people.
Jet's fallout will pose a major challenge before in terms of avoiding a price surge in holiday season on account of lesser domestic capacity. Although other carriers like IndiGo, SpiceJet are working to build more capacity but this will be much later after the holiday season.
Moreover, the Airport operators, fuel suppliers and other vendors will be hit majorly as they have lost a major customer. Also The Airports Authority of India, GMR Infrastructure Ltd and GVK Group have probable chances to lose on account of parking and landing charges.
Another major affect will be seen as revival of demand for bringing aviation turbine fuel under the purview of Goods and Services Tax (GST).
This will help the airlines to reduce their costs and hence build resistivity to high fuel prices, poor airport infrastructure and other related factors.
Conclusion
The grounding of JetAirways is an outcome of multiple factors including major incompetency of the management, high fuel costs and inability to find an investor.
Although the involved party is trying every possible scenario to revive the once largest private Indian airline, even in case of reignition, the shareholders, investors and staff will have to suffer losses.
Also, another striking reason for the failure is the volatility of the aviation industry. Thus what is desirable is deriving a long term solution on a macro scale, which can prevent future failures.
Disclaimer: The views expressed in this post are that of the author and not those of Groww