If you are an active investor, you would be aware that the mutual fund industry has been growing exponentially.
A mutual fund is an investment option which collects money from many investors for the purpose of investing in stocks, bonds and other money market instruments.
Mutual funds are operated by professional fund managers, who attempt to produce capital gains and/or income for fund investors.
Uncertainty and volatility are the basic features of a stock market. Due to the lack of proper knowledge, small and medium investors fear to invest in the financial market.
Mutual funds protect the interest of investors from the downside market risk through diversification of funds.
But they also help an investor to earn subsequent returns, during the upside movement of the market.
This makes mutual funds more attractive and reliable for small and medium investors.
Why are Direct Funds Better than Regular Funds?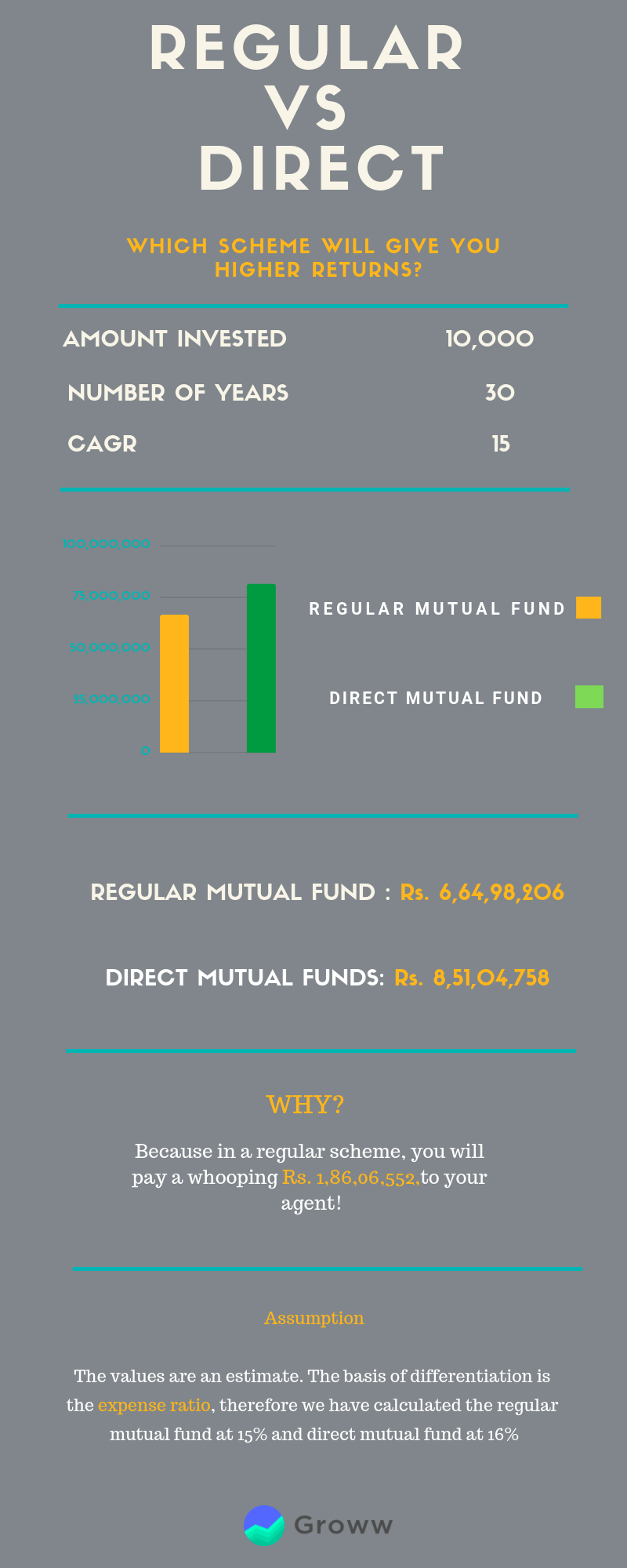 A lot of you might be aware that there are broadly two categories of mutual fund plans – regular plan and direct plan.
Both these plans represent the same scheme, run by the same fund managers and invest in the same stocks and bonds.
But why do we say direct plans are better than regular plans?
Direct plans are sold directly by the asset management company (AMC) or selected platforms. Regular plan are sold through distributors and involve commissions.
Therefore, direct plans give higher returns than regular plans.
Not paying commission reduces the liability of the direct scheme and thus, it has a lower expense ratio as compared to its regular counterpart.
Low expense ratio results in higher net asset value (NAV) of the direct plan.
Now, you have a brief knowledge about direct mutual fund plans, so let us move on to the various platforms from where you can invest in direct mutual fund plans.
We have analyzed various mediums and shortlisted 6 best direct mutual fund platforms.
Our aim is to invest in direct plans to save cost, so let's look to the most cost-efficient ways of investing.
6 Best Direct Mutual Fund Platforms in India
What Is it?
It is an online portal which offers direct mutual fund plans. This portal is simple and easy to understand. They provide funds from 37 AMCs.
The best part is that they provide a detailed evaluation of each scrip and their service is completely free of charge.
They cover all the data points and give comparative charts with other schemes in the same
group.
They even have financial groups on various topics to discuss ideas and answer various queries
of their members.
Why Choose Groww?
Groww aims to make investing simple. With an excellent customer success team and various new features at your disposal, this investment portal has created a niche within customers.
Groww has launched a new feature called Xperts, where they have roped in various financial advisors who will give customers financial insights.
Gift Your Child a Mutual Fund: Best Mutual Fund Plans for Your Child in 2019
It has also introduced a feature called 'Switch', through which, you can track all your external and internal mutual funds under one umbrella.
You can also switch your existing funds to Groww without any hassle
Groww is available on desktop/laptop as a web application. They also have an iOS app and Android app.
2.Zerodha
What Is it?
Zerodha Coin helps you buy mutual fund units online from the asset management companies.
All your investments in instruments such as stocks, mutual funds, bonds or currencies are in one place, which is your demat account.
They are basically discount brokers and hence charge very less compared to traditional brokers.
They have a product called 'coin' for the mutual fund investment. Their yearly maintenance charge is of Rs. 300/-.
Why Choose Zerodha?
The portal is relatively simple because anyone can find the mutual fund scheme, check
its performance and invest through a lump sum amount or set up a systematic investment plan (SIP).
Here, the first 25,000 of your portfolio investment is free, and after that, the fee is Rs.50/month,
irrespective of the investment amount.
It also has a mobile app through which you can view your investments.
3.Clearfunds
What Is it?
This is another portal which only deals with direct mutual fund plans at a flat charge of
Rs.999/- per year.
They identify the funds which deliver consistent returns and the suggest best plans based on the 2nd  year return.
Why choose Clearfunds?
It has precise and well-explained fund pages, with apt analysis.
However, the major drawback of this portal is that they don't offer a systematic investment plan (SIP) and a systematic withdrawal plan (SWP) and neither do they have a mobile app.
4.AMC Websites
What are They?
All mutual fund companies have their own websites through which you can invest in any product
offered by them.
You have to simply go to their website, create your own account, select the fund in which you want to invest and pay online.
Why Choose Them?
You have to simply transfer the amount you want to invest without paying any extra charges. Also, you will get accurate details of each fund.
The drawback of this method is that you have to create an account with each mutual fund house.
Now, imagine if you want to invest in funds of various AMC's, you might face a problem in managing your accounts and your investments.
5.MF Utility
What Is it?
In India, there is a common portal for all mutual fund houses that is, http://www.mfuindia.com.
You can create your account there and you will be assigned one common account number (CAN).
Through this unique number, you can purchase mutual funds from any fund house of your wish. Also, It is completely free of cost.
Why choose it?
It is hassle-free, as you can invest in all the funds through a CAN (Common Account Number)
But then again, you can do the same with platforms like Groww and the procedure will be relatively simple.
6.Registered transfer agents – CAMS and Karvy
What are They?
CAMS and Karvy are registered transfer agents for mutual fund houses. And both these bodies have been present in the industry for more than 30 years.
Why choose CAMS or Karvy?
You can go to their respective sites and create your account, select the scheme in which you want to invest in and transfer the funds online.
These platforms are also free of cost. A problem here is that some mutual funds are registered with CAMS whereas some with Karvy.
So, you might have to create an account with both the agents and won't get a consolidated status of your investments.
Conclusion
There are many other online portals which provide services to invest in direct mutual fund plans. Through these portals, investing has become an easy option and you can conveniently keep a track of your investments.
Although, it is advisable to do a bit of research on the platform you are choosing to invest from.
Happy Investing!
Disclaimer: The views expressed in this post are that of the author and not those of Groww