TCS (Tata Consultancy Services) has grown to proportions no other Indian IT company has reached.
The entire investor community is aware of the fact that 2018 was a tumultuous year.
However, this was not the case with the behemoth TCS.
At a time when companies are struggling to get even positive revenues, TCS in the latest quarter has clocked double-digit revenue.
TCS share price: ₹1843 (11th Jan 2019)
The TCS share price had been more or less the same for a few years. But then in 2018, it shot up by a huge margin on the declaration of good earnings in times when IT was suffering.
What does TCS do?

Tata Consultancy Services Ltd. (TCS) is a leading global IT (Information Technology) services consulting and business solutions organization.
The Company offers a range of IT services outsourcing and business solutions. These include assurance, consulting, performance management, platform solutions, supply chain management etc.
For providing these services, the Company through its genesis has ventured into almost all types of industries such as energy (oil & gas), healthcare, insurance, manufacturing, telecom etc. But the largest share of the revenue pie comes from banking and financial services.
So, in short, the investors must have got a hold of the business. Let us now look at the major factors and strategies that have led TCS to achieve this mammoth growth since its inception in 1968.
Why does TCS command a premium over other IT companies?
Promising Acquisitions
If we look at the few acquisitions made by TCS, for example, ALTI, we see that the majority of them have made remarkable progress.
Through this acquisition, TCS has access to the fantastic client base.
Most of them are CAC 40 clients, spread across financial services, utilities, pharma, retail sectors. In all these areas, TCS has strong solutions and capabilities.
The Company also had formed a joint venture with Mitsubishi Corp. in Japan in 2014.
Another acquisition took place very recently in 2018. To make its newest offering of interactive digital design and to scale up the revenue, TCS acquired W12 Studios in London.
These acquisitions highlight TCS's strategy of entering new businesses as and when the opportunity comes.
Also, TCS has a clear process of growing both organically as well as inorganically.
Let us compare these acquisitions to TCS's biggest competitor, Infosys.
Infosys is still struggling to sell off Panaya and Skava which had been bought under the leadership of Vishal Sikka.
Panaya has actually degraded more than 50% in value since it was taken over by Infosys. Skava though there has been not much value erosion it has not provided any benefits either.
Number of 100 million clients
The number of USD 100 mm clients of TCS is more than many IT firms combined (Infosys, HCL, Mindtree etc.).
Having clients with big ticket size ensures the stability of cash flows for any Information Technology company.
This is something which is strictly followed by the Company.
This also highlights that TCS is able to procure repeat business through enduring customer relationships which finally results in best-in-class relationships and thereby steadily expanding the market share.
No. of 100 million clients
| | | | | |
| --- | --- | --- | --- | --- |
| FY 2014 | FY 2015 | FY 2016 | FY 2017 | FY 2018 |
| 24 | 29 | 37 | 35 | 38 |
Stability of Management/ Leadership
The consistency in leadership and smooth transitions between CEOs are among the reasons why TCS has left behind all other firms in the IT space.
At TCS, the quality of management has set a benchmark.
For a company that started in 1968, having just four bosses in its journey, with the fourth one joining only last year is an astonishing achievement in itself.
From FC Kohli to S Ramadorai to N Chandrasekaran to Rajesh Gopinathan now, not only have the previous three bosses served long enough to leave their stamp on the organization, the transitions have been very smooth, thus ensuring business continuity.
At TCS, chief executive N Chandrasekaran was promoted as chairman of Tata Sons in January 2017.
Before he transitioned to the holding company of the $103 billion Tata Group, Chandrasekaran spent seven years leading TCS.
Infosys saw three CEOs come and go and, at least twice, these exits were unceremonious.
The leadership stability speaks volumes about TCS's ability to provide consistent growth.
Advantage in Digital Space
While other Indian IT majors are still focused on shaping and recalibrating their digital strategy, TCS has a head start facilitated by its early investments in digital asset/capability creation, talent development, and technology partnerships.
The company has created a significant depth of capabilities across big data analytics, cloud & internet of things (IoT) and cybersecurity, cutting across a number of fast-evolving digital technologies.
Consequently, TCS reported digital revenues of US$ 4bn for FY18 (+38% YoY) and exited the Mar'18 quarter with 23.8% of overall revenues from the digital business vs. less than 10% in FY15.
Even in the latest quarter of FY19, TCS added three clients with over $50 million revenue potential and seven in the over $20 million categories.
Since its listing, TCS has constantly paid dividends and issued bonus shares to its investors.
If we had bought a share of the company at the time of IPO at INR 850, today we would have eight shares of TCS. This means that the company had issued bonus shares thrice in 2006, 2009 and most recently in 2018.
Risks for TCS
There are some risks that are prevalent in the business models as well as the way this sector is seeing a continuous transformation. Let us discuss a few of them.
The business for TCS is diversified with only a small portion of the revenue coming from India. Majority of the revenues come from North America and Europe. Therefore, any adverse currency movement might impact the performance of the company. In this fiscal, TCS along with other IT firms have performed exceedingly well because of rupee depreciation. However, this might not be the situation going forward. Therefore, the company has to constantly use the derivative route for avoiding any exigency scenario.

There has also been a sharp decline in IT spending in the two sectors which contribute the maximum to TCS's top line which are BFSI and Retail. 

TCS is one of India's first IT firms to leverage on the digital space. It has clocked a good amount of revenues in segments such as Big Data Analytics, Artificial Intelligence, Internet of Things (IoT). However, the Company now has to compete with global giants who are not just growing but growing exponentially in these segments. These global giants include Google, Amazon, Cloud etc.

One of the major advantages for TCS has been that of labour arbitrage i.e. the cost of employing Indian employees is very less as compared to employing a workforce in other countries where it operates. These countries such as USA, France and other European countries are supporting right wing leaders who want their own country to prosper. The H1B Visa issue was one of the major challenges that TCS had to deal with. Such situations might crop up in the coming times as well because of Donald Trump's pro-American policies.
Also, the labour arbitrage is getting competition from other poor countries in Africa and the Philippines. In these countries, the cost of labour is lesser than that of India.
TCS History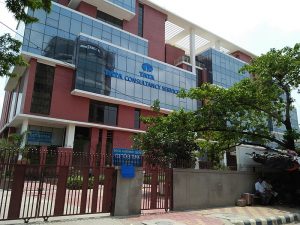 TCS is a member of the Tata Group (established by Jamsetji Tata in 1848) and was established in 1968. Today, TCS has grown its stature and is currently the largest IT services firm in Asia. The Company has achieved this growth through providing great services, collaborative partnerships and constant innovation.
Through its unmatched delivery of services, today it has become the largest IT employer in India. TCS is also the company with the highest amount of market capitalization (Currently 2nd as recently Reliance Industries Limited overtook TCS).
Given the performance of the Company and coming under the elite Tata's brand name, in 2004 when its shares got listed at a premium of more than 26 percent. Today, around two-thirds of Tata Group's more than INR 10 trillion market cap comes from TCS alone.
TCS can be considered as one of the companies India prides of having.
It has been a constant deliver of growth for the employees, shareholders but the economy at large. The scenario however is changing given the advent of technology and new global competitors shaping up. Therefore, in the coming times ahead, the company will have to showcase even more the attributes of innovation that it has been carrying on.
Disclaimer: the views expressed here are of the author and do not reflect those of Groww.