Why should boys have all the fun? – it was one of the most popular campaigns amongst the girls.
The lady in the house is also the homemaker and caretaker for the family. In addition, she takes good care of the finances of the house – paying to domestic help, shopping, managing gifts etc. Why should she also not take care of her own money? Why should she not have a homemaker investment portfolio?
Post demonetization, most of the housewives are keeping all their savings in banks. It's obvious that money loses its value in the banks. Inflation is around 6% and banks give around 4% interest. Everyone understands that it should be invested intelligently. Then what's stopping the smart females to invest their money smartly? Is it the complexity of the investment process that scares them or the fear of losing money that stops them from investing?
Well, whatever be the reason, is it worth the loss that they are incurring on the money by keeping them in the banks? If losing money doesn't bother them, isn't the feeling of controlling the money and managing it smartly, just like their home, inspire them?
Interesting thing is that none of these reasons hold true today. If we were in 2005 or even in 2010, I could agree with most of them. But today the investing money can be SAFE, EASY and with full CONTROL.
If you are looking for managing your money smartly, you don't have to do an MBA in finance or hire an advisor. You can do it yourself without even losing the money. What you need is basically a mutual fund that gives consistent returns at almost nil risk and lets you withdraw any amount any time, without penalty. Fortunately, this is possible. Let's see where and how.
Debt Mutual Funds
Mutual funds are not necessarily linked to the stock market. There are mutual funds where the money is not invested in equity at all.  These are the mutual funds where the money that you invested is loaned to the government of India and large companies. They are called debt mutual funds. The risk is negligible and returns are in the range of 8-11%. Compared to banks, which give 4% return, you earn 4-6% higher returns on your money. If you have 2.5 lac lying in the bank,  you can easily earn 5% extra. This would mean Rs 12, 500, just like that. I am sure you would have ideas of spending that money! Even with debt mutual funds, the performance is subject to market risk, but the risk is substantially lower than equity mutual funds.
Control over investments
One of the reasons why most of the people don't invest their savings is that they don't want the money to be locked-in. The idea of investing the money without the possibility of easy liquidation is just uncomfortable. A right choice of investment platform and wise picking of mutual funds can avoid any such concerns. There are mutual funds that do not have any penalty for early withdrawals. Mutual funds do not have any transaction fee. You can invest/withdraw anytime any amount. Whether it's for 1 year or 1 month, you can invest your money and enjoy the returns on it.  
Easy to use platform
How difficult is to buy on Amazon or book movie tickets? Well not so much. Now investing in mutual funds is as easy as that. You can click to invest and click to withdraw. And between the clicks, you can see your money grow. You don't need to sign documents, read stuff and compare options to manage your money wisely.
Building the portfolio
A perfect homemaker portfolio should be the one with
Here is the good portfolio meeting such criterion – Better than FD with Debt Funds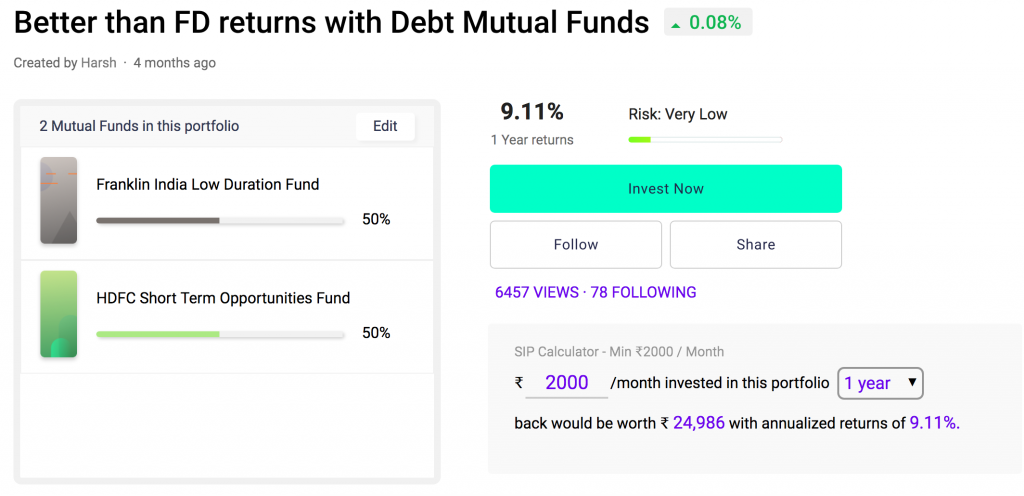 These funds have performed consistently. The average returns expected over a year is much more than FD. In addition this is also more tax efficient. 
Another great advantage of investing the money in such funds is that the money is 1-day away from your reach. This has a very strong positive effect on controlling impulse shopping. If you already do sane shopping then you can always withdraw the money and get it in your bank tomorrow.
Overall, it's smart to keep your money invested in homemaker investment portfolio and withdraw as you need. If you want to invest with the purpose of building wealth, child's education, retirement etc., consider All-Weather Portfolio. They bear risk in the short term but gives good returns over 5 years or more.
I am sure you would like to control your money on your fingertips…like you do pretty much everything 😉