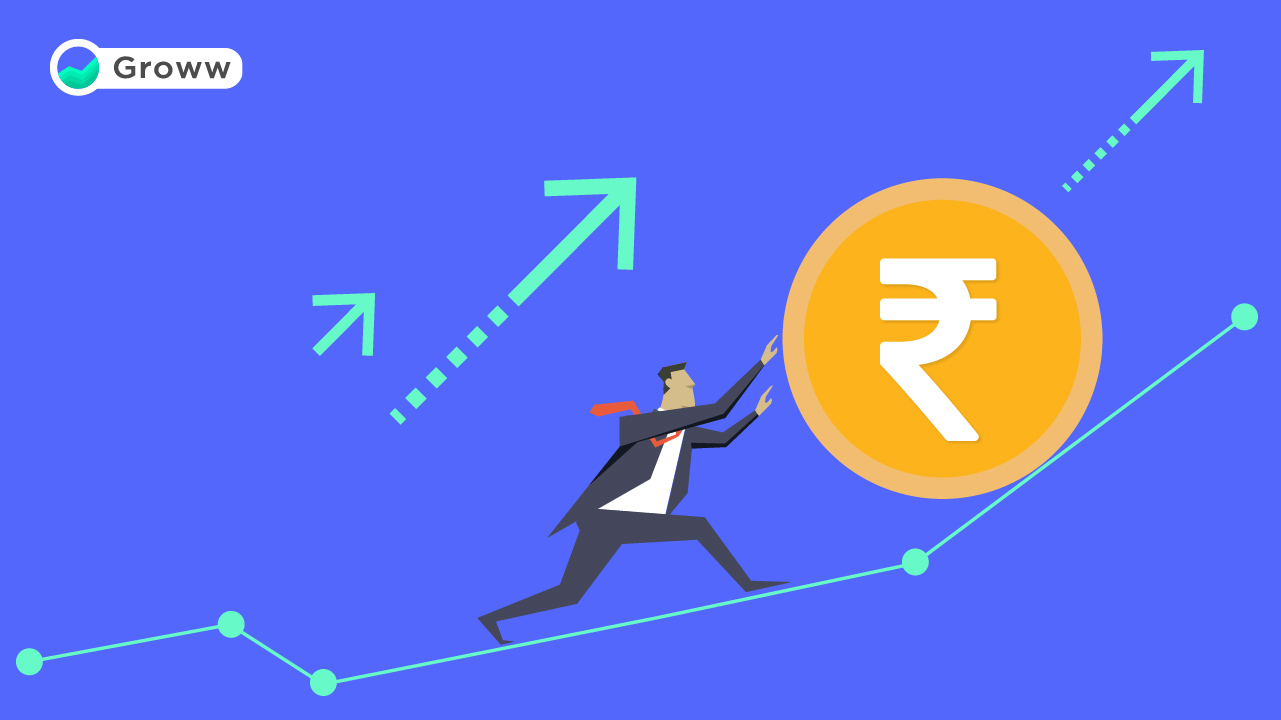 The famous Greek Philosopher, Heraclitus once said that 'change is the only constant.' While this was the general philosophy of life, it applies to stock markets too. Regardless of what happens in the economy and the markets, one thing is certain – markets will be volatile. This is what makes them unpredictable and creates investment opportunities for people who are willing to spend time analyzing their options and make the most of these changes. 
However, volatility can incite different emotions too. While some investors can ride the wave of markets turning in favour of their investments and make over-optimistic decisions, others can get thrown off their game if the changes are against them and make rash decisions too. 
Here I will talk about SIPs and its relationship with market volatility, but before that let's get some perspective on what market volatility means.
Market Volatility – a Short-term and Long-term perspective
When it comes to investments, market volatility can have a huge impact in the short-term. If we take an example of 2020, the pandemic-induced volatility threw the markets into disarray for a few months. With no certainty about the future, many investors sold their investments under panic while others saw it as an opportunity and started making purchases. Eventually, as markets recovered, some investors booked strong profits while others had to accept losses. That is usually how volatility affects short-term investments.
If you look at the markets over a period of 5-10 years, you will observe that volatility has little or no impact on the performance of the asset or the security. 
Why are we talking about volatility here? The reason is that SIPs and the methodology behind SIP investments bodes well for almost all market conditions. 
Systematic Investment Plans During Volatile Markets
A Systematic Investment Plan or SIP is a method of investing where you invest a fixed amount regularly regardless of the market cycle. Most mutual fund schemes offer a SIP option to investors allowing them to select the amount and interval of investment.
Now, let's talk about market volatility. In a volatile market, ups and downs are frequent. When you decide to buy in such a market, the timing of the purchase can determine profitability. If you buy during a market high, then generating returns can take longer. However, timing the market can be dangerous.
This is where a Mutual Fund SIP makes sense. 
In an SIP, you invest a fixed amount at regular intervals. So, when the markets are down, you can purchase more units for the same amount than when they are high. Hence, over time, you have more units than trying to buy in a lump sum by timing the market. When markets are up, the value of the units go up. 
Therefore, in the long term, the cost of each unit averages out offering you a reasonable purchase price and an opportunity to generate healthy returns. 
This is known as Rupee Cost Averaging (RCA). 
A quick note on Rupee Cost Averaging in SIPs
The concept of Rupee Cost Averaging is best explained with the help of an example.
Let's say that you opt for a SIP of Rs.5000 per month for a year in a mutual fund. The NAVs and number of units have been used just for the example. 
Let's see how the investment fares through the year:
Number of units= Investment amount/NAV
So here, every month, Rs 5,000 is divided by the NAV to get the number of units.
| | | |
| --- | --- | --- |
| Month  | NAV | Number of Units |
| January | 58 | 86.21 |
| February | 63 | 79.37 |
| March | 75 | 66.67 |
| April | 40 | 125.00 |
| May | 35 | 142.86 |
| June | 30 | 166.67 |
| July | 28 | 178.57 |
| August | 34 | 147.06 |
| September | 60 | 83.33 |
| October | 50 | 100 |
| November | 52 | 96.15 |
| December | 48 | 104.17 |
Total amount invested = Rs.60000

Total units received = 1376.06

NAV at the end of the SIP tenure (December) = Rs.48

Value of investments in December = Rs.66050.23

Profit = Rs.6025.23
Since the markets are volatile and the NAV keeps fluctuating, a SIP allows you to reduce the average cost of purchase. If you wanted to purchase 1376.06 units in January, you would have to spend Rs.79811.48. However, by opting for an SIP, you received the same number of units for Rs.60000.
Hence, in a volatile market, rupee cost averaging allows SIPs to help you generate better returns and reduce the risk of investing during a market high.
Despite all the periods of high volatility, markets have managed to grow. Hence, there is no reason that your investments can't grow with the markets. It needs a long-term investment horizon and smart decisions like opting for a SIP during such times to turn volatility into an opportunity. If you get perturbed with market volatility, here are some tips to help you get through them.
A Historical View of the Markets
We will look at the performance of BSE Sensex over the last 25 years: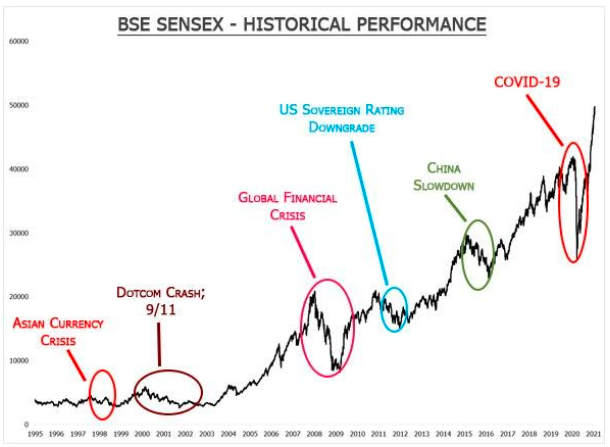 A quick look at the chart highlights the ups and downs that the markets have gone through over the last 25 years. Over time, despite the Asian Currency Crisis (1997), the Dotcom Crash and 9/11 disaster (2001), the Global Financial Crisis (2008), the US Sovereign Rating Downgrade (2011), China's Economic Slowdown (2015), and the Covid-19 (2020), the Sensex has multiplied more than 10 times! Hence, regardless of when you invest in the markets, if you buy strong stocks and hold on to them for a reasonable period, then you can generate good returns too. 
This explains why holding on to fundamentally strong investments during market volatility can generate good returns. However, what about new investments? Should you invest when markets are volatile? Yes. But, how does one invest when markets are hitting new lows every day? 
Quick Tips for Investing During Volatile Times
Assess your investment portfolio

– Market volatility is usually a result of some social, political, or economic event. Understand the implications of the said event of your investments. Remember, fundamentally strong companies can weather any storm. Assess if your investments can survive the volatility or not and make changes accordingly.

Avoid emotion-based decisions

– When the markets turn volatile, nerves start coming into play. Some investors panic and sell to cut their losses while others decide to look for an opportune moment to invest in a lump sum. Even if you want to take the risk of speculating market movement and earning short-term returns, keeping emotions away is necessary for investors.

Think long-term

– Since volatility is usually driven by an external event, once the crisis is averted, the markets boomerang back to fundamentals. Hence, if you invest in fundamentally strong companies, then you stand a chance of generating good returns in the long run.

Diversify

– While diversification across asset classes is important in all market cycles, when volatility strikes, its importance increases. Since volatile markets are strongly driven by investor sentiment, a diversified portfolio ensures that the risks are reduced by spreading your money across different asset classes like equity, debt, gold, real estate, etc.

Stay Calm and Patient

– If you have a SIP, then think before discontinuing it for emergencies, especially in the short term; because this can be a period that can help you benefit from rupee cost averaging and reduce the average cost of a unit. Assess the scheme's portfolio composition and look at how the fund manager handles such market cycles.
Summing Up
We understand that volatile markets can scare even the most seasoned investors away. However, you must remember that a disciplined, long-term investment strategy can help you survive such storms since it does not take short-term volatilities into consideration. Also, a systematic investment plan is uniquely positioned to make the most out of such market periods. When the going gets tough, focus on the fundamentals and use the right tools to make the most out of the market cycle. Stay invested!
Investment in securities market are subject to market risks, read all the related documents carefully before investing. Please read the Risk Disclosure documents carefully before investing in Equity Shares, Derivatives, Mutual fund, and/or other instruments traded on the Stock Exchanges. As investments are subject to market risks and price fluctuation risk, there is no assurance or guarantee that the investment objectives shall be achieved. NBT do not guarantee any assured returns on any investments. Past performance of securities/instruments is not indicative of their future performance.