It goes without saying that money is the most important and valuable resource.
let's face it, it's always about the money.
And well, we all know it is difficult to earn money and even more difficult to save money.
We firmly believe that a wise person who manages his money efficiently can utilize it in a highly effective way as well and thus, it is required that you have a good understanding of the application how you can manage short-term money.
The Following Baskets Can be Used to Manage Money: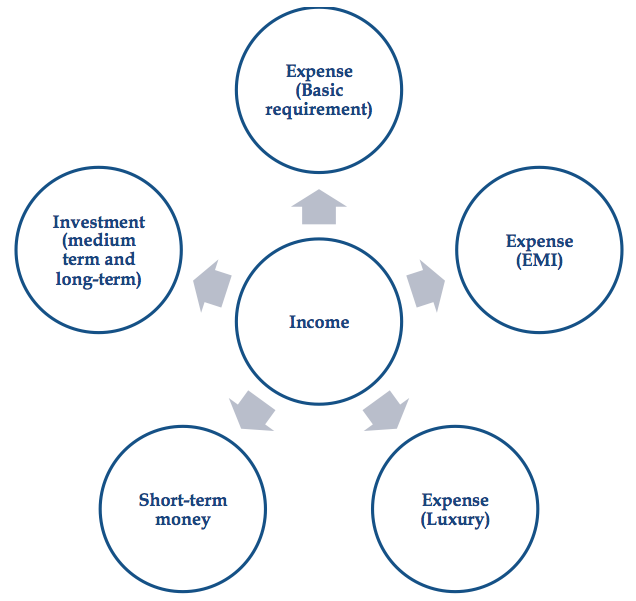 As seen above, an individual typically ends up using 60-65% of his/her income towards meeting his/her basic necessities and repaying his loan EMIs.
The Remainder Is Used for the Following Purposes:
1. Short-Term Money – This accounts for liquid money that lies with the individual and is meant for emergency use or any other purchase as per the requirement of the person.
This money should typically be accessible anytime, anywhere.
2. Medium-Term Investment – This deals with your near-term goals such as buying a house, buying a car, etc.
3. Long-Term Investment –  It is primarily wealth creation and deals with long-term future planning such as retirement or children's education
Now, let us shift our focus to the main topic of the blog, short-term money.
Short-term money is the money that is kept as cash at home or in a savings account and is usually kept that way because:
1.Emergencies
2.Liquidity
3.Fear
4.Lack of investing options
How Much to Save as Short-Term Money?
Typically, an individual should set aside 10-15% of his monthly income towards short-term money.
This is helpful to meet any emergency that may arise in the future or to fund any luxurious needs that an individual might have, like a foreign holiday or even pursuing a hobby.
Also Read: What are the Key Measures of Market Volatility
Where to Invest for Short-Term?
There are multiple avenues where an investor can invest on a short-term basis, but he/she needs to ensure that he/she chooses the right instrument that provides the following benefits:
1.High liquidity
2.Low risk
3.Higher returns than inflation
4.Low taxation
5.Easily accessible
Groww Has Collated a List of Probable Instruments Available for Short Money
Avenues for short-term investment

As seen from the table above, we infer that liquid funds are the best funds for short-term.
It helps you in managing liquidity and is primarily used for cash management purpose. These funds are highly safe, given their underlying securities are rated in the A1+ category which denotes the highest safety.
Liquid funds are also available in daily dividend mode, which allows an investor to get dividends for an investment, as less as 7 days.
Some of the Best Liquid Funds to Invest in 2018

The investment objective of the fund is to provide a high degree of liquidity with returns better than traditional instruments such as savings account.
The fund invests in marketable securities with a maturity of up to 91 days and typically comprises of instruments with high debt ratings.
The fund is six-years-old and has generated promising returns. It has an AUM of Rs 4,000 crore and has been given a 5-star rating by Groww.

The investment objective of this scheme is to provide reasonable returns at a high level of safety and liquidity.
The fund has a track record of over 13 years, which has enabled it to climb to an asset base of Rs 30,000 crore. This fund has been given a 3-star rating by Groww. The expense ratio of the fund is low at 0.1% that is at par with its peers.
Also Read: Best Liquid Funds-2018
Conclusion
To sum it up, we believe liquid funds help in better utilization of an investor's idle funds and provide better returns than any traditional means of investing.
These funds are a great alternative to savings account and act as a cushion when the market is volatile. Should you wish to invest in liquid funds or need any further assistance, feel free to write to us to support@groww.in.
Happy Investing!
Disclaimer: The views expressed in this post are that of the author and not those of Groww