Greetings investors! In this blog, we will explain what running account authorization is and how it works on Groww. Running Account Authorization is an option provided to the investors which they can use to authorize their broker to retain funds in their trading account rather than adding funds every time before making any investment.
Psst! We don't want you to maintain any minimum balance.
What is Running Account Authorization?
As per SEBI circular, MIRSD/ SE /Cir-19/2009 dated December 3, 2009, the settlement of funds and/or securities in an investor's trading account has to be done within one working day of payout unless the client specifically authorizes the broker in writing to maintain a running account
As an investor, one can opt to authorize the broker to retain funds in his trading account and maintain it as a Running Account. When the investor exercises this option, they have to authorize the member in writing to retain its funds and securities and such authorization is called Running Account Authorization. Such authorization should clearly specify the mandate of the investor on the periodicity of such settlement of funds and/or securities which is either one month (30 days) or 3 months.
Without a running account authorization, the broker would have to settle your account on each settlement; which means, in the absence of RAA, your account will have to be settled per transaction, which means if you sell something you will be paid out the entire amount and if you buy you have to pay the total amount.
As a result, you will have to add funds to your Groww Balance before making any investment.
How does it work on Groww?
An investor can keep any amount as per their choice in their Groww balance. But, Exchanges have specified a limit for brokers and they can only retain up to Rs 10,000. Hence, any amount exceeding Rs 10,000 will be refunded back to your bank account in 30 days or once in a quarter, as per the periodicity mentioned in your mandate. Please note that you can withdraw the amount anytime from Groww balance.
But in case you don't withdraw, the amount above Rs 10,000 will be refunded to your bank account.
For Example:
You have Rs 15,000 in your Groww balance for 1 month, then Groww will refund Rs 5,000 to your bank account and the Rs 10,000 will remain in your Groww Balance.
How to Activate RAA?
This can be done either while making a deposit transaction or doing a cart checkout once you have selected and added your desired fund in the cart. You will be required to provide your consent with an agreement and schedule option to activate your RAA. All you need to do is select the rolling time, i.e. once in either 90 days or 30 days, and click the confirm button.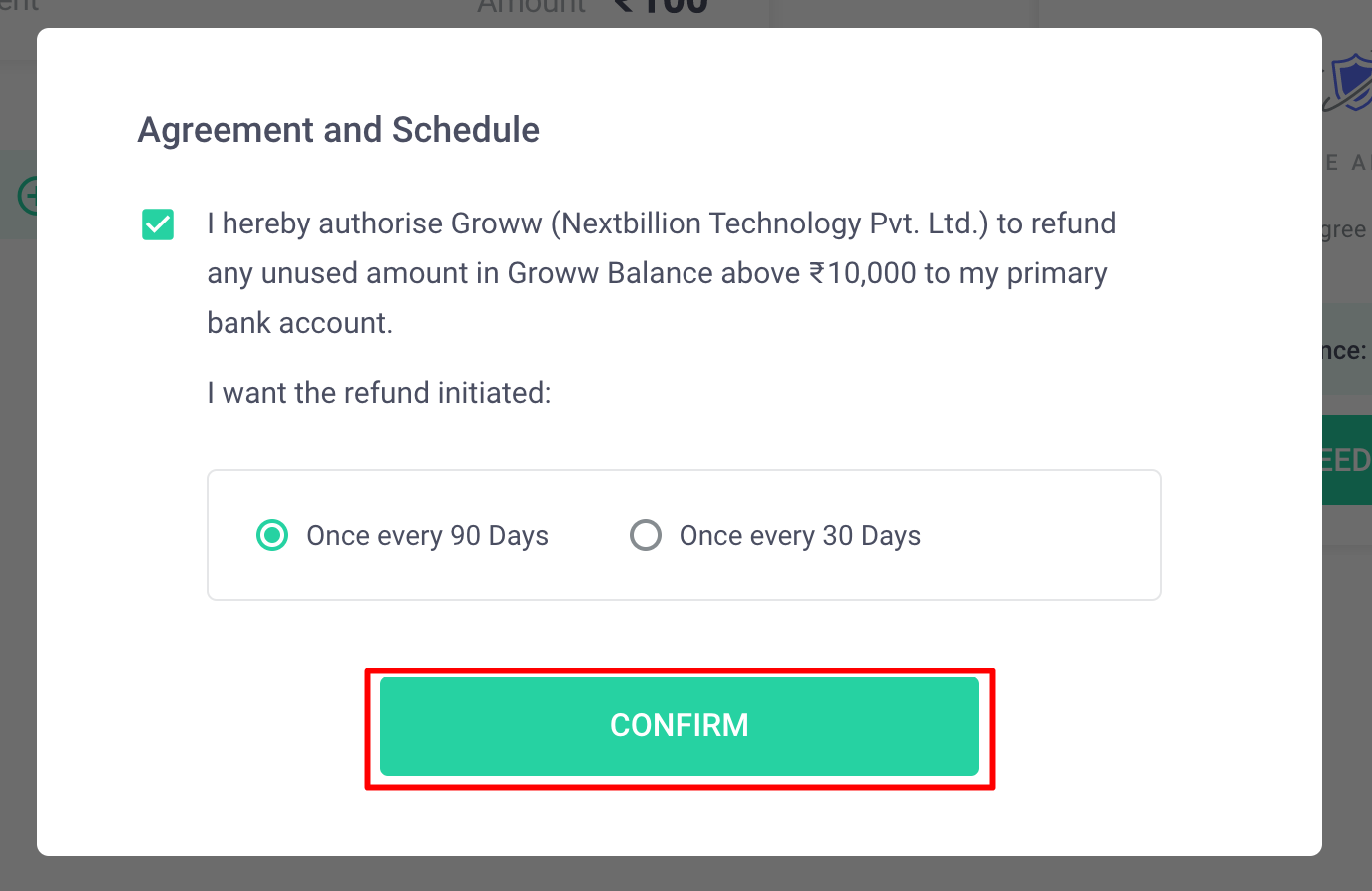 Once this authorization is taken from the investors, Groww can make use of RAA to maintain a running account and help users to invest in a seamless way.
The process of investing becomes much easier through this feature and puts you at ease, as you can literally save a lot of hassle through 'one-click'.
Key Takeaways
Groww is not asking its users to maintain a minimum balance
You can continue using the app the same way as you were doing before without any impact on user experience.
If you want to opt for Running Account Authorization, you just need to provide your consent as mentioned above
Running Account Authorization – FAQs
Is RAA Safe?
Yes, it is completely safe and saves a lot of botheration on you and your broker's end for a day to day settlement of funds and/or securities as Groww does not demand any minimum amount in your trading account. Moreover, with such strict norms of SEBI and Exchanges brokers, there is no need to worry.
What does it Change for me?
If the investor has not given the authority to maintain a Running Account, the funds will be settled within one working day of payout which is called daily settlement. On the other hand, if the investor has opted for running account authorization, the funds will be settled once in a calendar month or quarter, based on the investor's standing instruction and thus it is called running settlement.
Is it mandatory to complete RAA?
Yeah, as your account gets settled with every transaction you will not have any margin with the broker to buy. So, even if you plan to buy something, you have to transfer funds beforehand. Also, before buying, you cannot estimate the exact amount to be paid, so you will have to transfer an approximate amount. To avoid these hassles, RAA comes into the scene.
Do I have to maintain a minimum balance if I opt for RAA?
No, there is absolutely no need of maintaining minimum balance as RAA is for the benefit of the user only.
When should a client account be settled?
As per the exchange guidelines, the settlement of funds and/or securities shall be done within 1 working day of the pay-out, unless and until the user specifically authorizes the trading member in writing (screenshot will also suffice) to maintain a running account. Investors whose funds and securities are maintained on a running account basis have to be settled by members on a monthly/quarterly basis as per the client mandate.
What should be the time intervals for settlement of client funds and securities?
The actual settlement of funds and securities must be done by the member at least once in a calendar quarter or month, depending on the mandate of the client and the gap between two running account settlements should not exceed 90 or 30 calendar days respectively.