"To enjoy a long, comfortable retirement, save more today." 
What comes to your mind when you hear the word "Retirement"?
Your investment today in a Retirement Portfolio will help you in the times when your age is above 60 years, or when the government is giving you peanuts in the form of pension every month. It will make you independent, financially stable even when all of your finances have burnt in favour of children's education, marriage and completing all other responsibilities towards your dependents. Believe it or not, there are going to be about 300 million retired people by the year 2050, and there's no way to escape from it, at least on this blue planet.
If you are reading this article and haven't started investing yet, then the window you are left with is tiny considering the amount of investment and time it takes to get good yields out of the market. It wouldn't be wrong to say that most of us who are bound to retire by the year 2050 are struggling and hustling day and night to achieve the dreams we have always imagined. We are making a significant amount of money, but most of it isn't going towards building a safe future, thinking it's important to have fun now because Zindagi Naa Milegi Dobara. There's no doubt that you won't get this life again, but my friend you also need to make sure that you live this life without any dependencies and stability issues.
Since you have already reached to this point, I am sure the reality must have struck you, and your mind is ready to make some investment for better future. But then again, the questions arise, how should you proceed, do you need to have financial advisor besides you to help with investments or someone to guide you along the path? – all you need to do is Groww.
At Groww, you can look at a vast variety of portfolios created for specific targets or goals with carefully selected mutual funds to help you with your targets. These have been curated by our both in-house experts and experienced investors on the platform. So let me pick the retirement portfolio and explain everything I can.
The name says it all, the retirement portfolio, or we call it as RP,  is a long-term goal and should receive investment on regular intervals for better returns. Mostly these are balanced fund composed of about 80 percent of equity and 20 percent of debt funds. If you aren't sure what these terms mean, then head over to this article explaining everything you need to know about the mutual funds.
The "Best Retirement Portfolio" combines some of the best investor friendly mutual funds under its umbrella with an average return of 22% in three years. Please be aware that these figures are based on the historical performance, and returns are in direct proportional to the market.
What Mutual Funds we have in the Retirement Portfolio?
Keep in mind that this portfolio has been designed with balanced funds in focus and hence require at least ten years of investment before getting good yields. Getting into the details of this collection, Retirement Portfolio holds following mutual funds: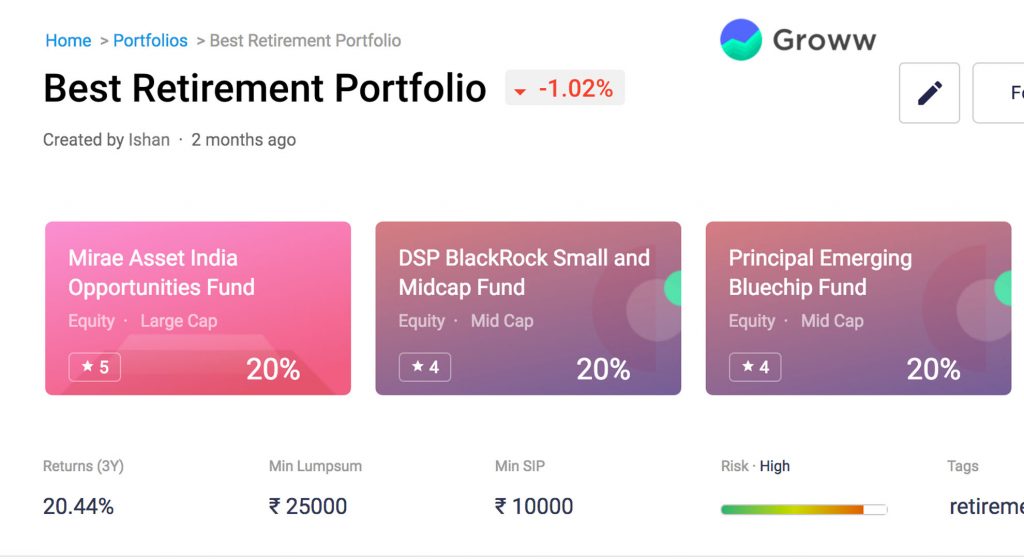 A. Mirae Asset India Opportunities Fund:
This mutual fund is an equity fund and invests majorly in the stocks. As per the datasheet, there's about 98 percent of investment in the capital whereas, the remaining 2 percent goes to the cash. The fund's top holdings are all about finance and banking giving a clear indication that the stocks in its umbrella are mature and trusted in the market. However, the expense ratio associated with it is somewhat significant and comes around 2.5 percent whereas if you redeem your units before one year, the exit load comes to at about one percent. For the long term, this mutual fund seems very stable along with the high returns of approximately 17 percent in three years.
B. DSP BlackRock Small and Midcap Fund:
With DSP BlackRock Small and Midcap Fund, we come back to the same point from where we started. It's again a balanced fund and provides high returns based on the market condition. The distribution of the fund follows the exact 80-20 rule when investing in equity and debt funds. The average expected returns after three years come around 21 percent which is pretty good. Also, the risk associated with this fund is somewhat higher than our previous player; however, this again houses a majority of financial institutions under its umbrella. Exit load and the expense ratio are just as same as the Mirae.
C. Principal Emerging Bluechip Fund:
It's very straightforward to build confidence in the securities that have blue-chip associated with it. Bluechip funds or stocks are related to companies that are financially healthy and have proven their worth in the capital market, the growth is steady and risk associated is considerably low. Just in case other mutual funds in the portfolio do not perform well, Principal Emerging Bluechip can stabilise the effect and provide good returns. The fund is composed of blue-chip equities, cash and debt funds with stocks taking a larger area. The expense ratio is slightly less with 2.48 percent whereas the exit load remains same as of others.
D. Birla Sun Life Equity Fund:
Another good fund in the basket is the Birla Sun Life Equity Fund coming with a moderately high risk and an average three years return of 16% annualised. A majority of the distribution goes to equity for great gains and a relatively smaller percentage of cash and debt funds to balance out the losses from equity investment. The total assets under management in Birla Sun Life Equity Fund are of ₹5659Cr with the top holdings across a variety of industries ranging from automobile, chemical to petroleum and finance. All looks good, but there's one important point you should always consider when redeeming your units. Cashing the investment in mutual funds anytime in between 0 – 365 days attracts 15 percent income tax on the returns generated along with the exit load of 1 percent. One should always be careful on redemption as it might attract different levels of charges in the form of exit load or income tax.
E. Reliance Small Cap Funds:
Introduced in the year 2010, the Reliance Small Cap now claims a three-year return of 24% annualised. Coming with a high-risk profile, this MF also composed of equity, debt and other monetary instruments with stock investments taking a larger portion from the entire asset allocation. Capital distribution helps an investor with the high returns, whereas the other debt and money instruments focus on bringing in the stability in the returns. If we talk about what it holds under the umbrella, then we have top holdings across a variety of sectors including finance, industries, chemical, energy and paper. The small cap holdings under this mutual fund have the same exit load and tax structure, however, the expense ratio is slightly higher than other mutual funds at a rate of 2.07 percent.
Are Retirement Portfolios only made of Balanced Funds?
Let me explain you first what are the balanced mutual funds. Whenever we create a mutual fund, we allocate different type of securities a share in the fund so that the desired return is obtained. Most of the times, we decide it based on the goals as well as for achieving the objective in a long or short period. Considering a balanced fund in this scenario, then as the name suggests, the fund holds assets in such a way that the percentage of equity is close to 80 percent or more and the remaining slots are assigned to the most stable resources such as debt, money market instruments, cash, etc. This way, returns are generated with the help of equities, and the debt funds balance the losses. In short, for the long-term investments, we should put balanced funds in the focus as they can provide exceptional returns including a stability factor with the help debt fund investment.
Are there any other similar portfolios?
Lot more collections offer the same level of investment benefits; however, the SIP or Systematic Investment Plan amount might change from one group to another. Also, there might be a complete set of funds with the portfolio, for example, if you select any mutual fund and go to the similar section you will find those who share the same interests. For instance, let's take a look at the High Growth SIPs for Long Term, the portfolio has high risks associated with it, but provides high returns. If we look at it from the retirement portfolio perspective, then it also has the same category composition of balanced funds dividing cash and equity asset allocation in the required percentage.
Is it possible for me create a custom Retirement Portfolio?
The very root of the Groww ecosystem is about allowing investors to build new portfolios and also let others learn from them. You can pick the collection, search for them, decide the percentage of investment and start a SIP or otherwise make a lump sum investment, and our well-polished platform will take care of the rest.
So to create a portfolio, all you need to do is follow these steps:
Step 1: Click on My Portfolio on the dashboard:
First of all, log in with your account details at Groww.in and go to My Portfolio tab. Over there you will see a Create Portfolio button on the top right which you can click and start creating a portfolio.
Step 2: Create a portfolio:
As a start, we will be showing you the top 12 mutual funds on the Groww platform with a search bar for you to type in the name, category or even the kind of the funds you are seeking. For example, you can search for DSP or balanced. In both the cases, relevant mutual funds will be shown to you on the dashboard. Next, once you select all the mutual funds, a distribution section will be displayed on the left side to help you adjust the percentage of investment in each of the funds. By default, all will have an equal share, but by sliding the bar, you can alter the amount.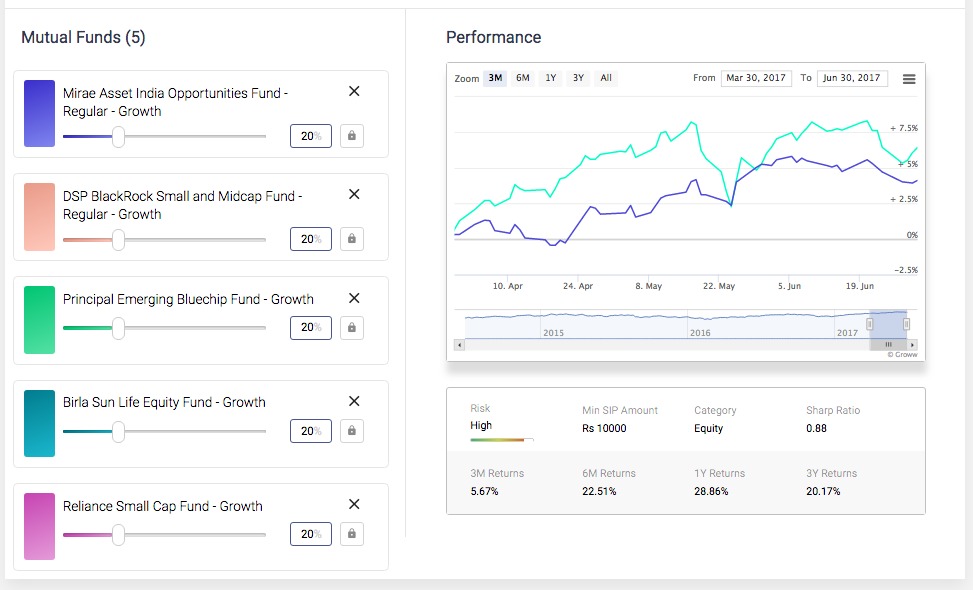 Step 3: Save your portfolio:
Next up you need to give your portfolio a name and make it either public or private. I would suggest going public as it will be discoverable by all other peers looking to invest in the best available portfolio. To make it better give your portfolio a good name and also a short description explaining what it is all about.
Step 4: See it in action:
Once you do all the steps mentioned above, click on Next and Groww will show you all the metrics related to the portfolio regarding performance and all other metrics related to it. Save it, and you will get an option to share it with other contacts on your Google account. If you do not have the person on the list, then simply copy and paste portfolio link on different social media platforms such as WhatsApp, Facebook, etc and let your friends and family know about the excellent collection you just created.
We have come to an end of this article; I hope you understood the importance of retirement planning with mutual fund investment and steps required to create your portfolios.
And as always, read all the necessary documents before investing and please be aware that returns on your investments are affected by the market conditions.
Don't forget to share it with your friends and family and let them know you have started investing for your better future. Head over this link and explore hundreds of mutual funds to invest into, and if you feel lost, feel free to ask us any question using the chat icon on the right.
Happy Retirement, Happy Investing!
And don't forget to share this article.