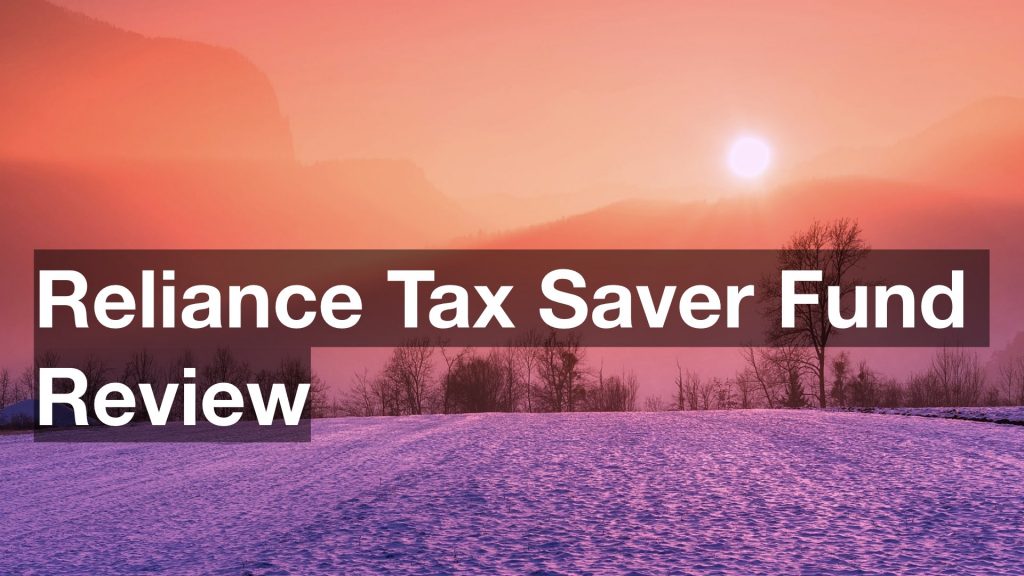 Reliance Tax Saver Fund is one of the best performing tax saver funds. It has given consistent results over a long period of time.
Reliance Tax Saver Fund Investment Objective
The objective of this fund is to generate long-term capital appreciation from a portfolio that is invested predominantly in equity and equity related instruments.
| | | | | | | |
| --- | --- | --- | --- | --- | --- | --- |
| Performance | | 1Y | 3Y | | | |
| Absolute returns (%) | | 37.29 | 13.38 | | | |
The ELSS category fund has been consistently beaten its benchmark and category over multi-trailing time period generating 37.29% and 13.38% returns over 1-year and 3-year period respectively.
It follows a blend of growth and value investing and seeks to invest in a couple of sectors that are expected to perform well over the long term.
Invest in Reliance Tax Saver Fund Now
With the passing of some key reforms by the government, the domestically oriented sectors such as Financials, Industrials, and Consumer Discretionary account for nearly two-thirds of the portfolio while the export-oriented sectors such as Healthcare and Information technology remains the least.
While picking stocks, the fund manager seeks to add companies with strong growth prospects that are trading at a substantial discount to their intrinsic value.
In effect, he attempts to balance both the growth and valuation aspects while investing. With the approach of fundamental valuation at the heart of investment, the companies in the portfolio are such that they are at the beginning of their earnings growth cycle thereby resulting in attractive forward-looking cash flow metrics and prospective earnings.
The fund can tend to be driven by market cyclicality and outperform significantly in a mid-cap rally owing to its exposure in this segment with a moderately high portfolio beta of 1.16.
However, with sizeable allocation coming from the large-cap space, the manager ensures that the fund does not react adversely to times when the market performance is subdued and a significant share of returns are generated as a result of bottom-up stock selection.
Though most funds in the ELSS category follow a multi-cap approach, this fund specifically favors mid- and small-cap space thereby having SMID/Large ratio to 0.58 times.
This results in moderate standard deviation of 16.64% but is well rewarded with returns over the long-term horizon.
Reliance Tax Saver: Fund Manager
Ashwani Kumar is a fund manager with Reliance Capital Asset Management Ltd since 2003 and is based out of Mumbai. He is the fund manager of Reliance Tax Saver Fund, including two other funds promoted by the AMC.
Prior to joining Reliance, Kumar was a senior research analyst at Zurich Asset Management Co Ltd from where he started his career in 1993.
Mr Kumar holds an M.B.A. degree in Finance from Indian Institute of Management Bangalore and has a B.Sc. degree from the University of Poona.
Happy investing!
Investment in securities market are subject to market risks, read all the related documents carefully before investing. Please read the Risk Disclosure documents carefully before investing in Equity Shares, Derivatives, Mutual fund, and/or other instruments traded on the Stock Exchanges. As investments are subject to market risks and price fluctuation risk, there is no assurance or guarantee that the investment objectives shall be achieved. NBT do not guarantee any assured returns on any investments. Past performance of securities/instruments is not indicative of their future performance.