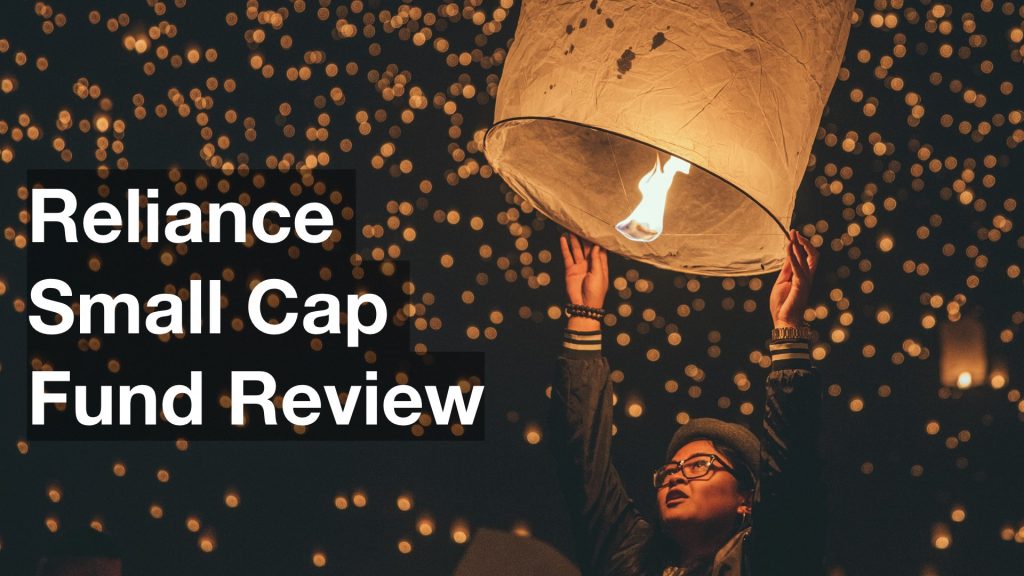 Reliance Small Cap Fund is one of the top performing small cap funds in India. Not only is it a best performer, it is also the only fund that allows a minimum investment of Rs 100. No wonder then that this fund is one of the most popular funds out there.
Reliance Small Cap Fund: Investment Objective
The primary investment objective of the scheme is to generate long-term capital appreciation by investing predominantly in equity and equity related instruments of small cap companies.
Invest in Reliance Small Cap Fund Now
The secondary objective is to generate consistent returns by investing in debt and money market securities.
| | | | | | | |
| --- | --- | --- | --- | --- | --- | --- |
| Performance | | 1Y | 3Y | | | |
| Absolute returns (%) | | 53.01 | 26.32 | | | |
Note: Returns are annualized for period greater than 1 year; Inception date: September 2010; Exit not applicable if period of investment is greater than 1 year; Benchmark: S&P BSE Smallcap; Performance as of November 30, 2017; Portfolio related information is as of November 30, 2017; SMID: Small+Mid cap companies. Performance above is for Direct Growth Plan and may vary depending on share class. Returns are taxed at 15% if sold before 1 year. Zero tax post one year.
Reliance Small Cap Fund Review

The fund in the small/mid-cap category fund has consistently beaten its benchmark and category over multi-trailing time period generating 53.01% and 26.32% returns over 1-year and 3-year period respectively.
The fund seeks to invest two-thirds of the corpus in small-cap companies that, we believe, is a segment that offers greater inefficiencies and thus offers higher returns over the long-term period.
This results in the fund having SMID/Large ratio to 11.25 times. This fund is genuinely true to its label and has consistently featured a 65-70 percent allocation to small-cap stocks with the remainder being mid caps with very limited exposure to large-cap stocks.
The fund has returned solid performance, even in bear phases without leaning much on large-cap stocks adds to fund's credibility of stock selection.
While selection stocks, the fund manager, makes no mistake to look for fundamentally sound companies trading at a discount from its intrinsic value in domestically oriented sectors which offers demand over the medium term.
Key attributes for stocks looked by fund manager include good management, reasonable valuations, business scalability, and sustainability.
One of the weaker areas of the fund is its volatility when compared to other peers whereby the standard deviation of 18.48% is higher than the category average of 15.85%.
With 95 holdings, the fund is fairly diversified and has only 13% of the portfolio in top 5 stocks.
Reliance Small Cap Fund Manager
Mr Samir Rachh is a Fund Manager at Reliance Mutual Fund and was previously an Assistant Fund Manager and Senior Investment Analyst. Mr Rachh specializes in mid-cap stocks at the firm.
He joined Reliance in October 2007. Prior to joining Reliance, Rachh spent two years as the Head of PMS and Portfolio Manager at Emkay Global Financial Services Ltd.
He also served as a Portfolio Manager at Hinduja Finance Ltd. for five years managing funds and research. He also spent three years as a Managing Partner at Anvicon Research Associates which was founded by him.
He was also an Assistant Editor at Capital Market Magazine. Mr Rachh received a B.Com degree from V G Vaze (Kelkar College), University of Mumbai and has over 25 years of experience.
How to Invest in Reliance Small Cap Fund:
Investment can be made in this mutual fund with the help of Groww platform.
Simply log in to your account, choose the fund – Reliance Small Cap Fund – make payment and start SIP!
Happy investing!
Disclaimer: the views expressed here are of the author and do not relfect those of Groww. 
Investment in securities market are subject to market risks, read all the related documents carefully before investing. Please read the Risk Disclosure documents carefully before investing in Equity Shares, Derivatives, Mutual fund, and/or other instruments traded on the Stock Exchanges. As investments are subject to market risks and price fluctuation risk, there is no assurance or guarantee that the investment objectives shall be achieved. NBT do not guarantee any assured returns on any investments. Past performance of securities/instruments is not indicative of their future performance.