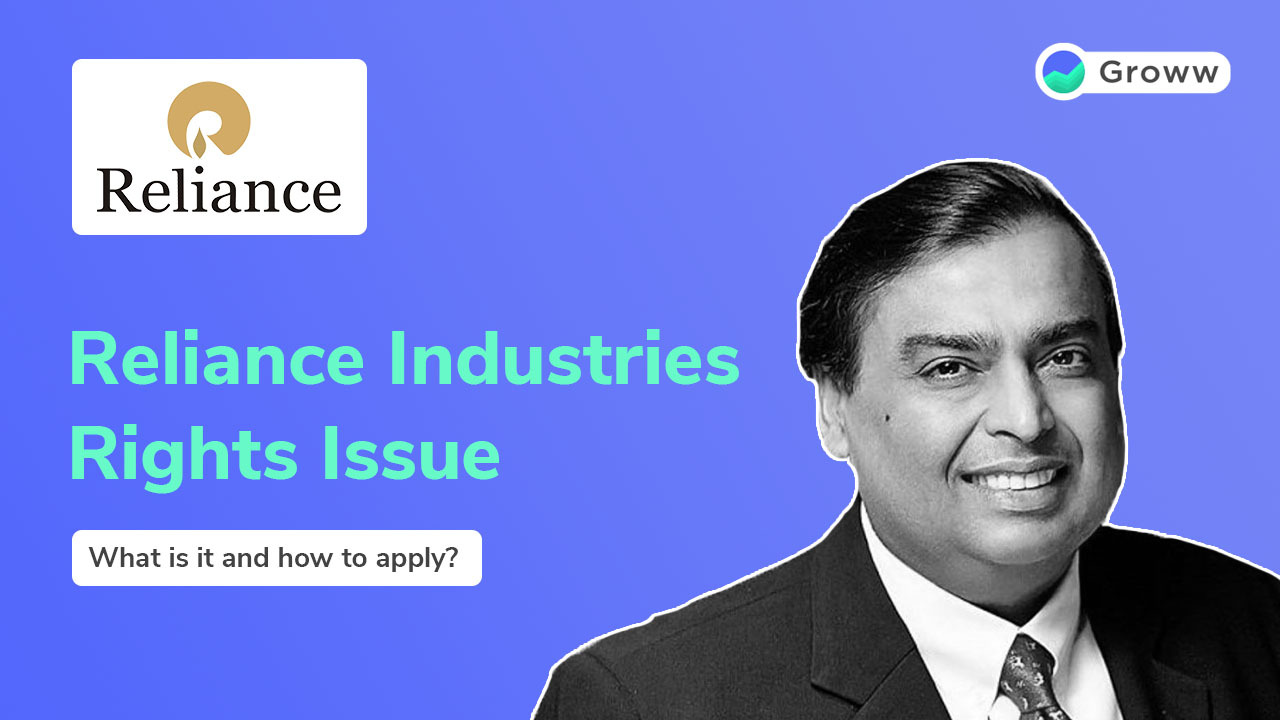 In line with their mission to go debt free by 2021 Mukesh Ambani's Reliance Industries Limited (RIL) announced its rights issue of Rs.53,125 crore in its April 30, 2020 board meeting.
The right issue will be open for subscription on May 20 and close on June 03,2020. 
All shareholders are not eligible to apply for the issue. Reliance Industries had fixed May 14, 2020 as the record date for determining shareholders' eligibility to apply for the issue.
The rights issue of Reliance Industries Limited (RIL) will be priced at Rs 1,257 per share with share ratio at 1:15 i.e,eligible shareholders are allowed to subscribe to one equity share for every fifteen shares held.
Reliance Industries Rights Issue
While running a business, there are multiple instances when companies need funds for expansion, clearing debts and building new assets. In order to raise capital to meet these demands, companies resort to various options such as going for an Initial public offering or IPO, follow on public order (FPO), and so on.
One of the ways to do so is to go the rights issue route. 
| | |
| --- | --- |
| Details  | Date  |
| Issue Opening date | May 20, 2020 |
| Issue Closing date | June 3, 2020 |
| Date of Allotment | June 10, 2020 |
| Date of Credit ( Demat Account) | June 11, 2020 |
| Date of listing | June 12, 2020 |
A rights issue is usually used by companies to raise more capital from existing shareholders. In a rights issue, shareholders get the right to subscribe to additional shares in proportion to their current holdings.These additional shares are available at a discounted rate. 
Now, these shares are issued in a pre-decided proportion which is 1:15 in this case. In simple terms,suppose you have 15 shares of RIL, then you can bid for 1 share in the rights issue. Similarly, if you have 90 shares of RIL already, you can bid for 6 shares and so on. 
Each share you bid for, is available to you at a discounted rate of Rs 1257. However, it is not necessary for a shareholder to exercise their rights and buy additional shares. 
You can let your right lapse by not subscribing as well. At the end of the issue, the promoters will subscribe to remaining unsold shares as well as subscribe to the full extent of their rights. 
You have three options that you can exercise during a rights issue:
You can subscribe to the right issue in full and additional shares as well

You can Ignore your rights

Or you can sell the rights to another interested investor
How to Apply for the RIL Rights Issue?
Before we begin, it's important to note that the record date for the subscription has been announced as May 14, 2020. This means that if you buy RIL shares after May 14, say you purchased shares on May 15.
In that case, you will not be eligible for the rights issue. So only shareholders who buy RIL shares before May 14th can apply for a subscription here. 
Please note, the shareholders will be required to pay Rs 314.25 (face value of Rs 2.5 + Rs 314.25 premium Rs 311.75) per rights equity share. The balance amount of Rs 942.75 will be payable in one or more subsequent calls as determined by the board of directors from time to time.
To all the eligible shareholders, the Registrar and Transfer Agent (RTA) of RIL will send a rights application form on the registered email address linked with your Demat account.  
The rights entitlement (RE) will also be credited to the Demat accounts of shareholders by RTAs. As stated above, the rights entitlement ratio is 1:15. The RE will be in the form of temporary Demat securities which will expire if the rights are not exercised. 
This is applicable even if you hold shares in the physical form, you will receive the RE in Demat form after you furnish the Demat account details to the company's registrar in the form specified.
If you don't want to apply for the rights, you can choose to sell these REs once they are credited to your account in the same way you sell shares from your holdings.
SEBI has also allowed slight modifications in the process owing to the lock-down. You will be able to visit the RTA website (https://rights.kfintech.com/) and using the RTA's payment gateway, pay for the application from your bank account.
Please keep your  DP ID, Pan Number, Bank account number & Client ID handy for the same. You can also use your bank payment gateway via ASBA to submit your application just like an IPO.
To apply via RTA, follow the steps below:- 
Step 1: Visit the Karvy Fintech RTA website (https://rights.kfintech.com/). You will have to click on the option " Apply for rights issue", which will get enabled on May 20. But before that, click on the " email and Mobile registration".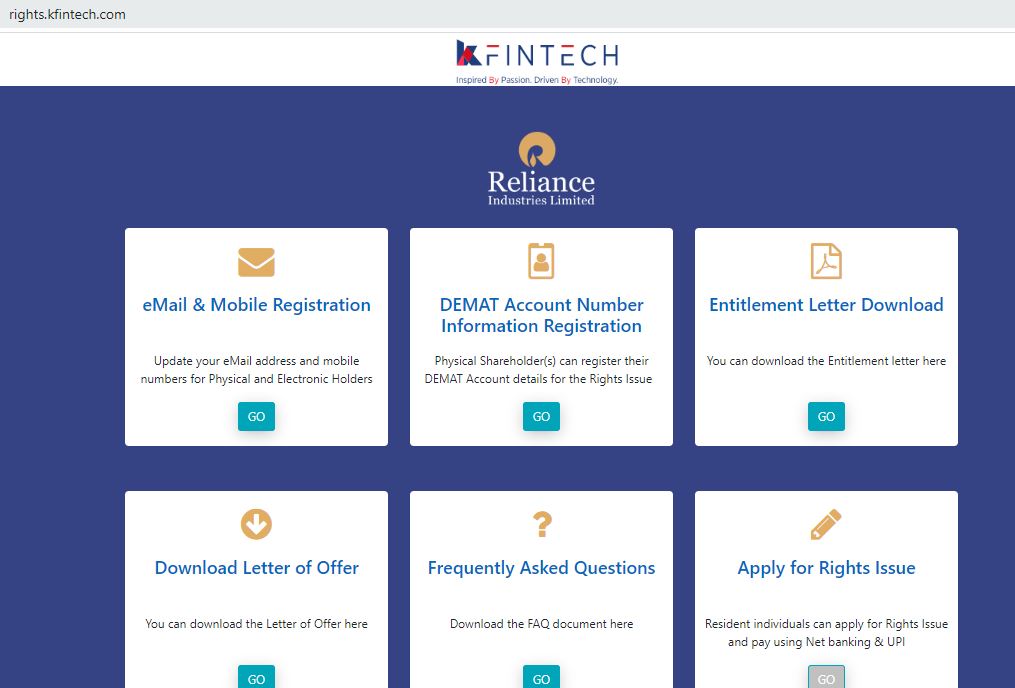 Step 2: Select whether you have physical shares or select the depository with which you have an account. 
Step 3: Enter basic details such as DP ID, client ID, Captcha and click on Submit. 
Step 4: Register your email ID and mobile number on the next page. 
Registering your mobile number and email ID will ensure all the allotment details reach you. 
Now in case you have already opened your Demat account, but are holding  RIL shares in physical form, then click on the next tab which is Demat Account Number Information Registration and follow the instructions mentioned on the screen. Once you click on proceed, you will be asked to enter your PAN number, Demat account number, etc.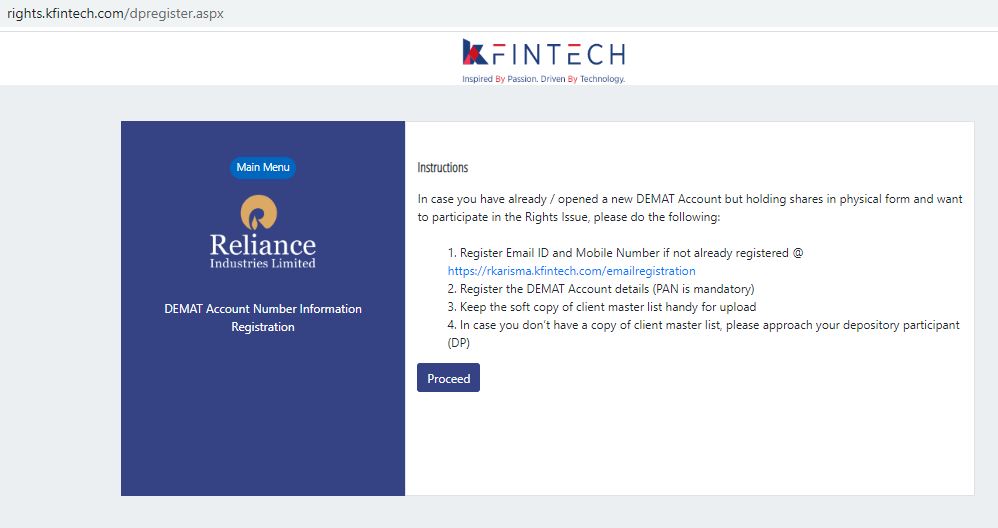 And that's it, the next thing you need to do is apply for the rights issue when the option gets enabled on May 20. You can then make payment for your order via UPI or NEFT.