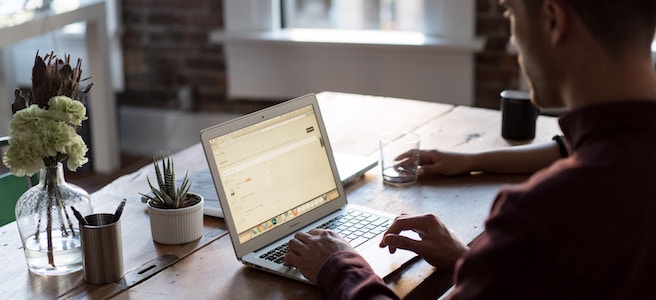 For your investment to be automated, your bank needs to pay the mutual fund a fixed amount every month on a date chosen by you.
For this to happen, you need to add a mandate.
There are 2 ways this can happen:
OTM: It stands for One-Time Mandate. It is supported by nearly all banks.
Biller: This method is supported by a few banks and not all though it is also available on Groww for those who wish to use it.
How to Start an SIP using OTM
We will look at the first process, which is starting while you are investing
1. Tap Invest Now
Go to the mutual fund page and tap on 'Monthly-SIP'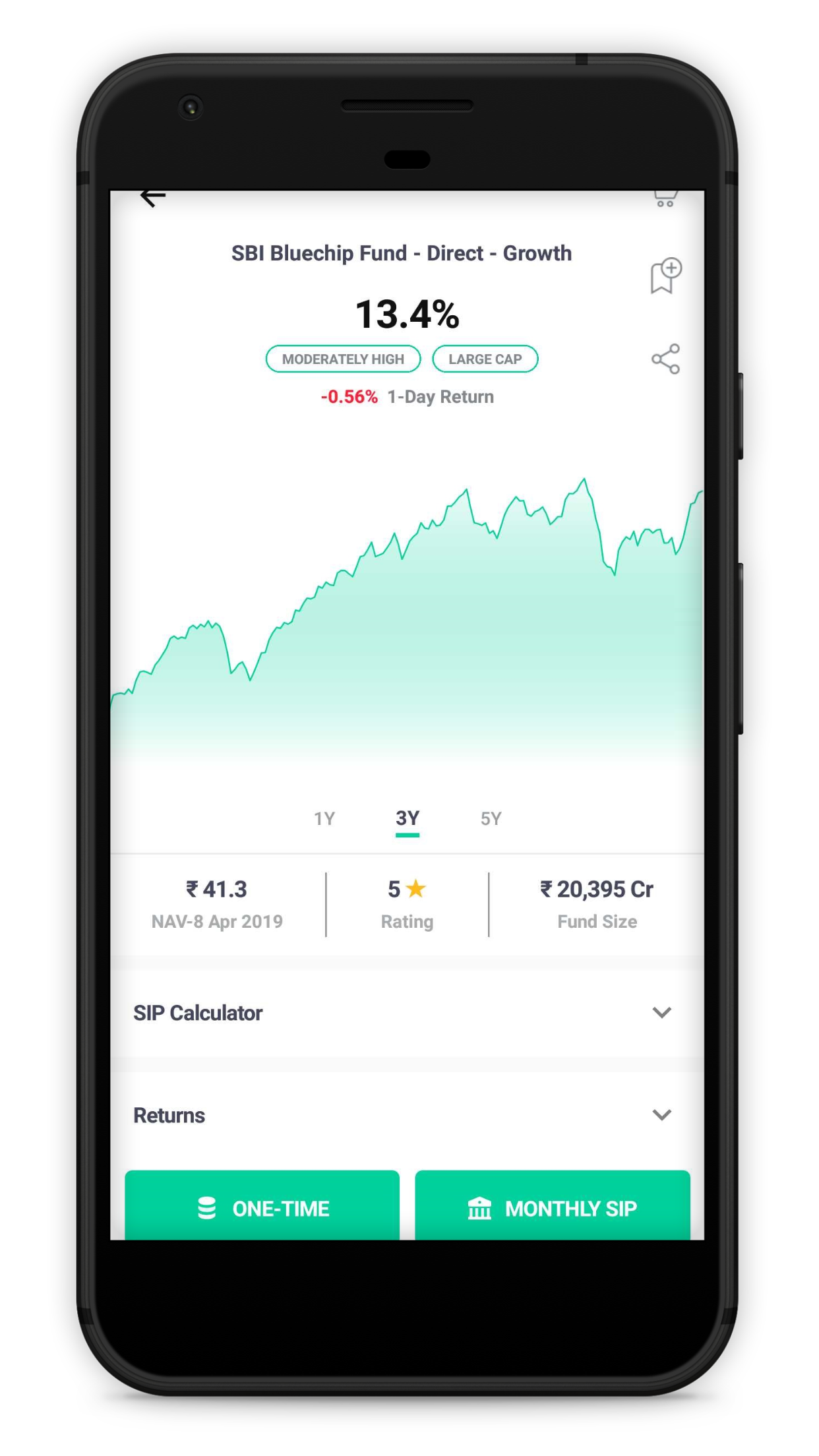 2. Choose the Amount You Want to Invest
Insert the amount you want to invest and tap on 'Proceed'
 
Once you tap on proceed, you can check the order once again and tap on 'Confirm Order'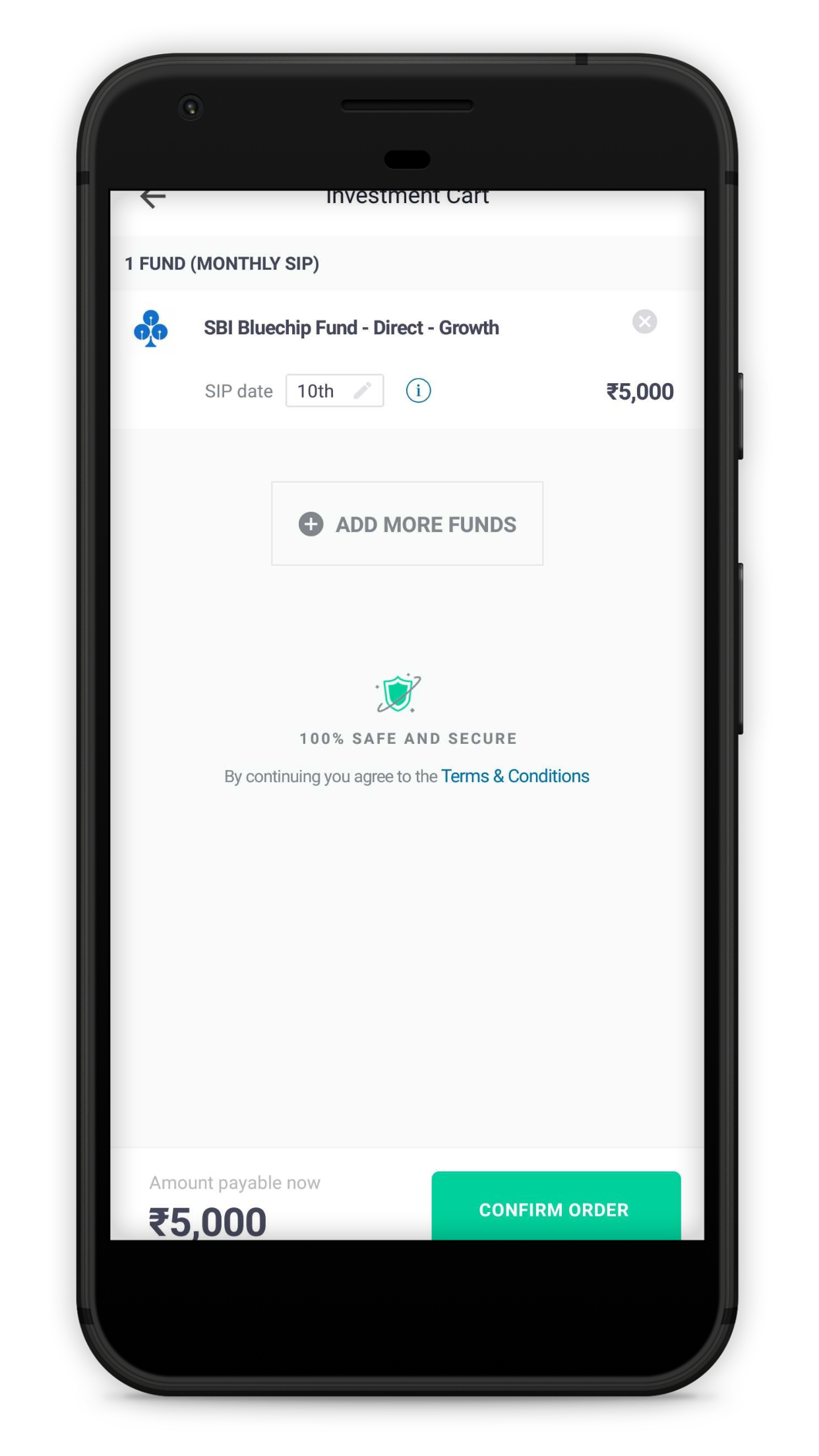 4. Complete the Payment Process
Complete the payment process via net banking, by tapping on 'Pay Using NET Banking'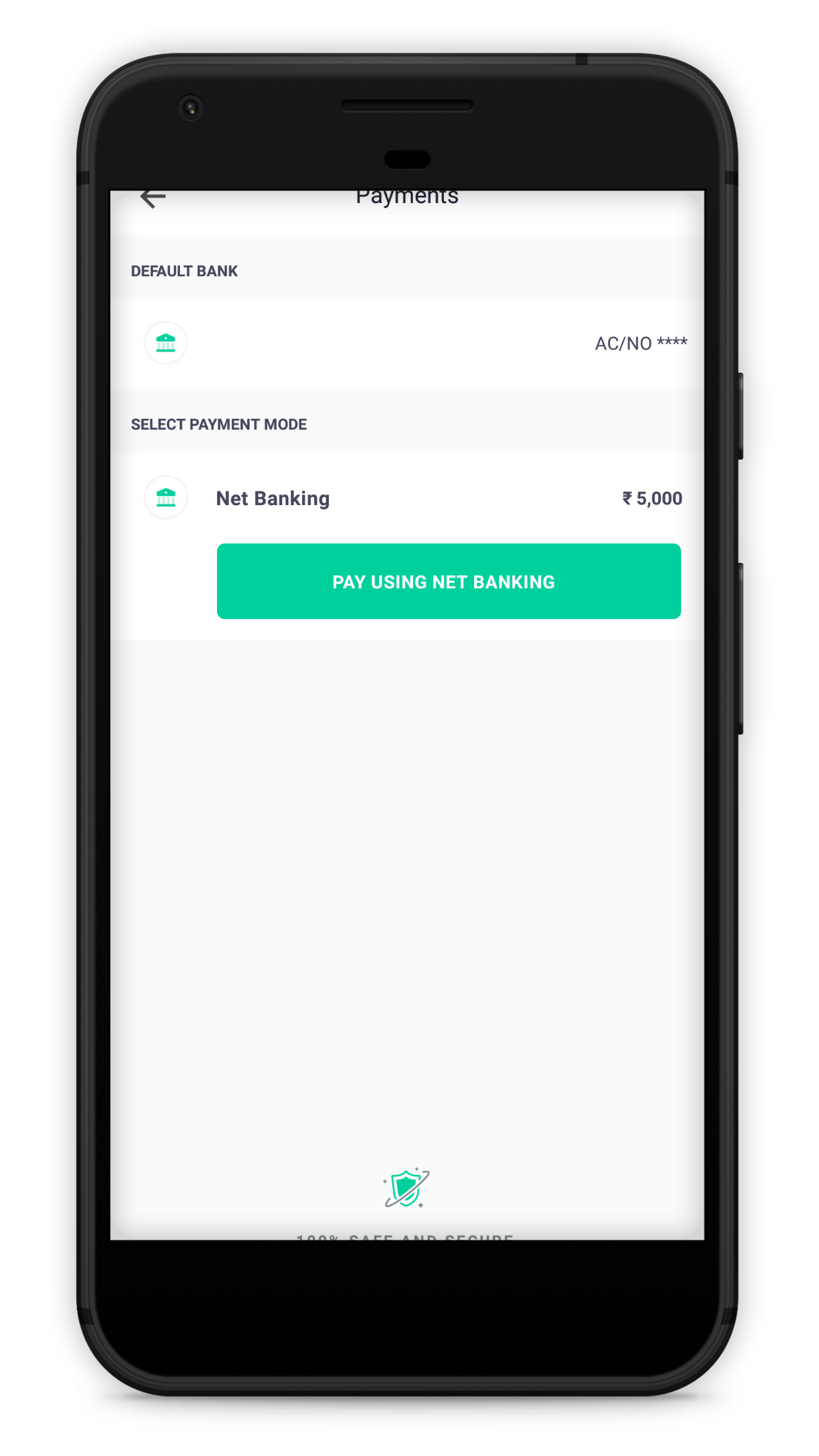 5. Tap on 'Automate SIP Investments'
Once you have paid, you will be directed to the success screen, where you will see an option called 'Automate SIP Installments'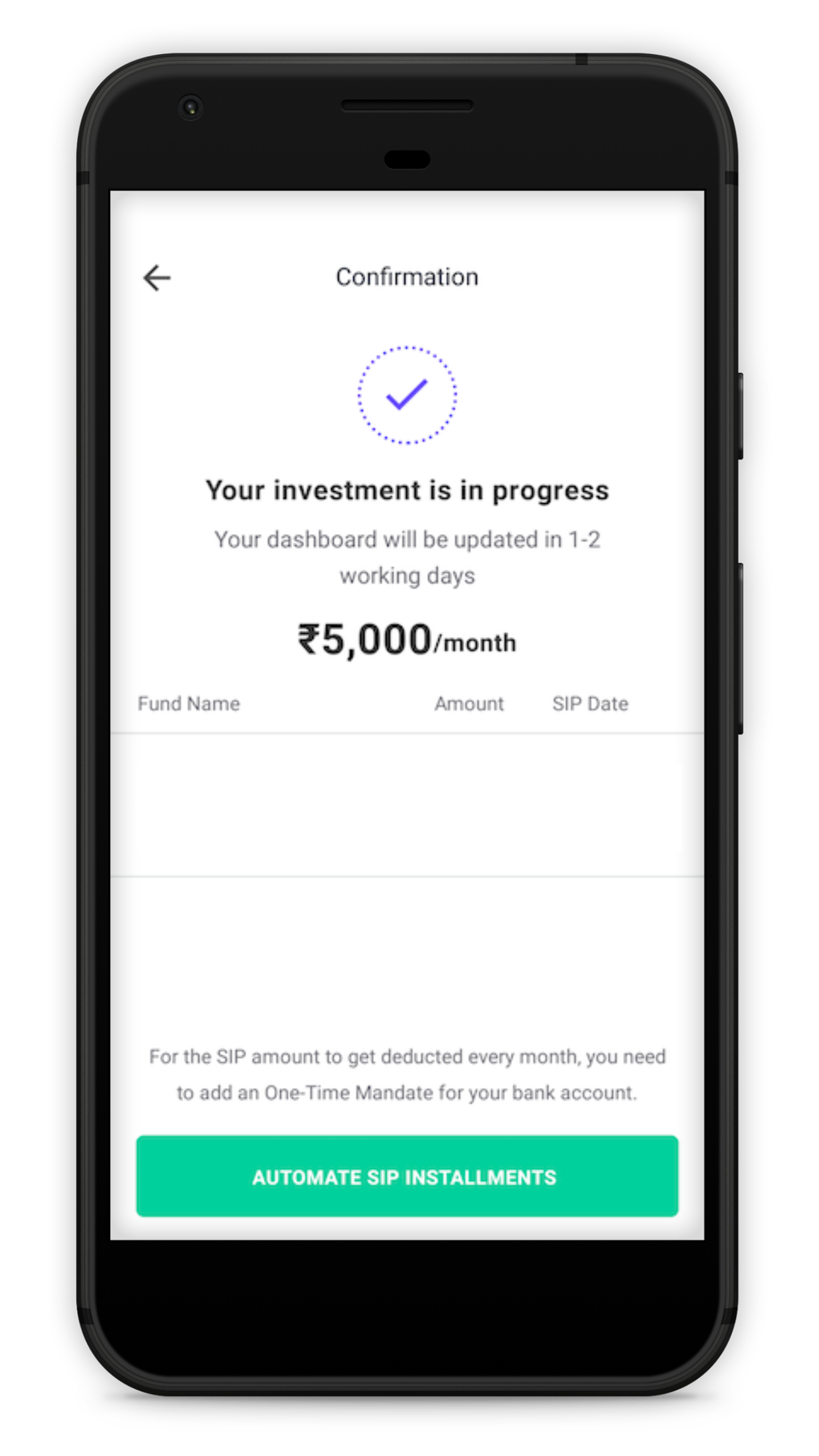 6. Tap on Generate 'OTM'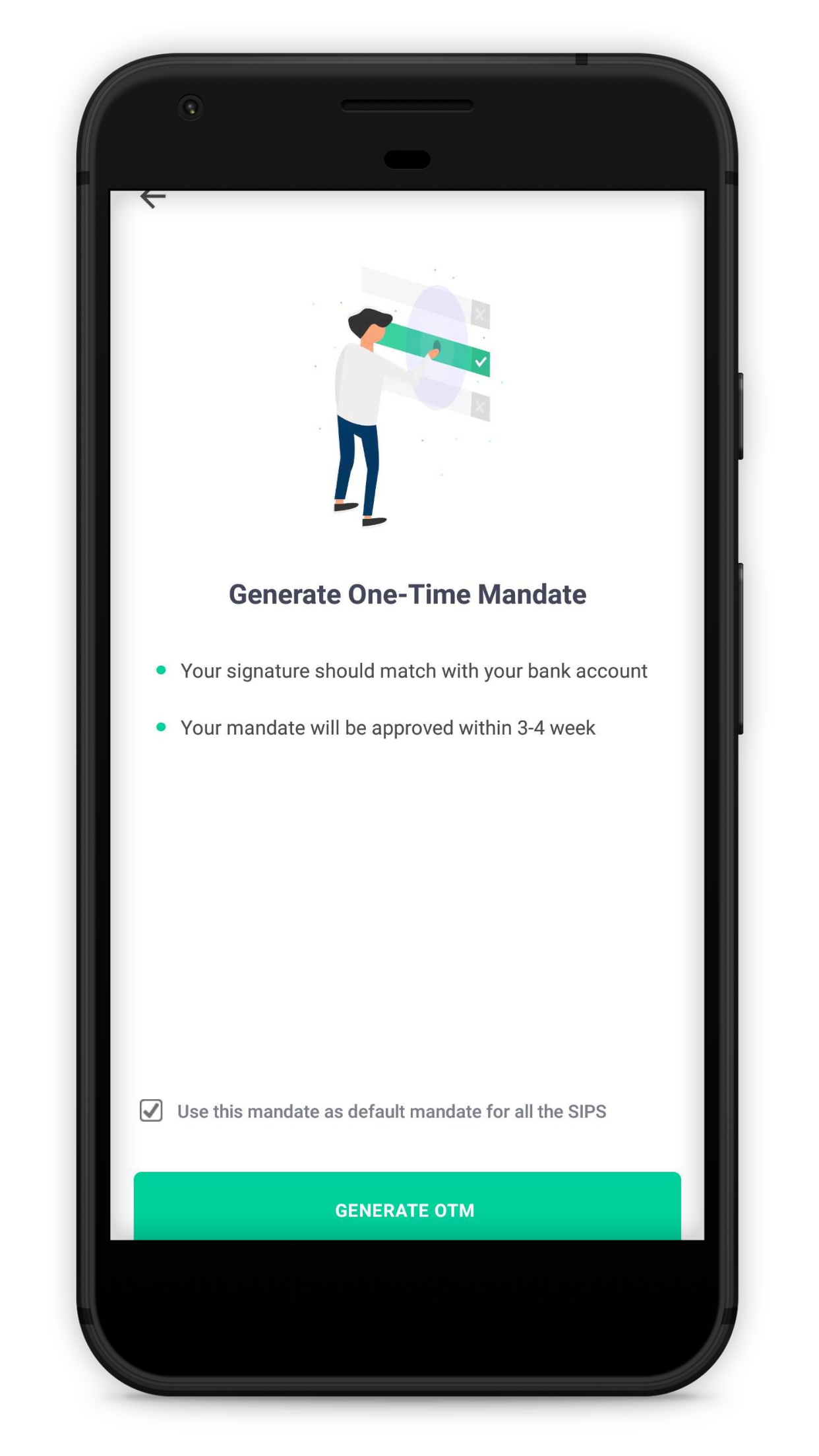 7. Go to Your Email ID
Once you tap on 'Generate OTM',  the form will be sent to your registered email id.
You will find an email from 'Groww Support', tap on it and you will find the mandate form attached to the mail.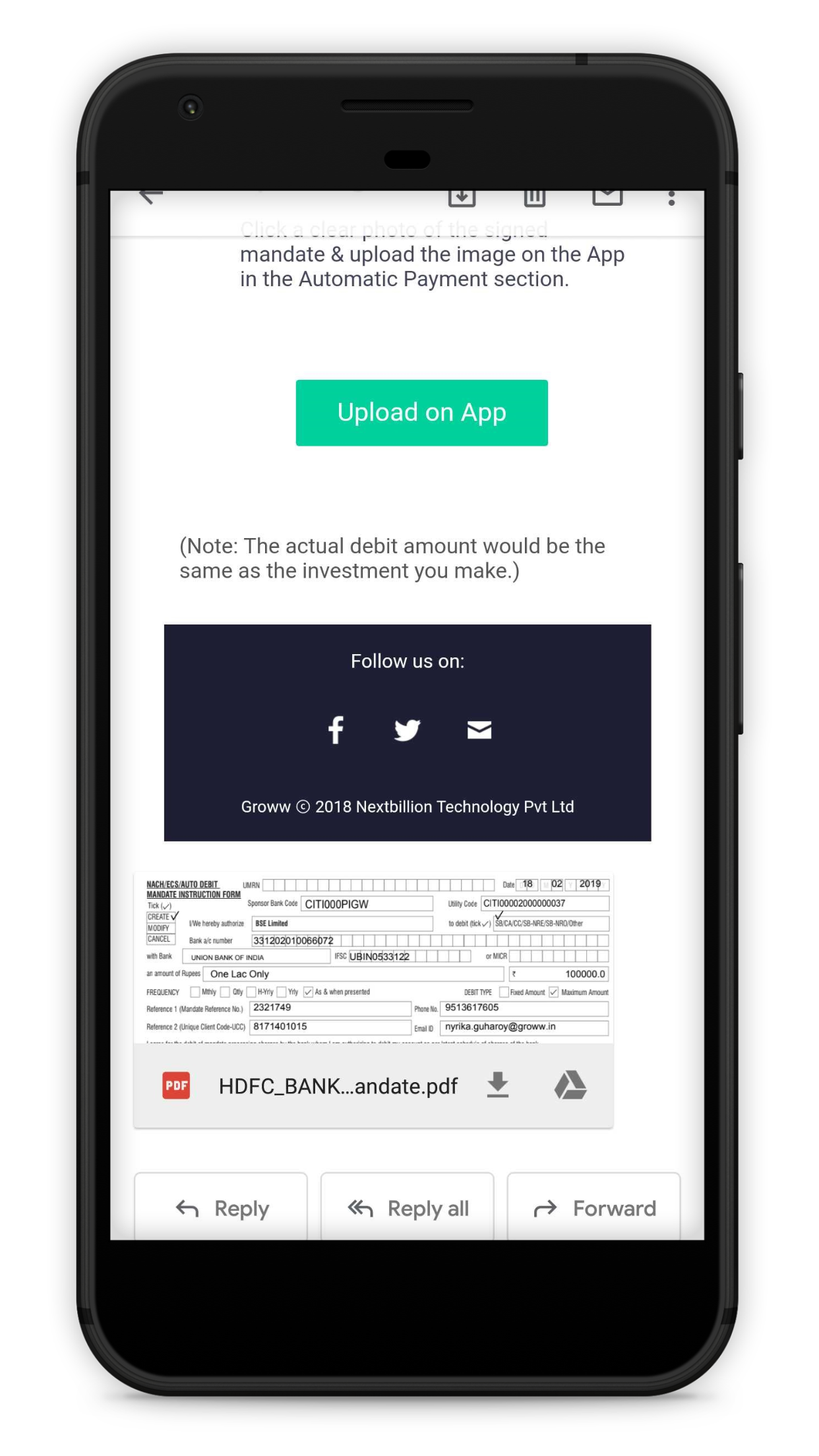 8. Print out the Mandate, Sign it and Upload it
This is an auto-filled form, you will just have to sign it.
Once done, return to the app and tap on 'Bank and Mandate Details',
and once you reach the mandate page, tap on 'Upload Signed Mandate'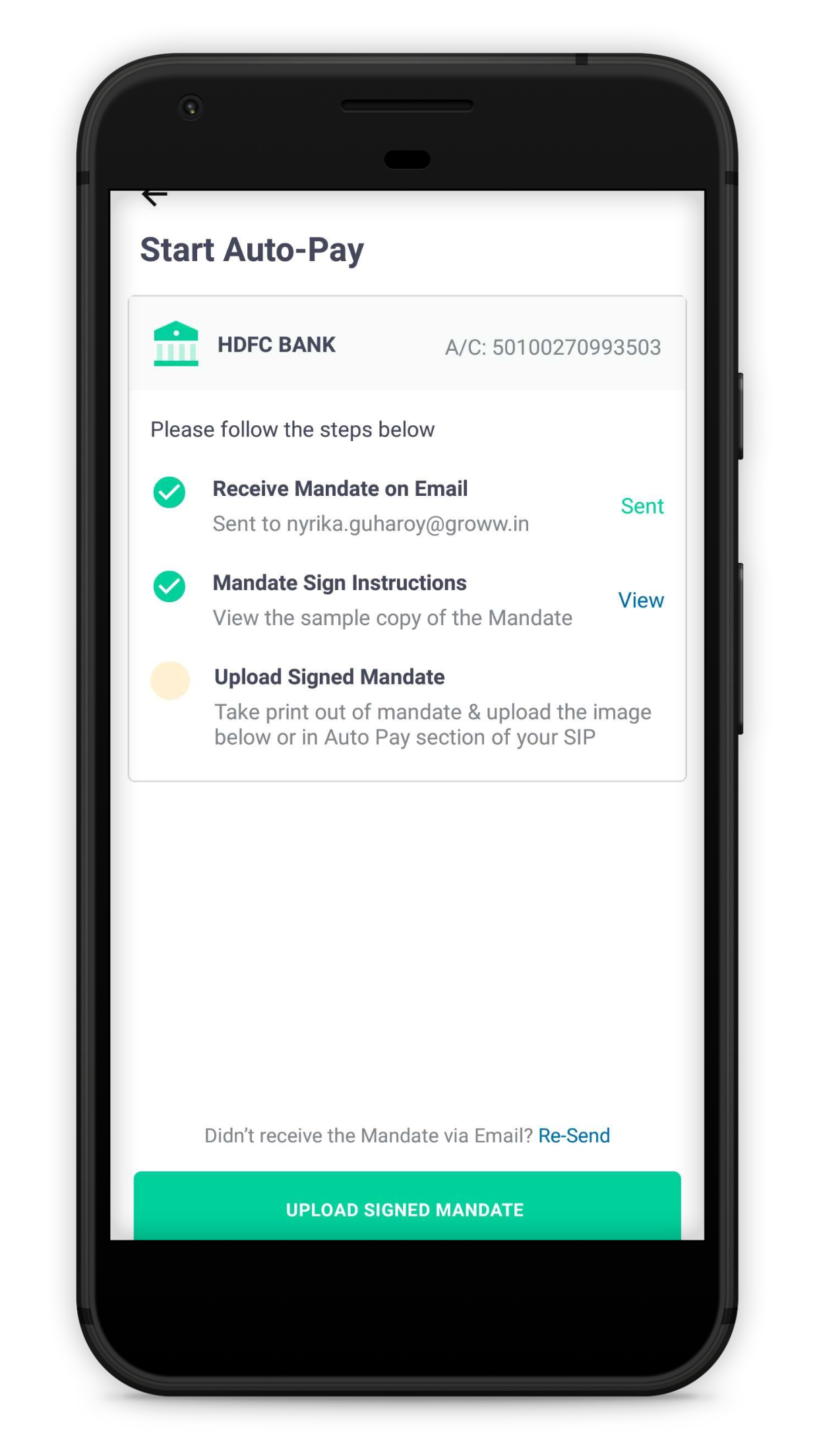 You will have to upload the 'back', as well as the 'front' of the mandate. Once done, tap on 'Continue'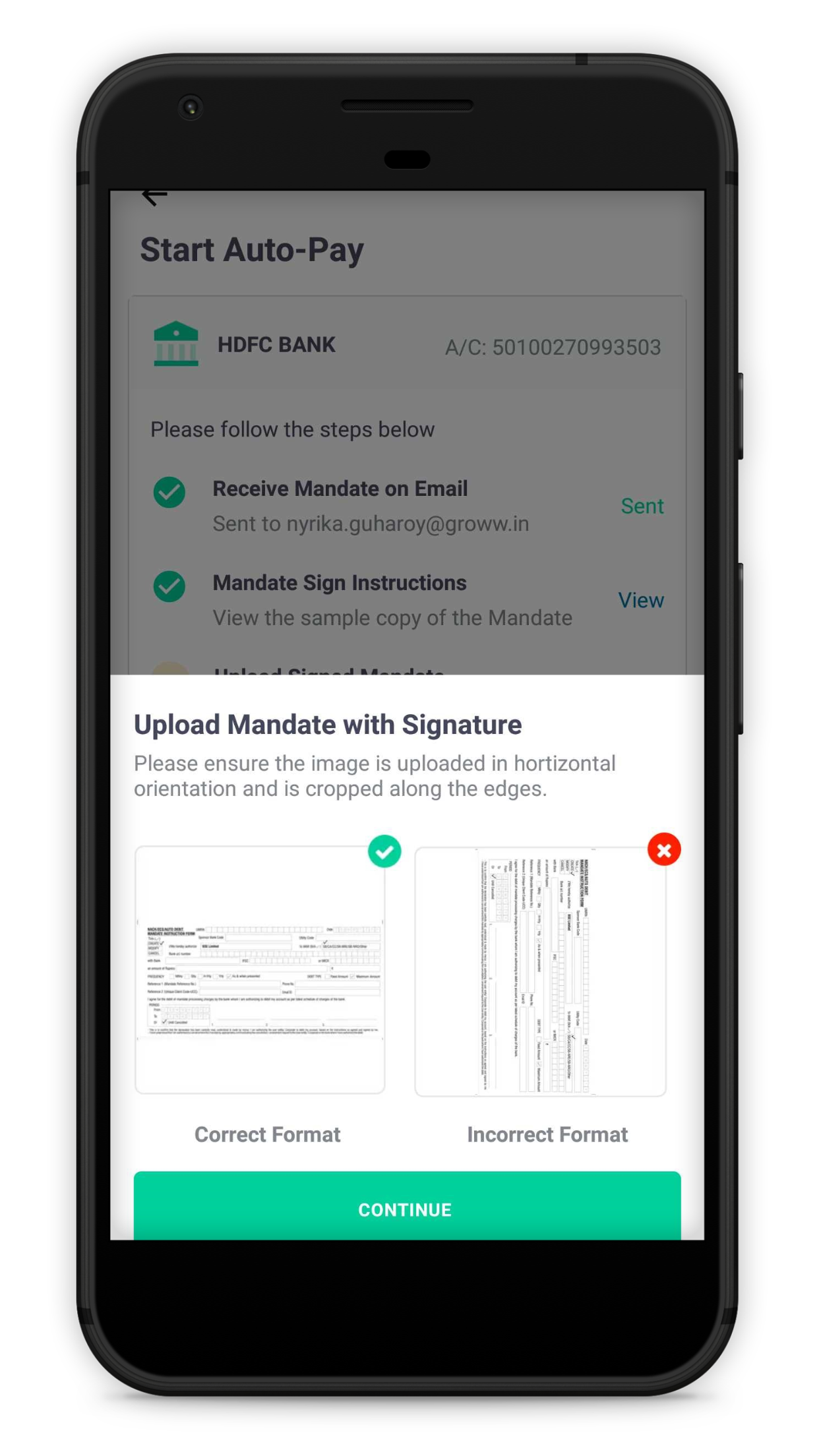 Done!
Your OTM set up process is complete! It takes about 3-4 weeks to get approved.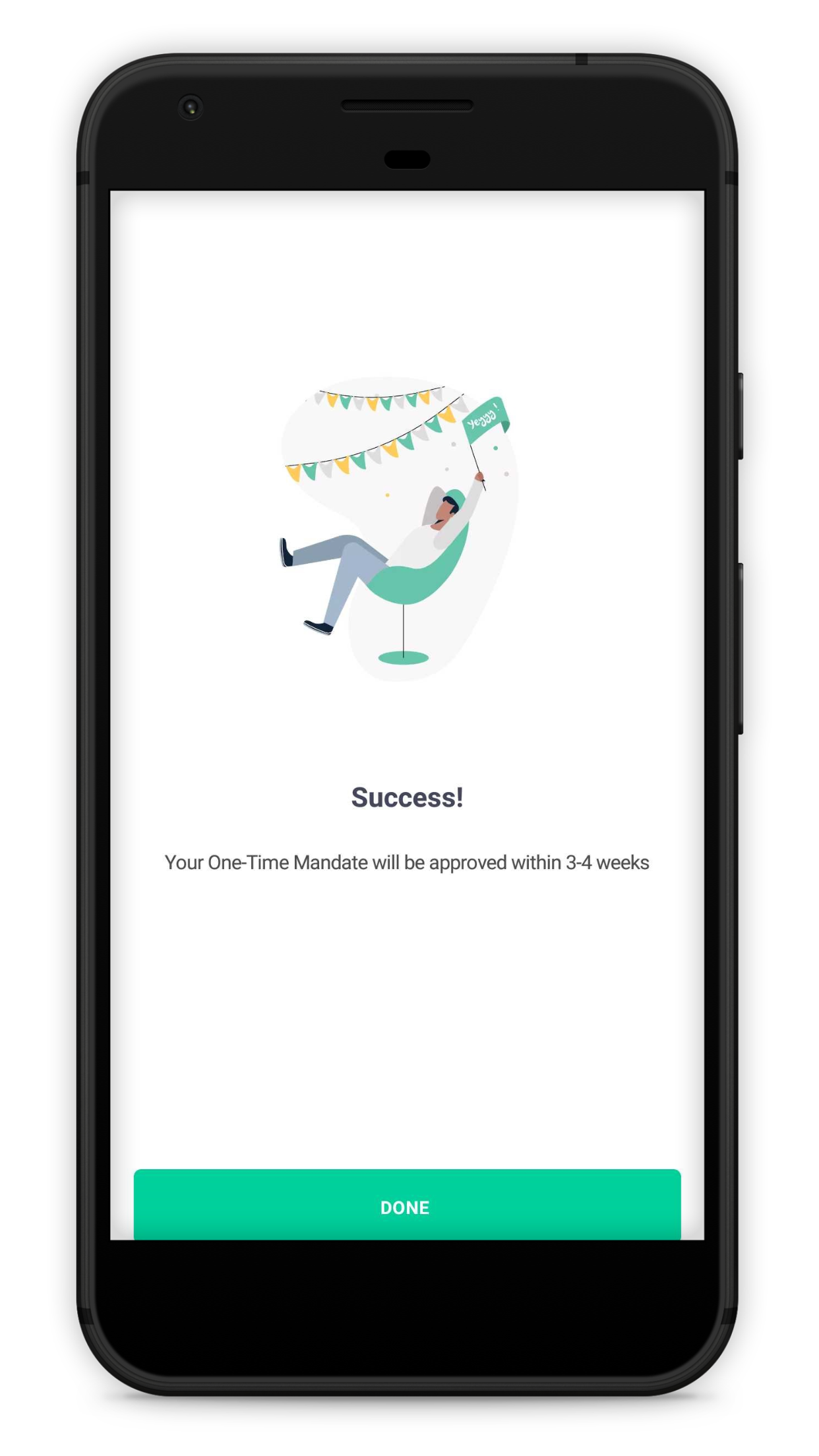 How to Add a Biller on Groww?
Adding a biller is a compulsory step to successfully starting an SIP online on Groww.
Once you've made the initial payment, your first SIP installment has been completed. To ensure that the next SIPs get auto-debited every month, you will need to set up a biller.
Setting up a biller is a one time process. You don't need to add it again when you start another SIP.
Also, if the biller is not set up, the next SIP installment will fail and the SIP amount won't get deducted.  
Here are the steps to add biller in your bank.
1.Copy the 15 digit Unique Registration Number (starting with BSE…) that you got after making the first transaction. You can find this number here –
In the MY SIPS section on your Groww account.
In your registered email account. You would also have received a SIP confirmation email. You can search 'SIP started successfully' in your mailbox. In the email, you will be able to see your URN number starting with 'BSE…". Copy it.
2.Log-in to your bank's internet banking and follow the following steps:
Click Bill Payments
Click Register/Add New Biller
Select Biller – mutual funds
Select Company – BSE ISIP or BSE Ltd
Add the "Unique Registration Number"
Select "Auto Pay" and "Pay Entire Bill Amount"
Confirm to submit the request
Within 3 working days, you will get SMS from your bank approving the new biller. Once the biller is approved, your monthly investments (SIP) is set. You can manage and track the investments on Groww dashboard.
Here is a set of screenshots of the procedure to set up biller in a few popular banks.
How to Add Biller on Axis Bank
Step 1: Go to Pay Bills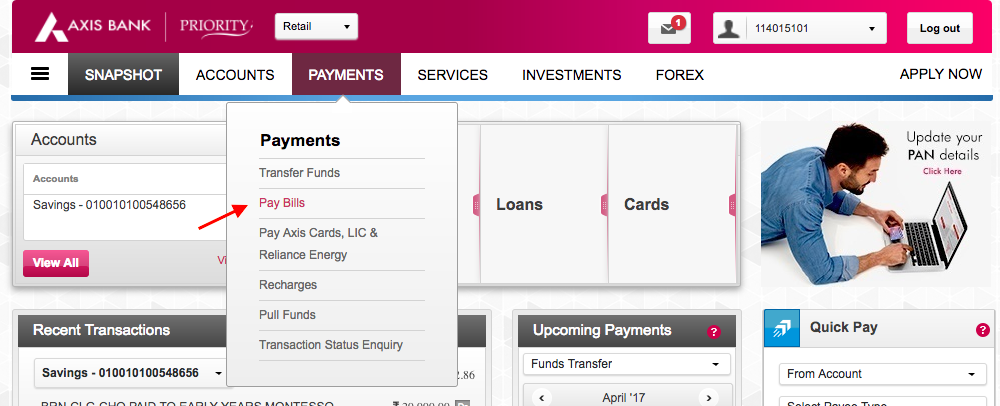 Step 2: Click Add New Biller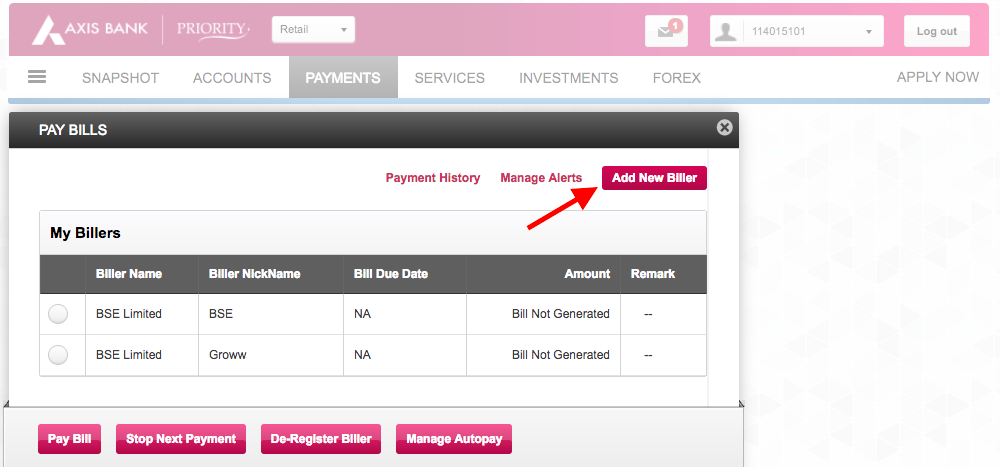 Step 3: Select Mutual Fund and BSE Limited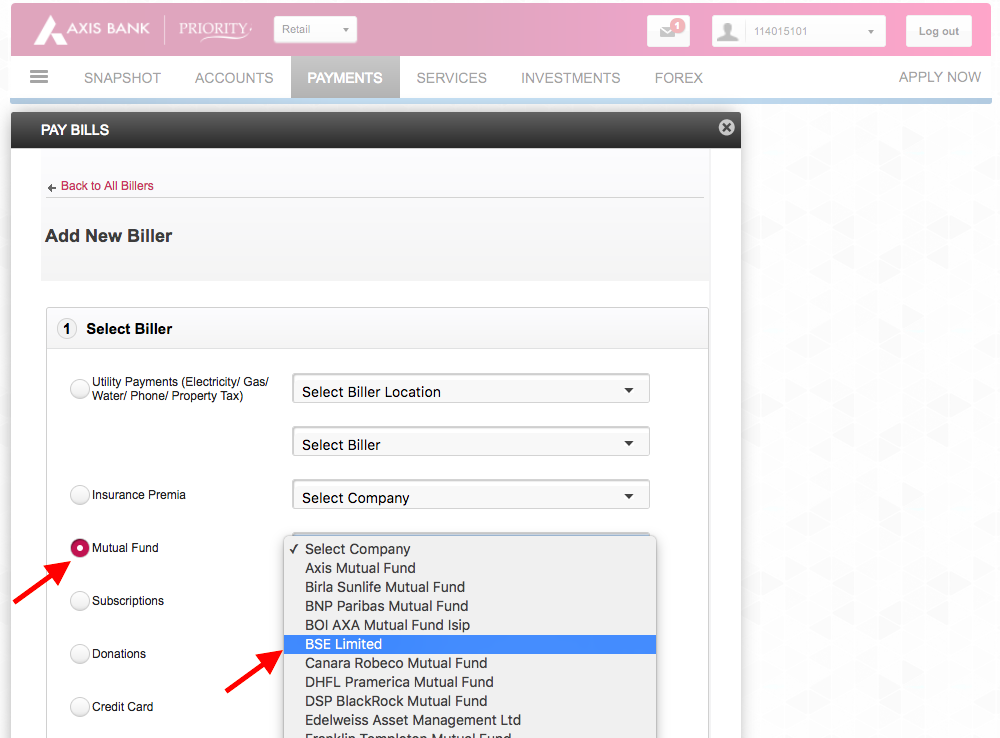 Step 4: Add the URN and select the options as shown below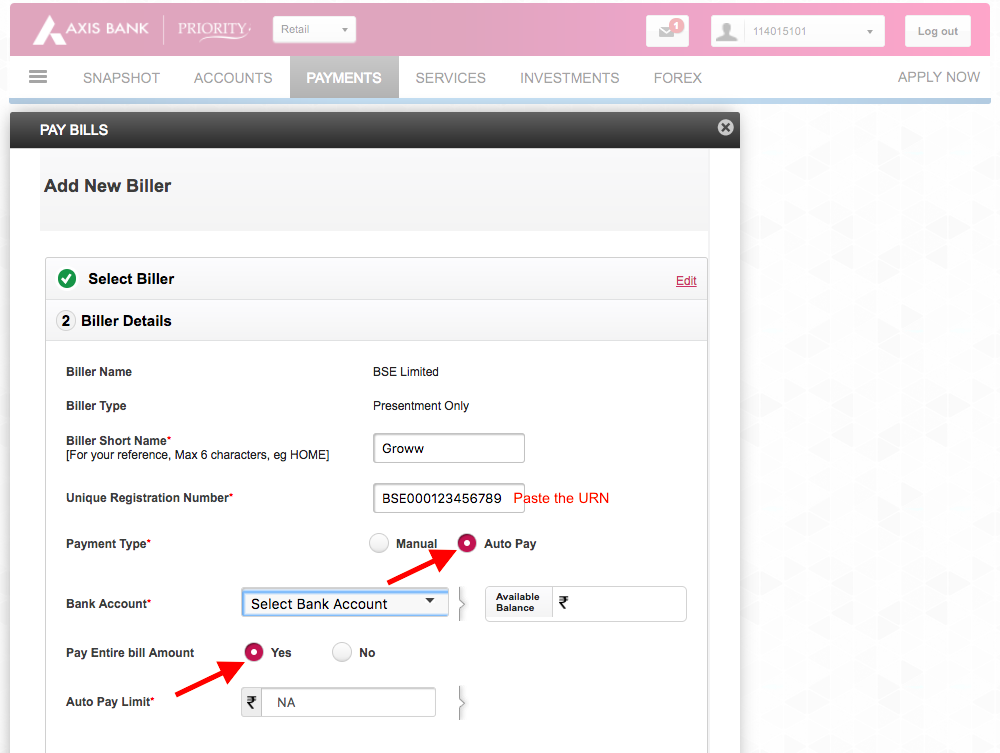 How to Add Biller in HDFC Bank
Step 1: Click BillPay & Recharge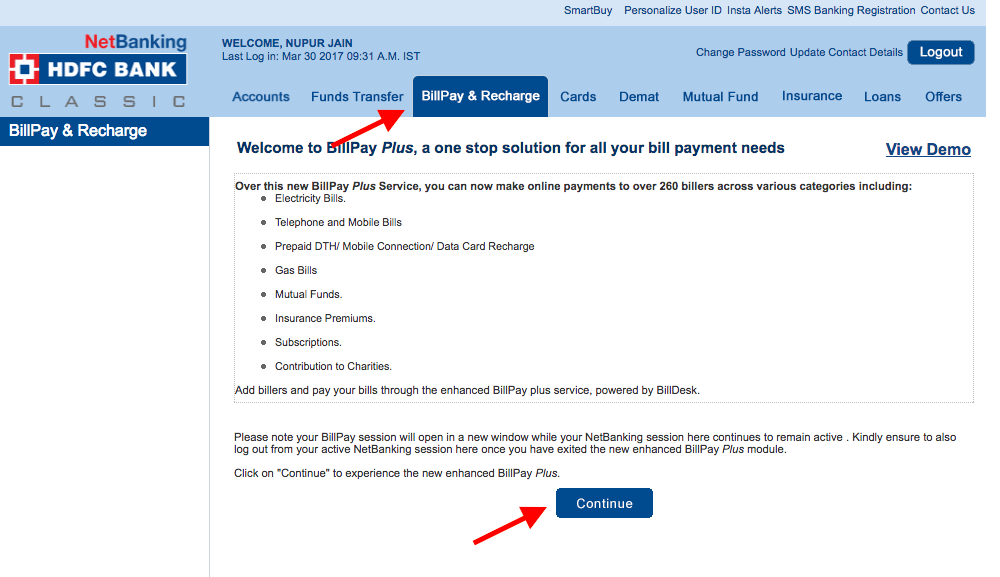 Step 2: Click on Mutual Funds

Step 3: Click on BSE Limited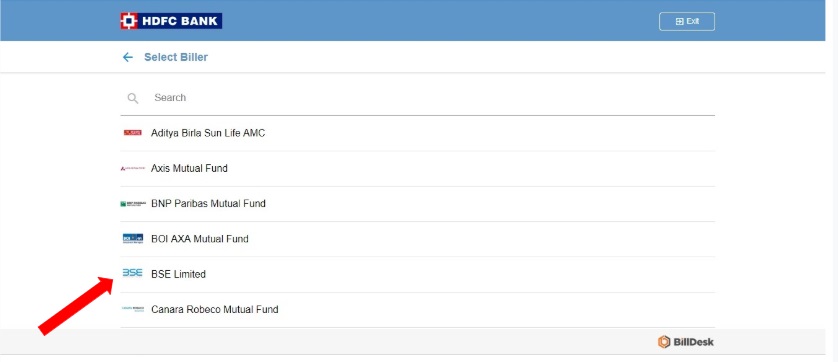 Step 4: Add the URN and other essentials (Nickname can be anything of your choice)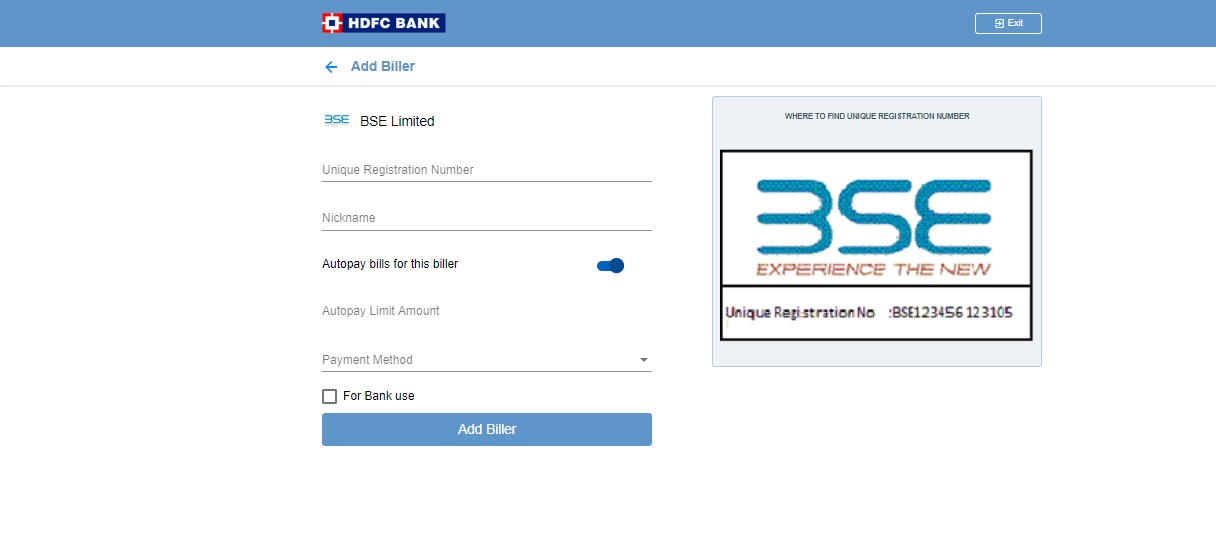 How to Add Biller in ICICI Bank
Step 1: Click PAYMENT & TRANSFER and select BILL PAYMENTS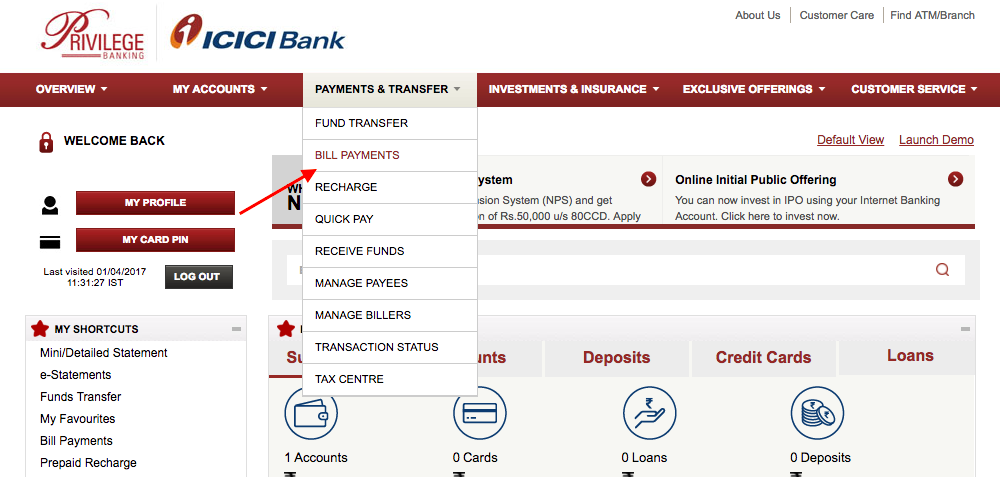 Step 2: Click REGISTER under Pay New Bills section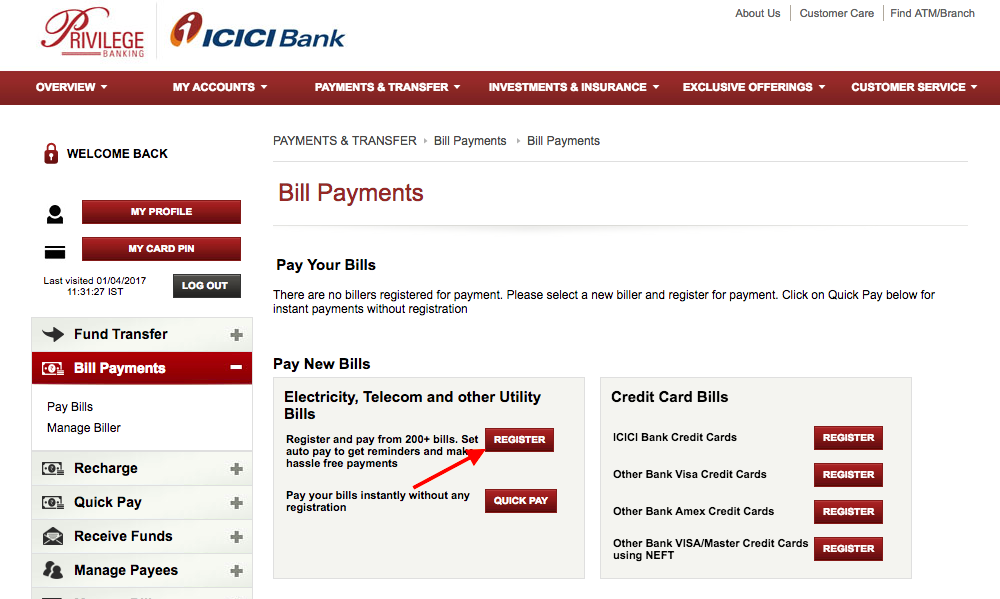 Step 3: Select Mutual Funds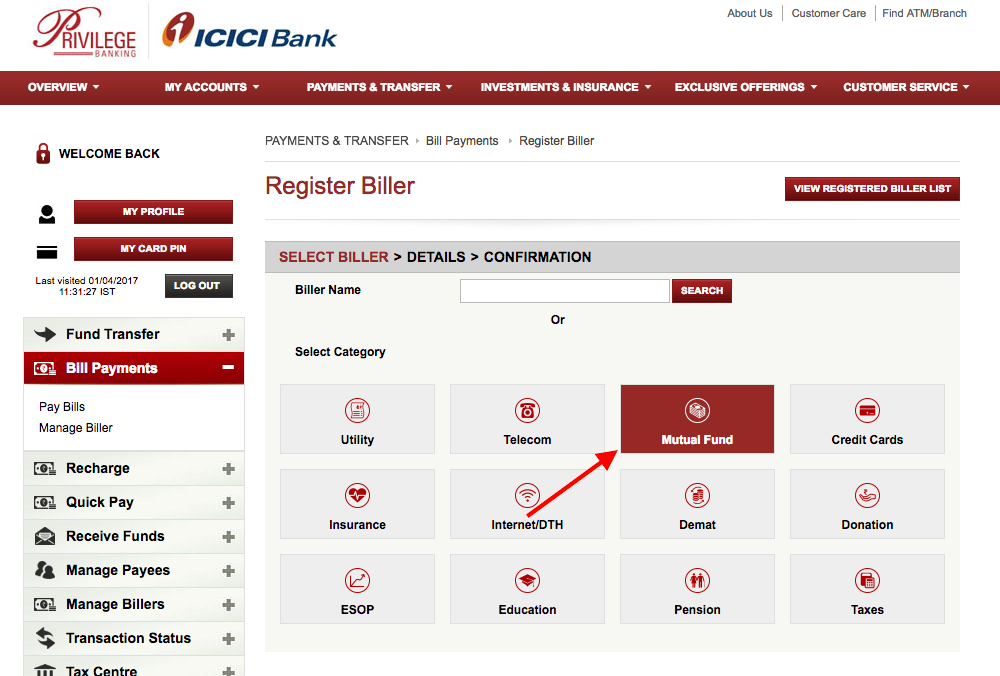 Step 4: Select BSE ISIP# and Click REGISTER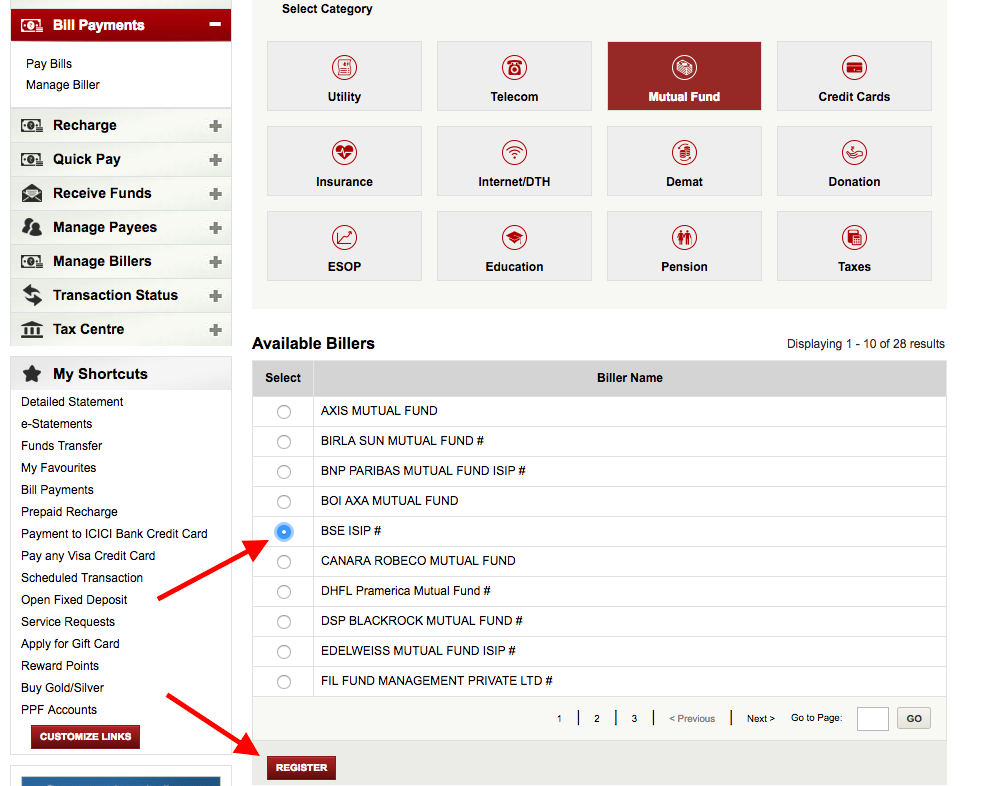 Step 5: Add the URN and select the options as shown below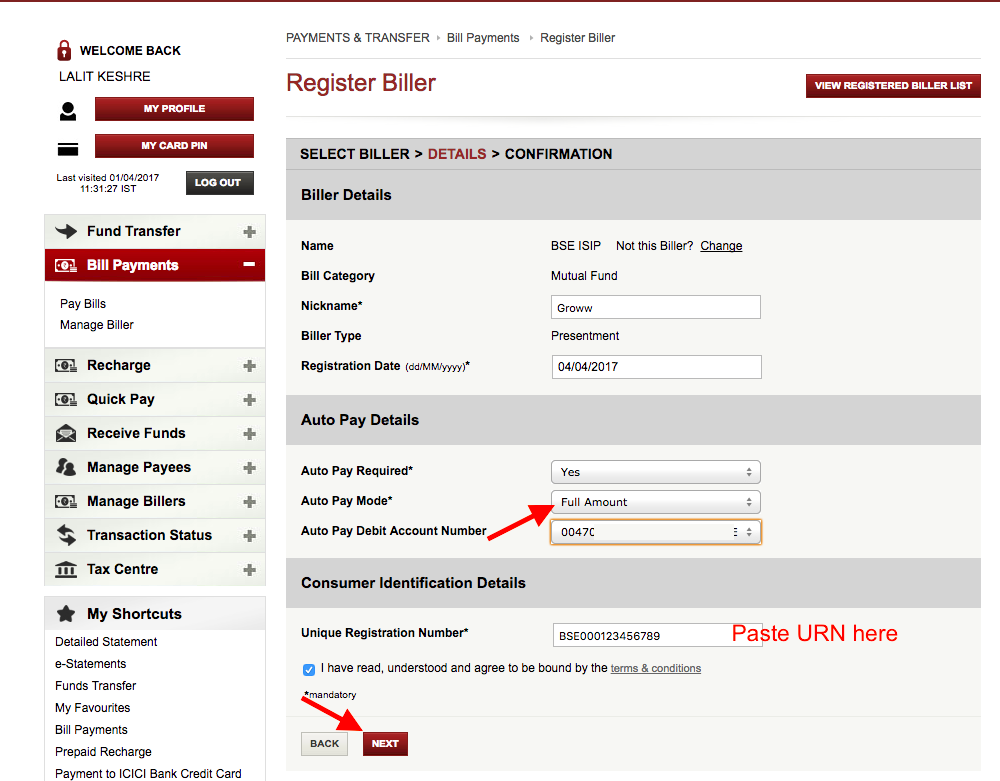 How to Add Biller to SBI
Step 1: Click Bill Payments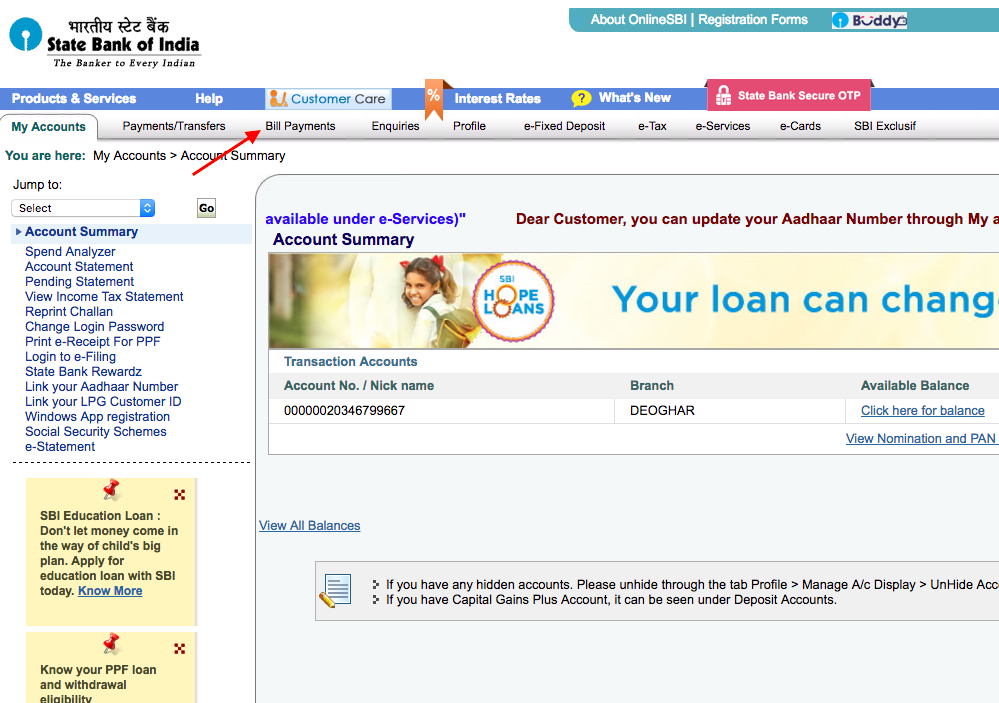 Step 2: Click Manage Biller

Step 3: Click Add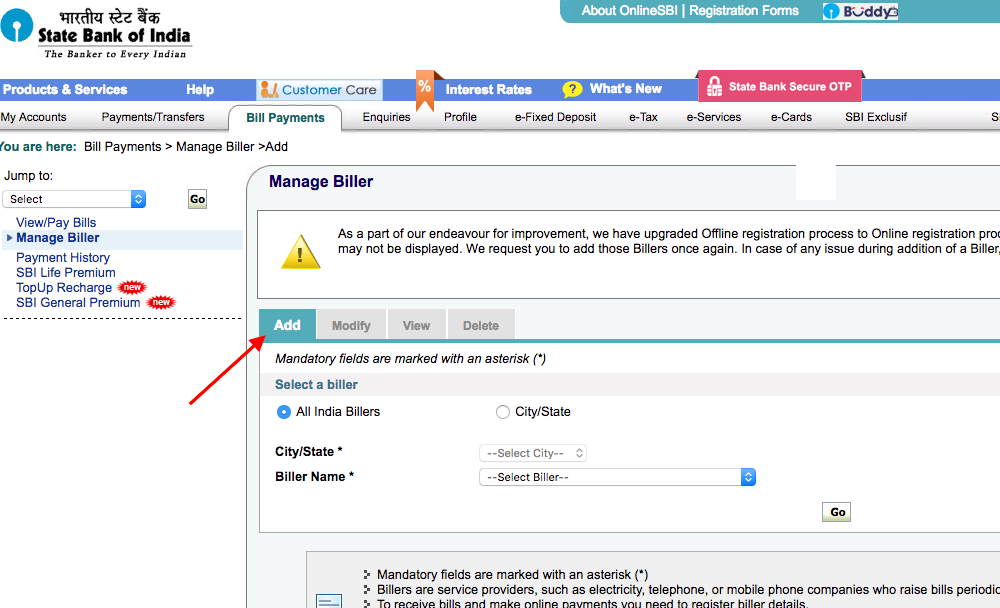 Step 4: Select Biller as BSE Limited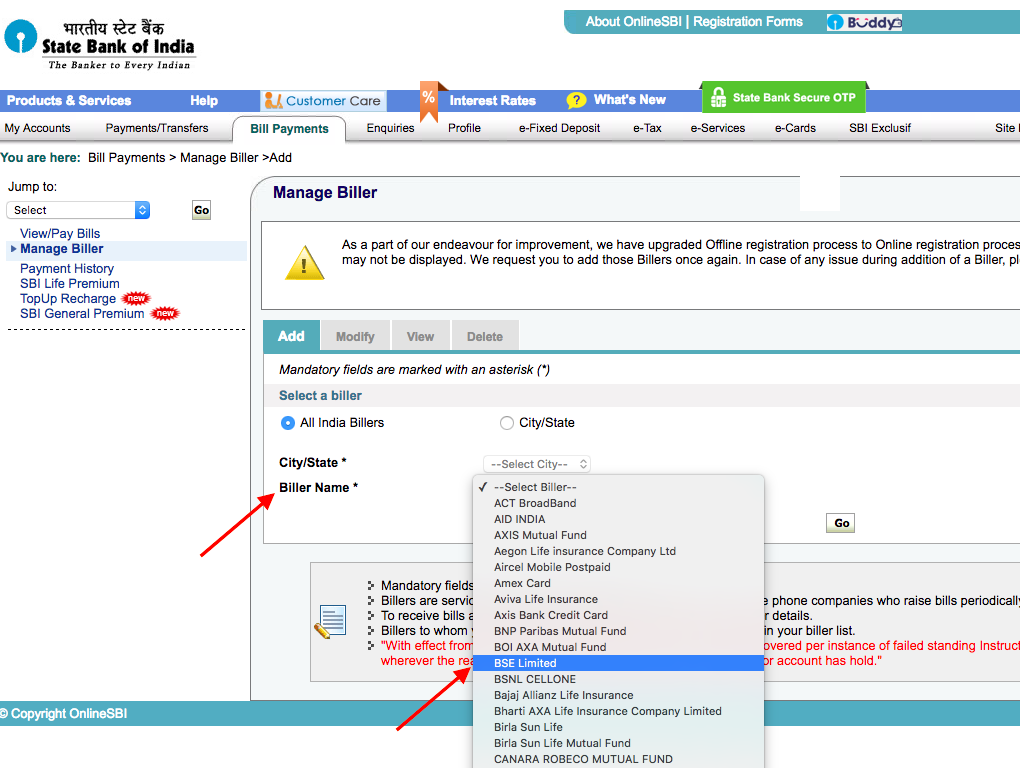 Step 5: Add the URN and select the options as shown below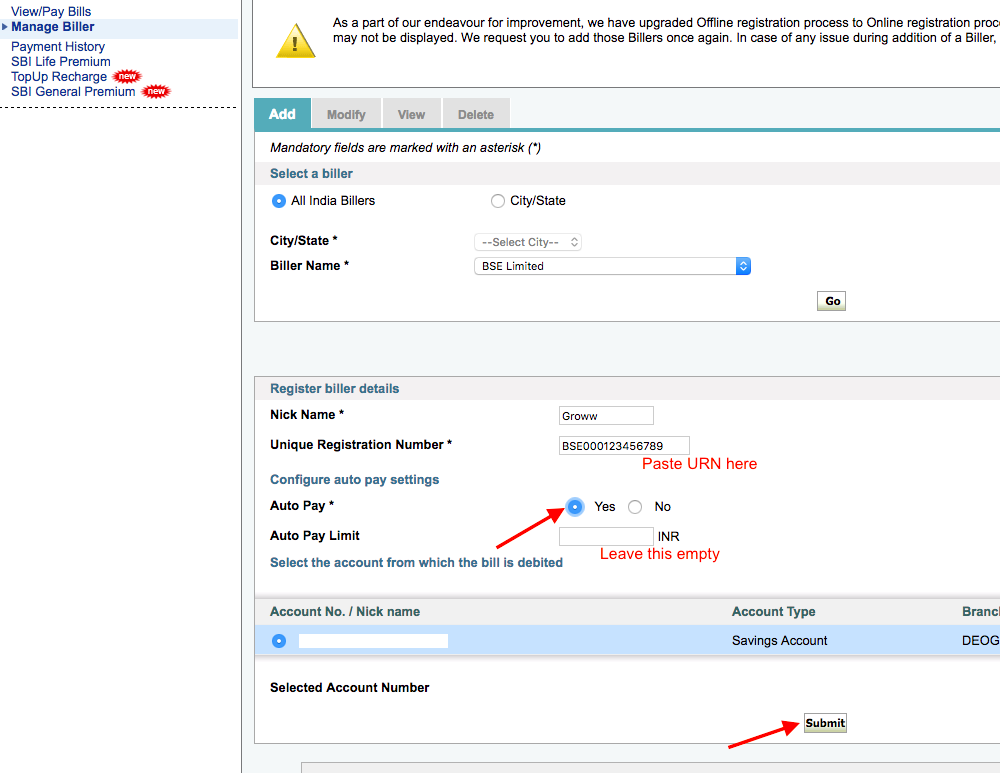 How to Add Biller in Kotak Bank
Step 1: Click on Payment and Transfer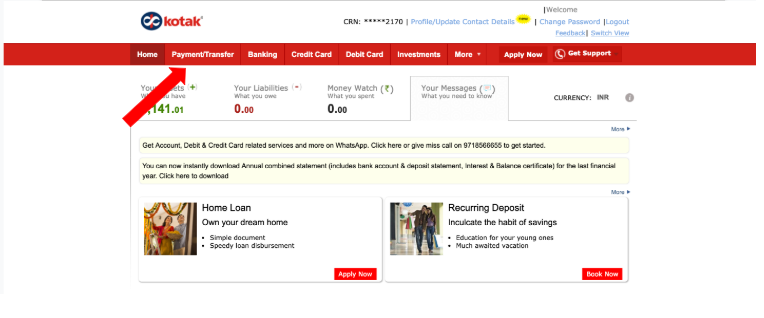 Step 2: Click on Bill Pay/Recharge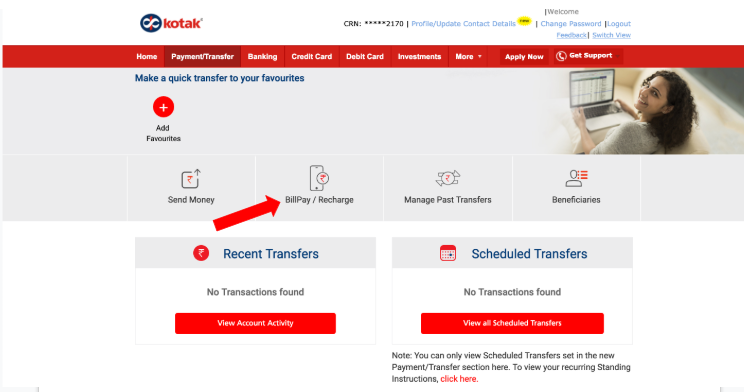 Step 3: Click on 'Click here to add a biller'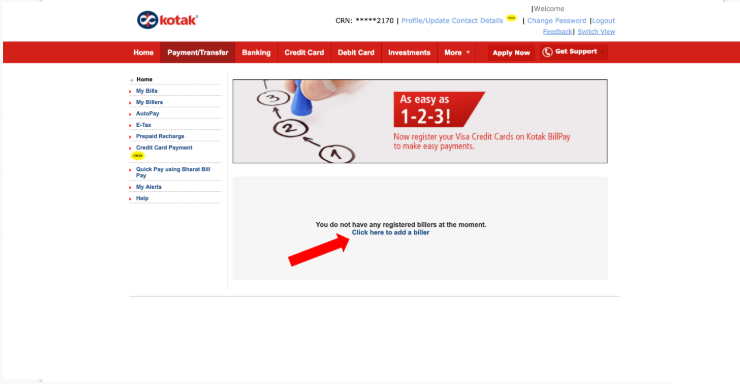 Step 4: Select Mutual Funds as the Option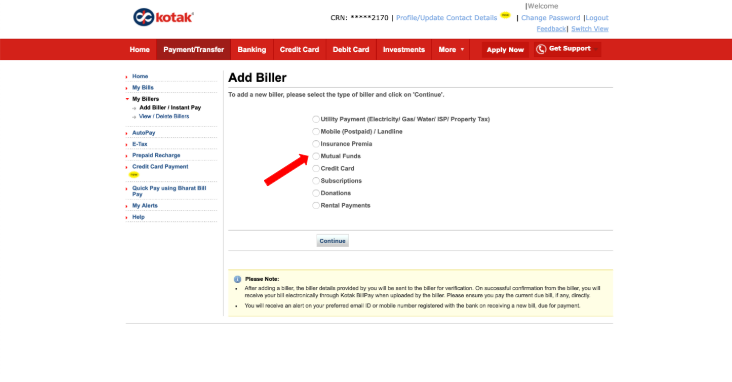 Step 5: Click on 'BSE Limited'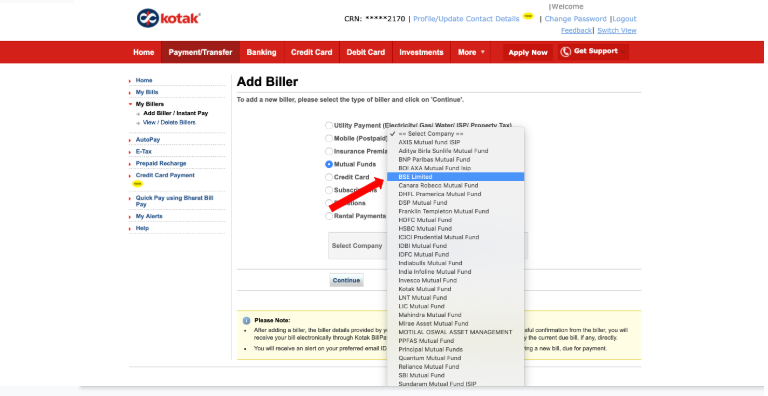 Step 6: Fill up the essentials and then click on 'Add Biller'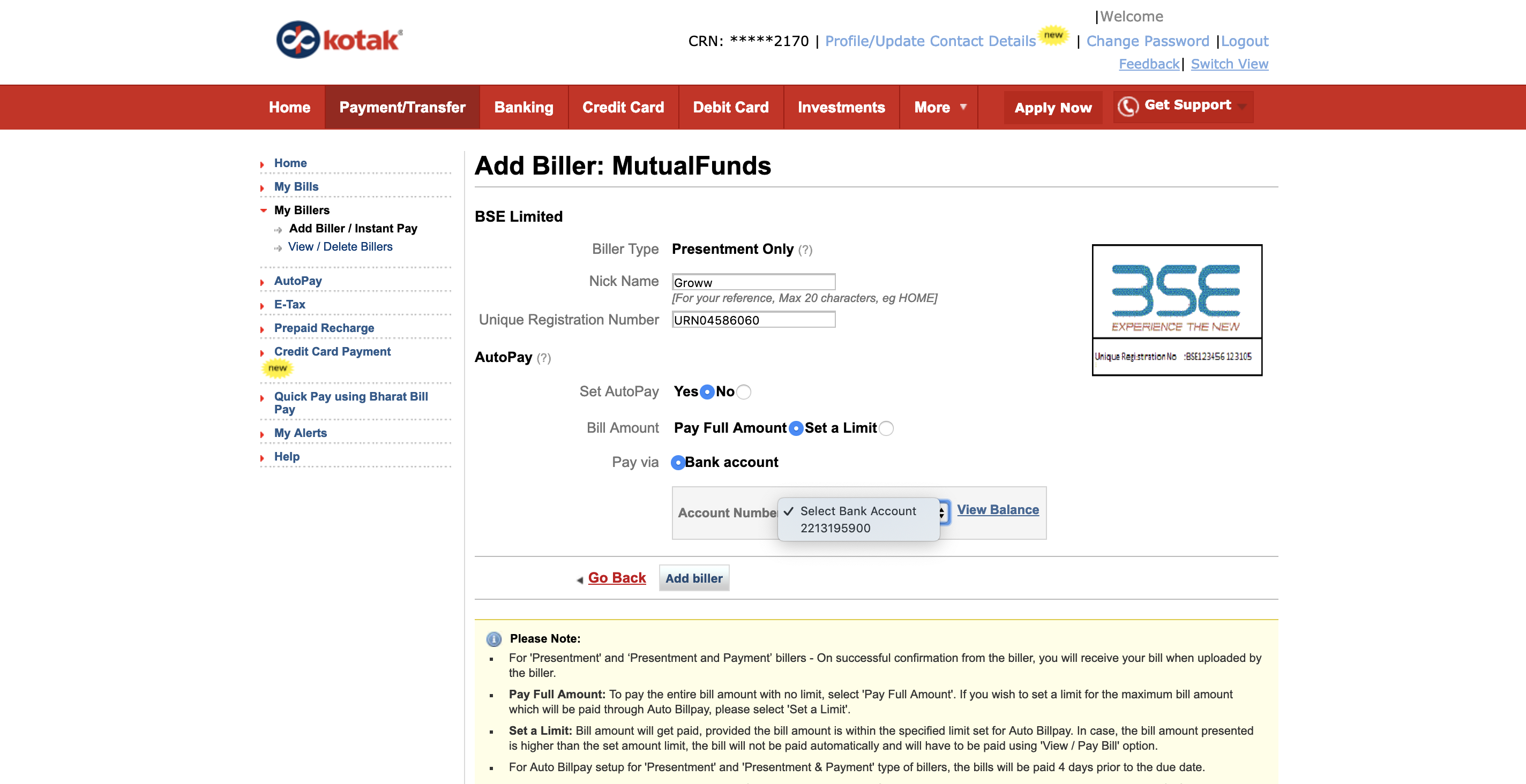 Banks That Support Paperless SIP
Here are a list of banks that are supported for paperless SIP. If your bank is not on the below list, please contact support@groww.in.
State Bank of India
Axis Bank
Bank of Maharashtra
Catholic Syrian Bank
Central Bank of India
City Union Bank
Corporation Bank
Cosmos Bank
Development Bank of Singapore
Federal Bank
FIRSTRAND BANK
HDFC Bank
ICICI Bank
IDBI Bank
Indian bank
INDIAN OVERSEAS BANK
IndusInd Bank
Karnataka Bank
Kotak Bank
Lakshmi Vilas Bank
NKGSB bank
Ratnakar Bank
Saraswat Bank
South Indian Bank
The Dhanalakshmi Bank
UCO Bank
Union Bank of India
United Bank of India
Yes Bank
AMC supported for paperless SIP
Here is the list of Mutual Funds (AMC) that support automated SIP. If the Mutual Fund you want to invest in is not on the list, please contact support@groww.in.
AXIS MUTUAL FUNDS
BIRLA SUN LIFE MUTUAL FUND
BNP PARIBAS MUTUAL FUND
BOI AXA MUTUAL FUND
DHFL PRAMERICA MUTUAL FUND
DSP BLACKROCK MUTUAL FUND
FRANKLIN TEMPLETON MUTUAL FUND
HDFC MUTUAL FUND
HSBC MUTUAL FUND
ICICI PRUDENTIAL MUTUAL FUND
IDBI MUTUAL FUND
IDFC MUTUAL FUND
INVESCO MUTUAL FUND
KOTAK MAHINDRA MUTUAL FUND
L&T MUTUAL FUND
LIC MUTUAL FUND
MIRAE ASSET MANAGEMENT
MOTILAL OSWAL MUTUAL FUND
PEERLESS MUTUAL FUND
PPFAS MUTUAL FUND
PRINCIPAL MUTUAL FUND
QUANTUM MUTUAL FUND
RELIANCE MUTUAL FUND
SBI MUTUAL FUND
TATA MUTUAL FUND
TAURUS MUTUAL FUND
UTI MUTUAL FUND
Happy Investing!