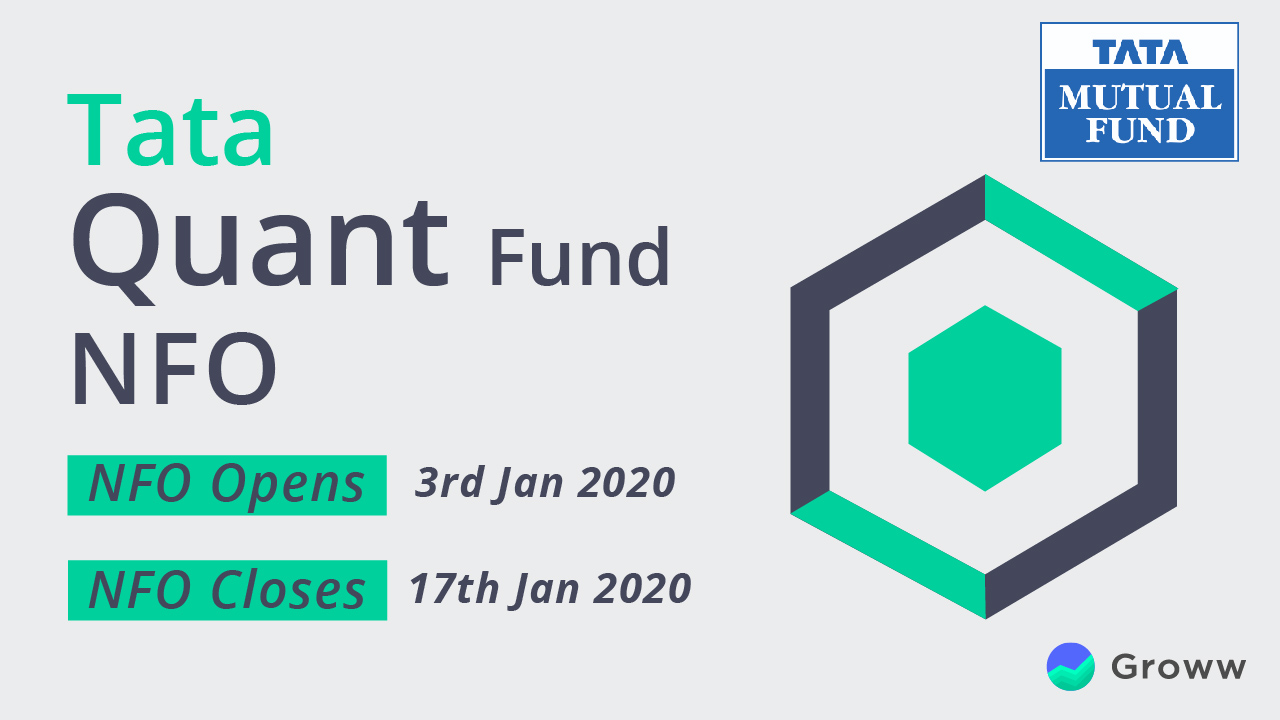 Tata AMC has launched a new open-ended mutual fund scheme named as Tata Quant Fund. The NFO is open for subscription from 3rd January 2020 to 17th January 2020. Since this is an open-ended scheme, it would reopen for subscription on 28th January 2020, after the NFO period. Tata Quant Fund is a multi-factor systematic mutual fund scheme following a quant-based investing theme. This product is suitable for investors who are looking to invest in equities & equity related instruments with medium to long term capital appreciation prospects. 
Fund Details
Name of the Scheme
Tata Quant Fund
NFO Dates

Opens on 3

rd

January 2020 & closed on 17

th

January 2020

Scheme Type

An open-ended equity scheme following quant-based investing theme.

Risk Level

Classified as High-Risk Scheme

Fund Manager

Sailesh Jain

Benchmark

BSE 200 TRI

Minimum Investment Amount

Purchase: Rs. 5000 and in multiples of Re. 1 thereafter

Additional Purchase: Rs. 1000 and in multiples of Re. 1 thereafter

 

Entry Load (During NFO)

N.A.

Exit Load

1% of the applicable NAV, if redeemed/switched out on or before the expiry of 365 days from the allotment date
About The Fund 
Tata Quant Fund is a quant-based mutual fund scheme that uses an internally developed machine, learning-based model, to make important investment decisions. This is achieved with the help of embedded AI modules that dynamically choose parameters and strategies with reference to the prevailing conditions. This scheme is best suited for investors who are seeking to align with the strength of Artificial Intelligence (AI) & Machine Learning (ML) for investment decisions.
For portfolio creation, the fund invests in stocks that form part of S&P BSE 200 or Equity Derivative Segment. This fund consistently focuses on achieving better returns than the index and avoid negative absolute returns. Keeping this in mind, the scheme offers a regular plan and direct plan for investment across a common portfolio:
Regular Plan: This plan is for investors who wish to make investments through a distributor.
Direct Plan: This Plan is only for those investors who purchase units in a scheme directly with the fund.
Both plans offer a growth option and monthly dividend option. The dividend option has sub-options of dividend payout & dividend reinvestment.
Compulsory Dividend Reinvestmen

t
In order to cut down the expenses of the scheme and also for the convenience of the investors, the dividend shall be compulsorily reinvested( for investors of non-electronic mode) within the scheme at the applicable ex-dividend NAV if dividend amount is less Rs.500 in the same option of the respective plans of the scheme at the ex-dividend rate.
Please note that the Dividend shall be distributed at the discretion of the Trustees subject to availability of distributable surplus.
Investors opting for the Direct Plan of a Scheme will have to indicate "Direct Plan" against the scheme name in the application form e.g. "Tata Quant Fund".
Default Option
Investors should tick the 'option' (dividend or growth) and sub-options (dividend payout, dividend reinvestment, and dividend sweep) in the application form while investing in the Scheme. If the investors do not mention/ indicate any option in the application form, then the units will, by default, be allotted under the Direct Plan- Growth Option. If no dividend sub -option is mentioned/indicated in the application form by the investor then the units will, by default, allotted under the dividend reinvestment sub-option.
Minimum Subscription Amount
Growth option: Rs 5,000/- and in multiple of Re.1/- thereafter
Dividend (payout): Rs 5,000/- and in multiple of Re.1/- thereafter
Additional Purchase: Rs.1000/-& in multiples of Re.1/-thereafter.
Minimum Redemption amount/units is Rs.500 or 50 units or folio balance whichever is lower.
About The Fund Manager
The scheme is managed by Sailesh Jain, one of the highly experienced Fund Manager of Tata Asset Management Limited. Sailesh joined has joined tata Asset management in November 2018 as Fund Manager (Equities) and has more than 15 years of experience in both fund management and broking. Prior to joining Tata, he was associated with Invesco Mutual Fund, IDFC Securities Ltd. as Head Derivatives, Quant Broking Pvt Ltd. as Vice President and IIFL(India Infoline) as Vice President.
Other Funds Managed by Mr. Sailesh Jain include:
| | |
| --- | --- |
| Fund Name | Time Period |
| Tata Digital India Fund – Regular Plan | since Nov 2018 |
| Tata Equity Savings Fund – Regular Plan | since Nov 2018 |
| Tata India Pharma & Healthcare Fund – Regular Plan | since Nov 2018 |
| Tata Resources & Energy Fund – Regular Plan | since Nov 2018 |
| Tata Arbitrage Fund – Regular Plan | since Dec 2018 |
| Tata Nifty Exchange Traded Fund – Regular Plan   | since Dec 2018 |
| Tata Balanced Advantage Fund – Regular Plan | since Jan 2019 |
| Tata Nifty Private Bank Exchange Traded Fund – Regular Plan | since Aug 2019 |
How Can You Invest In This Fund On Groww?
At first, you need to log in to your Groww account, sign up and complete KYC if you are a new user

In the search bar, type the fund name which is "Tata Quant Fund" in this case

On the fund page, you can check out all the additional information related to the scheme such as  asset allocation, fund managers, holdings and much more
On A Closing Note
With the advancement in technology and the way it has taken the market by storm, it is indeed very important to leverage the computation power of machines for operational efficiency. Tata Quant Fund is a quant-model based fund that makes use of artificial intelligence and machine learning-based models to make investment decisions and this can add a third dimension to how the human brain thinks before investing. Moreover, the quant-based investment will be free from human emotions and biases which can reinforce a better investment decision. However, there is no concrete assurance or guarantee that the investment objective of this scheme will be achieved. Therefore, it is highly recommended that investors should conduct due diligence and invest only if the objectives of the fund aligns with their own.
Happy Investing!
Disclaimer: The views expressed in this post are that of the author and not those of Groww
Investment in securities market are subject to market risks, read all the related documents carefully before investing. Please read the Risk Disclosure documents carefully before investing in Equity Shares, Derivatives, Mutual fund, and/or other instruments traded on the Stock Exchanges. As investments are subject to market risks and price fluctuation risk, there is no assurance or guarantee that the investment objectives shall be achieved. NBT do not guarantee any assured returns on any investments. Past performance of securities/instruments is not indicative of their future performance.