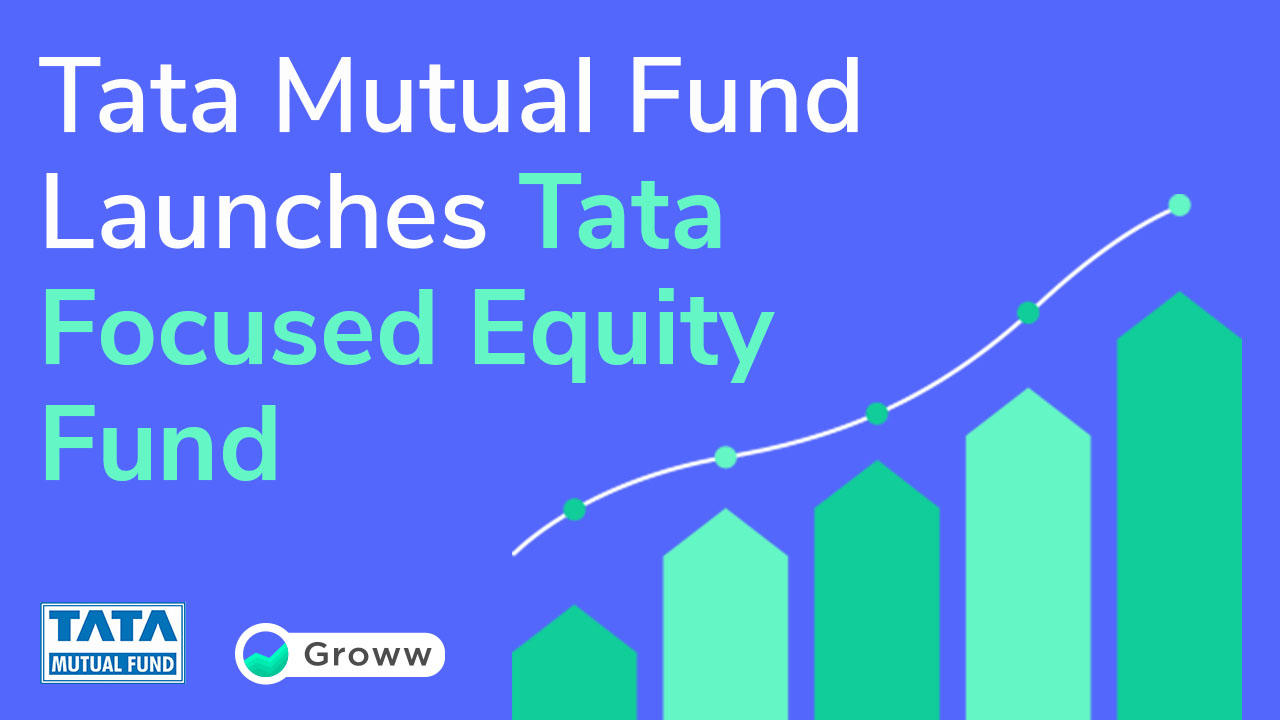 Tata AMC has introduced a new open-ended equity scheme called Tata Focused Equity Fund. Investors can subscribe to this fund from 15th November onwards till 29th November. The scheme is suited for individuals who are looking to invest in equity-oriented schemes with long term wealth creation in mind. Suited for long term capital appreciation, the scheme will invest in a concentrated portfolio of 30 stocks selected across industries and market capitalizations. 
Fund Details 
NFO Dates 

Opens on 15th November closes on 29th November 

Type of Scheme

Open-Ended equity scheme ( Multi-cap)

Fund Manager

Rupesh Patel 

Benchmark

S&P BSE 200 TRI

Minimum Investment Amount

Rs 5000. Thereafter investors can invest in multiples of Re 1 and the a

dditional investment amount is Rs 1000 and in multiples of Re 1 thereafter. 

Entry Load

Not applicable during the NFO period 

Exit Load

1% of the NAV that is applicable in case redeemed or switched out on or before reaching the expiry date of 1 year from allotment date. 
Investment Philosophy And Approach 
The stock selection criteria have been put up keeping in mind the primary objective of the fund – long term capital appreciation. For this reason, a dedicated team of assistant fund managers and analysts have selected stocks based on the following criteria for a well-balanced portfolio. 
Compounding Stocks:

The scheme will select stocks of companies that show promise of long term growth. Companies will be selected based on their ability of sustained growth, how efficiently they manage their capital and resources and how strong their management capabilities are. 

Sector Agnostic:

The stock selection approach is sector agnostic, meaning the selection strategy will not be favoring stocks of a particular sector, rather how strong a business fundamentally is and its valuation will be the primary selection criteria. 

Market Cap Agnostic:

There is no specific preference for a particular market cap as selection criteria. The proportion of mid-cap or small-cap stocks in the portfolio will be dependent upon the risk-reward opportunity. All this will be in line with  a pre-decided risk management framework for maximum protection
The approach is to have a portfolio of stocks on a bottom-up basis following the Growth at reasonable price philosophy; combining both tenets of growth and value investing.  The stock portfolio is concentrated with the number of stocks capped at 30. The approach is to select fundamentally robust stocks and remain invested in them thereby keeping the churn low. The selection approach for stocks is bottom-up and not the benchmark i.e stocks are selected based on fundamental analysis of a specific company rather than the industry the company belongs to. Capital allocation to stocks will be based on the fund manager's conviction. From a risk management point of view, the aim is to maintain adequate liquidity as well.
Fund Manager
 The scheme will be managed by Mr. Rupesh Patel, Senior Fund Manager, Tata AMC Ltd. Mr. Rupesh is an accomplished fund manager having 19 years' worth experience across listed equity investments, private equity real estate investments, credit risk assessments, and infrastructure projects evaluation. Prior to joining TATA AMC he was associated with Indiareit Fund Advisors Pvt Limited and represented the same in directorship capacity on the board of investee companies. He has also held the position of head of the Corporate and Infrastructure Rangs group at CARE Rangs. Rupesh holds a graduate degree in engineering as well as an MBA from Sardar Patel University, Gujarat. 
Other Funds Managed By Mr Rupesh Patel 
Tata Midcap Growth Fund

Tata Large Cap Fund

Tata India Tax Savings Fund

Tata Infrastructure Fund

Tata Ethical Fund

Tata Offshore India Sharia Scheme 
Besides Mr. Rupesh, there is a dedicated team of assistant fund managers and analysts managing the fund as well.
How To Invest In This Fund On Groww 
The process to invest in Tata Focused Equity Fund on Groww is now super easy! All you have to do is this:-
Log in to your

Groww account,

sign up and complete KYC if you are a new user.

In the search bar, enter the fund name which is the " Tata Focused Equity Fund" in this case. 

The fund page opens where you can additionally see all information about the asset allocation, fund manager, holdings, etc. 
Conclusion
Being an equity-oriented scheme, this fund is best suited for investors looking for accelerated wealth creation in the long run. While the investment strategy and philosophy is aligned to provide maximum capital appreciation, the performance is market dependent and hence does not guarantee that the objectives of the fund will be achieved. As an investor, you must also keep in mind that being a new fund this fund doesn't come with a proven track record. As a final word, please exercise due diligence before choosing a fund to invest in.
Happy Investing!
Disclaimer: The views expressed in this post are that of the author and not those of Groww
Investment in securities market are subject to market risks, read all the related documents carefully before investing. Please read the Risk Disclosure documents carefully before investing in Equity Shares, Derivatives, Mutual fund, and/or other instruments traded on the Stock Exchanges. As investments are subject to market risks and price fluctuation risk, there is no assurance or guarantee that the investment objectives shall be achieved. NBT do not guarantee any assured returns on any investments. Past performance of securities/instruments is not indicative of their future performance.