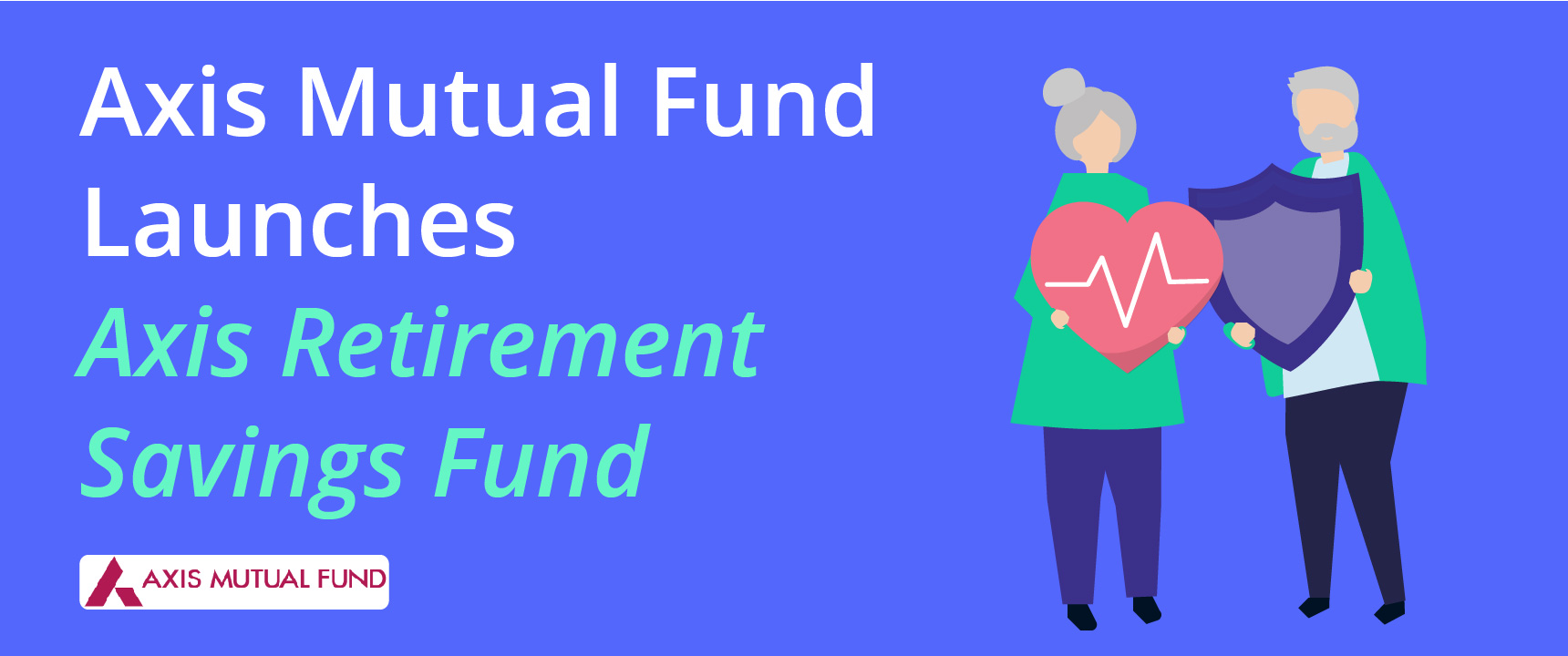 Axis mutual fund has launched a new open-ended retirement solution oriented scheme by the name of  Axis Retirement Fund . The NFO is open for subscription from 28th November till 13th of December. This product is dedicated to meet the retirement needs of people ; the fund comes with a lock-in period of 5 years or the age of 58 , whichever comes earlier. This product invests primarily in equity and equity related investments and hence is suited for investors looking for long term wealth creation prospects, primarily to cushion their post retirement life. 
Key Fund Details 
Attribute 
Description 
NFO Dates 

Opens on 28th November 2019 , closes on 13th November 2019

Scheme Type

Open-ended fund with 3 Plans: Aggressive, Dynamic & Conservative

Lock-in 

5 years from the date of allotment of units of the investment plan(s) under the scheme or till completion of retirement age of 58, whichever is earlier

Minimum Application Amount

First Application: `5,000 and in multiples of `1 thereafter. Additional Investment: `1,000 and in multiples of `1 thereafter. 

Exit Load

Nil

Risk Level

Moderately High

Fund Manager

Co-managed by Jinesh Gopani and R Sivakumar 

Benchmark

The three different plans are assessed against different benchmarks 

Aggressive Plan : Benchmarked against NIFTY 50 Hybrid Composite Debt 70:30 Index

Dynamic Plan : Benchmarked against NIFTY 50 Hybrid Composite Debt 65:35.

Conservative Plan : Benchmarked against NIFTY 50 Hybrid Short Duration Debt 25:75
Product Construct 
As the name suggests, this product is aimed to help investors with varying risk profiles plan for their retirement. Retirement planning is necessary to secure your financial health in times of rising lifestyle inflation and health care expenses. Investing as early as possible, in avenues that offer inflation-beating returns is the only way one can accumulate sufficient corpus, that can help you sustain post-retirement. 
Keeping this in mind the fund offers three plans that investors can choose from based on their requirements; aggressive plan, dynamic plan, and conservative plan. Let's see what each plan entails and who is it suited for :
Aggressive Plan
This plan is ideal for investors who are still in the early stage of their careers and are looking to invest for their retirement. Consequently, they have a long time to retire and hence can take an aggressive approach to invest with high exposure to equity. The risks associated with equity even out, in the long run, giving way to better wealth creation prospects. The fund has 65-80% exposure to equity and the rest is spread across debt and money markets instruments, Gold ETF and REITs & InvITs. This high risk, high reward fund is most suited to young disciplined investors who want to work towards building retirement corpus to enjoy a good quality of post-retirement life. 
Dynamic Plan 
This plan is most suited for investors in the mid-career phase who are seriously considering planning for retirement. Keeping the age and amount of time left till retirement, this fund allocates assets amongst equity and debt accordingly. The equity exposure is 65-100, through a combination of hedged and unhedged equity. The remaining asset is allocated to debt and money market instruments, Gold ETF and REITs & InvITs. Anyone in their mid-career years who has additional financial responsibilities to cater to, as well as have some corpus built over the years, can further leverage the wealth creation prospects of this fund to save efficiently for retirement. 
Conservative Plan 
This is suited for investors who are in the final leg of the professional journeys as well as only a few years left until retirement. While they may have saved some amount for retirement already, investing in the conservative plan can further complement their savings so that they are able to maintain the same quality of life post-retirement as well. The asset allocation is in accordance with the risk profile of the conservative investor in this case; equity exposure stands at 20-40% and the remaining corpus is exposed to debt instruments.
P.S. You can use Groww retirement calculator to know how much you need to save for retirement. 
Investment Methodology 
For Equity Investments 
The investment methodology for equity allocation is to select fundamentally strong businesses and a particular market cap, theme or sector is not focused on. The focus is on sectors that are growing fast with a bottom-up stock selection approach (stocks are selected based on fundamental analysis of a specific company rather than the industry the company belongs to). The equity allocation strategy also keeps in mind the risk-return tradeoff that will be favorable over the medium-term. 
For Debt Investments 
Based on thorough research the portfolio duration, as well as the credit exposures, will be decided. The fund strategy is based on active duration management and is open to investing in debt instruments across duration and credit spectrum. 
Fund Managers
The scheme will be co-managed by Mr Jinesh Gopani and Mr R Sivakumar 
Jinesh Gopani: Mr. Jinesh heads Equity at Axis asset management company. Armed with several years of experience and expertise, he currently manages Axis Long term equity fund among others. Before joining Axis AMC, Jinesh worked in the capacity of portfolio manager with Birla Sunlife AMC. At Birla Sunlife, he oversaw alternative assets across growth, value and dividend segments. He has also been associated previously with Voyager India Capital as in the capacity of Senior Research Analyst. His qualifications include Bcom and Master Of Management Studies from Bharath Vidyapeeth Institute Of Management Studies and research. 
Other Funds Managed /Co-Managed By Mr. Jinesh Gopani are:- 
Axis Focused 25 Fund

 Axis Emerging Series 1 & 2 

Axis Long Term Equity Fund 

 Axis Multicap Fund 

 Axis Growth Opportunities Fund
R Sivakumar: Mr. Sivakumar is the head of Fixed Income at Axis Asset management company. He brings with him two decades worth of experience working across asset classes and functions. He joined Axis AMC In August 2009 and was one of the early members looking after portfolio management services and products and lead the launch of Axis Hybrid mutual funds as well. At Axis, he oversees overall investment strategy, performance and risk management pertaining to fixed-income investments. Prior to Axis, he held several positions with Fortis Investments ( erstwhile ABN AMRO AMC). He has also worked with Sundaram AMC in the capacity of a fund manager ( Fixed income) and as a research analyst with Zurich India AMC. He is a Btech graduate from IIT Madras, as well as holds a PGDM from IIM Ahmedabad. 
Other Funds Managed /Co-Managed By Mr. R Sivakumar are:- 
 Axis Capital Protection Oriented Fund – Sr. 5
 Axis Children's Gift Fund
Axis Triple Advantage Fund
How To Invest In Funds Under This Scheme On Groww 
The process to invest in Axis Retirement Savings Fund is now super easy! All you have to do is this:-
P.S : Please note there is a version of the scheme that has an insurance component attached to it in the form of iSIP. The iSIP is a feature that provides investors with free insurance cover on long term SIP. However, the schemes available on Groww are minus the iSIP option. 
Conclusion
Retirement is an important milestone in life and like every other major event needs proper financial attention. If you are a young investor who has just started his/her career, start planning for your retirement from now itself. Investing in aggressive funds via the SIP route will ensure you are able to reach the desired corpus within the decided timeframe, due to the power of compounding SIP leverages. If you haven't started retirement planning yet, it is never too late; consider the plan that suits your risk appetite and financial objectives the best and invest after conducting the necessary due diligence.
Happy Investing! 
Disclaimer: The views expressed in this post are that of the author and not those of Groww
Investment in securities market are subject to market risks, read all the related documents carefully before investing. Please read the Risk Disclosure documents carefully before investing in Equity Shares, Derivatives, Mutual fund, and/or other instruments traded on the Stock Exchanges. As investments are subject to market risks and price fluctuation risk, there is no assurance or guarantee that the investment objectives shall be achieved. NBT do not guarantee any assured returns on any investments. Past performance of securities/instruments is not indicative of their future performance.