Off late, we have received a lot of queries with respect to different platforms through which an investor can invest in mutual funds. In this post, we seek to provide an unbiased opinion while comparing myCAMS (CAMS) vs Groww.
What Exactly is CAMS and Groww?
CAMS

CAMS is a Computer Age Management Service that was started in 1988 as a mutual fund transfer agency.

Eventually, it launched investor services under the banner myCAMS and digiSIP etc. to provide investment services such as Know Your Customer (KYC), Systematic Investment Plan (SIP), New Fund Offer (NFO), investment, redemption etc.

Groww

Groww is the new age investment platform that provides you with an end-to-end solution for investing in zero commission mutual funds (also known as direct mutual funds).

The process includes everything right from KYC to investing, redemption and rebalancing your portfolio. In addition, you can track your portfolio performance on a daily basis and seek expert advice when in need. Groww also offers you an option to create your own portfolio.
Investment Process
Investment process includes the basic process of complying with regulatory requirements (i.e., getting KYC compliant) and sign-up process in the platform
CAMS 

Opening and transacting in mutual funds is completely paper free. With CAMS you do not need to submit the physical copy of the form neither you have to appear for an in-person verification (IPV). CAMS provides Aadhaar based eKYC.

Groww

Groww provides a complete digital KYC process and also offers a quick signup process. You can get started with your investing activity after opening a personalized account within few minutes.
Platforms supported
CAMS

CAMS has a website, though it is not a mobile optimized site. It also offers the mobile application on Android and iOS platform

Groww

It is available on desktop and also offers a mobile website. In addition, Groww also offers the mobile application for Android platform. While the app for iOS will be launched soon, it is not available currently.
Fund Availability
CAMS

The platform services funds offered by 15 found houses. These include Aditya Birla Capital, DSP BlackRock, HDFC Mutual Fund, etc.

Groww

Groww provides an investor with the gamut of mutual funds offered by multiple fund houses. We believe every investor is different and has varied needs for financial products.

Thus, it is important that investor makes an informed investment decision by exploring funds from different fund houses. So we provide our investor with all the options they could possibly explore.
Funds profile and analysis
CAMS

It is not possible to see fund profile on the website.

Groww

Groww profiles every fund in a crisp and concise manner with an aim to provide investors with a comprehensive picture of the fund.

With its pros and cons feature, an investor can quickly understand the unique proposition of any fund. In addition, Groww provides with fund analysis with returns across multi-trailing time period and ranking upon comparing with other funds within the category.

This helps an investor filter better performing funds. Not just that, Groww also provides a bird's eye view of portfolios such as holdings, sectoral composition and many more that an investor might be interested in. Click here to explore funds.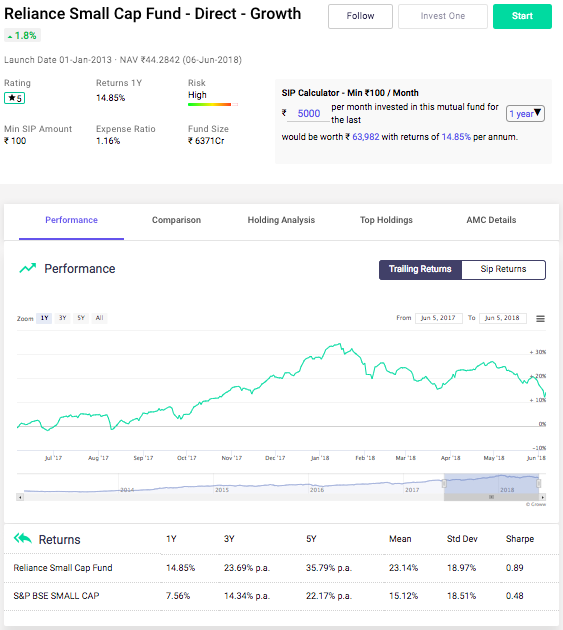 Source: Groww; Note: This is just an exhibit and does not constitute any recommendation
The Process of Investing in SIP / Lumpsum
CAMS


CAMS offer paperless SIP (digiSIP) that is done through biller method in which SIP mandate is added in Internet banking as a utility bill. In addition, CAMS also offer e-Mandate that can be set up using e-sign facility. This e-Mandate can be chosen as the payment mode for any number of SIPs in any Mutual Fund serviced by CAMS thus eliminating the need for setting up separate payment mandate.

Groww

Groww also provides similar paperless SIP that is done through biller addition. For Lumpsum investment, Groww offers net banking mode of investment.
Direct Funds
We don't know if CAMS provide direct plans or not but Groww provides direct plans so that you can save on your commission which could eventually translate to sizeable corpus over the long-term with the compounding effect.
App Rating
CAMS

The website has achieved an Alexa ranking of 1,391 in India with customer engagement of 7:21 mins daily on the website. In Android, the application is rated 4.4 stars with over 1 million downloads.

 .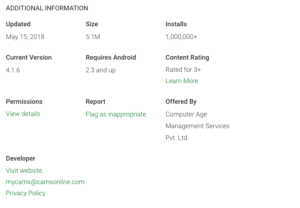 .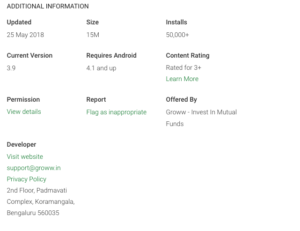 Groww

Which is comparatively newer has managed a stellar show with the rank of 7,804 in India and 3:22 mins engagement time on the website in a short span of time. In Android, the application is rated 4.6 stars with over 100,000 downloads.
Summary
While CAMS have grown over a period of time diversifying its service offerings, Groww continues to have an edge due to its data-driven analytical framework. Groww offers comprehensive fund analysis that helps an investor compare two funds.
In addition, the application is much simpler and faster and also offers to create a customized portfolio. Should you wish to install the Groww app, click here.
Happy Investing!
Disclaimer: the views expressed here are of the author and do not reflect those of Groww.