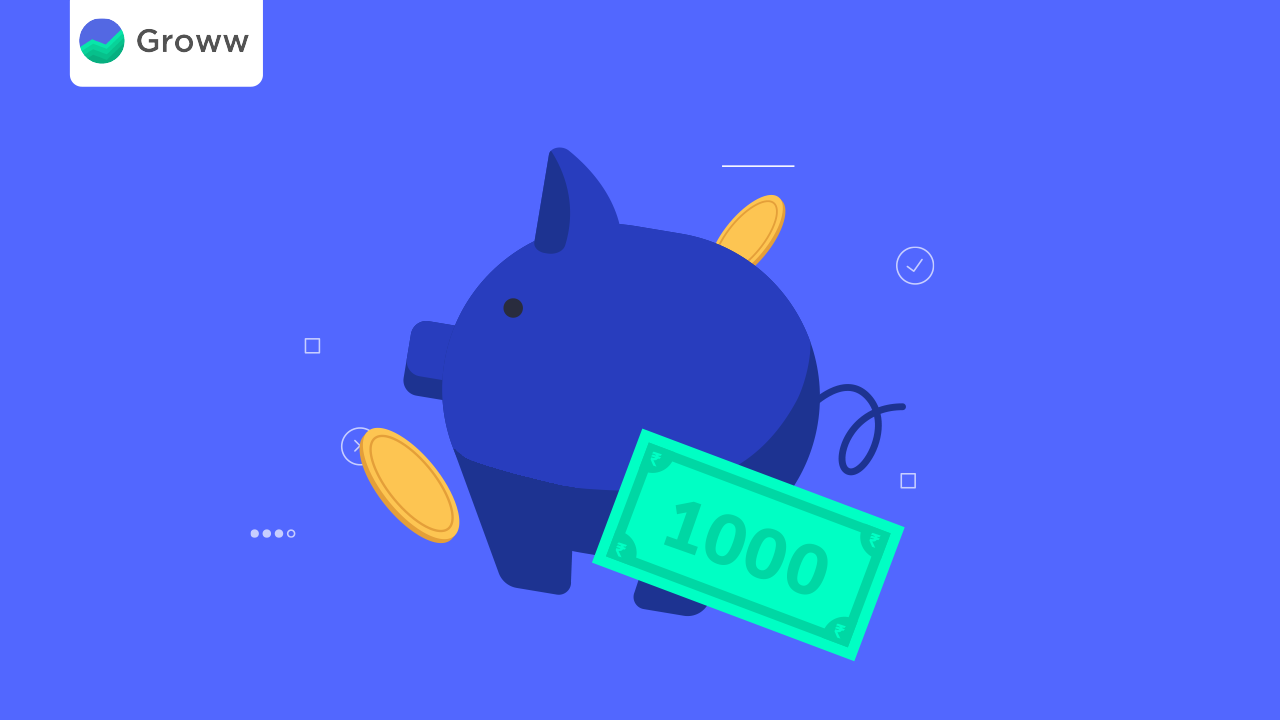 Mutual funds are the best way to get diversification across various asset classes with such low amounts as well. An investment in mutual funds 1000 per month is an excellent way to start your investment journey. 
Systematic Investment Plans (SIP) is a way of investment where you can set aside an amount of your choice every month and let the money compound over time. You can also invest in mutual funds as a one-time lump sum amount. Lumpsum investment is easy when the investor has set aside a considerable amount. 
You will find that most mutual funds allow lumpsum investment starting from Rs 5,000. However, there are a few mutual funds which will enable lumpsum investment starting at Rs 1,000. There are some mutual fund categories which may have very less or no funds under them that allow you to invest Rs 1,000 as a lump sum amount.
Read on to find a detailed list of mutual funds that allow you to invest Rs 1,000 in one go and have returned more than 5% in a span of three years! 
Disclaimer: Please note, Rs 1,000 may be the minimum amount for these funds and an amount lesser than that may not be allowed. The list is just for informative purposes and has been sorted by way of highest 3-year returns. This is not a recommendation and in not an exhaustive list. Returns should not be the only parameter for you to pick a mutual fund for investment.  There may be a few popular categories that may not be mentioned in equity and debt funds because they did not have any funds with the criteria (minimum Rs 1,000 for lump-sum investments) in the positive returns category the last time the list was updated. The list was last updated on November 18, 2020.
Lump-Sum Investments with Rs 1,000 Minimum
An investment in mutual funds 1000 per month can be made via lump sum investments and SIP as well. Here is a list of mutual funds that offer a lump sum investment option for Rs 1,000.
Equity Funds
Equity mutual funds invest in stocks of different companies depending on the theme of the fund. If it is a large-cap fund, it will buy stocks of large-cap companies. Sectoral equity funds focus on the particular sector only. If you invest 1000 per month 5 years or more, then the tenure is considered as a long term investment. Longer tenures are very important to realise the true value of your investment.
Large Cap Funds
Large-cap funds are mutual funds that invest most of its money in stocks of large-cap companies. 
Mid Cap
Debt Funds
Liquid Funds
Corporate Bonds
SIP Below Rs 1,000
For an investment amount as low as Rs 1,000, systematic investment plans (SIPs) are a more popular mode of investment. It is assumed that a person should be able to keep aside at least Rs 500-1,000 per month for investment purposes.
SIPs of such low amounts is popular amongst youngsters and is one of the best things about mutual funds. Even those who have just started earning and find it challenging to invest larger amounts can start slow. 
If you want to have a look at best SIP plans for Rs 1000 per month, you can refer to this blog: Invest in Mutual funds Below Rs. 500.

Final Words
Small investments are better than no investments. It is essential to start early even if you can siphon off a very low amount of money. Best SIP Plans for Rs 1000 per month can be a good starting point for new investors. There are SIP plans for Rs 500 per month as well. The power of compounding in investments is a lucrative concept. Your money can grow over time if kept for a more extended period. The earlier you start, the better is the result. If you invest 1000 per month 5 years or more and let it compound over time, your investment may bear fruitful results.
Depending on your choice, risk level and liquidity preference, the mutual fund investment milieu offers you various products. For example, short term debt funds like liquid funds or ultra short term funds help us to invest some cash that is just lying around. Equity funds are an excellent tool for long term investments. Even within equity funds, different categories can serve other purposes and risk appetites. Mutual fund investments have a lot to offer, which makes it even more important for us to make an educated investment.
Happy Investing!
Investment in securities market are subject to market risks, read all the related documents carefully before investing. Please read the Risk Disclosure documents carefully before investing in Equity Shares, Derivatives, Mutual fund, and/or other instruments traded on the Stock Exchanges. As investments are subject to market risks and price fluctuation risk, there is no assurance or guarantee that the investment objectives shall be achieved. NBT do not guarantee any assured returns on any investments. Past performance of securities/instruments is not indicative of their future performance.