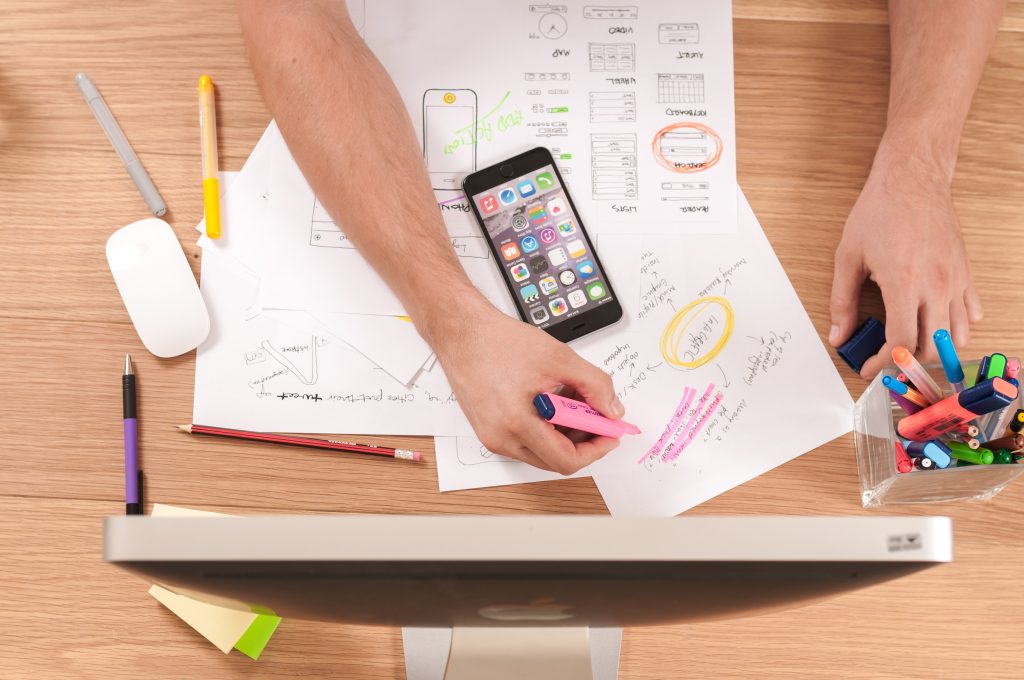 The markets are down by nearly 10% since the peak that was touched in late January 2018. Many investors saw the value of their investments reduce over the last 2 months. In these uncertain conditions, many investors find it hard to start investments.
Let us look at some strategies that you can adopt when faced with times like the current one.
Strategies for Investing
1. Invest Via SIP or STP
Systematic Investment Plan (SIP), as you might already be aware, is a method of investing in mutual funds regularly.
With SIP, you invest a fixed amount of money every month in a mutual fund of your choice. When investing in this manner, you make investing an automated habit. The amount gets automatically debited from your account every month.
Further, you can stop this SIP any time you wish to.
The reason why SIP is a great option is because it allows you to take advantage of cost averaging. This means you never pay a very high price for your mutual funds. When the markets are down, you get mutual fund units at a cheaper rate. When the markets are up, you get fewer units.
In the long run, this ensures you do not pay a very high price for your mutual fund units.
Needless to say, SIP investments are best done for a long-term. That is when you get the true benefits of investing via SIP.
Is Lump Sum Investment a Good Option Right Now?
Lump sum investment is not the best way to invest right now.
But, waiting to invest a large sum of money in smaller installments (via SIP) is not a very good idea either.This is because the money simply lies idle in your account till you invest the entire amount via SIP.
This is where you can utilize the option of Systematic Transfer Plan (STP). In STP, you make an investment in a debt fund. This allows you to earn returns around 7-9% per annum – and debt funds are very low-risk mutual funds.
Once invested, you gradually move the money from the debt fund to an equity fund of your choice.
STP is like starting an SIP from a debt fund instead of your bank account. This was, you can earn better returns on your money than you would by investing via SIP.
2. Invest in Debt Funds
If you are very spooked by the recent swings from highs to lows and vice versa in the markets and want to take as little risk as possible, debt funds make absolute sense.
In times like these, many investors look at investing in low-risk investments. And the most preferred option at this point is usually fixed deposits (FD). Fixed deposits give you assured returns – this is a very attractive proposition.
But, debt funds are an even better option. The current FD rate offered by most banks is around 6.5% per annum. Debt mutual funds historically have given returns a few points higher than fixed deposits.
You could also invest in debt funds now and wait till you feel the markets conditions have become better. Then, you could again start investing in equity mutual funds.
Look at this example:
Franklin India Low Duration Fund

In the last 5 years, this debt fund has given nearly 9.5% per annum. Over the same period, FD would have given you around 6.5 to 7% per annum.
What is Risk in a Debt Fund?
Debt funds are very low-risk investments. Their risk-level is comparable to that of fixed deposits.
To understand this better, I suggest you look at a debt fund's performance in times when the markets are not doing very well.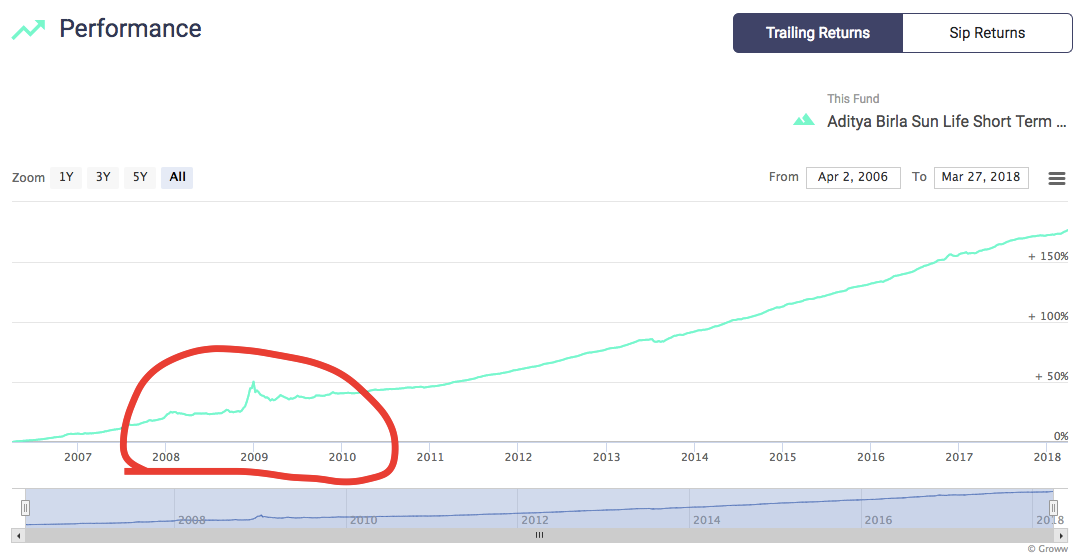 The debt fund featured above is Aditya Birla Sun Life Short Term Fund. 
Even during the markets crash in 2008 – 2010, this debt fund continued giving high returns. Further, the returns haven't really gone down as such.
This is in comparison to any equity mutual fund. The value of any equity mutual fund will climb and fall based on the market condition. For example, look at this fund: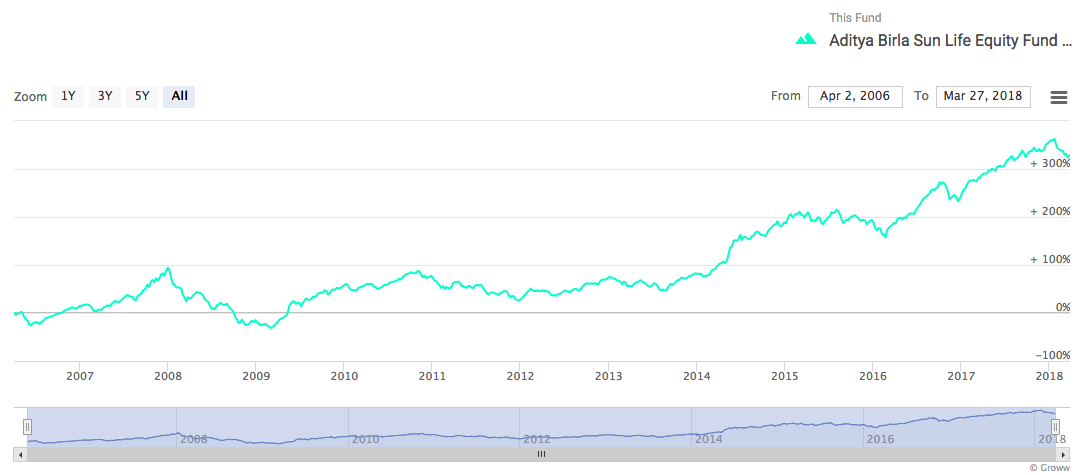 The equity mutual fund shown above is Aditya Birla SL Equity Fund. 
As clearly visible, the value of your investment would go up and down. Depending on the market conditions. However, do note that over a long period of time, this fund has given much higher returns than the debt fund.
Best Debt Funds
3. Invest in Industries via Sector Funds
In all kinds of market conditions, it is possible that a certain industry does better than other industries.
A sector funds invests in a specific industry or sector only. It is a very risky investment option, though the potential returns are also very high.
If you feel a certain industry or sector is going to do well in the near future, you should explore investing in a sector fund that invests in that industry.
The performance of sector funds is not always similar to the market's performance. It completely depends on the sector's performance.
Some of the sectors you could explore are:
Infrastructure Funds
The infrastructure sector has been performing well in the recent years. The Government's push towards development, construction of new roads, bridges, railways, tunnels and so on has caused infrastructure funds to perform very well.
Look at the performance of L&T Infrastructure Fund.

In the last 5 years, it has given more than 24.5% per annum in returns.
In the recent Budget announced on 1st February 2018, the Government made a great push towards infrastructure.
If you feel like this sector holds promise, you should explore investing in a mutual fund from this sector.
Rural Sector
This is another sector that has been performing very well for a long period of time. It focuses on companies that are directly affected by rural consumption. Companies from the agricultural space, consumer goods space, automobile space, are just a few industries that rural sector funds tend to invest in.
Sundaram Rural India Fund has been a good long-term performer. In the last 5 years, this fund gave returns of more than 22% per annum.
Pharma Sector
Funds in the pharma sector were all the rage until recently. Since 2016, the sector's performance hasn't been as good as it once used to be.
However, many industry experts have begun to look bullish on this sector again.
Look at Reliance Pharma Fund.

If you observe this fund's performance in the last 1 year, it hasn't been very good. However, over the last 5 years, it gave over 15% per annum.
If this sector picks up again, an investment in a pharma sector fund could prove very beneficial.
Something that you must remember when investing in any sector fund is to research the given sector very carefully. Sector funds are the riskiest mutual fund category.
Conclusion
Mutual funds offer various solutions that are suitable for different kinds of market conditions and different appetite of risk.
If you want low-risk returns and are apprehensive of the market conditions, stick with debt funds.
If you can stay invested for a long period of time, use SIP or STP to invest in equity funds.
And if you have knowledge of a certain sector and would like to take a bet on it, explore sector funds.
Happy investing!
Disclaimer: the views expressed here are of the author and do not reflect those of Groww. 
Investment in securities market are subject to market risks, read all the related documents carefully before investing. Please read the Risk Disclosure documents carefully before investing in Equity Shares, Derivatives, Mutual fund, and/or other instruments traded on the Stock Exchanges. As investments are subject to market risks and price fluctuation risk, there is no assurance or guarantee that the investment objectives shall be achieved. NBT do not guarantee any assured returns on any investments. Past performance of securities/instruments is not indicative of their future performance.